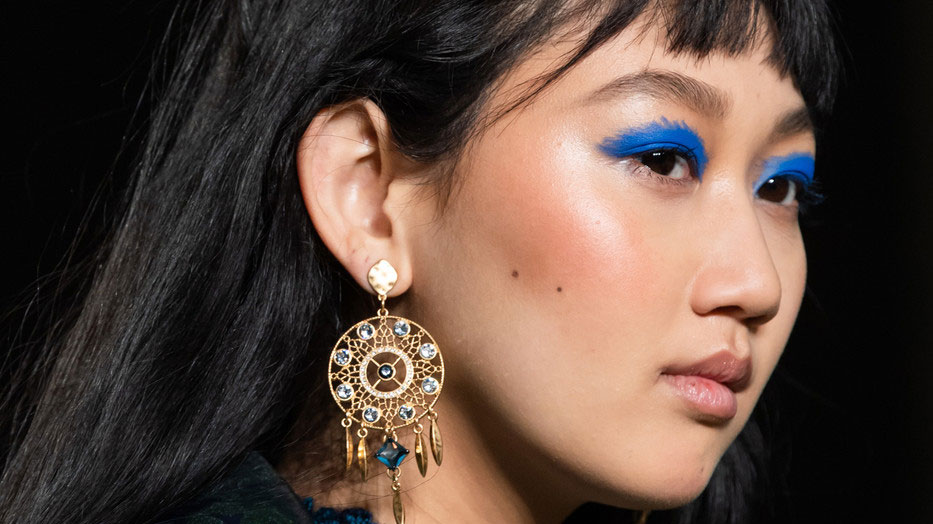 The 10 Most Iconic Beauty Moments of 2020
These hair and makeup looks gave us life.
The idea of being all dressed up with nowhere to go took on new meaning in 2020, when quarantine orders and city-wide lockdowns kept us from seeing friends, family, and even from going into work. Luckily, we had several moments of fantastical beauty looks from the February shows to hold us over, as well as a handful of red carpets (please recall Brad Pitt's hair—thank you).
Then we moved to stalking our favorite Instagram creators and artists for a dose of inspiration. Even if there were days or weeks (months even) when applying lipstick or doing our hair was the furthest thing from our minds, it was still a pleasure to see the colorful, sparkling, and sometimes gravity-defying designs of our friends and peers. Beauty will always be a form of escape and expression, and we can think of no better time than 2020 for it to be recognized as a true art form.
With that in mind, we selected (from a very impressive group of options) our top 10 favorite beauty moments of the past 12 months. We hope they bring you as much happiness and awe as they did for us.
Topiary Hair at Christopher John Rogers
View this post on Instagram
At a certain point during New York Fashion Week, beauty editors are weary in our backstage reporting, tired from the early call times and stale snacks, and are simply ready to go to sleep. However, as soon as we stepped backstage at the Christopher John Rogers show two seasons ago, it was like a bolt of electricity shot through our veins. Lead hairstylist Naeemah LaFond stood in the corner of the hair section, quietly sculpting bouffant wigs for her lineup of models (a different shape for each girl). The hair seemed to defy gravity, the curls gleefully bouncing like a child who ate too much sugar. It was so joyful—as was the rest of the collection—and it was clear the models felt that energy as well, especially paired with cherry-red lips from makeup artist Marcelo Gutierrez. The wigs, with their tightly coiled 4C curls, were true works of art and a much-needed breath of fresh air for the week. I still think about them to this day.
My Topicals "Burn Book" Beauty Series
View this post on Instagram
Acne treatment brand My Topicals launched earlier this year with two hero products and has since debuted their social campaign entitled "Burn Book," which highlights members of their community dealing with acne—also called "spottie hotties"—who range in age from teenagers to women in their 20s and 30s. Anyone who's entrenched in the Instagram beauty space knows that clear, glowing skin is the the de facto norm, and while I loathe the term "real skin," as all skin is real—whether wrinkled, broken out, or otherwise—it's refreshing to see complexions riddled with all manner of breakouts, from a random pimple to cystic lesions, celebrated in a public forum rather than hidden away under mountains of makeup. Every woman has her own story and relationship with her skin, but I'm sure other acne-prone individuals will agree with me when I say it's about time we shift public attitudes around acne towards a more open and honest conversation. All skin is beautiful, period, end of sentence.
Wendy Asumadu Technicolor Creations
View this post on Instagram
There's something so calming about watching a makeup artist let loose their imagination, even if you're not a total beauty obsessee. Wendy Asumadu is the person I always tune in to watch these days for her dreamy, colorful, full-face designs. You'll see no tutorials on how to perfectly contour your cheekbones or line your lips here—just hypnotic, Pollock-esque creations that will feed your soul (and your Instagram saves). Bonus points if you spend some of your time off this holiday season attempting your own version of Asumadu's designs.
Black Is King 30-Foot Braids
View this post on Instagram
Admittedly, every single beauty and fashion look in Beyoncé's Black Is King visual album left our jaws on the floor, but hairstylist Kim Kimble's knotless braids (which clocked in at over 30 feet) were definitely one of the most mesmerizing moments for me. The entirety of this release was both an iconic moment for the multi-hyphenate artist and entrepreneur, as well as a clear cultural reckoning in a year of social upheaval and racial unrest, the significance of which can and should reverberate in American culture for decades to come. For anyone who has ever doubted the power and influence of Black hairstyles and the impact they have had on our society, well, sit back and watch Black Is King one more time for a reminder.
Crystal Head Wraps at Area
View this post on Instagram
New York Fashion Week saw cult-favorite brand Area play yet again with crystals (their crystal-embellished eyebrows from the season prior is still a perennial favorite), but the collective beauty hive almost lost our damn minds when these head wraps glistened down the runway. Blurring the line between fashion and hairstyle, I'll consider these the ultimate in hair couture for years to come. Fittingly, Cardi B wore one of these designs on her September Elle cover, along with her signature mile-long nails and fluttery lashes. If there was ever a time when we all need a massive heaping of sparkle, this was the year.
Smeared Lips and Bedhead at Junya Watanabe
Hairstylist Eugene Souleiman used beer and hairspray to create a dirty, gravity-defying look that juxtaposes the perfectly streamlined outfits in Junya Watanabe's a/w 2020 collection. Inspired by Debbie Harry's earlier days of performing, models wore platinum-blond and black wigs filled with motion and texture. Makeup artist Isamaya Ffrench continued to smear her way through Paris Fashion Week this year by creating a smudged, glossy red lip with a bold black-and-silver smoky eye to add to the just-woke-up-after-a-long-night-out-but-I'm-making-it-chic look. I don't know about you, but this totally makes me want to throw all rules out the window surrounding red lips and bold eyes.
Xtina Highlights Meets Gothic Couture at Alexander McQueen
We witnessed a beautiful marriage of old school and new school at this year's Alexander McQueen a/w 2020 Paris Fashion Week show. Models strutted down the runway with a new twist on the otherwise far-out-there hairstyles that we've seen in past shows. Models wore their hair in tight buns sealed with a high-shine gloss and rocked bright red highlights in their hair, bringing an elegant twist to what was my early-2000s chunky highlight dream hair. The intensity of this rather contemporary hairstyle balances the ethereal and sensual delicacy of McQueen's pieces.
Splattered Eyeshadow at Tadashi Shoji
Makeup artist Daniel Martin started this year off proclaiming that blue is the new black and covered the lids of models in an electrifying blue that almost stole Tadashi Shoji's a/w 2020 Paris Fashion Week show. From far away, this look can seem like a simple pop of color on the lid; yet, as you look closer, you'll notice the feathery brush strokes of pigment surrounding the lid, creating an almost splatter effect in the look. I'm all about wearing makeup that is imperfect because when things are imperfect, they're unique, and when they're unique, that's when true beauty shines through.
Bringing the Drip at Proenza Schouler
A slicked-back hair look is nothing new, but we cannot deny that the hair at the Proenza Schouler a/w 2020 New York Fashion show caught our eye. Models' hair is slicked back and made to look sopping wet, and baby hairs are brought to the front of the face to create a dripping frame. Additionally, skin is not just glowy or glass-like, but has a wet sheen that makes it truly look as if models hit the runway straight from an Olympic-sized pool backstage.
The Complementary '20s at Dries Van Noten
View this post on Instagram
When I look at hairstyles of the past, I cannot help but be in awe of the short, slicked bobs of the Roaring Twenties. While watching this year's Dries Van Noten spring/summer 2021 digital show, I was entranced by models dancing in front of a projector to tunes that could potentially be synonymous with a good sound bath experience. Yet my favorite part of this show is the technicolor bob hairstyles. The bright orange in this hair look pairs beautifully with the single strand of its complementary color, blue. The haphazardly placed and clearly visible bobby pins remind us that with beauty, there are no rules, so long as you are having fun.
Top photo: ImaxTree
Want more stories like this?
20 Beauty Products I Actually Finished in 2020
Bubbly & Beyond: The Best Pairings for the Holidays
What to Expect After You Begin Transitioning to Natural Hair