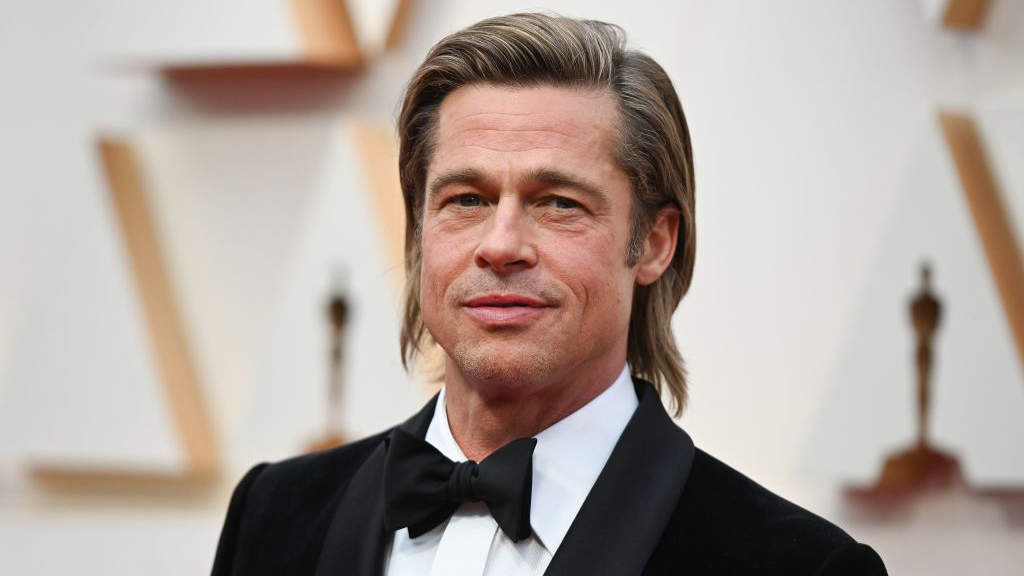 The Unlikely Winner of the Oscars Red Carpet: Brad Pitt's Hair
Actually, who are we kidding? Not that unlikely!
Roughly an hour into watching starlets waltz down the 2020 Oscars red carpet in fluffy curls and creamy nude lipsticks looking undeniably pretty, Brad Pitt graced us with his presence and promptly blew them all out of the water—or rather, his hair made its debut, every shoulder-grazing, potentially unwashed, dirty blond inch of it. The moment was enough to declare a state of emergency in our Coveteur Slack channel, digital oohs and ahhs betraying our still-sizzling teenage crushes because, let's be honest, Brad Pitt has been hot his entire three decades in film.
You've undoubtedly caught sight of his now signature coif during awards season, as the actor swooped up statue after statue for his role as stuntman Cliff Booth in Quentin Tarantino's Once Upon a Time in Hollywood. It's not even that he's 56 years old (!!) and is still considered one of Hollywood's quintessential sex symbols; it's that his look has evolved into something even more delicious than his close-cropped 'dos in classics like Oceans 11 and Meet Joe Black.
The 2020 Brad Pitt slicks his hair back, as if in a permanent state of disarray after he casually climbs a roof shirtless (his six-pack abs glistening in the California sun). He runs a careless hand through it after engaging in hand-to-hand combat with a fellow faux stuntman, because 2020 Brad Pitt still has killer moves à la Fight Club. There's an ease to it all, as if he has resigned himself to his perpetually drool-worthy looks and is finally comfortable in our admiration. It's hair that knows it looks good now, no matter how it's styled, so why not use a little third-day grease to tuck it behind those perfectly formed ears? It says, Oh, do you think this looks good? I couldn't care less, which as we know, is all the more painfully cool. It is, in a word, luscious.
So now, with an acting Oscar to match his golden-boy 'do, we can confidently say that Brad Pitt has taken his rightful place at the top of Hollywood's best hair. You can catch us at the salon very soon, asking for "the Pitt."
Photo: Getty
Want more stories like this?
Everything a Cosmetic Dentist Wishes You Knew about Your Teeth
The Sexiest Lipsticks Ever, According to 10 Beauty Editors
8 Hydrating Hair Masks for Desperately Dry Hair