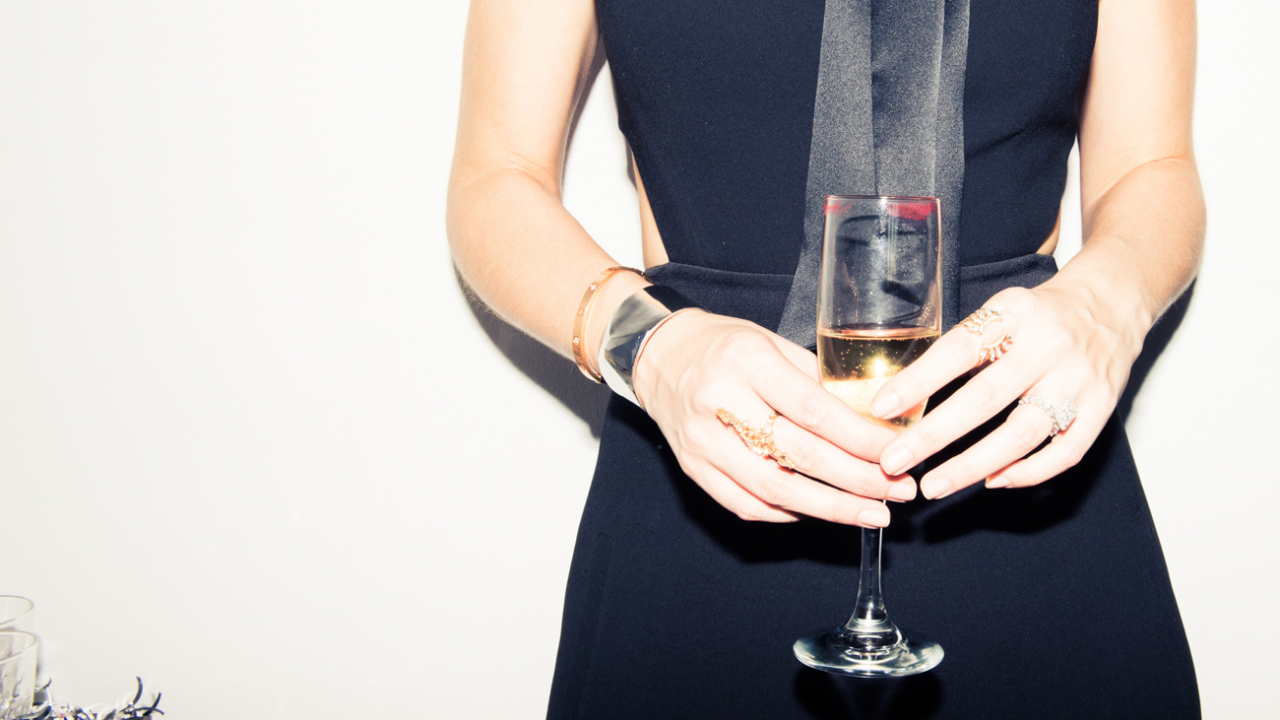 Bubbly & Beyond: The Best Pairings for the Holidays
It's time to celebrate.
'Tis the season to pour our favorite bottle, because after a year like 2020, we deserve to celebrate. If you've found yourself in the same routine of not only working from home, but also reaching for the same drinks, the holidays are a great opportunity to switch things up and introduce your palate (and liquor cabinet and wine collection) to something new. Classic holiday dishes can get the upgrade they deserve with a number of cocktails and wines. Here, mixologists and sommeliers share their favorite pours and pairs. Cheers!
Lydia Richards is a sommelier based in New York City. Her pick for classic holiday dishes? Malbec wine, for its versatility in pairing with foods. "There are fewer wines more suited for a holiday feast than Malbec. An all-time fan favorite, Malbec shows a fresh, vibrant, and polished palate of red and black fruit, oak, and floral notes. It has enough fruit to match cranberry sauce, roasted vegetable sides, and just enough depth to go toe-to-toe with a roast while also elevating—and not overpowering—any classic turkey preparation," she says. Richards recommends Trapiche Medalla Malbec or Trapiche Iscay Malbec-Cabernet Franc for your holiday spread.
Pair it with: Extremely versatile, Malbec is a perfect pairing with traditional rich holiday dishes such as long-cooked meats, pot roasts, stuffing with gravy, stews, marinades, and aged cheeses.
The Holiday Memories Cocktail
When it comes to holiday dishes, don't dismiss tequila. The spirit is often unfairly grouped with only certain types of food, but can easily elevate a holiday dish and provide a flavor profile as distinct as a good whiskey. José Alejandro Ibañez is principal bartender at Employees Only in New York City. His "Holiday Memories" is a bit of sugar and spice and everything nice...with tequila. "The fruitiness with a touch of cinnamon that I found in Mijenta's Blanco Tequila is perfect for the warm moments we enjoy during this season. The 'Holiday Memories' cocktail aspires to be a good companion when raising a toast, enhancing the moment full of flavors and joys with our loved ones. The blackcurrant liqueur (cassis) and the ginger beer pair well with the spices found in dishes like butternut squash soup or pumpkin pie," he says.
Ingredients:
2 oz Mijenta Tequila, Blanco
1.5 oz fresh lime juice
1 oz Lejay Crème de Cassis float
ginger beer
Directions:
1. Build all ingredients in a tall glass, topping off with the ginger.
2. Garnish with a candied lime wheel.
Artet Cranberry Mule
Cannabis-infused aperitif Artet is a non-alcoholic option for those who still want to get elevated and into the holiday spirit. Made in California by cousins Xander Shepherd, Zachary Spohler, and Maxwell Spohler, it was the first luxury ready-to-drink aperitif with THC to be introduced to the market and includes a blend of eight botanicals with bright citrus notes. Each 50 ml shot contains 2.5 mg of THC. The food-and-cocktail pairing suggested below by Shepherd is perfect for those who love a good aperitivo (think Aperol or Lillet, but with a nice touch of THC).
Ingredients:
50 ml Artet (2.5 mg THC)
1⁄2 lime
1.5 tsp cinnamon powder
1.5 tbsp cranberry sauce
ginger Beer
cinnamon stick
5–10 cranberries
1⁄4 cup sugar
Directions:
1. In a cocktail shaker with ice, add in the Artet, fresh lime juice, cinnamon powder, and cranberry sauce.
2. Shake vigorously for 15 seconds or until the shaker is frosted on the outside.
3. Strain into a rocks glass with cocktail ice or a whiskey rock, and top with ginger beer to your liking.
4. Add in a cinnamon stick and sugared cranberries (roll them in a cup of sugar until coated) for garnish.
5. Take a sip, and enjoy the holiday season.
Whipped Ricotta with Cranberries and Herb de Provence Oil
Ingredients:
one 8 oz bag fresh or frozen cranberries
1 cup brown sugar, light or dark
1 navel orange, juice and zest
kosher salt
1 tbsp dried Herbs de Provence
1.5 cups extra virgin olive oil
one 24 oz container ricotta cheese
4 oz Boursin cheese
1 tbsp honey
1 lemon, juice and zest
flaky sea salt
1 loaf rustic bread
Directions:
1. In a medium saucepan, combine cranberries, brown sugar, orange peel, orange juice, and a three-finger pinch of kosher salt.
2. Cook over medium heat, stirring occasionally, until the liquid has evaporated and the cranberries have cooked down and thickened into a chutney, about 20–25 minutes.
3. Set aside to cool.
4. In a small saucepan, combine the herbs de provence and extra virgin olive oil. Cook over a low heat until the herbs have infused into the oil, about five to seven minutes. Set aside to cool.
5. In a food processor, combine the ricotta cheese, feta, honey, and lemon juice, reserving the zest for garnish. Pulse to combine until smooth. Taste and add kosher salt as necessary.
6. Warm the bread in an oven or toaster.
7. To serve, spoon the ricotta into a wide, shallow bowl, creating a divot for the chutney. Spoon in the chutney, drizzle with herb oil, and top with lemon zest and flaky sea salt. Serve immediately.
The holidays and bubbly are synonymous, and there is no better year to celebrate simply making it through than 2020. "Even if we aren't celebrating as we normally would this year, the holidays wouldn't feel complete without champagne. One of my go-to bottles is Bollinger Special Cuvée NV, not only because it is great to pour with appetizers, but also because it has enough structure to continue enjoying throughout the meal. While Special Cuvée can complement any number of dishes, from pizza and pasta to chicken and seafood, I love the idea of pairing this wine with oysters during the holidays," says Craig Collins, master sommelier.
Pair it with: "Raw oysters offer subtle flavors and complexity that make them impossible to resist, and the depth of flavor found in Bollinger Special Cuvée matches the complexity of oysters while the champagne's bright acid amplifies the sophisticated flavors and salinity," says Collins.
The Ginger Jackalope
While there is nothing quite like a good, simple gin tonic, why not use the holidays to explore the spirit in a new way with some of your favorite dishes? "The refreshing citrus notes in the Ginger Jackalope drink pairs perfectly with smoked salmon seasoned with a pinch of sea salt and a squeeze of fresh lemon. The fresh lemons, limes, and grapefruits, along with the intriguing gunpowder tea vapor infused into Drumshanbo Gunpowder Irish Gin, also complement red meats with a citrus glaze," says Cian Wrynne, brand developer and global mixologist at The Shed Distillery, Ireland.