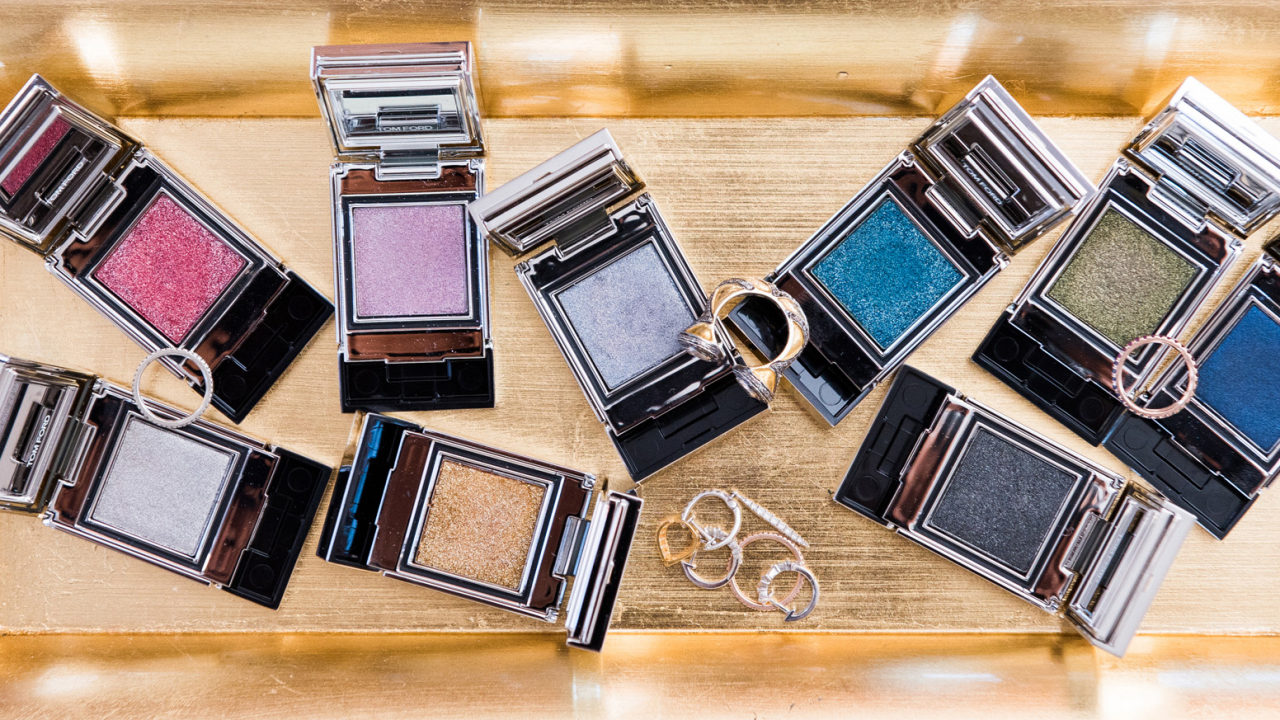 Why I Won't Let 2020 Break My New Year's Eve Makeup Tradition
A hopeful look towards 2021—with plenty of glitter in tow.
Call it my inner city snob if you want to, but nothing compares to New York on New Year's Eve. The lights! The crowds! The drinking too much champagne on the sidewalk and promptly vomiting into a trash can. There's a reason why so many millions of people make the pilgrimage to Times Square to watch the ball drop—the energy here is just different (even if the locals will do anything to avoid the crowds).
Obviously, to say our celebrations will look different this year is a bit of an understatement. For instance, my plans to bid farewell to this Dumpster fire of a year involve holing up in my Brooklyn apartment with my partner and our hairless cat, cooking pasta, sipping ice-cold dirty martinis, and probably passing out five minutes into 2021. A touch different from years past, when dancing until dawn with friends was the norm du jour. But despite the pandemic, the lingering election drama, and the inability to safely travel back to the Midwest to see my family, there's one New Year's Eve tradition 2020 can't take from me—a truly exceptional makeup look.
Let's back up for a moment.
I spent the first five years of my life in New York City slinging drinks for rowdy club kids at Webster Hall in order to make ends meet. You can read all about it right here. Yes, it was wild and lucrative (not to mention utterly exhausting), but the ultimate memories of my time behind that bar are undoubtedly the annual New Year's Eve party. Everybody looked forward to it, staff and patrons alike, because it was the kind of rollicking, glitter-soaked event that would make even F. Scott Fitzgerald jealous. Imagine a balloon drop that would lower your field of vision to a marginal five inches. Closing time was 10:00 AM on January first—on a slow year. Epic stuff.
In true NYC nightlife fashion, each and every bartender would step up their fashion and beauty game for the evening. The women of Webster should get some sort of special recognition (a trophy, or the 11th street block between Third and Fourth Avenue named for us or something) to honor the capital L looks we'd turn out year after year.
Getting ready was an all-day affair—think lashes, sparkles, cut creases to the gods. The girls would all gather in the bathroom at our 6:00 PM call time to share highlighter and fix each other's hair. Hot pants were practically mandatory. There were no rules, and we had an absolute ball with it. When else could you glue 150 crystals to your arms and legs and *still* not wind up with the most jaw-dropping look of the night? It was an amalgamation of everything fantastic about beauty—how it can transform you, mentally and physically. Our excitement and joy was on display for the whole world to see, and with luck, the people who came to party with us were wearing their own sparkling display of anticipation for the year ahead.
Even after I left Webster Hall and spent my midnight countdown on the other side of a bar, I still relished the ritual of getting ready for the night. What vintage, bedazzled corset would look best with my "2018" paper glasses? Why yes, I do think curling my entire head with a .25-inch pin curling iron is an excellent use of the next two hours! What a privilege it was to wear what you want, go where you want, with whomever you want, for however long you want.
So sure, maybe that sort of communal experience, with all the dancing, drinking, sweating, and potential pathogens, isn't feasible for anyone this year. And yes, my time as a bartender has, for better or worse, come to a close. But even with the last several months of sweatpants and dirty hair (and frankly, zero interesting makeup in sight), I refuse to let this tradition I've carried for my entire adult life—in the greatest city in the world—wither away just because I can't spend it pressed up against strangers, screaming my head off when the clock strikes midnight.
Somehow, even after all the painful moments of the last 12 months, I still have a sliver of shimmering optimism and hope for the next 12.
There might not be vast amounts of glitter this year, and yes, my partner and cat probably won't appreciate my perfectly placed lipstick and mile-high curls as much as a crowd of drunken revelers, but lord help me if I don't stare down the eyes of 2021 without a fierce face beat. 2020 has taken so much from so many people—most of which are much greater than the manner in which we celebrate a new calendar year—but it cannot, will not, take my glam.
Happy New Year, everyone. I hope yours is filled with as much sparkle as you can manage.
Want more stories like this?
3 Gorgeous Holiday Makeup Looks If You're Not Into Glitter
Bubbly & Beyond: The Best Pairings for the Holidays
Confessions of a New York City Bartender