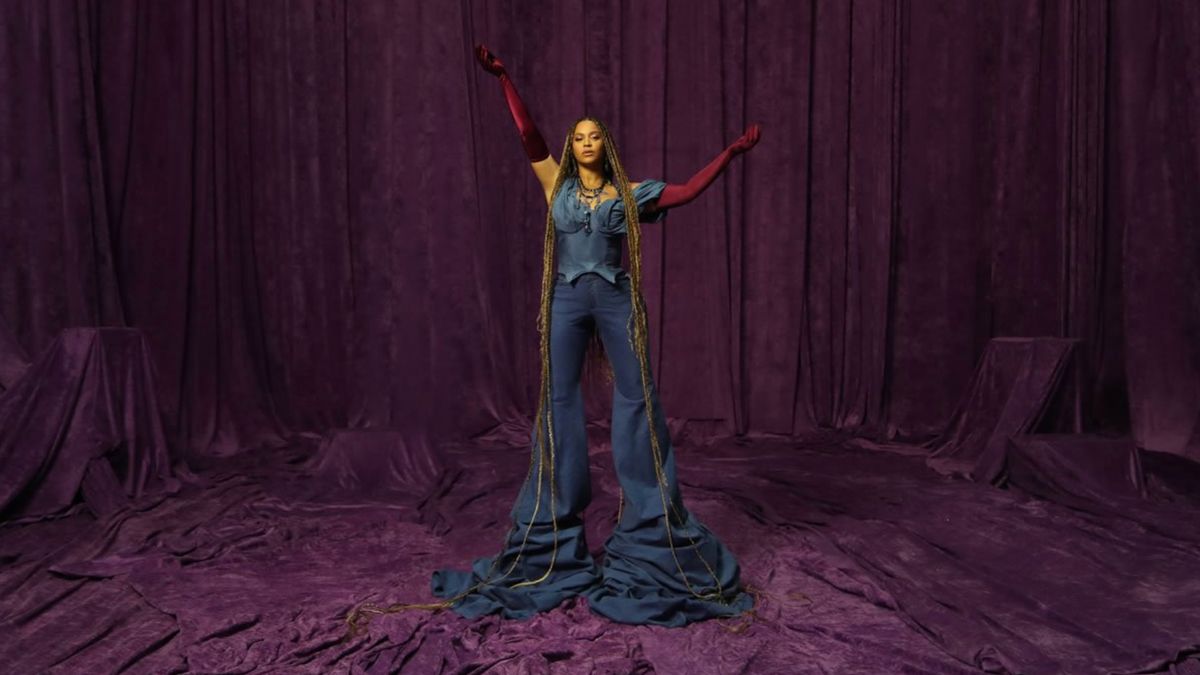 Hair
A legendary moment calls for legendary hair.
Last month Beyoncé shocked the world yet again with her visual album
Black Is King
—an extension of her 2019 album
The Lion King: The Gift
. For just under an hour and a half, Queen Bey takes us on a moving musical journey showing African and Black American culture, visuals, and experiences, all the while highlighting and uplifting Black people around the world. While we can marvel at the amazing costumes, gorgeous makeup looks, and the incredible set design (we would be here all day), we were truly astonished by all the hairstyles that came out of the masterpiece. With more than 40 hairstyles—which were done in six days—it's no wonder why we're
still
talking about them. From literal braided crowns to red-hued waves to braids as long as a wedding dress train, we want to wear them all.
Although the chances of us being able to rock 30-foot knotless box braids anytime soon are very slim to none, we were lucky enough to talk to the mastermind behind them.
Kim Kimble
has been a longtime stylist to Beyoncé and has worked on some of the entertainer's biggest projects, from
Lemonade
to Coachella. She's created countless styles that have impacted both Black and pop culture and has worked with major celebs from Kelly Rowland to Zendaya, just to name a few. It was a pleasure being able to discuss the importance of
Black representation in media
, the iconic 30-foot braids, and everything you need to re-create them. Keep reading to find out for yourself.
---
You've created some of the most iconic hairstyles for our culture, including
Black Is King
; how does it feel to see your work ingrained within Black culture?
"Oh gosh, it's wonderful! First of all, what I love to do is hair. I love creating, I love big projects. It feels pretty good to see your work in that way. Especially now, with social media, it can live forever. It will always be available to see in some way.
"It feels great to be able to do this. I like to believe I am an artistic stylist. In African culture, their hair is very creative. I think they are one of the most creative when it comes to hair. It's really great to be a part of that culture and to represent that culture. We stylists love to [have] the opportunity to be creative and have our work stand out. It truly brings me joy."
You did a lot of work on Beyoncé's
Lemonade
. Now, looking at
Black Is King
and seeing how the hairstyles have evolved, as well as how the magnitude of the project has changed, what was that process like creating something much bigger?
"I find this project to be a lot more special because it had a lot of…culture, to say the least. With the project having a lot of African influence from so many different tribes and experiences, as well as Black American experiences, it's truly great to be a part of something like that. For me, I think the message was very powerful for people of color as a way to see ourselves. And I just think that's dope.
"I think it's so important for us to look at ourselves or to have someone of her stature to inspire us to love ourselves, love who we are. What's great about it is really taking all of those African influences and showing how creative we are with our hair, makeup, and clothes, showing that we have our own unique qualities and history."
What inspired some of the looks you worked on?
"There were a lot of African influences. The part that I worked on was the 30-foot knotless braids. She wanted these really long braids that were [inspired] by the women of Chad, where they do these very specific kinds of braids. I didn't weigh [the wig], sadly, but it was very heavy. It took three days and six braiders to work on it. Then, for the 'Spirit' video, she had the long textured curl-pattern hair. There's this scene in the video where they all have red hair, including the dancers. It represents a sense of a tribe, and the red color is very specific, to emulate almost like a red clay.
"It's kind of like a dusty color red—a dusty, rusty red. I think it's definitely going to be a hot color this fall, especially for natural-textured hair. These videos have definitely encouraged a natural [hair] wave of our culture. I do think natural hair with color is definitely going to be a trend, and I hope to see it evolve. I think wearing your natural hair in any way that works for you is amazing."
What would you like to see people take away from the styles in
Black Is King
?
"I want to see people be inspired by them. A lot of times I like to see when people re-create them. With people being inspired by her look, then it becomes a trend. As well as being creative—try new things with your hair; explore different options and styles."
What are some products you could recommend for someone to re-create that look at home?
"Maybe doing 30 inches instead of 30 feet, for sure. I would also say they cold-braid their own hair instead of making a wig. All of the products will work the same. A great pomade is crucial to help grip the braids. It helps to control the hair as you're braiding it while keeping it neater. We used curl shampoo and conditioner to prep the hair and a baby pomade to keep it tight on set. After you're done braiding, dip them in hot water when using synthetic hair. Then add some sort of foam or mousse, and let it dry to set the braids."
Photo: Courtesy of Beyonce.com
Want more stories like this?
Meet The 24-Year-Old Art Curator Championing International Black Artists
Sunday Spa Routine with Musician Tiana Major9
Looking to Grow Your Hair Out? Try Hair Oiling