WWWRN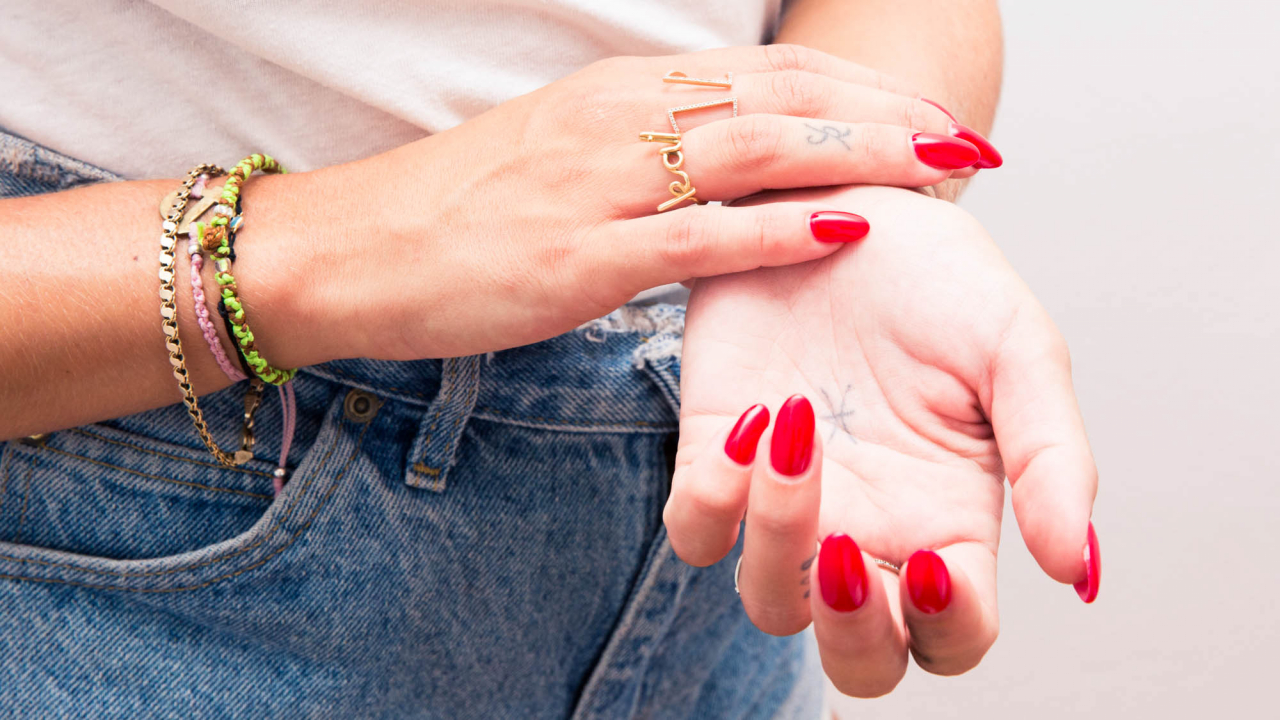 Here's What to Do If Your Nails Keep Breaking in the Winter
Professional tips on how to treat and prevent brittle nails.
As winter approaches, we're welcoming cozy cable-knit sweaters, multiple nights spent indoors with loved ones, and plenty of tasty home-cooked meals. That all sounds great, but unfortunately, the colder season also means our skin is drier, our hair is frizzing, and our lips are perpetually chapped. While we've already stocked up on plenty of oils and creams to combat those issues, we've had a bit more trouble when it comes to our nails, which are more brittle than ever.
Add in the fact that we are all using dehydrating hand sanitizers throughout the day, and it's no wonder why our nails won't grow past what we like to call little nubs and the tips of our fingertips. Surely, there must be something we can do about this to help our nails stop breaking and repair our damaged cuticles, right?
We turned to two professionals to save us from our winter nail blues—founder of Sundays Amy Ling Lin, and Chillhouse's lead nail technician, Molly Romah—to give us the scoop on the causes, treatment, and prevention of dry, brittle winter nails.
As with everything else in the wintertime, our nails lose a ton of moisture when the temperature begins to drop. As Romah explains, "Dry and brittle nails are the result of too little moisture. They're most commonly caused by the repeated washing and drying of fingernails," which can include the frequent use of dish and hand soaps with stripping ingredients in them, like sodium lauryl sulfate. Additionally, Lin explains, "[seasonal] change, the cold weather, dryness, and the wind" can all have a negative effect on the moisture levels in your nails, the same way lower humidity levels during the wintertime can severely dehydrate your skin that was once supple and nourished in the warmer months.
As with most things in the skin-care, hair-care, and nail-care realms, prevention is the way to go if you are prone to frequent breakage or weak nail beds, particularly in the winter. Romah recommends to "use cuticle oil and lotions depending on your nail condition" to help boost your moisture levels. Try using cuticle oil daily, and rub a hand lotion on every time you wash your hands or use hand sanitizer.
However, Lin points out that if your diet does not nourish you from the inside out, no cuticle oil or salve will save your nails from breaking. She states, "To me, diet change is a more effortless way to make your nails stronger gradually and [is] a more sustainable way that you can certainly do at home." Taking a biotin supplement will help provide your nails with the nutrients they need to thrive, but without a proper, healthy diet, a pill itself won't do much.
Lin recommends eating foods high in biotin, like eggs, to keep your nails strong. If you are looking for vegan options, consider adding peanuts, almonds, avocados, and sweet potatoes to your diet. Additionally, foods with high levels of omega-3 fatty acids, like walnuts and fish, will help keep your nails growing long and strong well into the depths of winter.
Gloves are also your new best friend. When going outside, Lin recommends wearing cotton gloves "to make sure your nails can breathe and to retain the moisture on your skin." She also suggests avoiding waterproof or leather gloves during the winter, as they can act as a mini steam room for your digits. Sweaty hands inside a glove can actually weaken nails; as Romah explains, "soft and brittle nails are caused by too much moisture. [They] are often a result of overexposure to detergents and household cleaners," so make sure to wear rubber gloves whenever washing dishes or cleaning household surfaces.
Lin also recommends doing deep-conditioning treatments at night. She reveals, "Before you go to sleep, put on [a] hand cream mixed with cuticle oil, and [then] put on [cotton] gloves. You can keep [the gloves] on for half an hour or keep them on all night." We appreciate the two-for-one nature of this deep-conditioning glove treatment, as you will wake up with stronger nails as well as softer hands.
Also, avoid tearing or biting your nails. Both bad habits will cause the ends to split, which can potentially travel upwards via nicks in the nail bed. Plus, biting or tearing nails increases the chances of nail infections, which are painful and a hassle to overcome. Instead, use a nail clipper, nail file, and buffing tool to evenly shape your nails and create a smooth end that will undoubtedly strengthen over time.
And lastly, although we all love and appreciate the staying power of a good gel manicure, consider giving your nails a bit of a break. Lin tells Coveteur, "Gel [and acrylic are both] heavier on the nail bed and [don't] allow your nails to breathe as much." Instead, use a strengthening treatment to add stability to your nails and non-toxic nail polish (so as not to sacrifice the look of a chic winter manicure).
Part of the series:
WWWRN