How to Shop Like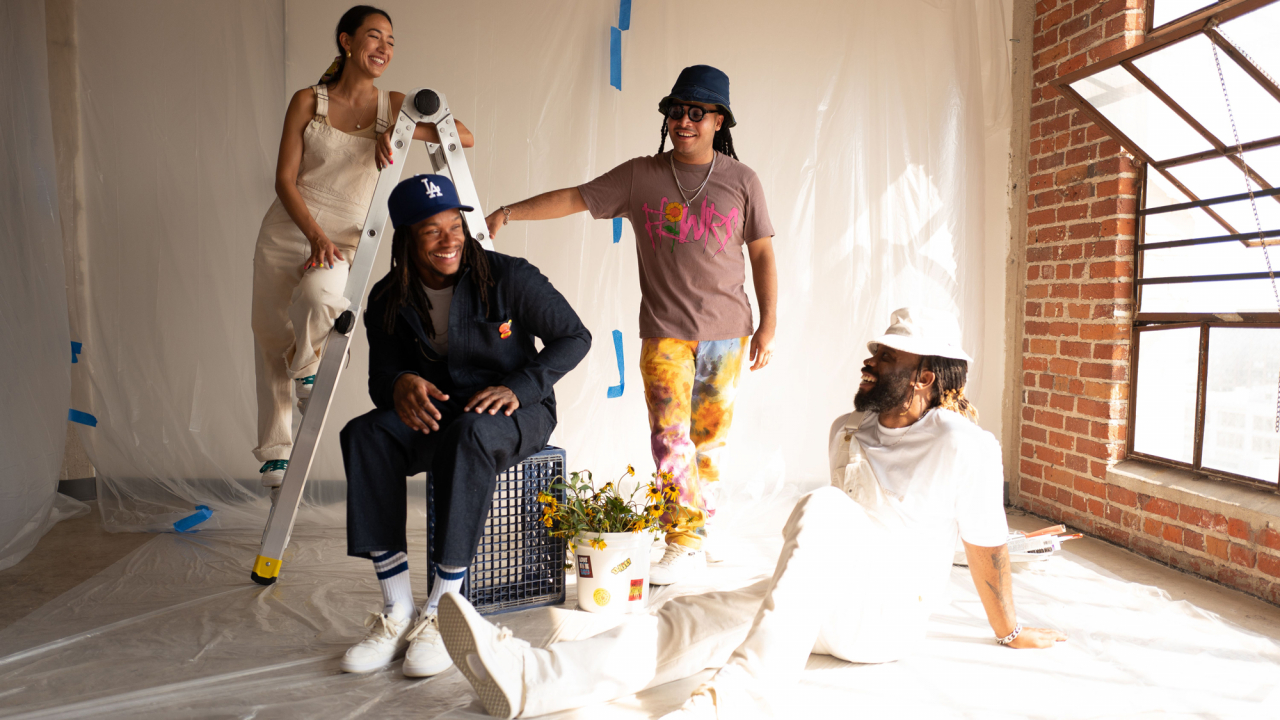 Kids of Immigrants Co-founder Weleh Dennis on Collaboration and Personal Style
Because fashion should have a purpose.
Welcome to our How to Shop Like series, where we spotlight personalities within the fashion industry and take a deeper look at their personal relationship with fashion and how they shop—think all the best insider tips and tricks. This week we're chatting with Kids of Immigrants co-founder Weleh Dennis.
There's the kind of fashion you love to wear for purely aesthetic purposes. Then there's the kind of fashion that sends a message. And every now and then you're lucky to find a designer that operates in the overlap of that Venn diagram. Weleh Dennis, co-founder of Kids of Immigrants, makes clothing with a purpose. Through KOI's designs, they've raised awareness for organizations like Love Has No Borders and A New Way of Life. Their most recent project, a collaboration with Vans dubbed "Work a Day in Our Shoes," aims to shed light on and celebrate the working class and the immigrant community—two often overlooked demographics.
The thought behind Kids of Immigrants is simple: As two first-generation Americans, Dennis and his partner Daniel Buezo couldn't find items that "expressed the ideas and interests of a diverse group of ethnicities and cultures." So they decided to create Kids of Immigrants as a line that would represent their own backgrounds, along with so many others in this country, as literal kids of immigrants. Not to mention, the pieces look pretty cool alongside all this. We caught up with Dennis to discuss personal style, dream collaborations, and the inspiration behind his creations.
Shop Weleh Dennis' picks:
Can you tell us a bit about your background?
"I'm originally from Sacramento. I grew up in a Liberian/American household. I played basketball for a large portion of my life, and I've always loved being creative and outside. I first fell in love with fashion in 2004 at a junior college I was attending in Santa Rosa, California."
Why did you decide to launch your own line?
"I decided to launch my own line because there was nothing that I could see that expressed the ideas and interests of a diverse group of ethnicities and cultures—a brand that's not driven by a niche/specific demographic where everyone is included in the conversation."
How would you describe your personal style?
"My personal style is eclectic, feeling/character—driven, playful with shapes, proportions, fits, textures, etc."
How does your own background show through your design work?
"My background shows through the work and the quotes, wordplay, layout, composition of type/text, and the overall fit, color, and inspiration."
Do you have a uniform?
"I do not have a uniform per se, but I will usually have a classic workwear-style outfit but play with the proportions, colors, and textures based on how I feel that day."
What do you let yourself splurge on?
"Thrifting and creative/art supplies (paints, brushes, textiles, etc.)."
What has been your favorite purchase of all time?
"I don't really have a favorite purchase, but anything that has elevated my understanding and creative approach."
Where do you look for inspiration for your collections? Is your answer the same in terms of your own style?
"Inspiration for collections comes from nature, animations/anime, movies, conversations, vintage/archival finds, and museum/gallery visits."
Which stores do you frequent?
"The Salvation Army."
What would your closet be full of if money were no object?
"If money were no object, it'd be full of pieces I have created, mixed with creations from friends and creative motivators (other inspirational artists/talent)."
Vintage or new?
"Vintage is always new to someone new."
What brand would you ideally love to collaborate with?
"It's not so much a brand, as I would love to collaborate with designers like Phoebe Philo, Martin Margiela, Alexander McQueen, and Kanye West."
What is so special about collaborating with other designers/brands as opposed to doing things yourself?
"It's a collective of energies focused on one project/opportunity and it allows room for amazing possibilities."
If you could envision one icon wearing your designs, who would it be?
"I envision Rei Kawakubo, Phoebe Philo, Martin Margiela, Elon Musk, and Kanye West wearing it."
What does your current WFH wardrobe look like?
"Sneakers, jeans, and a t-shirt."
Who are your favorite small fashion brands of the moment?
"Kids of Immigrants, StudioWELEH, and Bricks & Wood."
What are the most-worn items in your wardrobe?
"Blue Dodgers fitted white t-shirt, oversized/distressed black t-shirt, Chuck Taylors, and black shades with yellow lens."
What era of fashion is your favorite and why?
"Now is the time."
Photos: Mario Kristian and David Camarena
Want more stories like this?
Bloody Osiris' Fashion Sense Literally Knows No Boundaries
This Season I'm Bidding Adieu to the Women's Section
9 Emerging Fashion Brands to Know—& Shop Now