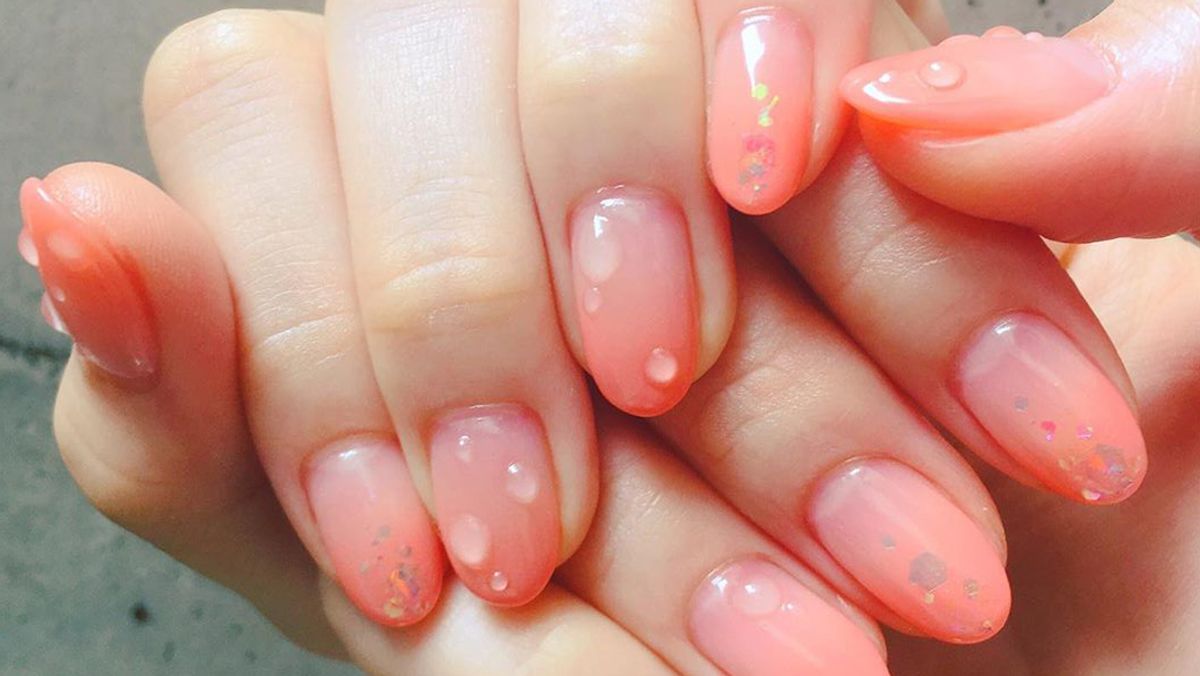 Nails
Expert tips for our favorite new nail art for fall.
---
After the base coat is slightly dry, paint the nails with about two coats of regular or gel polish. If you're feeling rather indecisive about color choice, follow Aaron's suggestion: "Use a chrome nail polish as the background. Chrome powders give [the raindrops] that holographic look. The shimmer of the chrome [creates an] illusion of actual raindrops as you move your hand side to side."
Step 3: Drop It
Now, the raindrop design may seem intricate, but the technique is actually quite simple. Aaron suggests opting for a thick, clear gel top coat for the actual raindrops, which will retain the shape of this design far better than a thinner, regular top coat or clear nail polish.
After you have your gel top coat ready, you will want to determine which tools are right for your nail. Aaron explains, "The length of your nails will factor into [the design]. The longer the nail you have, the more canvas you have to play with. The shorter the nail, the smaller the drops you're going to want to make." You can use both ends of a nail-dotting tool, a fine art brush, and even the brush that comes with the polish for longer nails. If you have shorter nails, you can use a fine art brush, the smaller end of a dotting tool, or a toothpick.
Aaron recommends practicing with the toothpick and dotting tool first—she states, "My only concern with using a dotting tool and a toothpick [is that you may] make a mistake and poke the nail polish beneath." To avoid this, practice dropping nail polish onto a surface without actually touching it. The trick to mastering this is loading up your tool with a gel top coat and letting the polish drip from the tool onto the surface. It should look like honey dripping down from a spoon. Be sure to do this at a fairly close distance to the surface, as dripping the liquid too high can result in a more splattered effect.
Once you have the dripping technique down, it's time to try it on your dried and painted nails. Again, the real trick for making sure your drops retain their bulbous shape is to apply this design to dry nails—this will allow the gel top coat to cling onto the surface of the nail and keep the drops in their shape. Otherwise, the drops might start to spread and seep into a flatter shape.
To mimic a sporadic water design (rather than having all the drops look unnaturally uniform), you
'
ll want to use different tools to create different-sized drops. Begin by randomly dripping the gel top coat onto your nails with your largest sized tool, then load up a smaller tool with the gel top coat and drip onto any sparse areas in your nail design. Finally, use your smallest tool to drip gel top coat onto any negative spaces until your desired look is complete. No need to add a top coat here, as it would risk smoothing out the edges of each drop.
Aaron recommends letting the nails dry for at least 20 to 30 minutes. The best practice would be to cure this manicure under a UV lamp, but no worries if you don't have one handy at home—a drying spray or the air in your apartment will work just fine. Once your design is fully dry, they will remain smudge-proof and intact until your next at-home manicure.