A Step-by-Step Guide to Doing Your Own Gels at Home
We got a masterclass from the pros.
Nails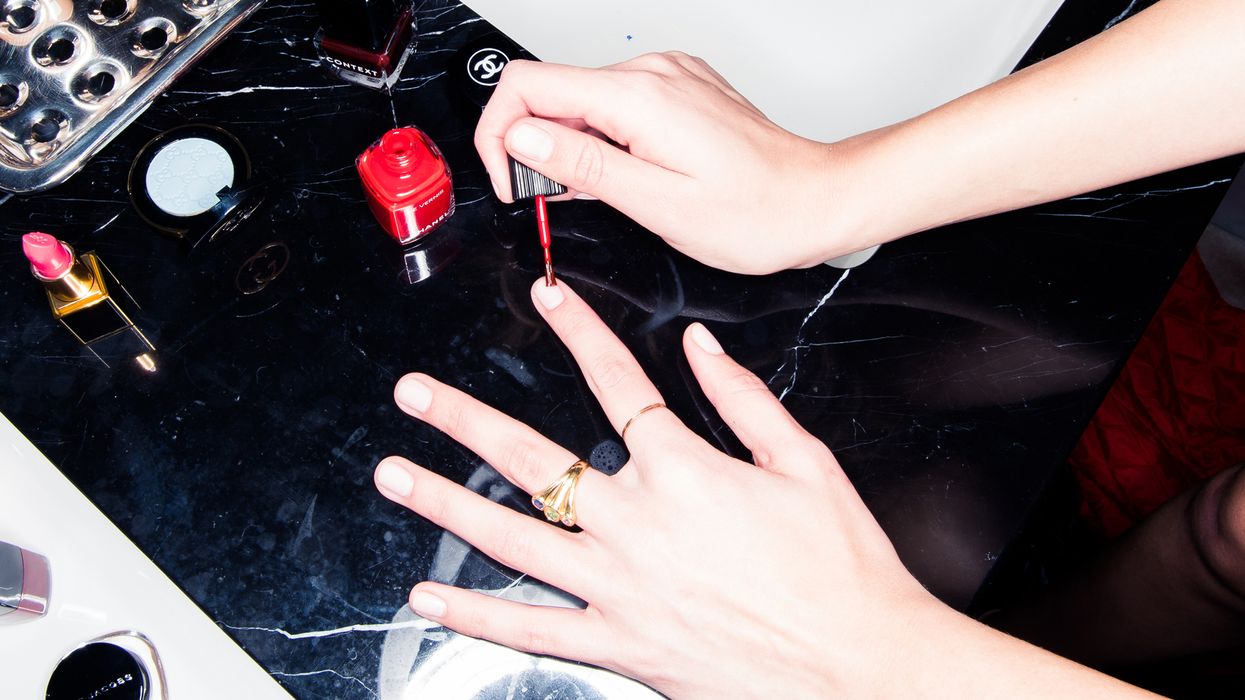 If spending months in quarantine has taught me anything, it's that the many beauty services I once relied on—whether it's a bang trim or
getting my brows tinted
—are totally achievable in the comfort of my own home. While these DIY adventures have become my new favorite pastime, the one thing I have yet to perfect is a lasting at-home manicure. Frustrated with weekly paint jobs that chipped within a day, I've realized just how much I miss having gels—and I'm certain I'm not the only one who feels this way.
The good news? You don't actually need to visit a salon in order to have a professional-level set of gels. Sure, doing your own may seem more intimidating than a traditional mani, but with a bit of practice and the right tools, a near-indestructible manicure of your own doing is totally achievable.
Of course, there's a few things to know before you make the switch to gel. Below, four nail artists gave us the lowdown on perfecting the gel manicure at home.
---
Step 1: Gather Your Tools
Before making your foray into DIY gel manicures, you'll first need to make sure you have all the right tools. In addition to the usual suspects—nail clippers, file, buffer, and cuticle tools—you'll also need a gel curing nail lamp and, of course, a few quality gel polishes.
Finding the right gel curing lamp can seem overwhelming at first, so researching as much as possible before purchasing is key. Both UV lamps and LED lamps exist, but nail artist Canishiea J. Sams of
Nails By Canishiea
recommends choosing an LED device. Not only do LED lamps cure gels faster (they dry polish in just under a minute compared to a UV device's eight to 10), but they're thought to be safer due to less UV exposure. As a bonus, the bulbs also last significantly longer.
A slew of options are available on Amazon and beauty supply websites at a wide range of price points, so be prepared to dig in and thoroughly read through customer comments and product reviews to find the right one for you. If you're still not sure, don't be afraid to turn to the experts. Celebrity manicurist and nail artist
Mimi D
recommends consulting with a professional manicurist before making any purchase. "Or, visit [or call] stores like Sally Beauty. They have professional products and knowledgeable staff that can help you with all of your needs," she says.
To point you in a good direction, however, there is one brand favorite for celebrity nail artist Mei Kawajiri of
Nails by Mei
: Gelish, which produces a range of LED lamps that cost anywhere
from $35
to the
upwards of $300
.
Next comes polish. There are
a lot
of gel polishes on the market, but Sams recommends looking for formulas with a thicker viscosity so they don't run into your sidewalls or cuticles, as well as opting for one that's vegan, cruelty-free, and five-free. Again, since you won't be able to test these out IRL, be sure to read through all comments and reviews. Grab a few colors you're currently feeling (as well as a base and top coat—there's no skipping these steps with gel) and you're ready to go. Unless your top coat is a "no wipe" topcoat—which means it doesn't leave behind the usual tacky residue after curing—you'll also want to have a few cotton balls and rubbing alcohol handy to clean your nails post paint job.
One thing to keep in mind when picking out polish is that not all polishes are compatible with all lamps. Both LED gels and UV gels can be cured in a UV lamp, but an LED lamp is not strong enough to cure UV gels. So, whether you decide to opt for an LED or UV lamp, make sure your polishes will also work with your device.
CND
Step 2: Prep Your Nails
With any manicure, gel or traditional,
prepping your nails
beforehand is key for clean, smooth results. You'll want to first push back your cuticles with a cuticle pusher and trim them only if necessary. If you are planning to trim, Mimi D stresses to only cut whatever is visibly lifted away from the nail plate. "Anything extra will likely cause bleeding, which could then lead to an infection," she says, so take your time and be extra cautious. Then, clip and/or file the free edge into the desired shape and buff the entire nail.
Next comes the most important step of gel nail prep: cleaning the nail. "I wipe all ten nails down with alcohol to make sure there isn't any dust, debris, or oil left on the nail," says Sams. Gel won't properly adhere if there is any oil on the nail bed, so making sure your nails are clean before painting is a must. That's why you'll want to wait until
after
you've finished your manicure to reach for the cuticle oil.
Don't have rubbing alcohol or acetone on hand? Editorial nail artist
Miss Pop
opts for something you're most likely already stocked up on: "I actually like to use something we all have in abundance now—hand sanitizer. Just be sure to rehydrate with cuticle oil once you're done with your gel mani."
Step 3: Paint and Cure
Now that your nails are prepped, you're ready to start painting. Remember—it's crucial to use a gel base coat and top coat in order to make sure it adheres to the nail and is sealed properly, so you can expect to paint each nail with at least three to four layers of polish, depending on how opaque you want your color to be.
When using gel, Kawajiri stresses that each coat should be painted on in a thin layer, much like you would avoid globbing on regular polish. You'll also want to be careful not to flood the cuticle with paint, according to Sams, as that will cause the gel to lift later on, thus cutting the life of your mani short.
Don't be afraid to go slow, especially if you're prone to smudging a regular manicure almost instantly (ahem, like me). Dry your nails in your curing lamp at a pace that feels right for you. "Take your time when polishing nails with gel, and until you really get the hang of it, it's OK to polish and cure one finger at a time," says Mimi D. "And
always
 be sure to remove any gel off of the skin prior to curing." Any polish on the skin that hasn't been cured can be easily wiped away with a cotton bud and rubbing alcohol.
Before moving on to the next coat, check to make sure your nails have completely dried in the curing lamp—and pay special attention to your thumbs. Kawajiri explains that due to the angle when placed in the machine, your thumb nails can sometimes miss some of the LED light, causing them to not dry fully. To avoid this, try painting and curing your thumbs separately.
Feeling adventurous enough to
try some nail art
? A good place to start is a negative-space manicure, such as a half-moon or halfsie nail, a favorite of Miss Pops' for extending the life of your gel job, since color is painted way above the cuticle. "The rise of gel manis and the recent popularity of negative-space nail art go hand in hand—no pun intended. Since gel manis typically last two to three weeks, negative space can be a chic way to disguise nail growth," she says. "Simply use the bottle brush to cover where you want color on your nail—it doesn't have to be perfect, just get the general shape. Then, before you cure, use a clean paint brush or old makeup brush to wipe off excess polish and create a clean line."
If you're looking for something that looks a bit more advanced (but still easy to do!), a dotting tool is great to add to your nail kit. "A dotting tool is great for a beginner nail artist," says Mimi D. "Lots of great designs can be done with one, such as polka dots, leopard print, flowers, and more." Treat any hand-dotted designs as another layer of polish, painting onto dried color or base coat and sealing with topcoat.
If you're not ready to give nail art a go just yet but are craving more than just a solid color, opt for easier options such as
nail stickers
(or even
small temporary tattoos
). Mimi D suggests first applying and curing a topcoat (and being sure to remove the sticky residue with alcohol) and then placing the sticker on top. "Be sure that the sticker is really flat and that there are no air bubbles, and then add another layer of top coat and seal those edges."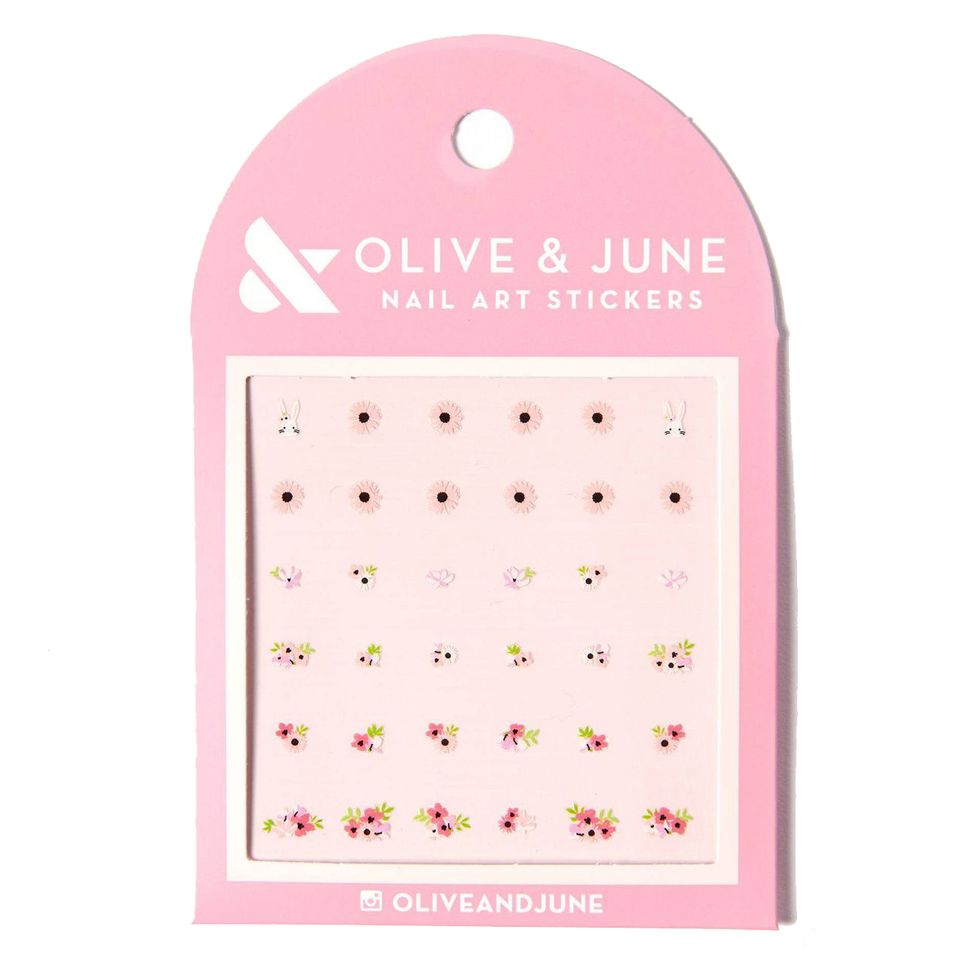 Olive & June
INKED by Dani