This Is Your Skin on Vitamins
Comparing ingestible and topical vitamins and their effects on your skin.
Health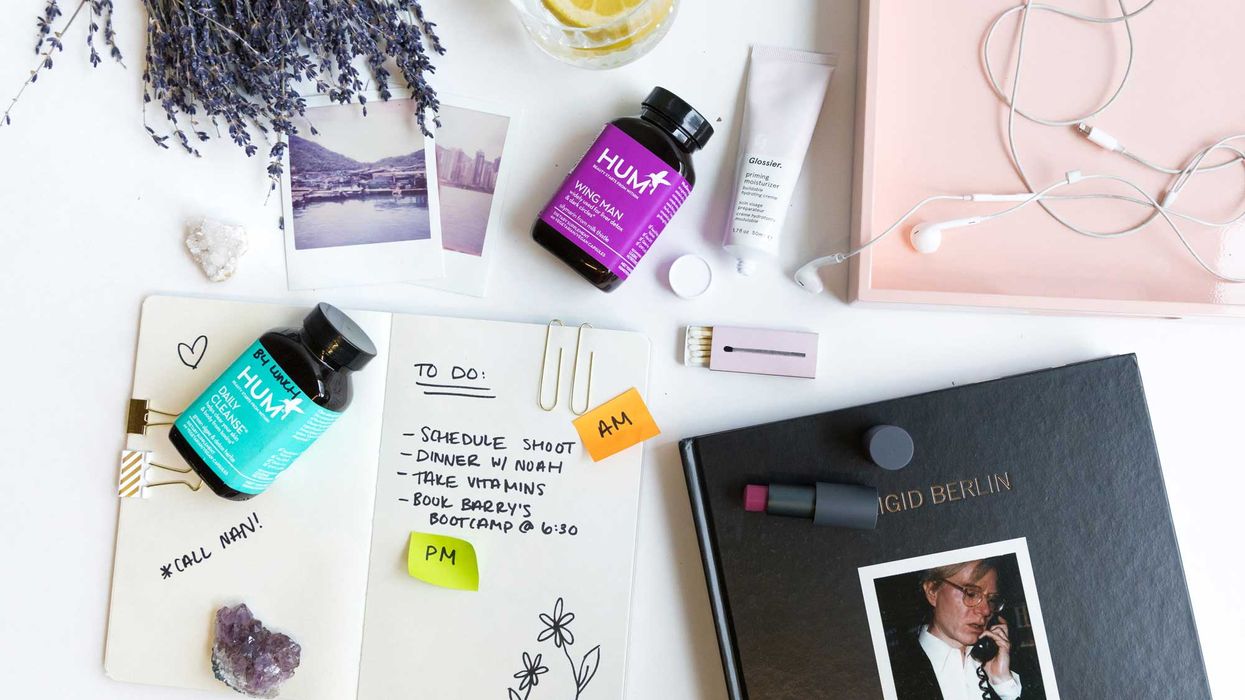 ---
Which Vitamin Does What?
So vitamins are crucial for our overall health, but what exactly do they do for the skin? Here is a breakdown of some of the best vitamins to incorporate into your skin-care routine.
Vitamin A:
Topical vitamin A is also known as a topical retinoid. According to Dr. Ciraldo, "[Vitamin A] strengthens collagen, helps breakouts, brightens skin, and evens skin tone." By accelerating cell turnover, vitamin A helps reveal firmer, brighter skin. And since retinoids can increase your skin's sensitivity to the sun, they should be applied at night, and you must be diligent with your sunscreen application during the day.
Vitamin B5:
Also known as pantothenic acid, this helps to smooth congested skin with its anti-inflammatory properties. Vitamin B5 should be applied at night.
Vitamin C:
Vitamin C serums have slowly crept their way into virtually everybody's skin-care regimens, and for good reason. "Vitamin C is going to affect pigmentation," explains Dr. Talib. It helps to brighten the complexion and diminish dark spots. Although it can be applied both morning and night, you should apply vitamin C in the morning to provide extra protection from pollution throughout the day.
Vitamin D:
Our skin always looks a bit healthier when we safely take in a bit of sun, right? Now, this does not necessarily mean that we should be applying vitamin D to our skin. Dr. Ciraldo states, "There is little data on how vitamin D applied topically will help the skin, but one blood-level study showed that it may help vitamin D
–
deficient people." Essentially, it does not do much for the skin, but can be absorbed into the blood for a more systemic effect.
Vitamin E:
In one episode of
The Sopranos
, Carmela punctures a vitamin E capsule and rubs its contents onto one of Tony's scars to help it fade quicker. Turns out, there is very little evidence that vitamin E actually does anything to help with pigmentation. Although, do not sleep on this supplement. Says Dr. Circaldo, "[Vitamin E] is a very hydrating ingredient when used topically." Vitamin E can be applied on its own, but is most efficient when used in conjunction with vitamin C and Ferulic acid.
Vitamin K1:
If you are one of the
many
individuals experiencing redness in the skin or dark circles, vitamin K1 can be the remedy for your issues. Dr. Circaldo explains, "[Vitamin K1] may help with broken-vessel appearance, pre- and post-procedures that cause bruising, and lessening [the] appearance of under-eye circles or red skin."