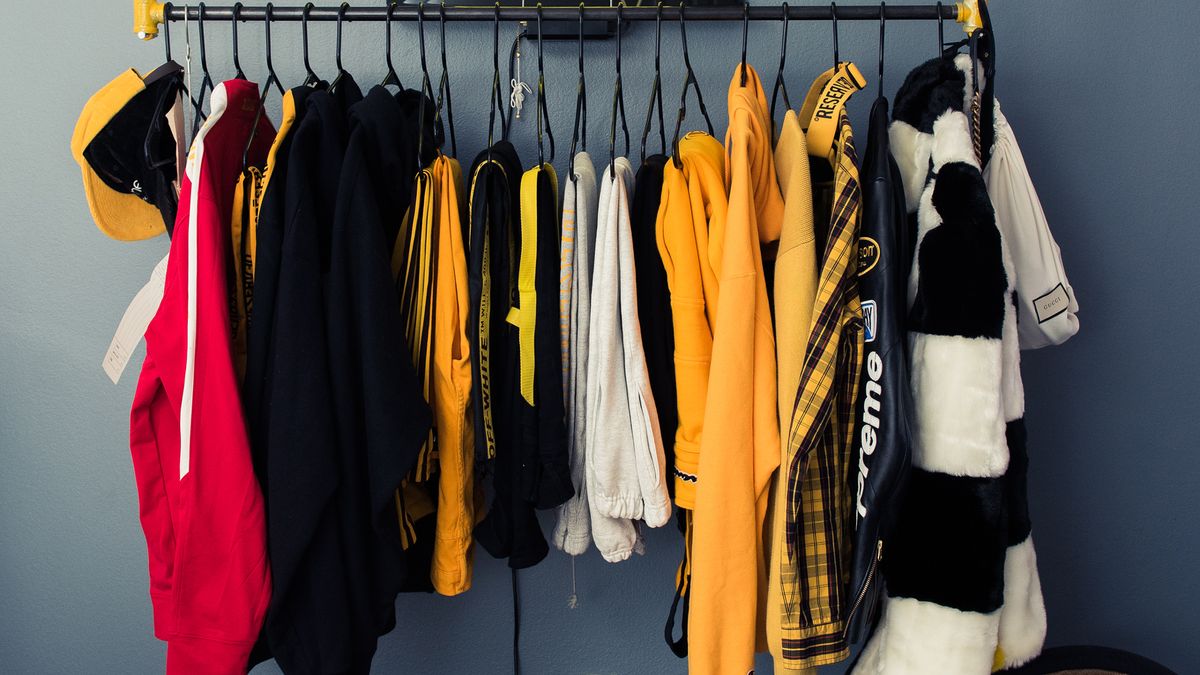 Fashion
How borrowing from the boys gave me the wardrobe I always dreamed of.
I don't think I'm alone in saying that my
relationship to fashion
has changed dramatically since the start of the pandemic. Stacks of printed trousers go unworn in my dresser, platform heels hide out in the depths of my closet, and the only time I've shimmied into a dress was to pick up coffee during a particularly gorgeous summer day. In truth, I've spent more time in t-shirts and sweats than I ever thought possible (at least outside of freshman year of college), and yet my job entails being constantly attuned to the fashion and beauty industries and their collective
new launches
. It's a strange dichotomy, compounded even further by our current grim reality. So why don't I feel more eager to treat myself to a new piece or two, even if it's just a distraction from real life?
Despite my career, I've always felt more drawn to personal style over the individual items that debut each season. But quarantine and isolation have put something of a stranglehold on this particular mode of self-expression—except for those select few who still gladly dress themselves in a head-to-toe look every day. To be clear—I am not one of those people.
And yet, I willingly, and at times longingly, watched
designers' shows
last month, dreaming of the day when New York City's streets will revert to their status as our personal runway. Even so, my attention this season, and frankly the one before, drifted from women's ready-to-wear and landed squarely on men's clothing and its classic silhouettes.
Truth be told, the first time I felt left out of the fashion conversation (at least as it relates to women's trends) was Hedi Slimane's debut show for Celine back in September 2018. I, like many fashion-minded people, was both eager and apprehensive to see his first collection for the brand after Phoebe Philo's (somewhat gut-wrenching) departure. And I, again like many people, felt that his looks were a little too reminiscent of his work at Saint Laurent. Whether or not you agree is beside the point, since it only relates to the womenswear—the men's collection was a whole different story.
Boxy tailored jackets, slim-cut pants, super-skinny shirts—none of it was groundbreaking, especially for Hedi, but it all looked so much
cooler
than the short polka-dotted dresses and splashes of technicolor sequins the girls were wearing. Now, I own my fair share of color and sparkle (a Dries Van Noten fan through and through), but for the first time I saw myself building a wardrobe with the items on the male models much more so than the women's. Do I want a strapless cream-colored organza crop top? Absolutely. But 25 of those does not make a wardrobe—and if it does for someone else, can we please trade lives?
---
Four show cycles later, I'm feeling even more out of step with women's fashion. The popular, uber-feminine details that we're seeing lately—oversize collars, pussy bow blouses, and oodles of ruffles—to me feel more like an attempt to reinvent the fashion wheel rather than admitting that a closet full of classics is a wiser investment overall. Remember—it's harder to sell someone a
simple white blouse
when she owns three already.
That's not to say there aren't shows that still make my heart sing—I'd happily take a trousseau of Christopher John Rogers gowns any day of the week—nor do I fault anyone whose personal style is still reflected by the current collections, but I'm firmly in my 30s now, and a closet filled with sleek suits and cashmere sweaters feels much more intriguing than dozens of this or that season's trendiest pieces. Maybe
borrowing from the boys
is our way of creating the type of
sustainable wardrobe
that lasts far beyond one or two show cycles.
Better yet, once we have those staple pieces, then we can truly flex those (now dormant) styling muscles. Trust me, when you own five pairs of nearly identical black trousers, it takes a bit of finesse to make your outfits feel new and exciting. And yet, it's not only possible—it feels
refreshing
, especially after years of chasing trends.
Happily, in the two years since I felt the first tug towards menswear, I've learned that you
can
find incredible (and fashion-forward) pieces from the boys' side of the store. Granted, it doesn't hurt that I have a slim figure and almost no chest to speak of—I'm more along the lines of a walking hanger—so I know that if certain pieces look good on a man, they will almost always look pretty OK on me. But men's fashion, at least in my experience, emphasizes the quality and construction of an individual garment so much more than women's, and there is often an expectation of tailoring in order to achieve that ideal fit.
Even without taking your clothes to a tailor on the regular, you'd be wise to start checking the men's section for everything from sweaters to coats—this summer I even discovered that men's swimming trunks make the
perfect
longline shorts (as long as you cut out the mesh underwear). All it takes is knowing your measurements and a bit of trial and error. There are secrets to be uncovered here, ladies, even if you will happily wear a polka-dot cocktail dress five days out of the week. And remember—
jewelry
and accessories exist for a reason.
Allow me to share a few of my favorite menswear pieces that I plan on having in my wardrobe for a long, long time: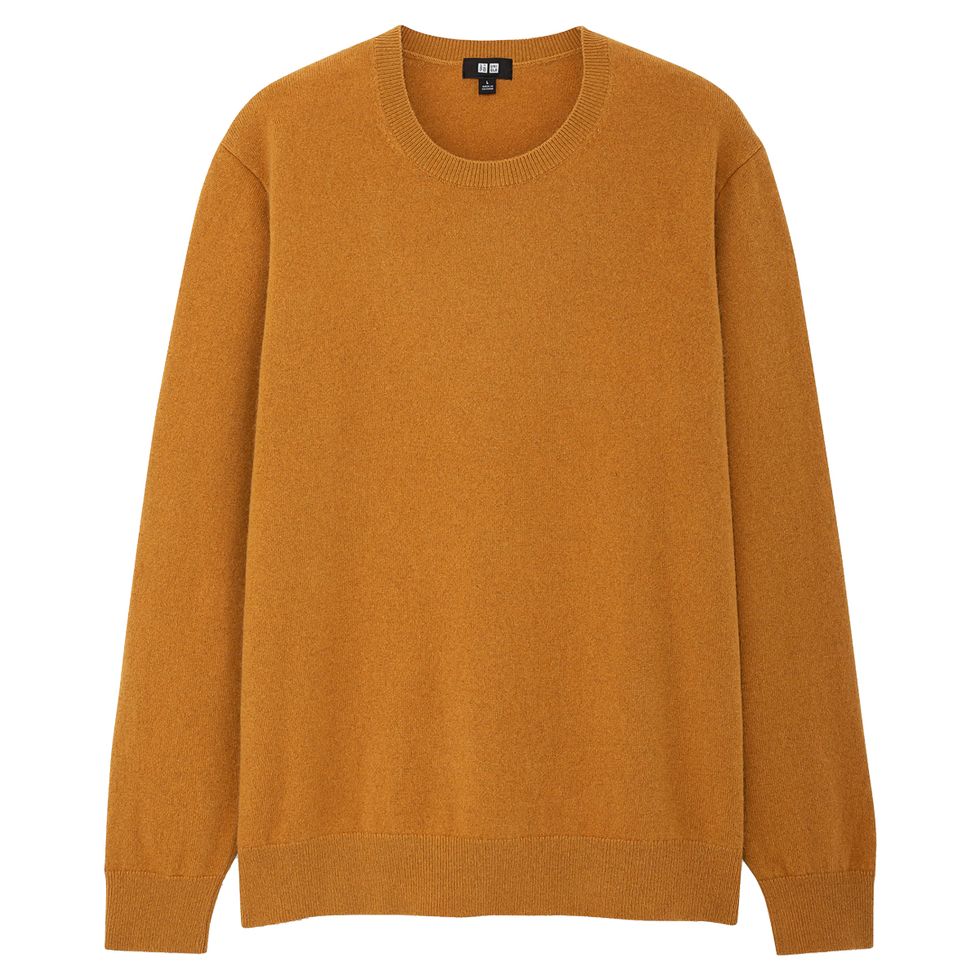 I can't fully take credit for this discovery—Jenni Lee first told me about her devotion to Uniqlo's men's cashmere sweaters, and I have to say she is 100 percent right. There's something about the proportion of the shoulders and the thickness of the fabric that gives you that perfect slim-cut drapey look. I bought an XS, but the sizing goes all the way down to XXS and up to a 3XL, so even if you have more of a chest, you can make the fit work for you. Highly recommended.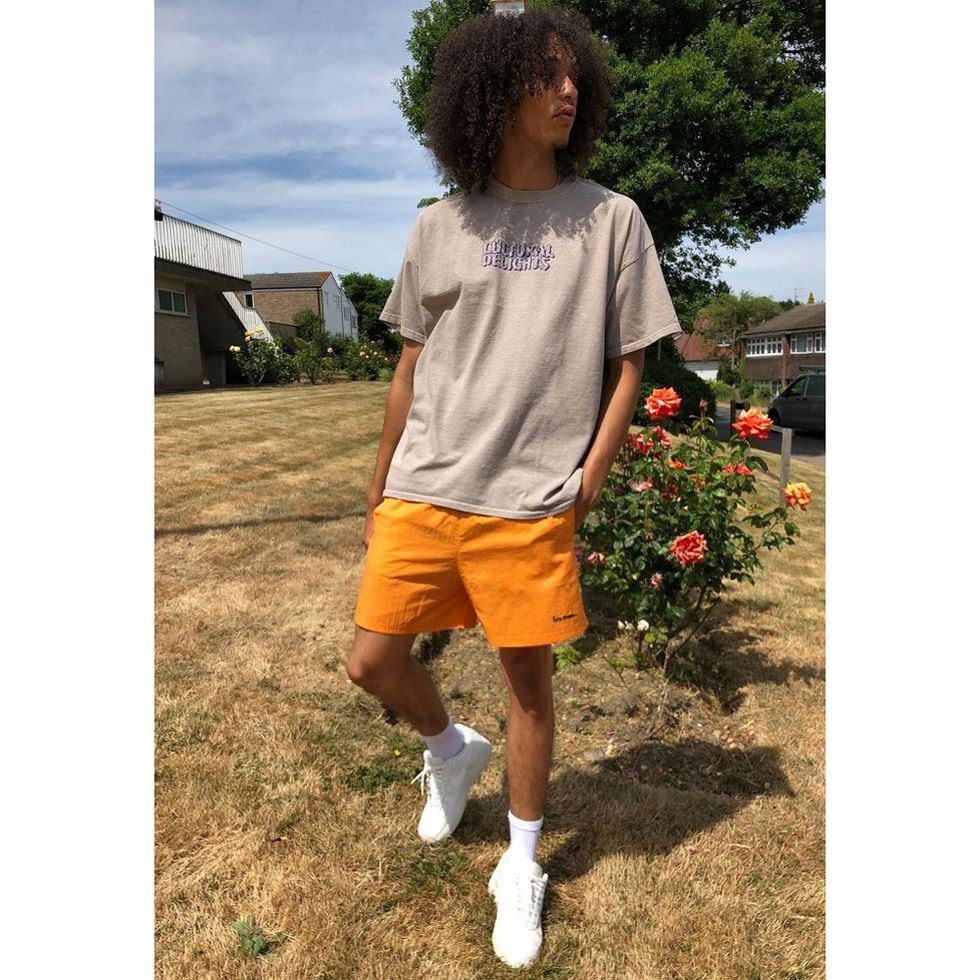 I'm still wearing shorts at home, despite the dropping temperatures (thank you, pandemic), but I absolutely love longline styles, and obviously men have a plethora of options. Swim trunks, jogging shorts—you name it, you can find a style that will fit you. Men's waists are usually smaller on average, so just check the measurements depending on whether you want a high or low-rise fit. This electric-orange pair is just my latest obsession.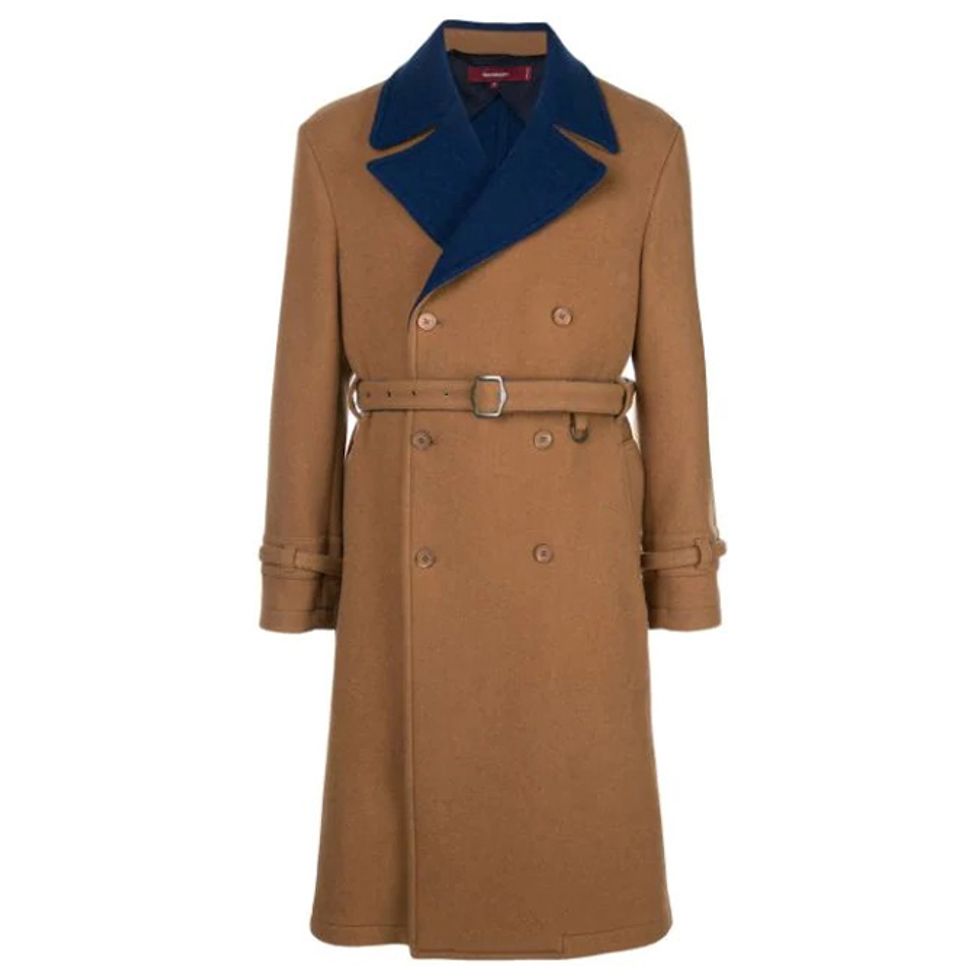 Aside from wanting to buy from Sies Marjan while you still can (tear), there's something about men's outerwear that just hits different. The construction is elegant and flattering without fail, and if you want that chic, oversize vibe that we always see French women wearing (with or without a belt), this classic camel trench deserves a spot in your wardrobe. I may have two like this one hanging in my closet already.
Sies Marjan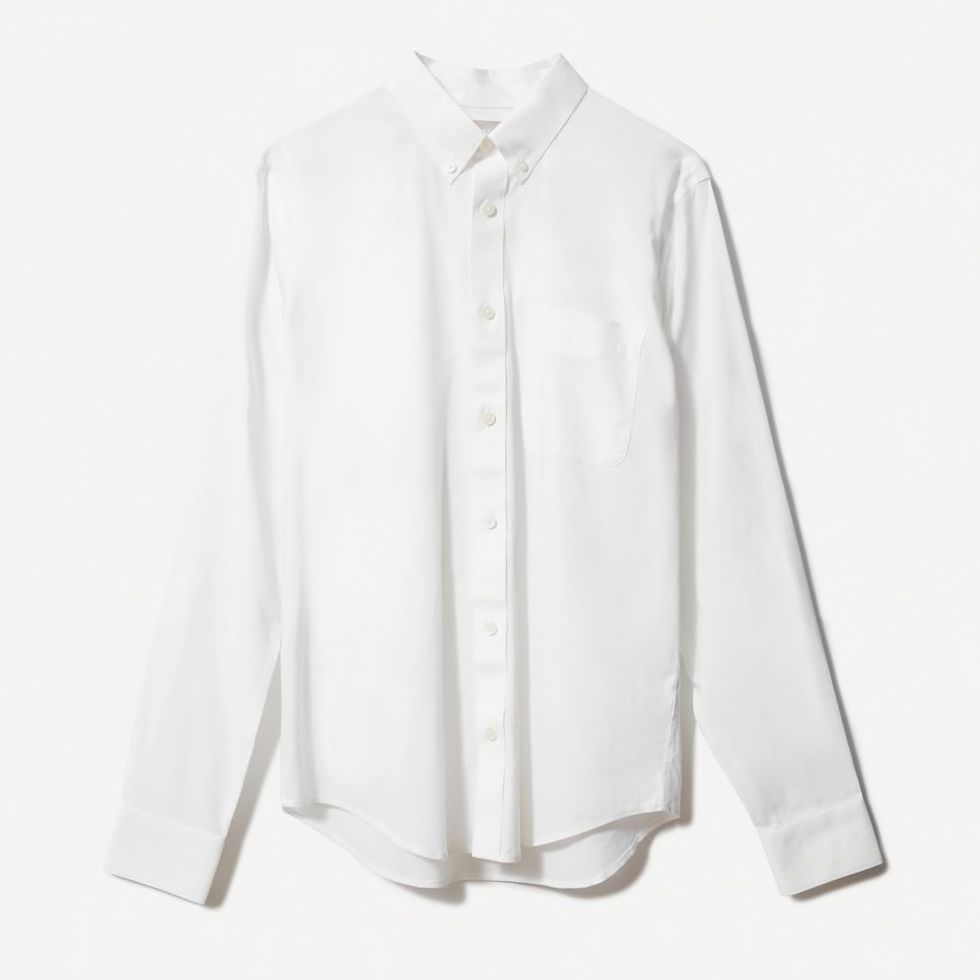 I don't know about you, but few things make me feel sexier than an oversize white button-down with a *fancy* black lace bra underneath. And if you want that "I stole this from my lover" look, allow me to suggest this oxford. The texture is a little bit heavier than what you'll find in women's styles, which gives you that ideal drape, and it holds the shape around the collar throughout the day. Bonus—it's much less see-through than what you'll find in the women's section, but, you know, not too much. You want to at least hint that you have on nice lingerie.