Can Loving Fashion Actually Be an Asset in the Fight for Sustainability?
It's time to lean into the emotional components of fashion.
Fashion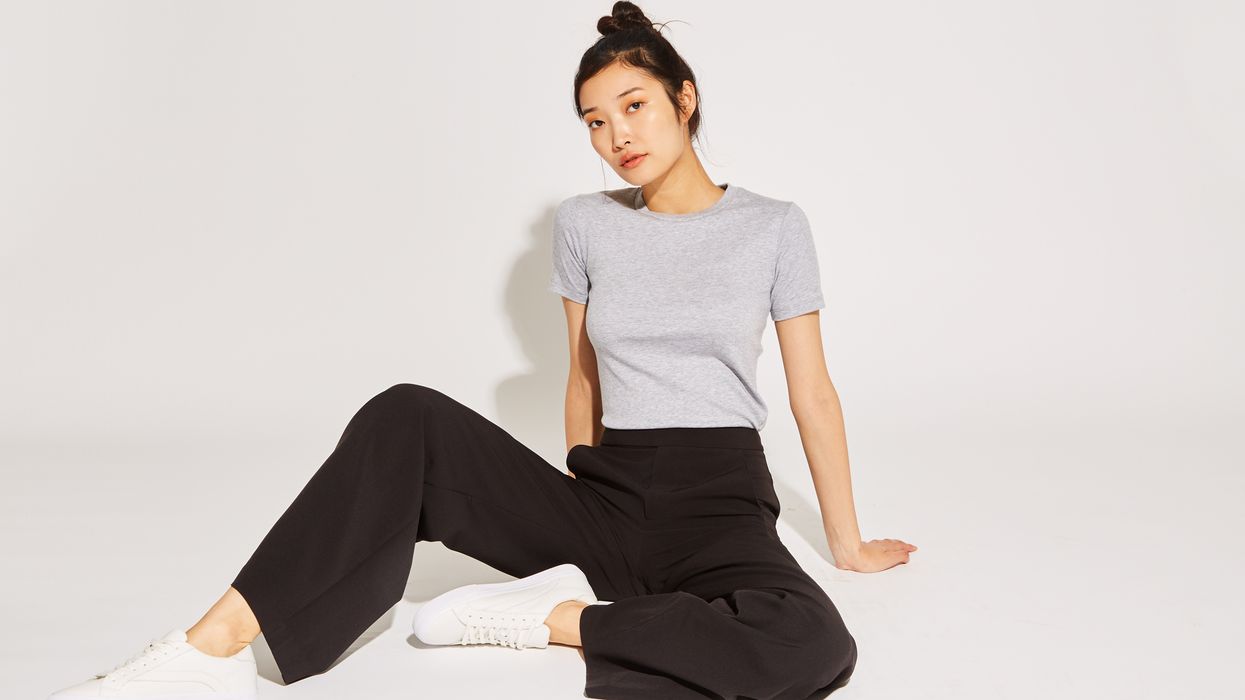 Between Instagram, the proliferation of street style, and the constant cycle of catwalks, it's easy to associate fashion lovers with trend-driven shopaholics that perpetuate fashion's effect on the environment, but that's not always the case. In fact, it's typically the reverse. A love of fashion can actually be an asset in terms of reducing your personal carbon footprint, despite how contradictory that sounds.
Someone who truly cares about fashion develops a relationship with their clothing versus shopping trend-to-trend. There's a lot of science and technology involved in the complex chasm that is sustainability, but there's a mental and emotional component to address there as well, because fashion is just that
—
emotional. To make real change, aside from investing in recycled materials and new technologies, we're going to have to shift the mindset that the fashion cycle perpetuates.
Redefining the words we gravitate towards, like
new,
 which are so often perpetuated by the market, is important. "One has to 'frame' it differently. By buying a lot, you are doing more harm than buying less," explains
Julie Gilhart
, president of Tomorrow Consulting, an organization dedicated to helping fashion businesses grow without sacrificing their positive impact.
"We do need to change the culture of newness because it no longer serves us," sustainable brand consultant and stylist
Cassandra Dittmer
 says to further the conversation. "We now have increased information and transparency about the fashion industry, supply chains, and other facets. Therefore, our purchasing habits must reflect our values." 
---
Through her work, Dittmer focuses on "locating both established and emerging brands, designers, and creatives who are at the forefront of sustainable technologies and practices," according to her website
—
a task that is often very challenging, as sustainability's definition these days is murky at best. She explains the importance of developing a deeper connection with our clothing, noting that it would cause us to "think twice about discarding items that are likely headed to a landfill. We have been pushed with a capitalist agenda of thinking we always need 'new' or 'more.' When clothing purchases are made with intention, energy, and mindfulness, you will notice a huge shift in your buying patterns."
"I've also found the desire for newness is easier to combat when you've built a considered and timeless wardrobe. It's easier to want new clothes if you constantly feel like you 'have nothing to wear,'" says designer
Misha Nonoo
of her made-to-order eponymous label. Her messaging further translates into creating a wardrobe that works for you and your lifestyle and therefore can last for long periods of time.
"Developing your own personal style and building a wardrobe that suits your lifestyle is a great way to know exactly how much or how little you need. Really pay attention to what you reach for the most when you're getting dressed," says Nonoo. The company as a whole encourages customers to 'buy better, wear longer.' "You should think about what you already have in your wardrobe and how the new purchase will work with what you own."
The word
style
can conjure up thoughts of excess in terms of fashion, but that's not what it's about at all. Someone who really understands their own personal style knows exactly what they will or won't wear and is therefore an extremely effective shopper, which decreases the number of wasteful purchases.
Figuring out
how
to style a garment multiple ways with things you own is a way to further the life cycle within your own closet. "It's a great thing to use styling as a tool to create endless possibilities of how to wear the pieces one loves," Gilharts adds. Finding additional styling potential extends the wearability of an item and can make it feel 'new' again when worn in a different way.
You don't actually have to stop consuming altogether. "Sites like The RealReal resell designer clothes in beautiful condition," says Gilhart. "Not only are you helping the environment, but you also get designer clothes for a fraction of the price!" The pieces you love are the ones you are more likely to take care of, to mend, and to repair.
Aside from loving the clothes themselves, let those shopping choices empower you. We hear the phrase 'vote with your wallet' all the time. Ingrained in this statement is both power and responsibility. "When we are purchasing, posting, or amplifying brands in any capacity, there is an opportunity to elevate brands that have valuable missions," says Dittmer. "I find that spending a bit more time digging into the specifics of the pieces I am buying makes me feel fulfilled and confident. When I get a compliment or someone asks where I found an item, I love being able to act as a resource and not just a shopping buddy."

"If someone truly loves fashion, then doing their research on which brands are rising to the creative challenge by making clothing sustainably can actually be a fun and exciting fashion journey," says Gilhart. She then redirects us to the dangerous nature of the phrase "on trend."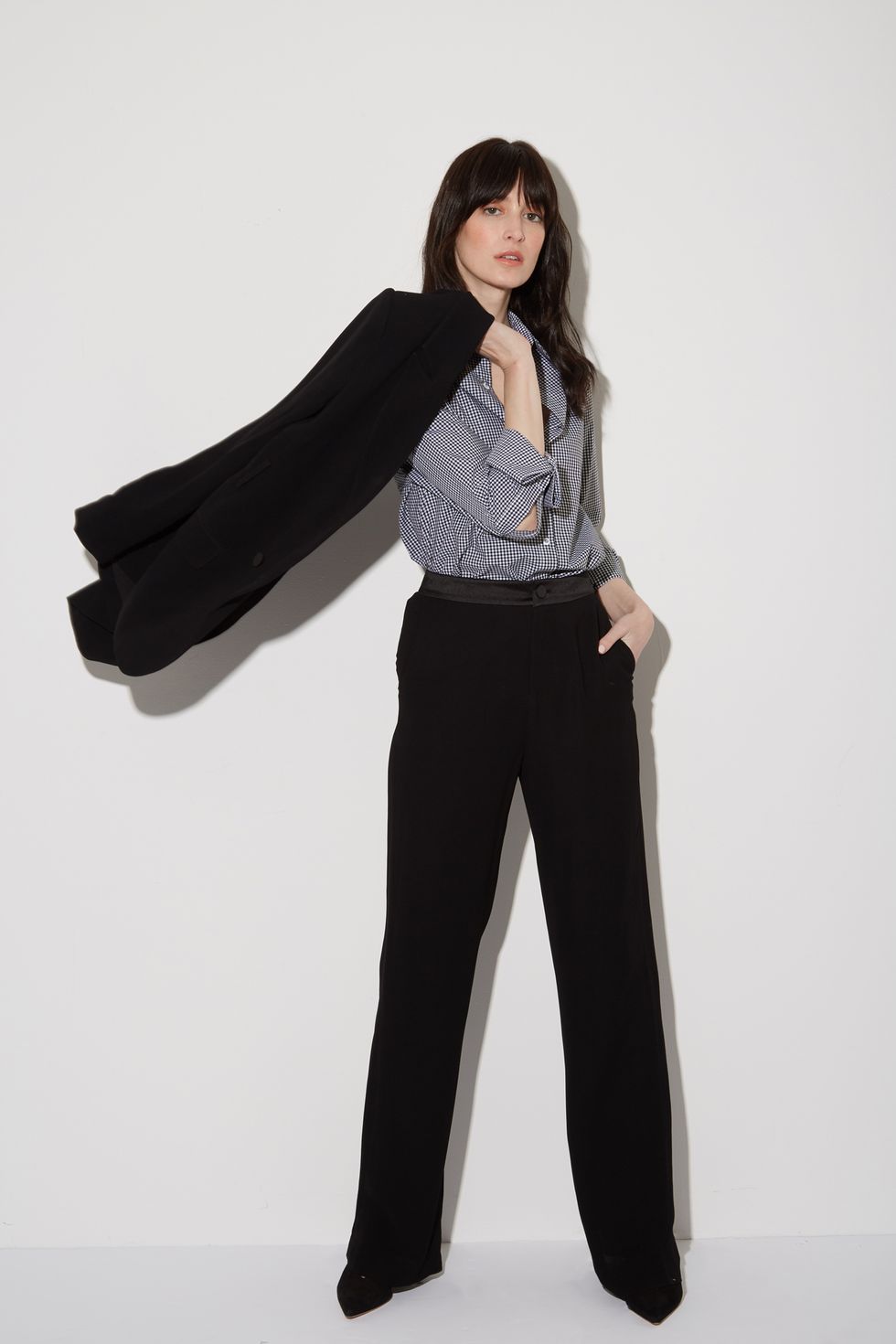 Photo: Courtesy of Misha Nonoo
"It's important to really differentiate between what is just trending and what will have longevity in your wardrobe," says Nonoo. "The idea of 'slow fashion' is definitely growing in popularity, and I think there [is] an increasing number of consumers who prefer time-honored styles instead of drastically changing looks year to year."
Trends have come to equate a status symbol. Now that trends move so fast, no one can keep up, creating a frenzy of stress and desperation that companies and their marketing tactics feed off of. How do you know if a garment will stand up to time? According to Gilhart, the return of an item on the vintage market is literally proof of longevity because it has already been loved in different eras of fashion.
Odds are you aren't going to like every single trend, so pick only what works for you. "When you focus on what you genuinely love and looks good on your body, you tend to make more aligned choices," says Dittmer. Between social media and the fashion system, we are conditioned to want to switch our wardrobe up every season.
Clothes are emotional armor. Lean into that. Develop a relationship with your clothing. Feel pride in your purchases. This change in mindset is a way to create lasting change in your own shopping habits.
Photos: Courtesy of Misha NonooWant more stories like this?
Meet the Los Angeles-based Designer Making the Ultimate Elevated Basics
Fashion Designers Are Teaming Up: 10 New Collaborations to Shop Now
Fashion without a Runway