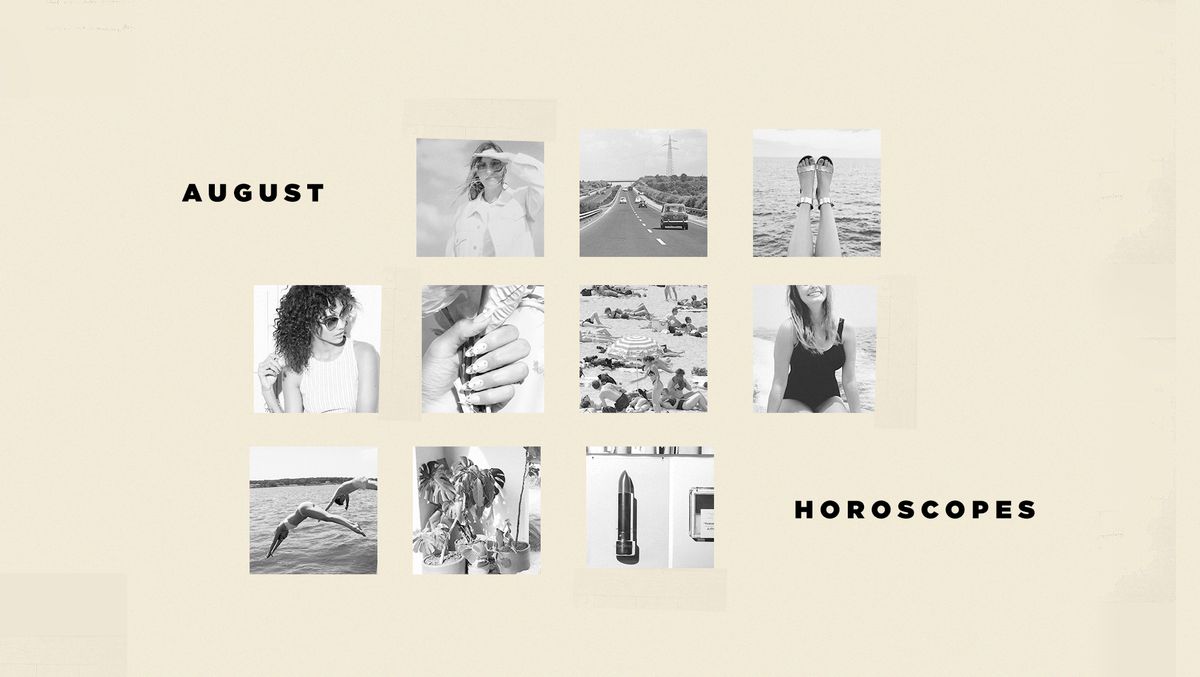 Horoscopes
It's all about practical adjustments.
Graphic
Rachel Pickus
Amid this remarkable year, August gifts us extra exuberance and heart. With the sun trekking through good-natured Leo for most of the month, people everywhere are encouraged to act with integrity and heroism. Historically associated with bravery, royalty, and sunshine, the sign of Leo reminds us that we all can be compassionate leaders in our own way. A dramatic full moon on August 3rd may bring out some reckless or hasty tendencies—healthy outlets are more important than ever. The planets provide some optimism and momentum throughout the month, especially with Mercury and Venus fully clear of their retrograde periods. Mars—the proactive planet of getting stuff done—is especially supported, making August a great time to thoughtfully launch projects and take strides towards a brighter future. Tread carefully, though, or else you will have to rework things during the upcoming Mars retrograde. The inspiring Leo new moon on August 18th is one of the summer's last hurrahs, encouraging us to set intentions towards more heartfelt, authentic ways of living. The dog days are over once the sun moves into the discerning, analytical sign of Virgo on August 22nd—grounding us in reality. Marked by transitional energy, Virgo season shifts the collective's focus towards health and habits. Small, practical adjustments can create large-scale change that benefits everyone.
 

ARIES
These long summer days won't last forever—soak it all up! August wants you to make the most out of this season: dream, laugh, cook, dance, paint, create. What brings you joy? There is plenty of compelling, fiery energy around that complements your natural lust for life; utilize these sparks before your planetary ruler goes retrograde in September. The Leo new moon on August 18th is a great opportunity to incorporate good habits and outline clear goals as we approach autumn. 
TAURUS
Sometimes, the most important work you do cannot be measured or commodified. This is a time for shifting your focus towards your local community and home base. Organize, redecorate, sort, donate, read, garden, commune. Above all, be present; not everything you do has to be on a to-do list. When planets enter Virgo at the end of August, there's an added sense of optimism and creativity for fellow earth signs. Accept what you cannot control, and go with the flow. 
GEMINI
Being busy is fine as long as you remain engaged and present. This bustling month presents a variety of paths you could take, things to do, and options to choose from
—
but what really makes your heart sing? The enlightening full moon may help provide some insight. August's planets challenge you to narrow your focus and allocate your energy thoughtfully. The second half of the month is ideal for slowing down—find (or create) a space where you feel expressive and safe. 
CANCER
Recognize your worth, and up your price. Now is the time to enjoy the fruits of your labor and ground yourself in the present. With harmonious Venus in your sign for most of the month, there's some extra positivity around. Beautify your environment, take selfies, treat yourself to the finer things, and engage all your senses—especially around the Leo new moon on August 18th. You work hard
—
don't forget to play hard! 
LEO
Bask in the glow of your season, Leo! This fresh trip around the sun gives you a chance for release and reinvention. You have a place in the bigger story—claim it loudly and proudly. August is inviting you to commit to your goals and embody your fiercest self. Even though things are moving slower than you'd like, the invigorating Leo new moon on the 18th is an opportunity to set intentions for the upcoming year. Let your inner child make some decisions this month, and raise a glass to how far you've come. 
VIRGO
On the edge of a new cycle, August wants you to embody compassion and ingenuity. What attitude are you bringing with you this upcoming year? With your ruler—Mercury—charging full steam ahead, you're able to make headway on ideas that have been percolating all summer. The second half of the month is especially stimulating; the sun enters Virgo on August 22nd, encouraging earth signs to take charge and lead by example. You're not bossy, just the boss! 
LIBRA
August looks good on you, Libra. Your sector of dreams, wishes, and networks is being activated
—
plan for more group chats and friend requests. With charming Venus topping your chart this month, you possess an enchanting...
je ne sais quoi
. This summer has taught you a lot, and you're ready to explore greener pastures. The new moon on August 18th is the perfect chance to formulate updated goals that bring you joy and purpose. 
SCORPIO
August is the time to get out of your comfort zone and begin taking tangible steps towards your future. What makes you feel ambitious? Inspired? While you're emboldened by the fortunate placement of Mars—your ruler—beware relying on passion to get you across the finish line. Motivation is fleeting and may burn out; discipline is where the real magic happens. No one is going to do it for you, so be your own hero, and commit to doing the work. 
SAGITTARIUS
August dares you to live as fully as possible. Like your symbol of the centaur, refuse to let anyone limit you or your imagination. Planets in fire signs help ideas and inspiration spread like wildfire—the kind of environment Sagittarians thrive in. What do you think should "catch on"? You may get more recognition later in the month as planets enter Virgo; use your platform for good, and help others see the light. 
CAPRICORN
Your inner fire is being ignited, Capricorn. You have so much potential
—
what do you want to do? What holds you back? August challenges you to reduce the amount of distractions and dead weight in your life, especially around the full moon. Pragmatic Virgo season begins on the 22nd, igniting your thoughtfulness and confidence as an earth sign. As you prepare to enter autumn, commit to being proactive rather than reactive. 
AQUARIUS
"Change is the only constant." August keeps you on your toes, setting the tone with an unpredictable Aquarius full moon on the 3rd. The light from the full moon acts as a cosmic check-in: How do you see yourself? Are you headed in the right direction? Remember that everyone's journeys look different, so don't let comparison dim your joy. As you form new connections, strike a balance between letting loose and maintaining boundaries. 
PISCES
No more swimming in circles, Pisces. August encourages you to take care of business big and small. The week of the full moon dredges up the details: What habits need attention? What adjustments can be made? For example, instead of starting your sentences with "I should" or "I have to," try "I'm able to" and "I get to" instead. Little changes can create a big ripple effect. Self-care isn't always photo-worthy or exciting, but sometimes the mundane is more meaningful. 
Want more stories like this?
How to Boost Your At-Home Vibe, According to Your Astrological Sign
Who You Should Date According to Your Zodiac Sign
The Hottest Places to Have Sex Based on Your Sign