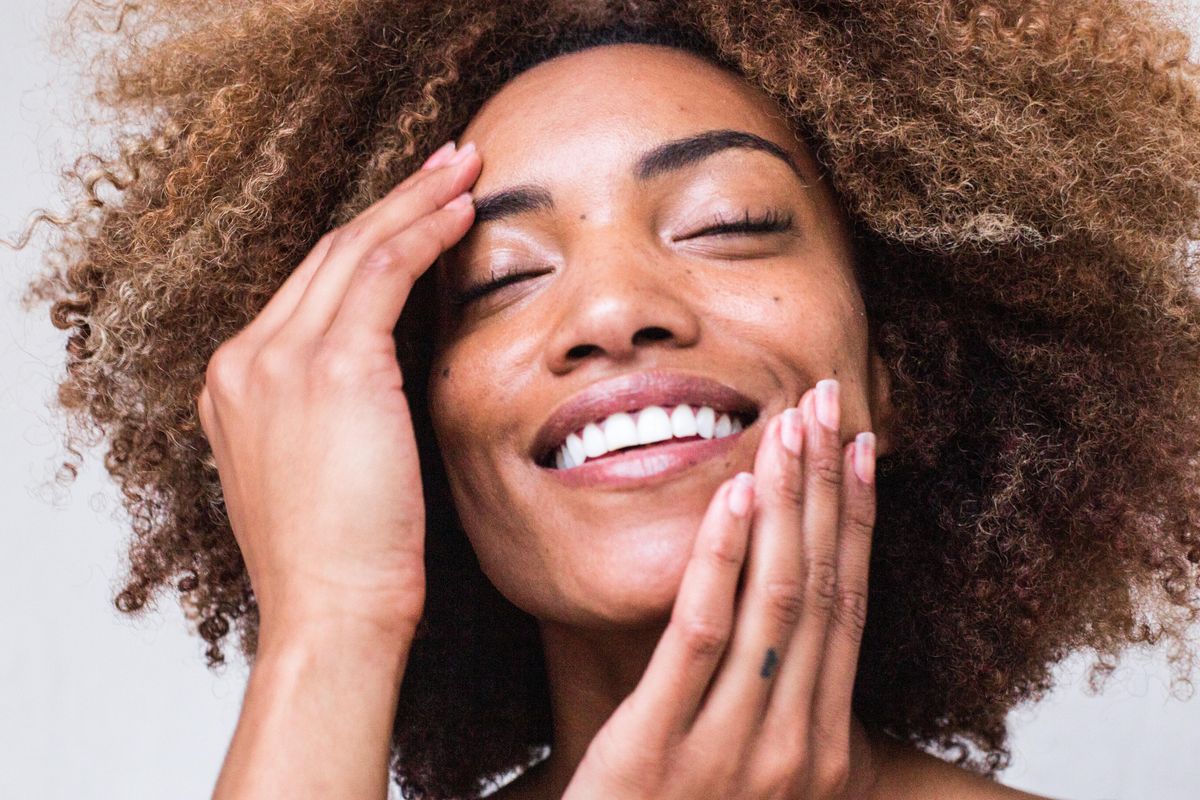 We Tried It
I swear by this beauty hack.
As a beauty editor, I have access to the world's best products and treatments (tough job, I know). And even though all these top-of-the-line services are right within my reach, there are several less-than-glam, DIY beauty hacks that I'll never give up. This includes using a 2:1 hydrogen peroxide/water mix to whiten my teeth; gently brushing my lips with a toothbrush to get rid of flakes; and, yes, shaving my face with a razor.
When I divulged the razor tip to my friends, they were shocked. "A razor!? All over your face??" I didn't completely understand their reaction; I've been using a conventional razor to slash down the unwanted peach fuzz on my face for years. Plus, hair removal is only one of the many benefits I've seen since face shaving became a part of my skin-care routine. I noticed that my skin looked smoother—making for better skin-care and makeup application—and it appeared to be more even-toned, as well. I'm not the only one who swears by it—the trick is all over TikTok.
@eesammons2004

#eyeslipsface #fyp #foryourpage #beauty #shave I exfoliate/shave weekly and my face thanks me for it! 👍🏼
Do you need to shave your face? Absolutely not. But if you want to remove your facial hair, using a razor shouldn't be completely off the table. To help explain all the benefits and drawbacks that come with shaving your face with a razor, I reached out to Rita Linkner, MD, an NYC-based, board-certified dermatologist, and Joshua Ross, an L.A.-based celebrity aesthetician, to help explain the method behind the madness.
Is it bad to shave your face with a razor?
Nope, it's not, according to Ross. "Shaving your face at home is a do-it-yourself version of the professional service dermaplaning," he says. (In-office dermaplaning uses a surgical scalpel to scrape unwanted hair from the skin's surface.) According to Ross, shaving works as a physical exfoliant because it removes dead skin cells along with the fine hairs.
Even though it's not bad for your skin, this hack doesn't work for everything, and there are several tips to keep in mind to ensure that you don't wreak havoc on your face. Ross recommends face-shaving every three to six weeks to minimize irritation. You also want to make sure that your razor is clean and sharp—a dull blade will drag against your skin, potentially causing ingrown hairs or razor burn. If you have extremely sensitive skin, your face might not be a fan of the razor—you might want to consider other facial hair-removal options, like tweezing, to keep redness and irritation at a minimum.
With extra-sharp blades and a non-slip-grip handle, this razor gives you a close and comfortable shave while also protecting the skin from irritation and redness. The razor also comes with a pivoting head, making those hard-to-reach spots a thing of the past.
Gillette Venus
The best thing about this razor isn't just the price or the Instagram-friendly design. In addition to the handle, you also get four blade refills, saving you from those awkward pre-shave moments when you slather on shaving cream only to realize that you don't have a clean razor on hand.
Joy
This is a great option if you have sensitive or dry skin. The head on this razor is spiked with hydrating ingredients like shea butter to moisturize your skin as you shave—it'll slide right over your skin without a hitch.
Schick
Does shaving your face make the hair grow back thicker?
No, this is a myth that's existed for a while. However, it might feel thicker—when you use a razor to shave, it removes your hair at the surface rather than from the root, says Dr. Linkner, creating stubble. You can minimize this feeling by always using a sharp razor with five blades for a guaranteed close shave.
How do you properly shave your face?
To prevent any redness or irritation, Dr. Linkner recommends wetting your skin first and then applying shaving cream over the area you want to shave. Then, using quick, short strokes, shave the facial hair in the direction that it grows. Once you're done, rinse off your face and follow up with a soothing moisturizer to replace any hydration that's stripped away when shaving your skin.
The hardworking formula of this moisturizing cream is packed with camellia blossom, blue ginger, and shea butter. Together, this trio provides your skin with long-lasting hydration and helps to soften fine lines, too.
CHANEL
With a blend of colloidal oatmeal and ceramides, this moisturizer helps to hydrate, restore, and retain your skin's natural barrier. It's basically a one-stop shop for anyone with dry or dehydrated skin.
Rodan + Fields
This soothing facial moisturizer is equipped with prebiotic oats and feverfew, two ingredients that help to ward off any redness and irritation that may arise after shaving. The formula also has a gel-like consistency which means that you won't have to worry about it leaving behind a greasy residue.
Aveeno
The Final Word
If you're interested in a less-expensive way to eliminate facial hair, shaving your face with a razor is something that's worth considering, especially since it also comes with the benefits of clearer, more even-toned skin. I'm definitely not going to quit this habit—in my opinion, anything that keeps my skin smooth and lessens the look of discoloration is a godsend. But before you try out this hack yourself, make sure to follow the expert tips above to help avoid any mishaps.