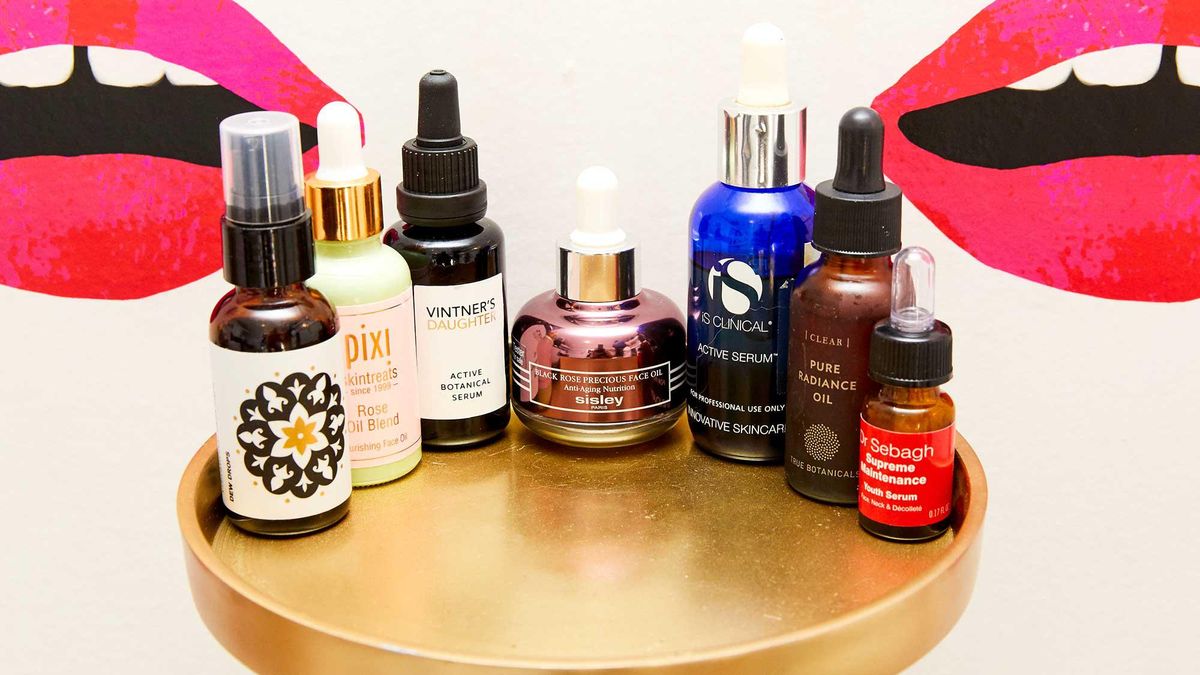 Skin
These Are the Best Skin-Care Serums If You Have Acne-Prone Skin
And no, they won't cause breakouts.
The causes of breakouts are varied and complex. Accordingly, dermatological treatment plans encompass myriad factors, taking diet, lifestyle, and underlying health conditions into consideration. You might walk away from a doctor's office with a prescription for an androgen-blocking drug like Spironolactone or a prescription-strength retinoid, but the treatment plan does not end there. A multi-pronged approach calls for a skin-care regimen of topical products that play a critical role in your at-home acne protocol.
"Acne is multifactorial in general," says Birgmingham, Alabama–based, board-certified dermatologist Corey L. Hartman. "It can be affected by genetics, hormones, diet, oil content, bacteria, and, mostly by inflammation." As he points out, the different causes of breakouts can be identified in different ways—from the region of the breakouts (for instance, hormonally induced breakouts are often found along the chin and jawline) to the type of lesion present. But while the specific varieties and causes of pimples are many, certain elements of the topical treatment protocol for acne remains the same.
The Different Types of Acne
Jan Marini, founder and chairman of Jan Marini Skin Research, Inc., explains that the skin is composed of the stratum corneum (the outermost part that you touch), the pore (a sebaceous follicle lined with dead skin cells), and the sebaceous gland itself below the surface. The skin naturally sheds dead skin cells via a tube-like duct inside the pore, and factors that interfere with this process of follicular shedding can result in the topical eruptions known as acne. Marini reveals that while bacteria P.acnes (Propionibacterium bacterium, or cutibacterium acnes) naturally lives within the pore, it can go into overgrowth when the pore becomes clogged—thriving on sebum in the absence of oxygen. As this occurs, the reaction secretes a fatty-acid byproduct that breaks down the follicle wall to various degrees, leading to the type of acne that results.
Another source of breakouts boils down to the integrity of the moisture barrier (the biological protective mechanism that keeps moisture in and keeps aggressors out) and microbiome (the medley of bacteria that lives on the surface of the skin.) When compromised or imbalanced, the skin is more vulnerable to potential irritants in our products (like fragrance) and environmental aggressors (including face masks, pollution, or UV rays). Dermatologists point out that sources of inner inflammation in our diets (e.g., sugar, dairy, gluten) can also lead to breakouts on the surface of the skin via the gut-skin axis.
"The common factor in almost all acne is oil production that initiates follicular plugging, leading to inflammation," says board-certified dermatologist Nancy Samolitis, co-founder and medical director of Facile Dermatology + Boutique in Los Angeles, CA. Depending on the specifics of your skin, this leads to an array of acneic eruptions, with most patients dealing with a combination of breakout types. For instance, she explains that comedones may be open (i.e., blackheads) or closed, which simply look like skin-colored bumps without an obvious dilated pore. Inflammatory or papulopustular acne is red, inflamed, and creates pustules on the skin. "In this case, the bacteria that normally lives in the pore is thriving and triggering an inflammatory reaction that causes redness, swelling, and pus to form," Dr. Samolitis adds. Cystic acne causes painful bumps beneath the surface of the skin without coming to a head, which can become quite inflamed and last for weeks at a time. As a general rule, Dr. Hartman explains, "Comedones are the most superficial and represent plugged pores, while nodules and cysts are the most inflamed and deepest lesions that are most likely to leave scarring behind."
The Best Active Ingredients in a Topical Regimen for Acne
Among our experts, certain active ingredients kept popping up—namely, benzoyl peroxide, retinol, and salicylic acid. "We recommend a combination of ingredients to target all of the components of acne—retinoids to speed up cell turnover and reduce clogging, salicylic acid to exfoliate oil and dead skin from the pore and to reduce inflammation, benzoyl peroxide to reduce the growth of P.acnes, prescription topical antibiotics if needed, and anti-inflammatory ingredients such as niacinamide and dapsone," Dr. Samolitis shares.
Exfoliating acids play a major role in helping to prevent follicular clogs—particularly the alpha hydroxy acid (AHA) glycolic acid, and the beta hydroxy acid (BHA) salicylic acid. Marini explains that exfoliating acids help to loosen dead cells that are "sticking" to the duct of the follicle, preventing the inflammatory proliferation of P.acnes that follows. They can also help to slough away post-inflammatory hyperpigmentation that lingers on the skin post-breakout.
Benzoyl peroxide is the go-to active for preventing the proliferation of P.acnes itself. While this bacteria naturally exists on the skin, interrupting the process that leads to its overgrowth is key to preventing follicular inflammation and rupture. The clogged pore, and the absence of oxygen, is part of what allows the P.acnes to thrive into overgrowth, feeding on the sebum. Marini explains that benzoyl peroxide works by infusing oxygen into the cell, thwarting this process.
Of course, retinol is considered the dermatological gold standard for being a true multihyphenate in the cosmeceutical space. "All acne is treated with retinoids, which are vitamin A derivatives, [because] they unclog pores, prevent the buildup of dead cells, and increase cell turnover, therefore treating acne, preventing acne, and helping to prevent scarring," Dr. Hartman says. "A [prescribed] acne regimen would not be complete without a prescription-strength retinoid like tretinoin, adapalene, tazarotene, or trifarotene.
"An anti-inflammatory component in either topical or oral form should also be added since inflammation seems to have a role in all types of acne," Dr. Hartman continues. In addition to soothing inflammation characteristic of acne lesions and helping to address any potential irritation from the products, research indicates that inflammation plays a more fundamental role in acne than was once believed. "Even the superficial lesions that were previously not thought to be associated with inflammation have been proven to be related to inflammation, as well," he says. "Evidence has emerged supporting a role for inflammation at all stages of acne lesion development, perhaps even before comedone formation. The exact pathways involved in the initiation of inflammation in acne are complex and still not totally clear." This essentially means that while the aforementioned mechanism is one component of acne formation, systemic inflammation may also play a causal role that was previously underemphasized.
Less Conventional Actives to Consider for Acne
One newcomer to note in the acne dialogue is the ingredient cannabidiol, or CBD, the non-psychoactive component found in both cannabis and the hemp plant. Anecdotal experiences of its anti-inflammatory benefits on acne abound. Board-certified plastic surgeon Julius Few, founder of The Few Institute, chose to formulate using the ingredient in his skin-care line, Aforé, making him one of skin care's first MDs to embrace CBD. "We cannot definitively say that CBD works alone as a standalone treatment for acne simply because there haven't been enough studies conducted to say whether or not it works," he begins. "However, we do know that CBD has anti-inflammatory properties, and studies have shown that CBD can modulate oil production in the skin. It is very probable that as we further investigate CBD, we find that it has a significant effect on acne."
"Studies have shown that the microbiome directly influences the skin, specifically in the formation of inflammation and acne," says board-certified dermatologist Hadley King, who is based in New York City. Probiotics (the beneficial bacteria found on the skin's microbiome) and prebiotics (the bacteria that feeds probiotics) therefore represent another frontier of anti-acne research that is coming to the forefront of our over-the-counter options. "Some skin diseases, including acne and eczema, are associated with an altered microbial state, [and] reversion of this state may help prevent and treat the disease," she continues. "[Furthermore,] some studies have shown that acne-prone skin has a less diverse skin microbiome that is overpopulated with pathogens as compared to those with healthy skin." Supporting the microbiome and its bacterial diversity is therefore yet another avenue of support to consider when constructing an at-home regimen for clearer skin.
SPF and Scarring
Adding to the complexity of acne is the fact that leftover scarring takes months, if not years, to fade completely, which makes it imperative that the role of SPF is addressed. Scarring can be exacerbated by picking at or squeezing your acne lesions, but it is important to note that certain skin types are more prone to scarring even if you keep your hands off. "Darker skin types, like that of Black, Indigenous, and other people of color, contain more melanin and are therefore more likely to develop hyperpigmentation as a result of being inflamed by acne," Dr. Hartman shares. Even fair skin types with olive undertones can be rendered particularly vulnerable to this distressing aftereffect. Dr. Hartman adds that controlling breakouts is critical to preventing the pigmentation-causing inflammation in the first place, but that applying sunscreen regularly is important for all skin tones in the treatment and prevention of post-breakout pigmentation. ("Treating hyperpigmentation without sunscreen is like walking on a treadmill and being surprised when you never see any progress," he laments.) Thus, be sure to add a broad-spectrum SPF of at least 30 into your acne-fighting regimen.
Shop the best skin-care serums if you have acne-prone skin:
Benzoyl peroxide helps to mitigate the proliferation of P.acnes bacteria, while retinol provides the critical function of exfoliating and clearing debris from pores. While the two expert-recommended active ingredients have traditionally been unable to be combined into one product, the brand's dual-chamber packaging allows for their combined efficacy to be applied in one simple step. This hero product thereby tackles a deeper cause of acne via micronized benzoyl peroxide, while keeping pores clear and imparting anti-aging benefits to boot courtesy of retinol.
Jan Marini
For an affordable drugstore pick, our experts recommend this FDA-approved topical retinoid for the OTC treatment of acne. The dermatologist-tested product is oil- and fragrance-free and has been shown to yield a 60 percent reduction in acne lesions after twelve weeks (with continued improvement over time).
Differin
The makers of the cult-favorite vitamin C serum now offer a blend especially for breakout-prone, oily, and combination skin types. Found to reduce oil oxidation by up to 76 percent and skin oiliness by 16 percent in just one week, the brand formulates with L-ascorbic acid and ferulic acid to promote its stability, silymarin from the milk thistle plant, and the BHA salicylic acid.
SkinCeuticals
Dr. Samolitis is a fan of the French drugstore brand's acne treatment, which combines micronized benzoyl peroxide (5.5 percent) with micro-exfoliating Lipo-Hydroxy Acid. The formula is oil-free, fragrance-free, paraben-free, and non-comedogenic, providing an excellent option for treating acne at a budget-friendly price.
La Roche-Posay
Derived from the brand's beloved AlphaRet serum (which Dr. Hartman calls "near perfect") which utilizes a combination of retinol and acids to aid with penetration, SkinBetter now offers a clearing serum that incorporates salicylic acid into the mix alongside their patented technology. The brand is well known for making one of the most sensitive-skin-friendly retinol products; hence, we have high hopes for this launch.
SkinBetter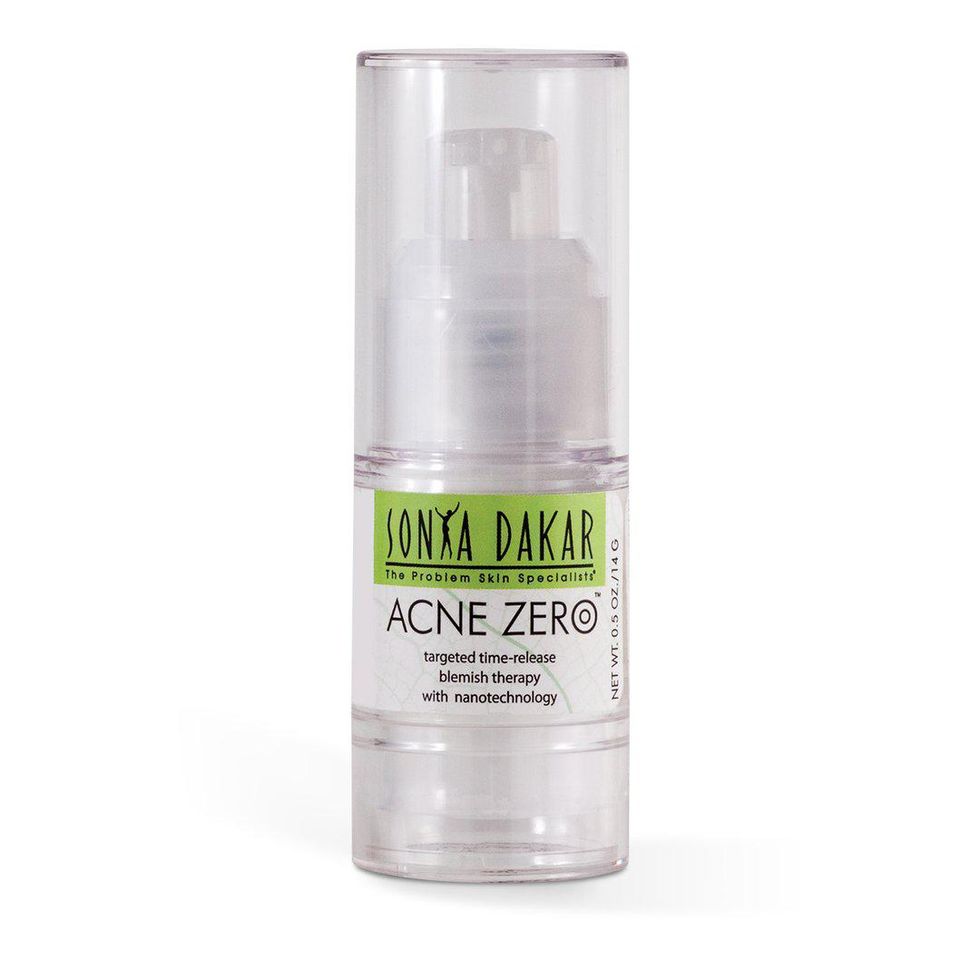 The celebrity aesthetician's eponymous skin-care line offers this acne-treatment serum that uses encapsulated benzoyl peroxide to help prevent redness or irritation. The nano technology is combined with soothing aloe and vitamin E to keep the skin calm while treating acne.
Sonya Dakar
In order to help treat the inflammation that contributes to and results from acne, an anti-inflammatory component to your anti-acne regimen is key. Dr. Hartman recommends the epigenetic technology behind the brand's star active ingredient, HX-1, which slows inflammation of skin (that is also linked to aging).
Heraux
The plastic-surgeon-developed skincare line now offers targeted ampoules of airtight serums to treat skin intensively over the course of seven days. Used in lieu of your nightly serum, the Clarity ampoule reduces sebum on the skin by 37 percent using a formula composed of colloidal sulphur to balance oil, willow bark extract (a natural source of salicylic acid), and anti-inflammatory microalgae extract to soothe the skin.
111 Skin
Some skin experts believe that vitamin C used in conjunction with retinol can aid with the product's absorption and efficacy. This serum combines the two in addition to hydrating hyaluronic acid, sebum-balancing niacinamide, and anti-inflammatory, clarifying salicylic acid. The cruelty-free, dermatologist-tested pick provides a comprehensive blend of actives that experts recommend for breakouts and does so sans parabens, fragrance, or animal ingredients.
Naturium
The British brand's award-winning formulas provide virtually any regimen with a gentle, microbiome-friendly boost. By fortifying the skin's microbiome, your skin will be more resilient against pollution and environmental aggressors while supporting its return to a healthy state. In addition to breakouts, it claims to aid with skin repair, loss of elasticity, and hyperpigmentation.
Aurelia Probiotic Skincare