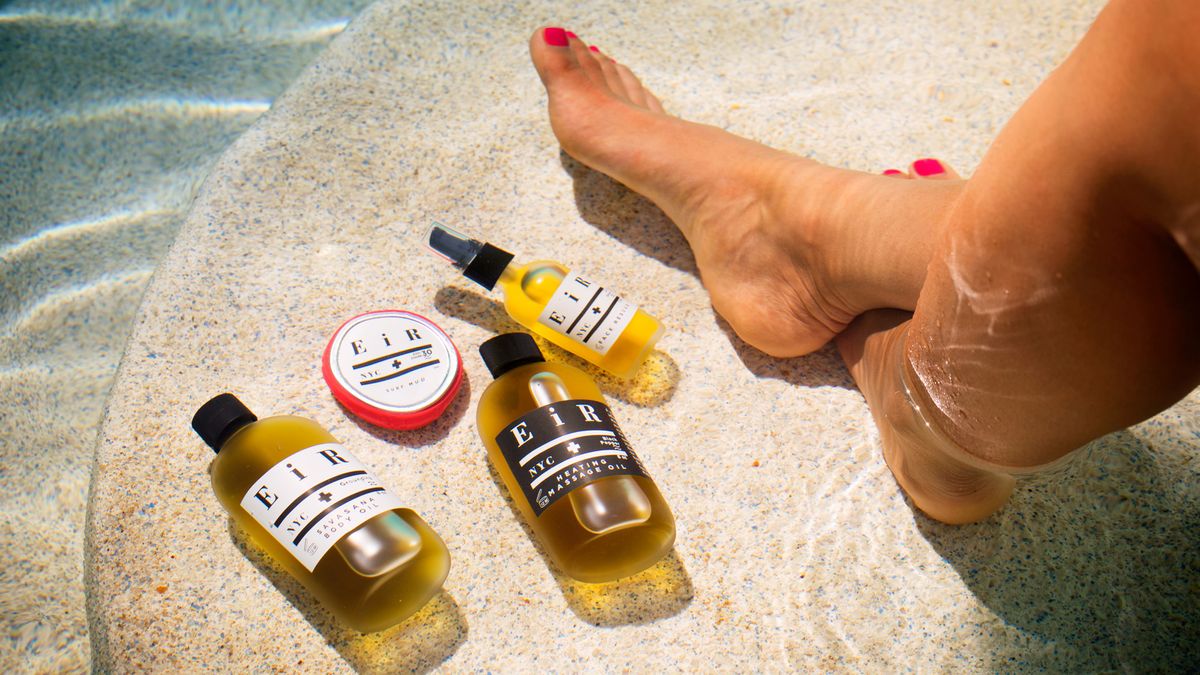 Skin
Why a Beauty Brand for Surfers Is About to Be Your Newest Skin-Care Obsession
The founder of EiR skincare on how surfing, beauty, and wellness are connected.
Nina Choi
It's easy to assume that
the life of a surfer
is exclusively an idyllic existence, and in truth, you wouldn't be far off the mark. Rising at sunrise to catch the best waves; a passionate community of riders; killer
ocean hair
. While surf culture is everything we dream about when we consider giving up our corporate lives, like most extreme sports, there is still a fair amount of wear and tear that it can inflict on your body. And with the rise of
holistic wellness
, there are more people than ever who want real results (for pain relief and skin-care concerns like sunburn) without chemicals or additives.
New York local and former Muay Thai fighter 
Jun Lee
understood this desire for natural alternatives to pain management from both her fellow surfers and casual wellness dabblers when she founded her
skin-care line, EiR
(pronounced
"
air
"
). After tearing her shoulder in a 2012 surf accident in Bali, she quickly realized that traditional aftercare wasn't for her. "The [surgical] anesthesia and pain meds they gave me were really intense, and I got nauseous," she explains when we meet for coffee to discuss her natural beauty line. "So I started to study herbals and experiment with essential oils and take classes. It just felt right." 
---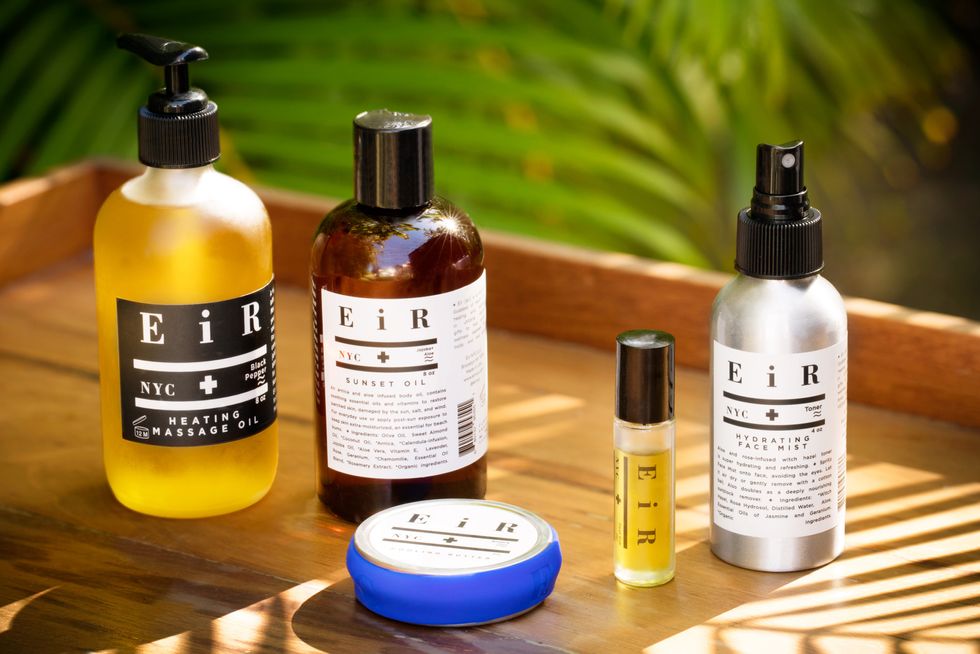 Lee elaborates that she always had an interest in holistic healing growing up, and thanks to her mom's love of beauty products and early career in the fashion world, she had a passion for skin care as well. "[For] most of my teens and 20s, I had
chronic acne
. I tried every product, every brand imaginable." Soon she discovered that cutting sugar from her diet and focusing on wellness, in addition to her skin-care regimen, was the key to keeping her body in balance. "I realized pain management, wellness, and skin care didn't have to be different things 
and
[that] there was nothing on the market that felt luxurious, didn't stain my clothes, and [was] also healing at the same time. So I started making my own."
After cooking up the first few products in her former Montauk kitchen, several surfer friends started requesting her healing balms for their own shoulder injuries. Says the founder: "If you're a surfer, you definitely have shoulder issues or some sort of ailment. That's the beauty of getting older, especially if you're active. It's inevitable—stuff's going to hurt." She smiles, unfazed by that inevitability. "People started coming by my house and buying stuff, and it kind of snowballed from there."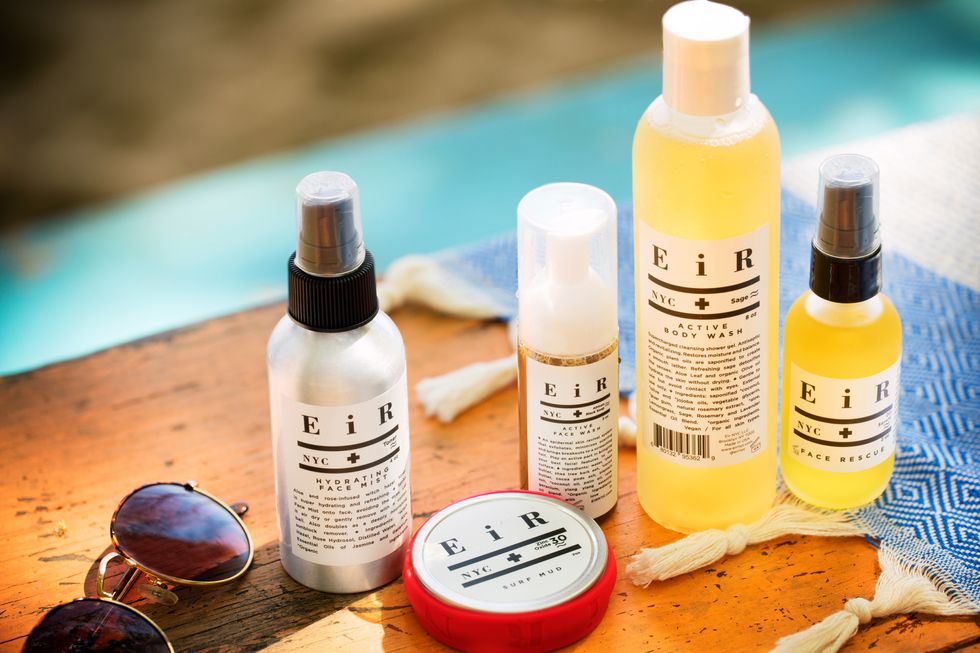 Now the EiR line includes everything from an antiseptic body wash and bath salts to an elderflower facial serum and zinc-based sunblock that's packed with cocoa powder. "That's why it's called
Surf Mud
," she explains of her most in-demand product. "It's like a chocolate mask that has tons of antioxidants, brings blood flow to the surface, and gives you a nice sun-kissed glow. It's the hero ingredient in all of the sun products we have." And while the brand is rooted in the needs of her fellow athletes, its overall mission is to provide clean, sustainable, and effective products for everyone. "I believe that exotic doesn't mean that it works. I think the product doesn't have to [contain] some rare species of algae found in somewhere in Australia. It can be really simple, local, like cocoa powder, coconut powder, beeswax, tea tree."
In order to truly test the effectiveness of EiR's collection, we accompanied Lee on a recent surf trip to the Dominican Republic, where she also helped teach us to surf (more on that coming soon!). We're happy to report there were zero sunburns, and unlike most zinc-based physical sunscreens, there was no white residue left after application, but rather a soft caramel tint that melted into the skin. And while a few sore muscles were unavoidable given the amount of surfing we did, the soothing creams made a remarkable difference after the day was over. Infused with cooling peppermint, the arnica butter relieved my aches and felt delightfully like whipped frosting out of the can. I
'
ll also never leave my beach bag without the EiR face mist or SPF lip balm. Your lips need protection too!
So what else does a surfer girl take with her for a day at the beach? "
Tons of bikinis
and a
one-piece suit
. I love not having to worry if my bra top is gone," she laughs. "Sunblock for sure. [Our] Sunset Oil for after sun. I bring Cooling Butter for pain and Rolling Liniment for mosquitos. I just keep it simple. A lot of
gauzy dresses
, flip-flops, and a tote bag. Easy."
Want more stories like this?
Everything a Genuine Surfer Girl Has in Her Closet
The 8 Most Popular Swimsuit Trends for 2018, According to Pinterest
Inside a Pro Surfer's Idyllic Life in Under-the-Radar Hana, Hawaii