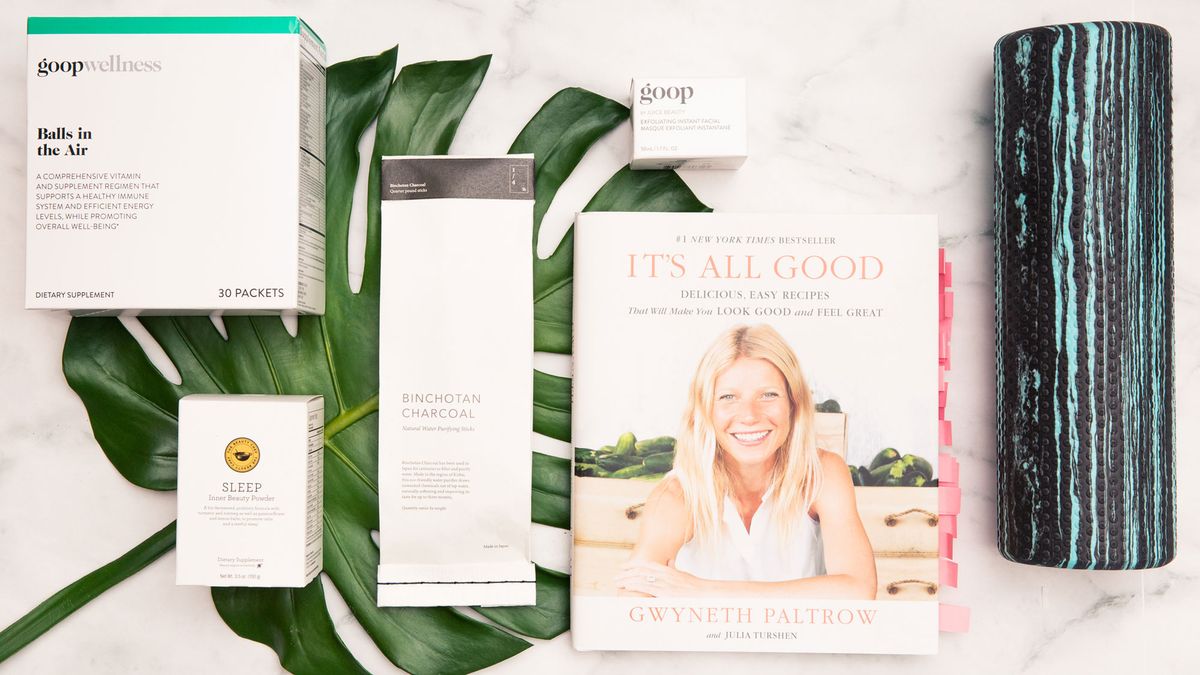 Health
I didn't choose the Goop life—the Goop life chose me.
Alec Kugler
We've already established that I am the quintessential beauty and wellness guinea pig, meaning that if there's a challenge that forces me to eat healthier, revamp my skin-care routine, and *actually* work out, then sign me up. If we're talking total-body wellness, then there's no better person to model than Gwyneth Paltrow herself (although I'm careful about endorsing all of her methods). After learning that the Goop founder had curated a 30-day challenge, I decided that my body could use a bit of TLC after a few riotous weekends and cautiously volunteered. Newsflash: There's a reason Gwyn looks as incredible as she does. This wasn't going to be easy.
A few days after signing up for my month of regimented wellness, I received a box full of Goop products and suggestions. It included the following:
1. 30-day supply of goop Wellness Balls in the Air
2. Gwyneth's cookbook, It's All Good
3. Morihata Kishu Binchotan Charcoal sticks
4. OPTP Lorox Aligned Travel Roller
5. The Beauty Chef Sleep Powder
6. goop by Juice Beauty Exfoliating Instant Facial
I also decided that if I was really going to commit myself to the Goop lifestyle, I would attend Tracy Anderson classes for the duration of the challenge, and abstain from alcohol 99 percent of the time (Gwyneth enjoys a glass of wine every now and then). And because my life is incredibly busy, like every other New Yorker, I would also try out a Goop-approved meal delivery service, called Provenance Meals, to keep my diet as healthy as possible. Otherwise, I would cook most of my meals, or at least avoid indulging in my teenage-boy-style diet (burgers, tacos, copious amounts of sushi). Hello, kale, my new friend. I was ready to roll—after bragging to all my friends about how fit and glowy I would look, of course.
Day one began with my first vitamin and supplement pack. There are a TON of ingredients inside these six pills—including vitamins A, B12, B6, C, D, E, K, Biotin, Folate, Zinc, Magnesium, Marine Lipid Concentrate, and more—which, truth be told, were not the most pleasant-tasting to swallow. I recommend pinching your nose and drinking lots of water if you're sensitive to these types of things. After a few days, I felt my energy ramp up and my need to consume multiple cups of coffee or green tea diminish. However, I've tried taking B6 before to help with cystic acne, and before I got my IUD, it helped significantly. But the dosage in this pack was too high for me, and my chin started to break out by week three. It really depends on your body's reaction—it's not the same for everyone—but I would still highly recommend trying these.
Cooking every. single. meal. was an eye-opener. While the recipes in Gwyneth's book range in difficulty and complexity of ingredients, I was still lucky that my sister is an avid chef and has made several dinners from It's All Good before. I'll admit, she cooked for me a few times, but I learned quickly and prepared most meals myself by the end. Gwyneth has a few curated eating plans in the book, but I decided to pick and choose recipes based on the variety of ingredients (meaning I could use one purchase for multiple meals). I often made smoothies for breakfast, a salad and protein or whole grain for lunch, and a protein and two sides for dinner. There was definitely no shortage of food, despite being a healthier diet. I highly recommend the salmon with black sesame seed carrots and coconut black rice. DELICIOUS. Meal prep and shopping quickly became a part of my regular routine, but I had to budget *a lot* of time during the weekend to make it manageable. Some of the ingredients could also only be found at Whole Foods and were on the pricier side. It was roughly the same cost as eating out, but if I did a second month and already had some of those spices, mixers, et cetera, the cost would actually be a lot less. The week when Provenance Meals delivered delicious breakfast, lunch, snacks, and dinner was a true lifesaver. I could get used to that simple luxury for sure.
There were a few recommended ways to use the charcoal sticks—leave it in my water purifier to detox the chemicals; plant it in a garden for healthier soil; or add it to a bath to improve circulation. I highly recommend the third option. It felt beyond chic, even after my boyfriend questioned my motives, and I needed a soothing soak after working out so much.
Ah yes, the workouts. Tracy Anderson classes are *hard,* in case you didn't know. I'm more of a walk on the treadmill and lift free-weights type of girl, but her method is meant to sculpt the smaller muscles in your arms, legs, and butt until you, too, look as chiseled as 45-year-old Gwyneth. There was no way I could attend the four to five classes a week that Gwyneth takes, but a solid two or three was enough to see significant changes in my body. I sweat profusely, could barely walk up a flight of stairs, but damn it if my behind didn't look positively juicy in my favorite leather leggings by week two. Also, the foam roller was extremely necessary for soothing my achy muscles.
The sleep powder wasn't my favorite. Simple as that.
But the Goop by Juice Beauty Exfoliating Instant Facial is amazing. After just five minutes, my skin was smooth, dewy (albeit a little pink from all the acids), and happily makeup-free for days at a time. I recommend using a hydrating mask following it for maximum glow, and be sure to perform a patch test before applying it to your face. This was the cherry on top of a truly Goop-y month, and I felt fantastic.
Overall, the challenge was just that—challenging. But the results were significant. I had boundless energy, glowing skin, shiny hair, and my body felt stronger and tighter than it had in months. I unfortunately don't have all the time or resources to commit to this type of lifestyle in the long run, but I will be adopting some of the healthier habits, particularly the mask, charcoal detox, and a few tasty recipes. You might even spot me in the back of a Tracy Anderson class, red-faced but happy, in the near future. Consider me Goop-ified.
---