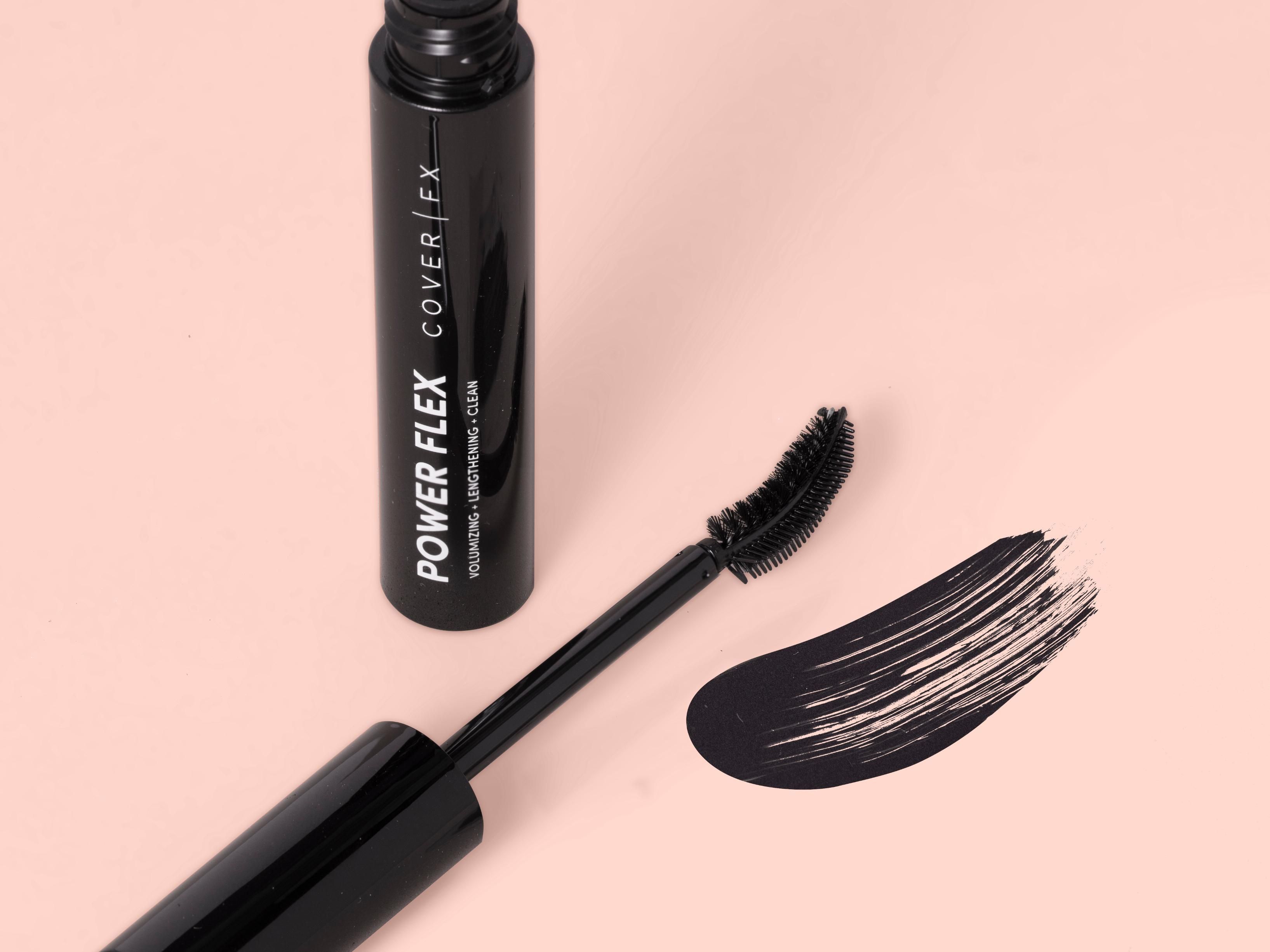 We Tried It
Whether you want natural-looking lashes or a more over-the-top vibe, this mascara is a game changer.
In astrological terms, I'm a triple fire (Leo sun, Aries rising, and Sagittarius moon) which means that 1) I'm pretty intense, and 2) I hold everyone and everything around me to very high standards. And that includes mascaras. My natural lashes are super curly, but even with that taken into consideration, I want a formula that will add major volume, take my lash length to new heights, and hold a curl, all without flaking or clumping. Really, I ask for so little.
Because I rarely leave my apartment without swiping on a few coats of mascara, when the opportunity arose to test out Cover FX's first-ever mascara, which launches today (August 4th), I jumped at the opportunity. I'll be honest, though—I'm always a little skeptical when it comes to new mascaras, and I'm not the easiest person to please (triple fire, remember?). Regardless, I put aside any preconceived judgments and swiped on the mascara with an open mind. Keep reading for my honest thoughts.
Cover FX
Not-so-fun fact: When it comes to conventional mascaras, beeswax is the secret sauce that gives you those long, doe-eyed lashes. So for beauty brands that are clean and vegan, that presents a huge challenge when it comes to formulating a mascara. In fact, it's part of the reason why I've turned a side eye to a lot of clean mascara formulas in the past—I'm looking for something that'll stick with me through thick and thin, through late nights on sweaty dance floors and early evenings on muggy New York rooftops. How do you develop a mascara that won't ghost you after a few hours without using beeswax?
Well, for Cover FX, the key to formulating a clean mascara that was volumizing, lengthening, and long-wearing was through a combination of lash-conditioning Moringa oil, a vegan wax blend, and sweat-proof polymers that all work in tandem. The conditioning formula is infused with Moringa oil, an ingredient that's swimming with fatty acids and nutrients that nourish and moisturize your lashes without sliding all over your face; the vegan wax blend increases the lengthening effect of the mascara while keeping your lashes clump free; and the polymers are low-key the glue that keeps it all together. (It's kind of like what Anthony Davis is for the Lakers—he's not the star, per se, of the show, but they wouldn't be able to win without him.) The adhering polymers work to plump up the volume of your lashes, give you sky-high length, all while holding them in place for a lasting lifted effect.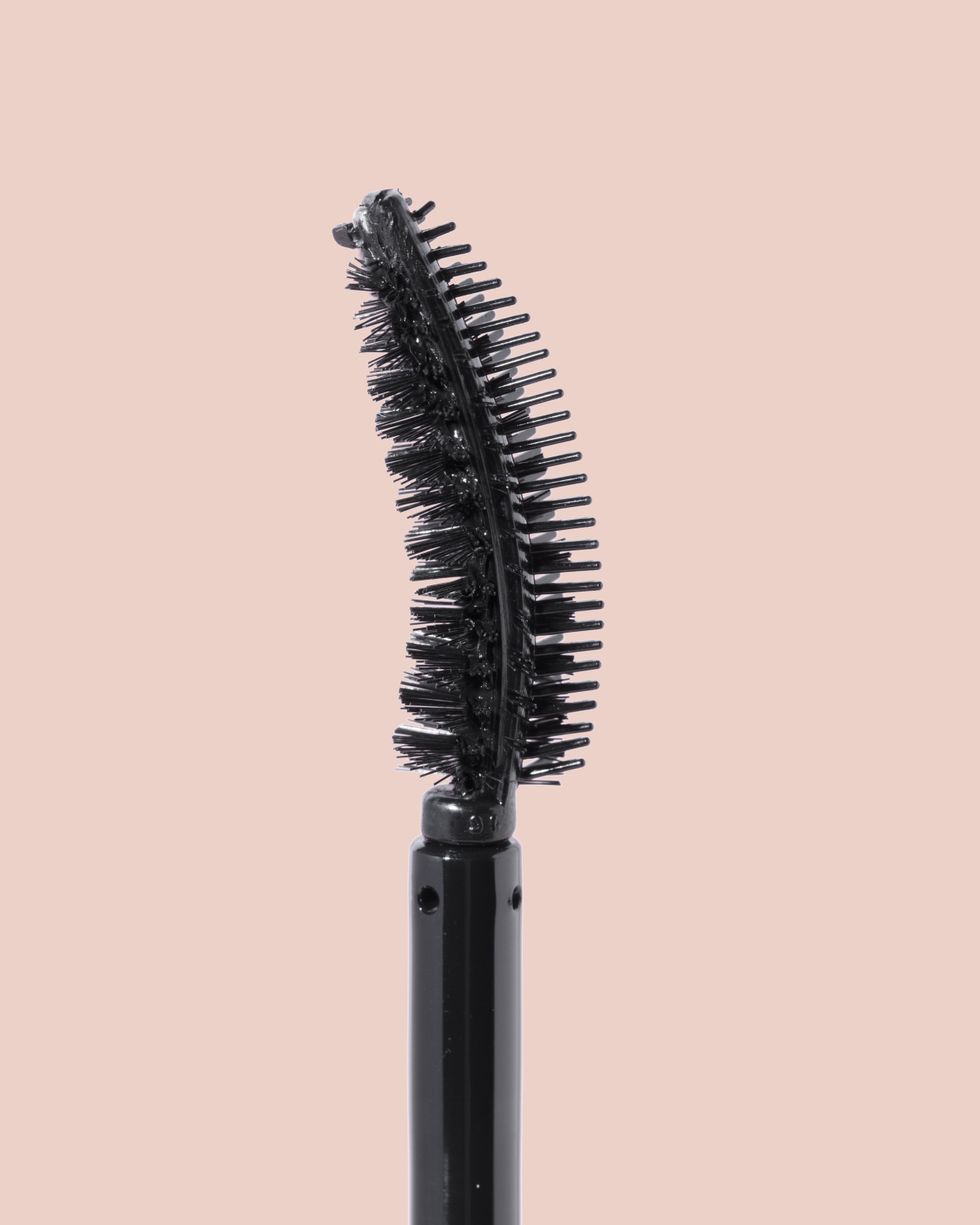 Photo: Courtesy of Cover FX
This wand is unlike anything I've ever seen before; I'm pretty sure that when I removed it from the tube, I let out an audible "woah" because I was so taken aback. To continue the basketball metaphor, the wand is the mascara's Lebron James—a true MVP.
The brush is dual-sided: On one side of the wand, you'll find a double-rowed silicone comb that deposits the glossy black formula at the base of your lashes to create volume, and on the other side, there are fiber bristles that lift your lashes from the root and comb through them to create a voluminous, fanned-out effect.
The application method really depends on the look you're going for. If you love an over-the-top mascara look (hi, me), then start with the comb side of the wand, applying from root to tip, then flip over to the fiber brush side and shimmy the wand from the base of your lashes all the way to the top for lashes that would even make Bambi turn green with envy. If you want to add more coats, switch back to the comb side and swipe the wand from the mid-length of your lashes to the tips to boost your length and curl.
For those who want a more subtle, everyday mascara look, you're going to want to stick to the fiber brush side of the wand and use a zig-zag motion from root to tips to enhance the look of your natural lashes.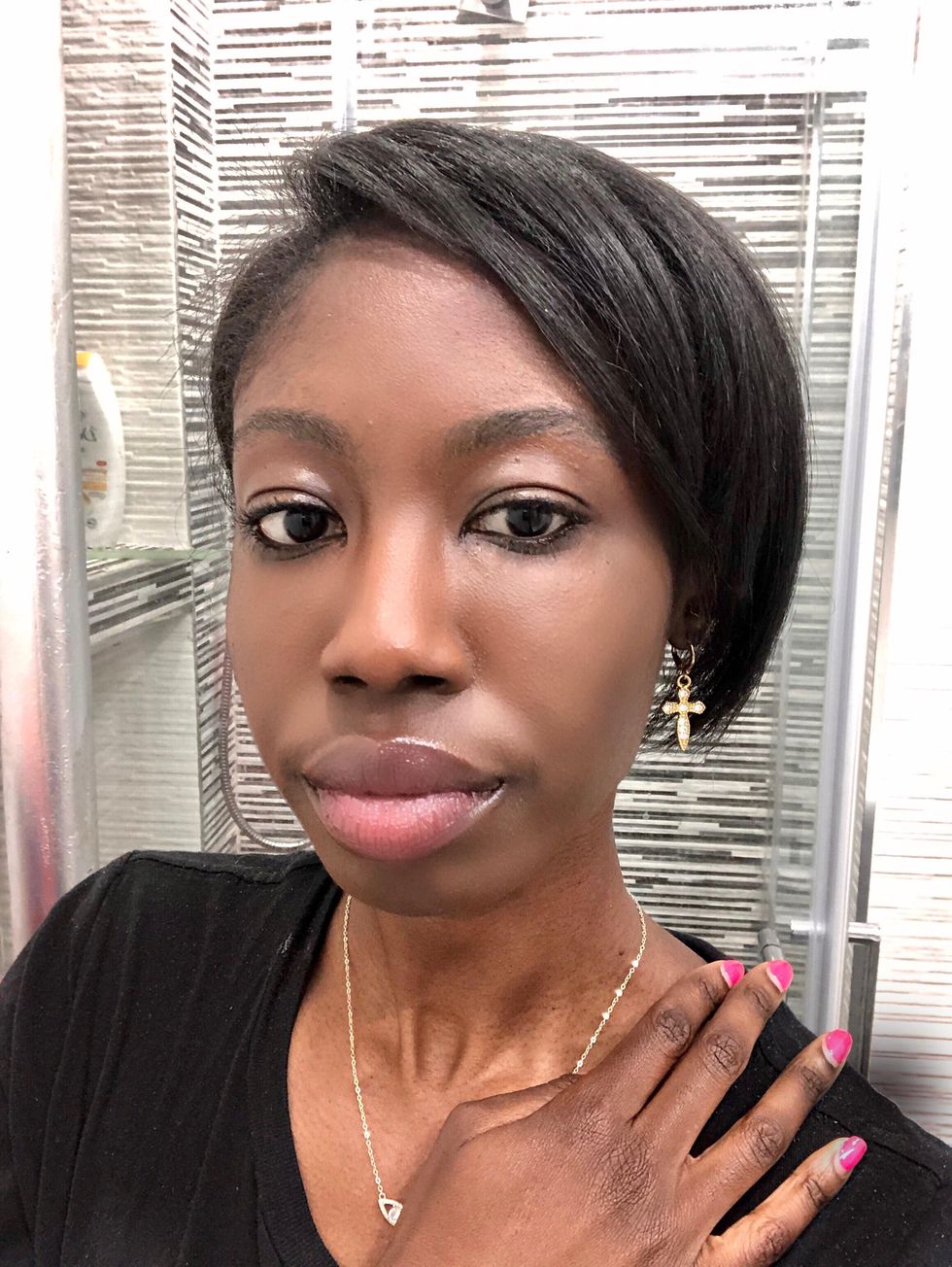 Me, pre-mascara application.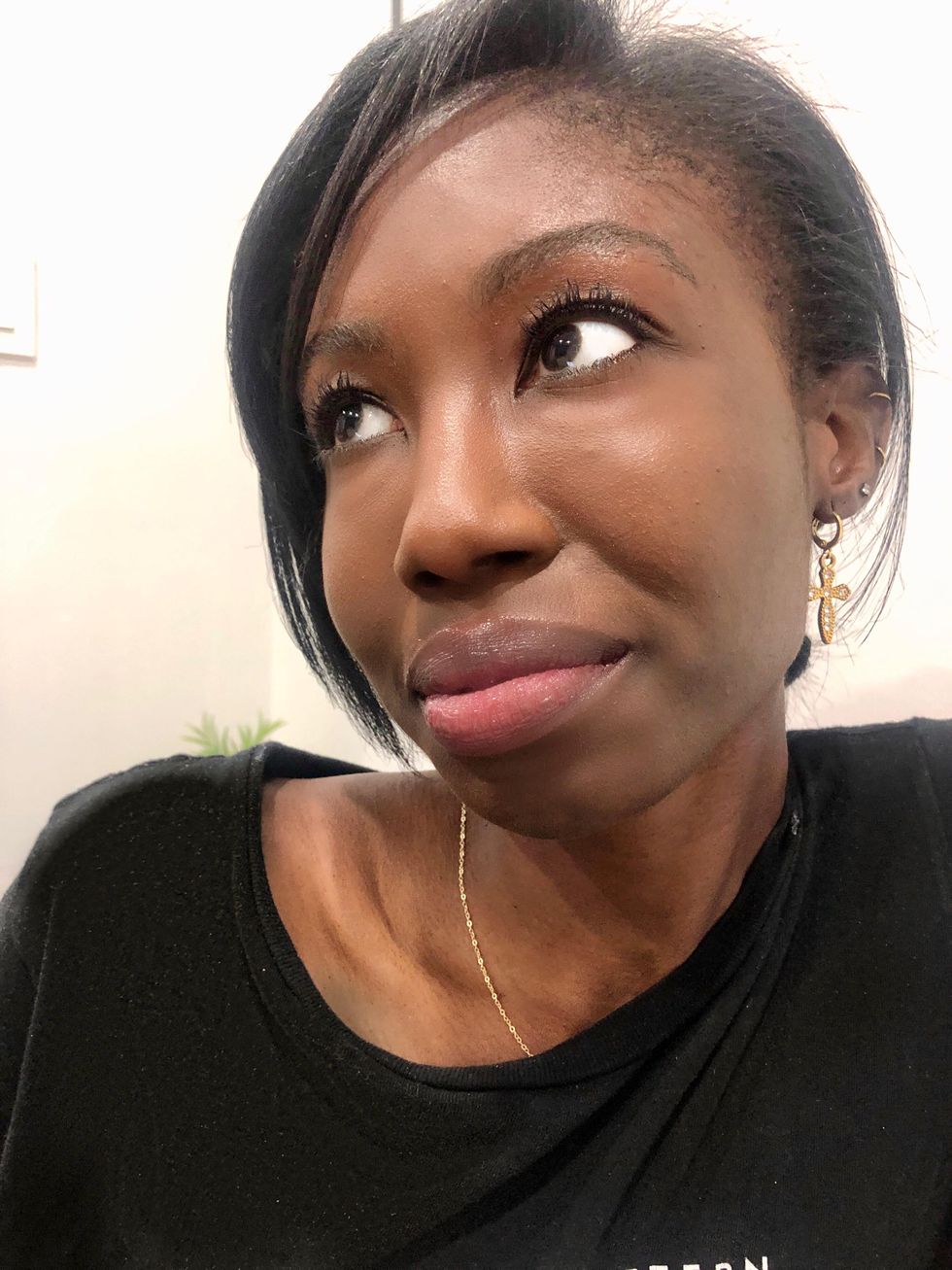 Me, after swiping on a few coats of the mascara. I'm obsessed.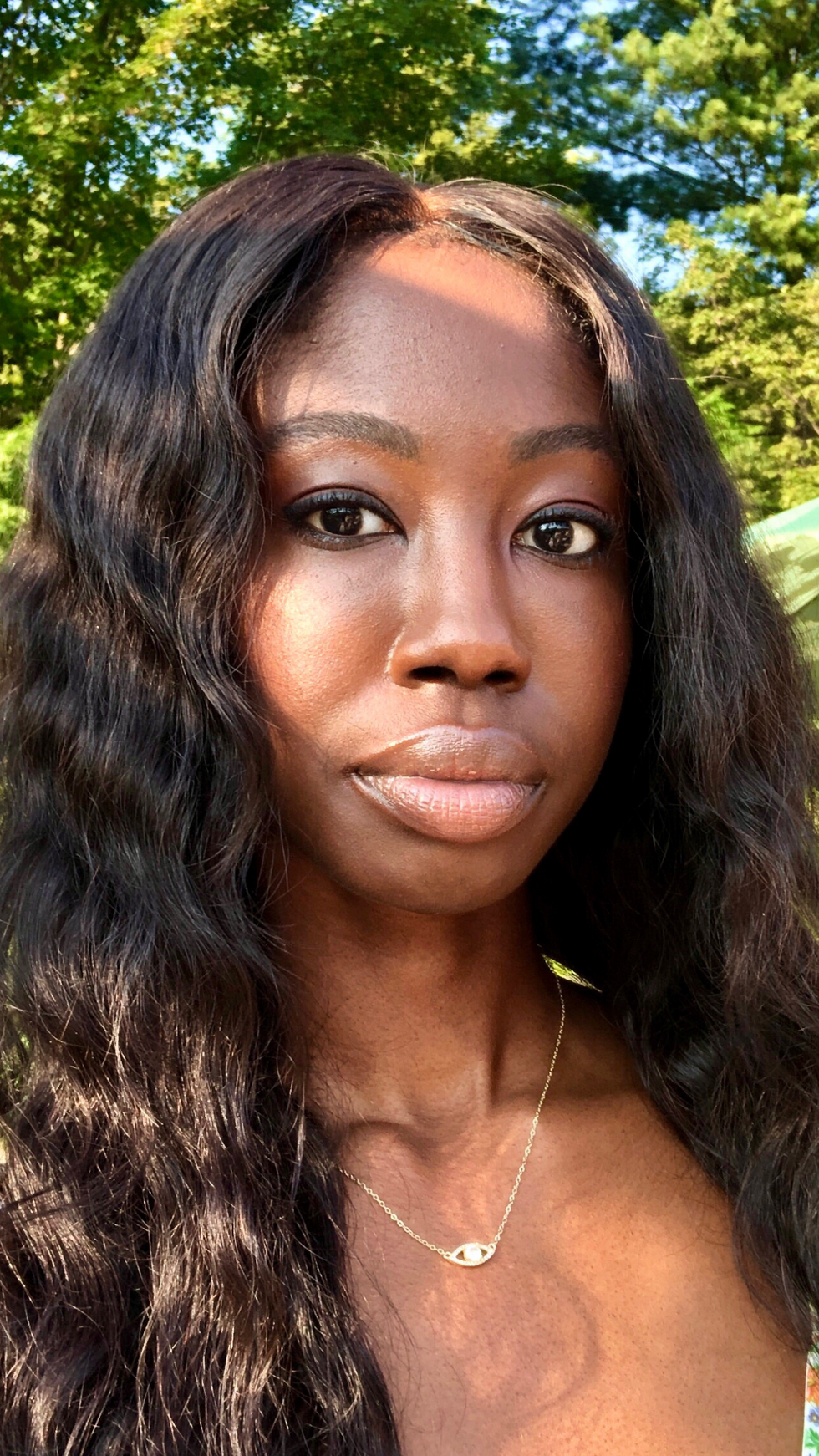 I decided to go with a more natural mascara look on this day.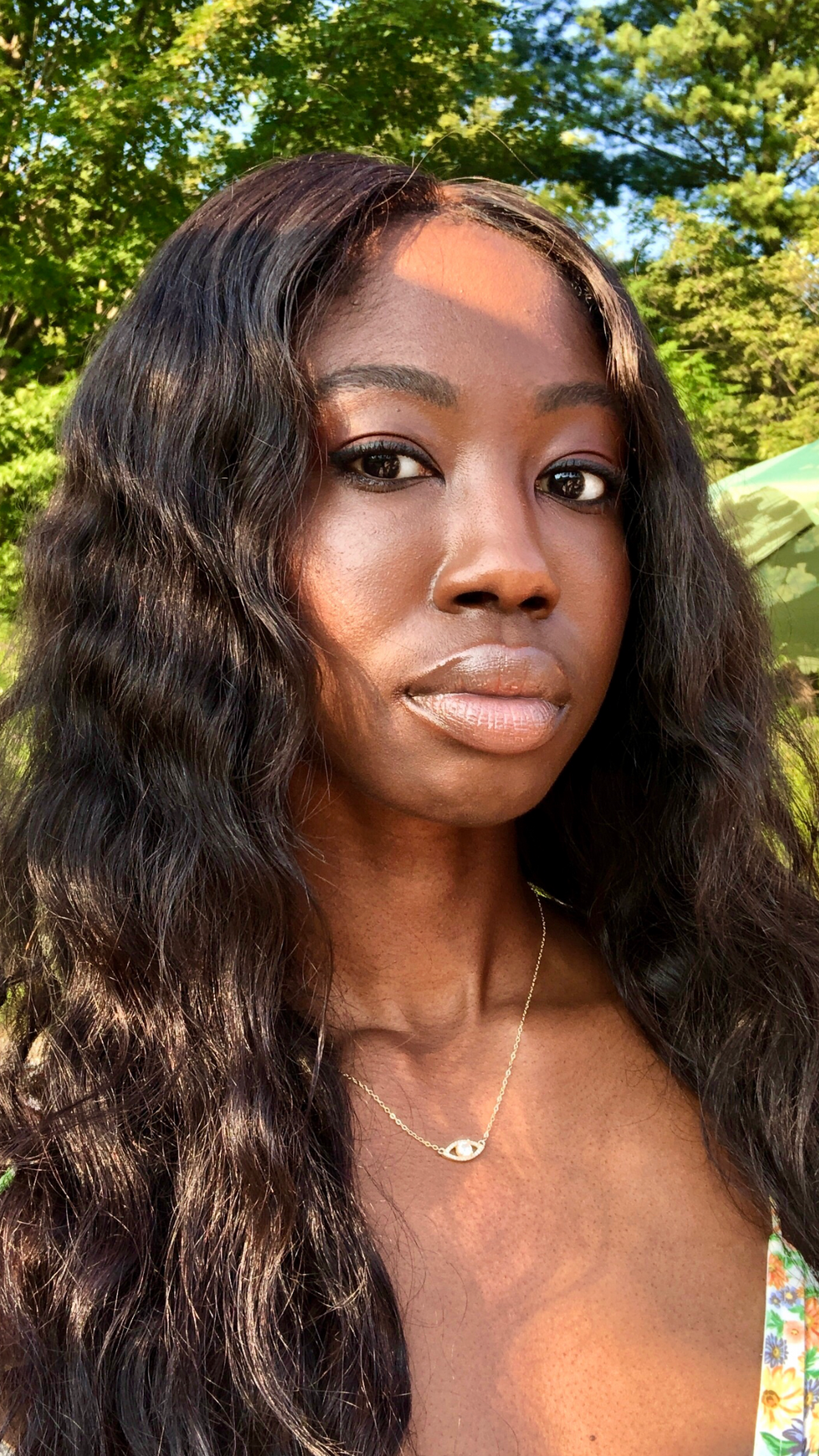 I loved the "your lashes but better" vibe it gave off. Plus, it lasted me for hours in 80 degree heat without flaking.
Like I mentioned earlier, I have very high standards when it comes to mascara—and this one checked off all my boxes. It built volume in my lashes in just a few strokes, sculpted my lashes like no other, and held a curl, even through some pretty fierce humidity. While other formulas tend to clump or weigh my lashes down, CoverFX's formula was so lightweight, I forgot I was even wearing mascara until I looked in the bathroom mirror. And regardless of the amount of coats that I applied, my lashes looked light and airy, never spidery. Plus, thanks to the ingredients in the formula, I found that it didn't irritate my eyes.
In terms of first impressions, it was love at first sight. I loved how full and fluttery my lashes looked after a few coats. I also love the versatility that comes with the dual-sided brush. On the days that I want my mascara to be as extra as I am, it gets the job. And for the days when I want more natural-looking lashes, this mascara can do that, too. No matter what vibe you're going for, this mascara is worth trying.
Top photo: Courtesy of Cover FX

Want more stories like this?
We Tried It: The Makeup Brand You Can Sleep In
This Serum Faded My Dark Spots in Under Two Weeks
Could Eye Cream be the Cause of Your Under-Eye Puffiness?