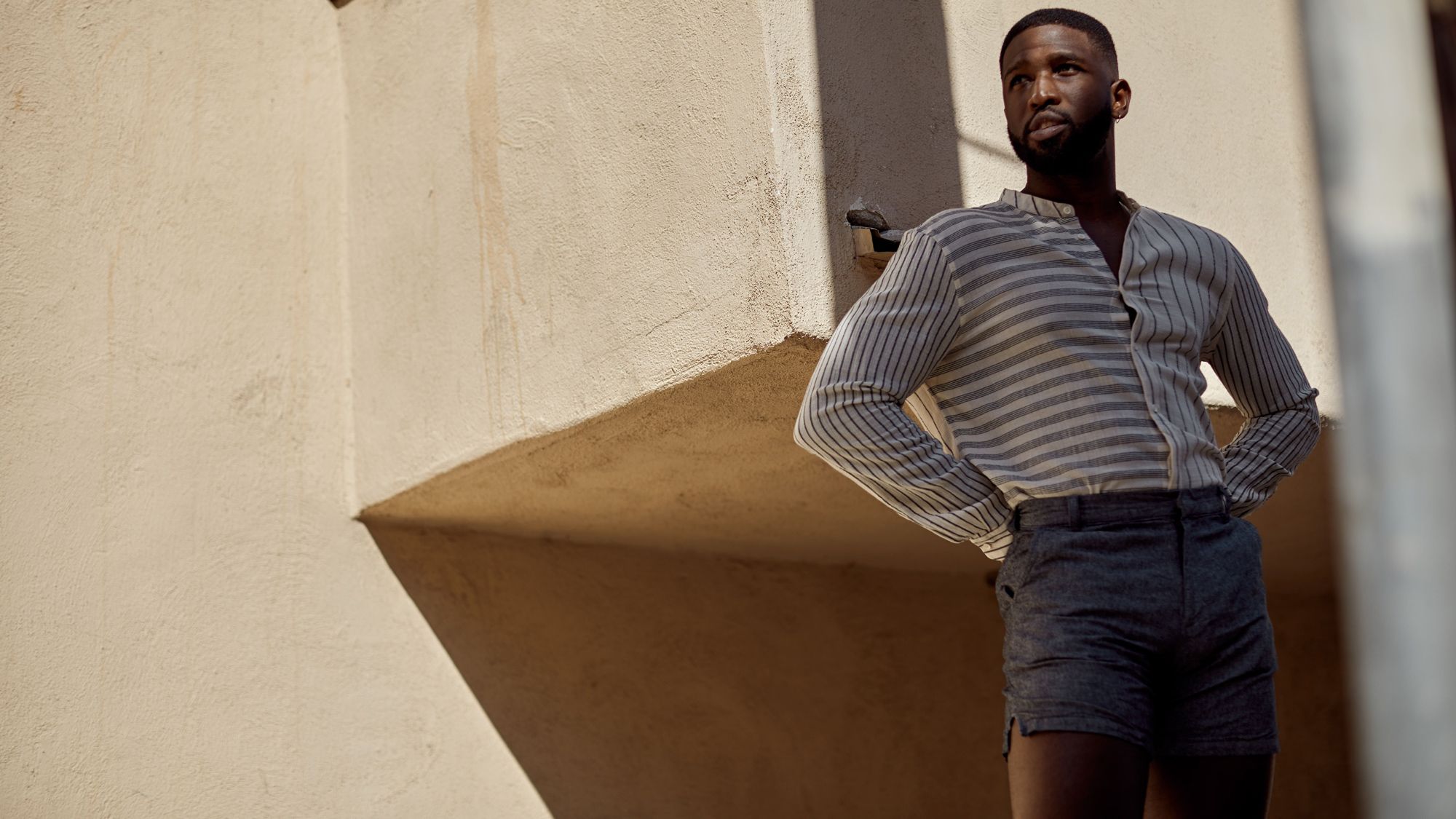 Celebrity
"We are well versed in whiteness, but whiteness is not well versed in us."
With
Pride Month
, a
global health pandemic
, and the murders of, and police brutality against, black victims reigniting
the Black Lives Matter movement
, the world has caught itself in an intricate crosshair. But, as modern society's media cycle does, one dilemma is deemed "old news" and replaced with a new paranoia within days. However, this time is different: The need for proper representation of BIPOC people is not a fad, a trend, or an opportunity for the faux-woke. Like putting on our clothes, eating, even breathing, it should be an ethos embedded into our DNA as a basic human right.
That's where actor, writer, and entertainment multi-hyphenate
Brandon Kyle Goodman
steps into the picture. Goodman, a queer black actor currently at the forefront of the Black Lives Matter movement, both on and off social media, has found his voice in advocacy for his community. Aside from his work as a leading on-screen presence in Amazon Prime's
Modern Love
and Netflix's
Feel the Beat
, Goodman has garnered over 40,000 Instagram followers nearly overnight for his candid, genuine approach to educating the masses on what it truly means to be an ally to both the BIPOC and queer communities.
"People have known about [racism], but I think for the first time people are not just willing to say that there's racism, but also acknowledge that they're part of it and that they've been perpetuating it," Goodman told Coveteur. "So this moment that we're seeing in [Black Lives Matter] and in the cultural shift is important, because I think if you can acknowledge that you are part of the problem, then you can start to combat it."
Brandon's eclectic style reflects him as a person: unapologetic, direct, and articulate. He prefers sustainability and has made an effort to shop from black-owned businesses, like rising couture label
Orange Culture Nigeria
, and looks up to a plethora of black style gurus (CCing:
Pharrell
, Little Richard, Billy Porter,
Luka Sabbat
, and
Oprah
). His background is literally woven into his wardrobe, and he takes a literal approach to wearing one's heart on one's sleeve. But he knows that when it comes to the fight for racial equality, the true work is going beyond the clothes on your back.
"What we were having was people thinking that racism or white supremacy existed in some small country town and could never happen in L.A. or could never happen in New York, and finally we're waking up to it, but it is literally everywhere," he says. "It's at your job, it's at your grocery store, it's at the businesses you shop at, and it's at the brands that you support."
---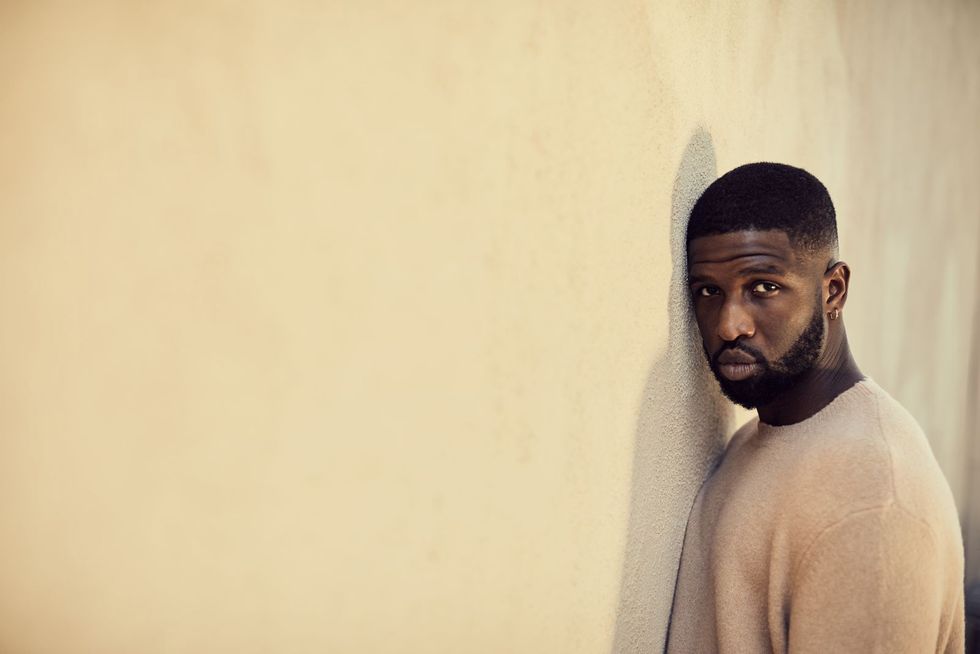 Photo: Ramon Christian
But now that we know this information, what do we do with it? This seems like an easy question at face value—just don't be racist, right? But it isn't that simple. According to Goodman, there's centuries of embedded racism that needs to be broken down to rebuild the American mindset, and to put it frankly, we have a long way to go—but that doesn't mean we can't start moving forward.
"Now that we're finally hip to that information, I think we can combat it and start to move forward with inclusion and with really making sure that there are people at the table who represent other experiences than cisgender, heterosexual, white experience," he says. "There's work to be done; the system has to be broken down. I think what's scary for some people is that it means some people might have to step aside, some people might not get that job or that role, and so that's scary for people. But in an effort to make sure that we're all protected and we're all safe and we're all equal, then stepping aside is probably a pretty easy decision to make, because ultimately what you want is for [BIPOC] people to have their lives—and have their lives valued.
"It's a conscious choice that you make," he continues. "It's not just going to happen. Because of the way our system is set up, white people can exist in a world where they never have to come in contact with black people, and it doesn't impact their level of success. Whereas, for black people, people of color, and queer people, we do have to come into contact with white people in order to climb the traditional ladder. We are well versed in whiteness, but whiteness is not well versed in us."
This can be seen just in the enormous struggles BIPOC employees face climbing up the ladder to get a promotion, let alone a spot in a C-suite. But the most heinous crimes are front and center on the big screen: Hollywood's entertainment industry, guilty both in front of and behind the camera.
"I think there were issues everywhere in Hollywood, behind the camera and in front of the camera," Goodman says. "I think what's happening is that we're seeing diversity, but we're not seeing inclusion. I don't think you can have one without the other, because diversity just means that you hired somebody who is black, or who is Asian or queer—they're at the table, but are they including them? Are you allowing them to take part in the conversation, are you listening when they speak? If they're a character on the show, are you giving them a full story line that doesn't have to do with their diversity, or race or gender, or rather their relationship with their mom, or as I like to say: I have seven plants, what about that? And the same is true behind the camera. We have work to do on the diversity front, but there's even more work to do just on the sheer inclusion of diverse people."
There's a plethora of examples that come to Goodman's mind that make his blood rightfully boil: the tired tokenization of black, queer, and POC characters as "interchangeable" side stories for white leads; the appropriation of black queer culture and vernacular on and off Hollywood's cameras; and the crocodile tears of defensiveness that stream down celebrities' faces when they're called out by social media for their discriminative wrongdoings. One instance in particular that pops up is the "
I Take Responsibility
" PSA, featuring familiar faces in Hollywood including Sarah Paulson and Aaron Paul, which went viral for its shallow-surfaced demeanor of white actors "apologizing" for their racism-enabling behavior.
"Your apology where you list what you did wrong is very cute to do for you to identify where you messed up, but it means nothing to me if you're not done with the ax you planted—what are you going to do to make sure it never happens again," he says. "What are you going to do to prevent that
—
to subjecting us to that misbehavior again? You can't apologize without an action plan—it's useless; to me, your apology then becomes about your ego and then [absolving] yourself of guilt and shame because you said
'
I'm sorry.
'
I don't have time for that conversation. You messed up, now fix it. It took 401 years, let's go."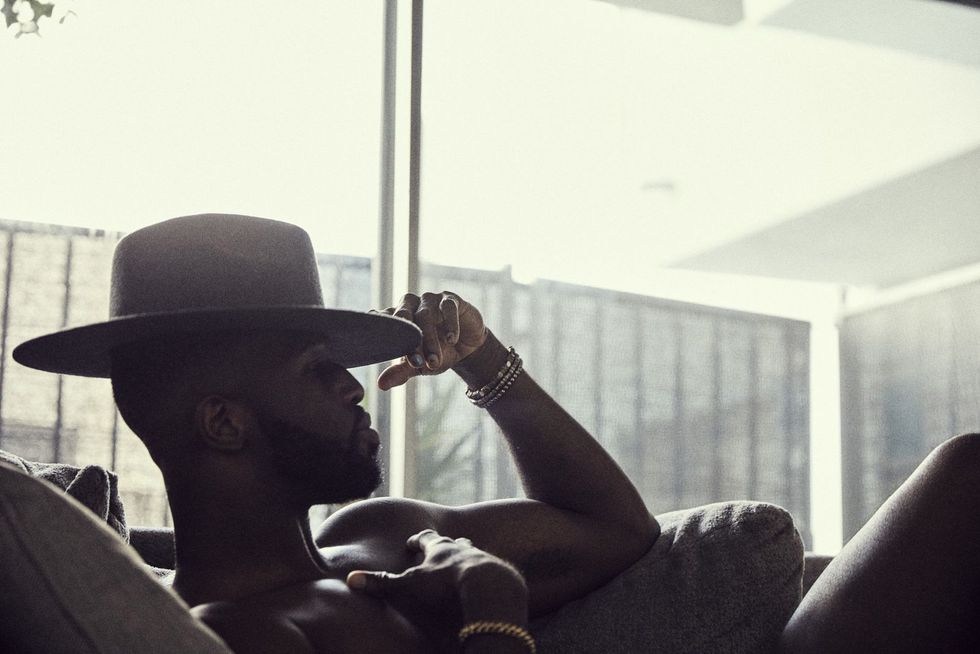 Photo: Ramon Christian
However, there is a tiny inkling of light at the end of the tunnel for Hollywood, at least in Goodman's experience. He notes his recent work as Deco in
Feel the Beat
as a genuine act of workers within the entertainment industry trying to push for realistic representation of marginalized communities.
"Deco, he's a small part, but he's a memorable part," he says. "He is one of the leads—he's very memorable and very impactful, which is important. And what makes him impactful for me is that he's black and he's queer—he's authentically and organically himself and never tries to make himself palatable to a cisgender, heteronormative world. He is in this world with these people, he's accepted, he's loved, he loves them, and that's kind of it. His story isn't about his queerness, his story isn't about his blackness, which I think is just as important as those coming-out stories, because it's time for people to see us as three-dimensional."
Goodman's latest gig, a seat at the writer's table for seasons four and five of Netflix's hit animated comedy show
Big Mouth
, was another breath of fresh air from Hollywood's choke-hold grip on lazy inclusion. He describes his higher-ups as "conscious" of diversity within the story line of each and every character, making these animated people more realistic than most, well, real people that we usually see on our TV screens.
"I've always felt that if I said something that [the 
Big Mouth
writers] would consider, they would discuss it," he says. "If they didn't understand it, we'd have more conversations about it, and that their interest was at the top of season four and season five, which [were] the seasons I was a part of; we've had the conversations about how do you tell different and more exciting stories that are not just about our cisgender, white characters. I think that level of consciousness has to happen across the board, and unfortunately [it] is not happening in enough rooms and with enough executives and enough networks. In the episode that I co-wrote, our characters are further exploring their sexuality, and so I'm excited about that. What I love about this season is really trying to break away from oppressive narratives—oppression-based narratives for a lot of our characters who are in the diverse category, so that's exciting to me."
So, yes, Hollywood may finally be changing for the better, but what about the rest of us? Even in Goodman's own queer community, he still sees horrifying missteps, but with Pride and BLM falling within the same time frame, he's hoping that will open some doors for change.
"I think that having Pride Month fall inside of this global awakening is allowing us to finally have those conversations," he says. "As a queer community, especially our white brothers and sisters, we have a lot of work to do. I understand that you've been oppressed by mainstream society, but that doesn't give you the excuse to oppress your brothers and sisters of color inside of our community. Our community should be one of the most—if not
the
most—loving, free, liberating [spaces] there is, and unfortunately when we see queer representation, it's always white queer representation. And I don't think that white queer people have done enough to use their privilege, because there is still privilege there even inside of that oppression, to elevate and amplify their black and brown brothers and sisters inside of the community."
But as we address the racial biases of tinseltown, LGBTQ+ communities, and society as a whole that need to be confronted, we come to this question: How can we
all
move forward for the better?
"I think it is a personal choice," Goodman states. "You make a choice in the same way that you make a choice about anything else. You have to make a choice that black lives matter and that at every single turn you will uphold that value wherever you can, however you can. So as social media fades, as the news cycles change, as people go back to work because the country is opening back up, you have to make that personal choice. You can't wait until you see another post about it to do something. Black people are not going to forget about this because we're black, so there's no world in which we get to just forget about Black Lives Matter. White people do have that luxury, that's why it's just a choice. You've been awakened to what's happening; are you going to live up to what you've said, be involved and invested, and not stop until everything changes? Or are you going to be a fair-weather friend who got the likes, got the views, and now you go back to your life?"
Photos: Ramon Christian
Want more stories like this?
28 Racial Justice Organizations to Support
Tia Mowry on TikTok, Somersaults in the Pool, and How She's Managing to #WFH
Lena Waithe Talks Her New Show You Ain't Got These & What It's Like to Create While Social Distancing