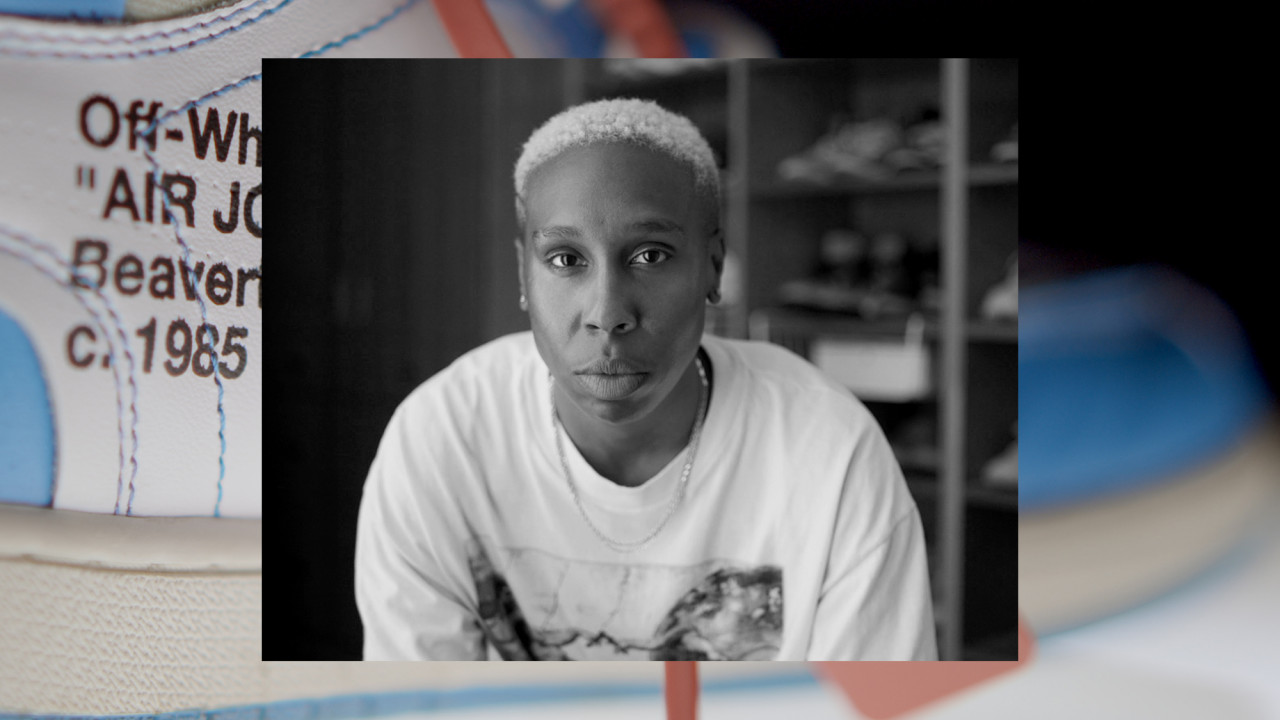 Lena Waithe Talks Her New Show "You Ain't Got These" & What It's Like to Create While Social Distancing
Sneaker culture takes center stage in the multihyphenate's latest project, out today on Quibi.
While the past year has been especially busy for writer, producer, and actress Lena Waithe, the Chicago native first landed on our radar in 2015, when she wrote for and starred in Aziz Ansari's Master of None—a series that later earned her an Emmy. Since then, Waithe has spearheaded and collaborated on numerous projects, including Bones, Dear White People, Westworld, and The Chi. 2019's Queen & Slim, written by Waithe and directed by Cov-alum Melina Matsoukas, landed Waithe's name and face virtually everywhere, and the multihyphenate followed it up with the series Twenties, which premiered last month. Up next? You Ain't Got These, a new show Waithe has lent her production and hosting talents to. An exploration of sneaker culture, the series launches today on Jeff Katzenberg's sparkling new platform Quibi, a short-form content app meant to deliver noteworthy content in 10 minutes or less.
"When Katzenberg calls, you take the meeting," Waithe says of the show's inception. "He was talking to me about Quibi and why he felt it was the way of the future, and I was so convinced." The basis of the show came as no surprise, as Waithe has long been immersed in sneaker culture. (You can catch her talking kicks on Complex.) She wanted to do a deep dive into it, bringing unassuming people together to tell their stories. "Even though somebody could argue that it's an annoying culture because it's so driven by money and people fighting over who gets a shoe first, there is also someone who could argue that it brings people together, people that would never sit and talk to each other," Waithe says.
Below, Waithe tells us more about the show and shares what it's like to create and connect during a time of widespread social distancing.
First of all, where are you right now?
"I'm in Los Angeles. I was [meant] to go somewhere to film something—I can't say what that is—but the day I was supposed to get on the plane, they were like, 'Nope, not doing it,' so yeah, obviously my work was affected by what's going on right now. We all have to take precautions and not do things that are self-serving [right now]."
No kidding. But even though a lot has changed, you're still fresh off the release of Twenties and now gearing up for the launch of You Ain't Got These. What does your day-to-day look like?
"For the first week, I was giving my brain a rest. You know, the first thing I thought was Oh, I'll be really productive and get some writing done, [but] honestly, my body and my brain just couldn't do it. I was very much in shock and, like everyone else, digesting, reading the news, and just trying to settle into this new way of life. But [the next week], I got back on the saddle and started writing. Now I can be somewhat productive. It's a very confusing time."
I hear you, I feel like I have just now found my flow. Let's talk about Quibi. How and when did the opportunity for you to get involved come about?
"I had a show idea that I was actually almost done selling to someone else. I was working with the guys from Boardwalk Empire that do Chef's Table and [a] gentleman by the name of Johnny Hausfater. They approached [my manager and me] with the idea to do something about sneaker culture. I was happy to join in because I love that world, but I really wanted to talk about something beyond the surface of sneaker culture. There's a lot of money being made, there's some classism involved, and it's just sort of an obsession that I think is based on self-worth.
"So we were about to sign a contract when [Jeffrey] Katzenberg reached out and said, 'I'd like you to consider us before you make that final deal.' I sat with him; it was just he and I. He's obviously taking a gamble, it's a big swing, but to me, what Katzenberg represents is the future. He's always one step ahead of the game; his reputation speaks for itself. I talked to my partners, and they were in.
"What's great about Quibi is there is a different level of ownership. For the content creators, you make something, you have it on [Quibi], and then they give it back to you so you can sell elsewhere. Also, the cool thing about their content is that, yes, it lives in short form, but there is a way that you can later go edit the footage and make it long-form. I'm really excited about being in business with Katzenberg and being a part of this new app that I do think could change the way we take in content."
It's such an exciting concept. How did you rework your show to fit onto the platform?
"We were planning on doing a docuseries that was going to be hour-long episodes, focusing on different aspects of the industry, so we did have to wrap our brains around the idea of episodes in 10 minutes or less. This forced us to focus on what we really wanted to say. As I watch the cut, I feel impressed and excited by the show, how it's cut, how it's edited, and how we tell stories. I'm really excited for people to check it out. Of course, we couldn't see into the future and know that people were going to be in isolation, at home and on their phones. I love the way Katzenberg said it to me, that when people are waiting in line to get their Starbucks, rather than scrolling through pictures or whatever, they can get some interesting, high-level content. Now people are looking for content in more ways than one. Obviously, people are watching TV a lot more, but people are also on their phones, checking in, so now I think Quibi is even more significant."
Content consumption has definitely gone up, so that can be a good thing for something like Quibi. You Ain't Got These is being marketed as not just a show about sneakers, but a show about sneaker culture. Why was that so important to you?
"To me, the culture is ever-changing, always evolving, and always growing. Sneaker culture means something different if you go to a predominantly black neighborhood, where people are going to be struggling economically, whereas if you go to, say, a rich neighborhood, where people have disposable income. A kid in the hood is like, 'I want to save up my money' versus 'Oh, I'm going to use my dad's credit card,' you know? The culture is starting to shift and who gets to determine who gets what shoe, when, and how. To me, I think there is a lot to be mined—like, psychologically, what the shoes do to people. You feel important if you have on a pair of shoes that nobody else has. If you're a shy kid that doesn't have a lot of friends and you come into the school wearing Travis Scott Dunks, you're going to be king for a day. And what that does is, it's a feeling, it's a memory that's hard to let go, and then you have an association with sneakers that isn't just about a shoe—it's associated with your self-esteem and how people look at you, and you may be chasing that feeling for the rest of your life. It's very interesting to me. I think a lot of people don't think of it in that way, but I do because I was that poor black kid that couldn't afford sneakers, and I know what it was like to get my first pair of Jordans. People look at the culture very differently, and that's what I really want to focus on as well."
Absolutely. What has been your favorite part of filming the series so far?
"I mean, you're getting a chance to have conversations with people about sneaker culture and how they've affected it. I got to talk to Rev. Run of Run-D.M.C., and it really was a wonderful experience to go to his house. They made adidas quite famous with their song 'My Adidas,' and [they were] the first hip-hop act to have a deal with a major shoe company. I talked to so many different people that it was really a privilege for me to learn about their influence on culture and how sneaker culture influenced them. I asked Rev. Run, 'Where did the adidas thing come from?' and he was like, 'That wasn't even us trying to market a shoe, it was just the shoe of our neighborhood, it was the shoe that all the cool cats wore. We wore it, and because of who we were at the time, we made a shoe famous.' It's interesting. Sneaker culture and hip-hop culture go hand in hand. Like Nipsey Hussle, I think of him, and I think of Puma. Jay-Z has a deal with Puma, Big Sean has a deal with Puma, Meek Mill is Puma sponsored. Now these brands have to associate themselves with people in the culture to sell to the culture. [It's] a cycle that people can say is lucrative, but it also will be interesting to see what it does in the long run."
I find that the culture and releases move so quickly that it's hard to know where it will all lead and what will come next. What do you hope that people take away from You Ain't Got These?
"I hope they don't look at it as a hypebeast show, because it's not that at all. I hope they look at it and realize that sneaker culture is like most things in our culture, it is designed to make money, and the way that people get you to buy [something] is to tie into your emotions and make you feel like you have to have it. People keep asking, will it ever die down? Will this craze ever go away? No, because egos are very fragile, particularly the male ego. Even though, yes, we really tried hard to make sure women were included and involved in this documentary—obviously because I'm a girl and a sneaker head—it is dominated by young men; white, black, Latino, rich, poor, all of it. And I think for a lot of these young men, they want to feel important, they want to feel seen, they want to be a part of the cool kids, and that's never going to go away.
"You look at something like Tiger King, and we can go, 'These people are crazy, they're getting all of these tigers and lions to feel like they're the king of the world,' but it's the same thing with shoes. Instead of wild animals, you're doing it with kicks [laughs]. That's what I hope people get from it; you're buying the shoes not because you like them, you're buying them because you want people to like you."
Want more stories like this?
Julia Fox Went from Selling Her Underwear to Starring in Uncut Gems
P.J. Tucker on the One Sneaker Everyone Should Own
60 Seconds with Taraji P. Henson