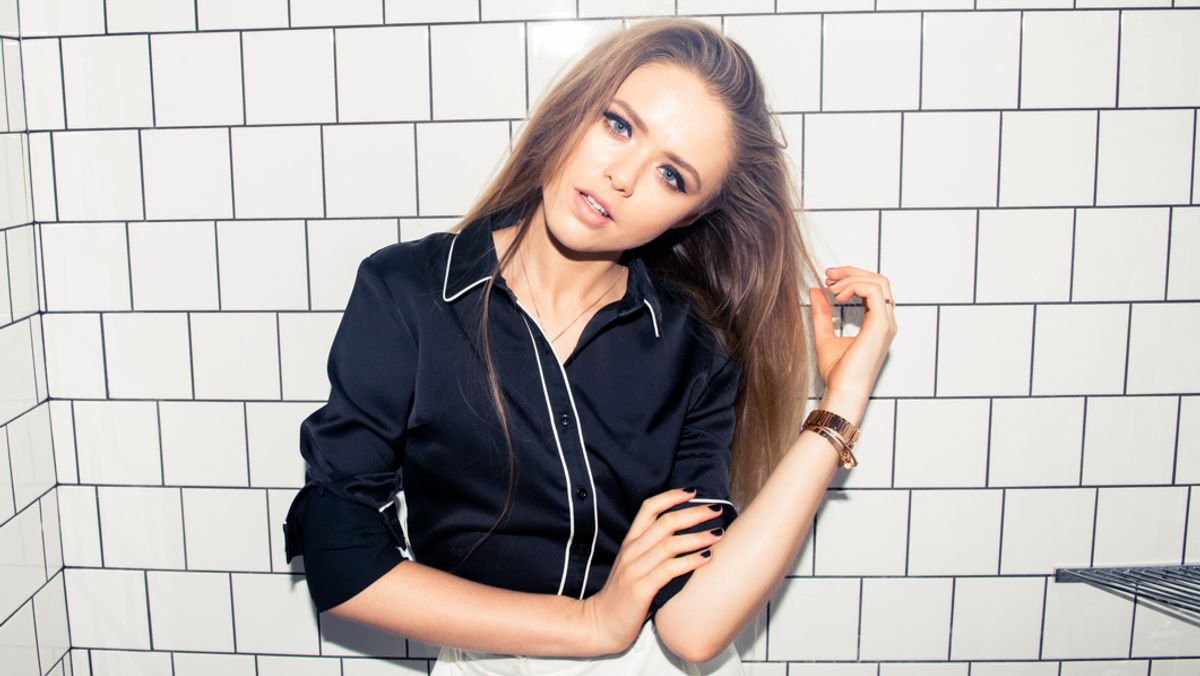 Hair
The experts share which oils help stimulate new growth and prevent future fallout.
Of all the hair and scalp issues that plague us, losing our hair may be the most difficult to deal with. There is, unfortunately, a serious stigma surrounding hair thinning and loss, and it can not only affect our confidence levels, but it has the potential to negatively impact our mental health, too. Even so, it's a lot more common than we might think—in fact, 40 percent of us are likely to face visible hair loss by the time we hit our 40s.

There's a long list of contributors to hair loss, with factors such as age, genetics, hormones, medical conditions such as alopecia, cancer treatment, scalp infections, and stress all playing a role. Considering the current state of the world, it comes as no surprise that derms are noticing a spike in patients suffering from prolonged stress-related hair issues, so if you've been noticing excess shedding or thinning over the past 11 months, know that you're not alone.

While there's no magic remedy to quickly regrow lost hair, evidence has shown that certain essential oils can be quite beneficial for anyone looking to reverse the effects of hair loss or boost growth in general. "Essential oils can be a great addition to your health and wellness routine," says board-certified dermatologist and Harvard-trained Mohs surgeon Dr. Michelle Henry. "They can both slow down hair loss and increase hair growth, depending on your unique needs." By aiding in scalp and follicle stimulation and overall health, they can promote new growth and prevent future fallout, making them a great supplementary treatment for thinning hair, excess shedding, and other scalp-related issues.

We tapped three hair and scalp experts—Dr. Henry, board-certified dermatologist Dr. Hadley King, and board-certified physician Dr. Sunitha Posina—to dish on which essential oils are best for targeting hair loss so that we can get back the healthy, full hair of our dreams.
 

The 7 Best Essential Oils to Promote Hair Growth and Prevent Loss
Rosemary
According to Dr. Henry, rosemary oil is one of the best essential oils to promote new hair growth. "It stimulates hair growth by dilating the blood vessels and promoting cell proliferation, and in some studies it's been shown to be equal in efficacy to 2 percent minoxidil [the only FDA-approved OTC treatment for hair loss, otherwise known as Rogaine]," she says. "It's also used to help thicken hair." Dr. King agrees, noting that rosemary essential oil's growth benefits might be due to its enhancement of microcapillary perfusion, or the blood flow through the network of tiny blood vessels in the skin.
Peppermint
You may already be familiar with peppermint's soothing and cooling properties, and in essential oil form it's thought to promote hair growth due to its ability to boost blood flow and circulation in the scalp. "It causes a tingling sensation when applied to the scalp because it contains menthol, which acts as a vasodilator that promotes blood flow and circulation in the areas it's applied to," says Dr. Posina. "It may help those especially suffering from hair loss due to decreased blood flow to the hair follicles."
While there isn't official clinical evidence to prove its efficacy on humans, it has shown some promising results for our furry friends. In a 2014 hair-growth study on mice, peppermint oil was compared to minoxidil, saline, and jojoba oil in terms of efficacy. "The peppermint oil group showed more prominent hair growth effects in terms of increase in follicles, folic depth, and dermal thickness compared to others," she says.
Tea Tree
Most of us are familiar with tea tree essential oil and its ability to fight pesky zits, but it also can be extremely beneficial when applied to the scalp. "Tea tree has been used for centuries due to the belief that it has great medicinal benefits," says Dr. Posina. "It has been clinically proven to have anti-microbial activity and known to fight bacteria, viruses, and fungi. Because it's been studied for these effects, it's used for seborrheic dermatitis (dandruff) at 5 percent levels where it's proven to be effective and well tolerated."
In general, essential oils with anti-microbial properties, like tea tree, are considered great options for treating a slew of hair and scalp issues. While not all necessarily play a direct role in boosting growth or preventing loss, they help set the stage for the healthy environment needed for your hair to thrive. "Anti-microbial essential oils can help maintain a healthy scalp and productive hair follicles, which are essential for growing longer, thicker hair," says Dr. Henry. In terms of preventing further fallout, Dr. King points out that they *could* potentially be helpful if an infection is the cause, though she notes that infection isn't the most common cause of hair loss.
Lavender
It turns out lavender essential oil is capable of way more than just calming our minds and leaving us in a relaxed, zen-like state. "Lavender has anti-microbial properties which can help promote a cleaner scalp, which is essential for proper hair growth to take place," says Dr. Posina. "Like peppermint oil, it's also been shown to promote hair growth and be beneficial to alopecia in mice studies."
In addition to promoting regrowth, Dr. Henry notes that its calming effects may also work as a preventative measure against future loss. That said, if you think your hair and scalp issues are related to stress, regular lavender-oil scalp massages are a beneficial ritual to add to your self-care routine.
Bergamot
Bergamot is another commonly used anti-microbial essential oil used in products to promote a healthy scalp. "There is some evidence showing that there is some anti-inflammatory effect and anti-microbial activity in bergamot that is believed to promote a healthier scalp and hair growth," says Dr. Posina. Additionally, another study found that bergamot can help to reduce inflammation, which can also contribute to hair loss. It certainly doesn't hurt that it smells delicious, too.
Cedarwood
If you're noticing shedding and/or balding in areas of the scalp, consider adding cedarwood essential oil into the mix for a more preventative approach. "Cedarwood essential oil can prevent future hair loss and thinning," says Dr. Henry. "This essential oil works to balance the oil-producing glands in the scalp. In addition, its antifungal properties can help reduce dryness and dandruff, which can lead to hair loss." And while it may not necessarily be deemed a regrowth-boosting oil, optimal scalp health is key for anyone looking to grow a healthy and full head of hair.
Thyme
If thinning hair is a concern of yours, thyme is your essential-oil hero. Dr. Henry notes that it's not only great for strengthening hair follicles, but it can promote hair growth and thickness by stimulating the scalp. For this reason, she notes, it's often used as a treatment for hair loss and alopecia-related conditions—in fact, a study showed improvement in alopecia areata patients when massaged into the scalp with other essential oils.
Incorporating these oils into your hair-care routine can provide many benefits, but keep in mind that none are a guaranteed cure-all for hair loss. "Better and stronger hair growth is also dependent on a balanced diet, regular exercise, low levels of stress, and genetic factors," says Dr. Henry. And, as Dr. Posina points out, while there have been a few studies conducted, there isn't enough substantial clinical data to fully back up these claims. That said, these are best used as supplemental treatments and approached with an open mind.
Don't expect them to work overnight either—results, if any, will take time. "Because of the hair growth cycle, any effects on hair growth may take six months to show up," says Dr. King. Dr. Posina adds that in order to yield any benefits, these oils would need to become a regular part of your hair regimen, used both consistently and frequently. 
How to Safely Use Essential Oils in Your Hair
Essential oils are
potent
, and because they're so highly concentrated, they should always be diluted before applied to the skin or scalp to avoid irritation and other negative reactions. Typically, the best way to do this is with a carrier oil (otherwise known as a
botanical oil
), which boast a number of their own benefits that contribute to hair growth and loss prevention. "They can help to condition the hair shaft and cuticle, protecting it from damage that could lead to breakage," says Dr. King. Carrier oils are typically neutral or light in scent and include varieties such as castor, coconut, jojoba, avocado, olive, and grapeseed, amongst others.
Not sure where to start? Dr. King considers castor oil to be a solid option for beginners due to its ability to boost luster and shine. It's also thought to stimulate hair growth, but she thinks those claims should be taken with a grain of salt. "There are plenty of anecdotal stories [that castor oil directly contributes to hair growth], but there is no scientific evidence." She explains that castor oil contains ricinoleic acid, which has been thought to trigger receptors linked to promoting hair growth, but again, it hasn't been scientifically proven.
Alternatively, instead of concocting your own essential/carrier oil blend yourself, Dr. Henry suggests opting for gentle products that are already formulated with them. "Look for shampoos or hair-care products with natural, non-harsh ingredients that include these essential oils as well as other useful vitamins and minerals for hair growth, such as vitamin A."
Per Dr. Henry's recommendations, it's always best to proceed with caution and patch-test before applying an essential oil or essential-oil-bearing product to your entire scalp and to never apply to broken skin. Some may still be too sensitive to handle any essential oils at all. In this case, Dr. Posina recommends forgoing product altogether and focusing on stimulating circulation manually by simply massaging your scalp regularly.
If you're looking for an easy way to incorporate essential oils into your hair-care routine, we rounded up eight of our favorite oils, sprays, and treatments to promote a healthy scalp and stimulate regrowth, below.
---
King recommends this product for increasing hair density and preventing shedding. "It contains bergamot peel oil as well as turmeric, peptides, mung bean, and red clover, which has been shown to inhibit DHT production in some subjects," she says. "Their studies showed 50 percent greater density after four months of use." We also love that its formula is clean, vegan, and cruelty free.
Another favorite of King's is Allpa Botanical's Rosemary Hair Oil, which combines rosemary essential oil with a nourishing trio of carrier oils: castor, maracuja, and sacha inchi oils. It's a great quick fix for flyaways and frizz, but it can be used as an overnight scalp treatment to stimulate hair growth, reduce hair loss, and soothe a dry, itchy scalp.
Consistent scalp care is key for thick, luscious hair and preventing shedding and thinning, and we love this daily spritz for keeping ours nourished and healthy. It's formulated with tea tree extract as well as anti-inflammatory green tea extract and hydrating argan oil.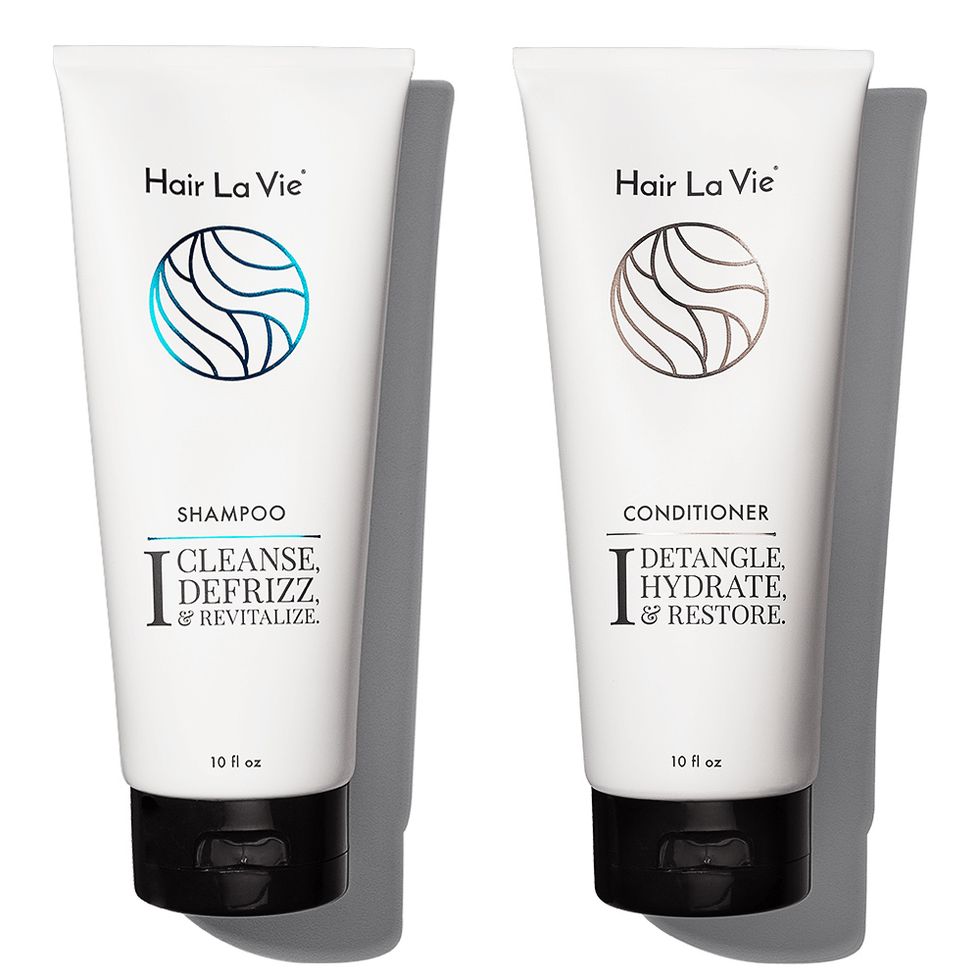 Hair La Vie's shampoo and conditioner are designed to revitalize and rejuvenate the hair while promoting growth. Both formulas contain a number of hair- and scalp-supporting essential oils such as peppermint, rosemary, cedarwood, and tea tree as well as saw palmetto, a natural DHT blocker that helps to prevent hair fallout.
Think of this refreshing spritz as skin care for your scalp. Formulated to improve overall hair wellness, it's jam-packed with ingredients that promote fuller, stronger strands and minimize fallout. In addition to bergamot oil, it contains an impressive proprietary blend of peptides, amino acids, vegetable collagen, antioxidants, fermented minerals, photo-actives, and adaptogens. I can personally attest to this one significantly improving how much I shed after just a few weeks of consistent use.
It's no secret that dry shampoo can wreak havoc on your scalp, so consider Carter + Jane's ScalpFix a healthy alternative to combating excess oil and refreshing the hair without drying yours out. Its formula includes growth-promoting rosemary and peppermint essential oils as well as antimicrobial Manuka oil and inflammation-fighting witch hazel to keep your scalp's microbiome in check. Bonus? It can also be used as a facial toner or makeup-setting spray.
This lightweight, cooling oil is formulated with peppermint and tea tree essential oils, targeting hair loss and scalp dryness while boosting blood circulation. Plus it contains aloe extract to nourish, moisturize, and help protect against future breakage and shedding.
Designed specifically to stimulate and nourish the scalp to result in new growth, this highly concentrated spray is formulated with superstar essential oils tea tree, peppermint, and rosemary as well as vitamin B5, a vitamin known to regulate stress hormones that can lead to stress-related shedding and hair loss. Very pandemic-appropriate!