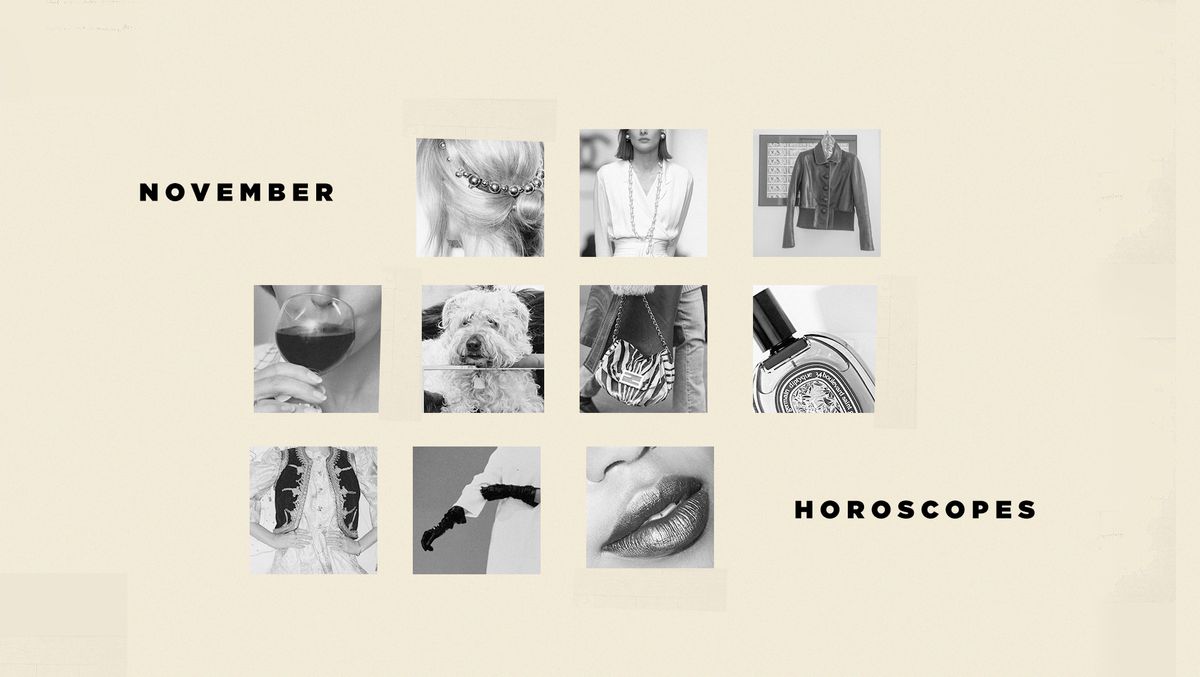 Horoscopes
This month packs a big punch.
Graphic
Rachel Pickus
November's astrology feels like a small exhale after October's surprises, but the story is far from over. It's as if we're perched at the top of a steep hill, about to slide into the wild astrology of winter. The sun in heartfelt Scorpio until November 21st urges us to shed the superficial and get real. Associated with everything hidden and underground, the season of Scorpio is ideal for getting to the bottom of things. As a fixed sign, Scorpio is skilled at buckling down and maintaining focus; collectively, we're shining our light into the dark corners and digging up the old treasures that we may have forgotten about. As important planets finish their retrogrades and start cooperating, we can expect clearer communication and more decisive action.

It is no surprise that the first week of November promises to be notable; as above, so below. From our perspective on earth, Mercury freezes in the sky on November 3rd, marking the end of its retrograde. It's as though the planet of communication and commerce pauses to take a deliberate breath before finally advancing. Mercury has been retracing its steps since October 13th, rehashing and revisiting topics, sifting through mishaps and misinformation. After sitting with the retrograde revelations, we can utilize valuable information we gleaned.

The middle of November packs a punch, thanks to an explosive meeting of Jupiter and Pluto on the 12th, plus Mars retrograde in Aries turning direct on November 13th—a burst of momentum after months of speed bumps. Mars is the spunky go-getter planet associated with taking action and personal drive: moving forward, what really deserves your energy? An imaginative Scorpio new moon on November 15th is an opportune time to set specific intentions and map your course.

Our cosmic protagonist the sun enters the good-time sign of Sagittarius on November 21st, promoting open-mindedness and larger-than-life topics. Sagittarius is well versed in leaps of faith, generosity, and goodwill towards men—ushering in the holiday season with much-needed warmth and optimism.

Prepare for unexpected ideas and interactions in the last week of the month, as the moody planet of relationships (Venus) confronts out-of-pocket Uranus on November 27th. All that liberating energy leads up to a lunar eclipse on November 30th, capping the month on a fever pitch. Lunar eclipses are like supercharged full moons, indicating times of climactic releases and revelations. Where could you use a fresh start?
 

Aries
The world is your oyster, Aries. On November 13th, instinctive Mars stirs itself from its retrograde, marking an increase in impulsivity and energy. As the sun enters optimistic Sagittarius on the 21st, your fiery focus turns towards higher learning and faraway places. The lunar eclipse in Gemini reminds you that there is still so much to learn, even in your own backyard. Let yourself be a sponge; ask questions and engage in meaningful conversations. 
Taurus
You can go faster alone, but you'll go farther together. Scorpio season, opposite your own, spotlights your relationships with other people. A supportive new moon on November 15th suggests clarifying and revamping partnerships—what exactly are your expectations? With aggro Mars lurking in a moody part of your chart, be conscious of projection and self-sabotaging habits. Even though it's difficult to see right now, you are making progress. 
Gemini
The tree that bends in the storm doesn't break—Geminis know this intuitively. As your flexible ruler Mercury initiates a more productive chapter on the 3rd, there's a chance to establish more thoughtful routines around health and work. Utilize that brilliant mind, and workshop ways to make your day-to-day run a little smoother. A dynamic Gemini lunar eclipse on November 30th could spark big emotions and reveal important truths. Be open-minded enough to explore messages you weren't expecting to receive. 
Cancer
Don't underestimate yourself, Cancer. Determined Mars in your career sector provides extra fuel to any professional ventures and public interactions, so use this accelerant wisely. Romance and inspiration may be ignited mid-month, thanks to the sun and sultry Venus heating up your sector of art and pleasure. Where can you incorporate more joy in your life? The dramatic lunar eclipse on November 30th reminds you to recognize self-defeating patterns—avoid being your own worst enemy, and find healthy outlets for your emotions. 
Leo
This time of year, embrace your domestic side. November is ideal for clocking out and getting back to your personal life. A new moon in Scorpio on the 15th suggests a fresh chapter involving your living space or family. How can you make your home more homey? Honor your past, but remember the future is yours to write. The liberating lunar eclipse on November 30th is perfect for releasing social connections that no longer align with your heart's purpose. 
Virgo
Ready to pick up the pace, Virgo? With your ruler Mercury (wiser from its retrograde) lurching forward on the 3rd, there's potential to build something from the ground up. On November 12th, Jupiter and Pluto have an explosive meeting in your sector of love and art, encouraging you to harness some heartfelt creative potential. The striking eclipse in your career sector on November 30th brings your public profile into focus, indicating pressure to define your goals and direction. How can you live more authentically? 
Libra
Potential for manifestation abounds, Libra, so wish carefully. For the first three weeks of November, lovely Venus acts as a magnet for pleasure and partners—especially if you've been putting in the work. A fertile Scorpio new moon on the 15th marks a time of new beginnings around your money mindset—what is your idea of abundance? By the end of the month, your focus turns towards community and social traditions. Trust that the positivity and generosity you display to others will be returned tenfold. 
Scorpio
Hello, hot stuff. It's your season until November 21st, indicating a time of heightened vitality and confidence. Even better, your fierce ruler Mars finishes its six-month-long retrograde on the 13th, spurring newfound wisdom around your health and routines. What are some personal resolutions you can start working on now? November is an opportune time to cultivate the mindset you want to carry into 2021. A constructive Scorpio new moon on the 15th invites you to rise from last year's ashes and start something with intention. 
Sagittarius
This month, relish the peaceful moments while you can. The sun shifting into Sagittarius on November 21st marks an increase of passion and motivation, inspiring you to face yourself and pursue your goals head-on. How will you leave your mark on the world? With a powerful lunar eclipse in your relationship sector on the 30th, there are themes of revelations and culminations. The way forward is winding and unclear, but that's what makes it so exciting. 
Capricorn
Put yourself out there, Capricorn. November is ideal for nurturing your personal and professional growth. With attractive Venus gracing the most public part of your chart, socializing and schmoozing could be on the agenda. November 12th
–
17th is a powerful time for planting seeds and cultivating a purposeful, long-term plan. Which new intentions and mindsets should be incorporated? Your perseverance and big-picture thinking are what we need, so lead the way. 
Aquarius
Buckle up for one of the spiciest months of the year, Aquarius. The career sector of your chart is being ignited by the sun, marking a time of increased attention and responsibility. If you're itching for a rebrand or refresh, the Scorpio new moon on the 15th is a great time to reframe your professional boundaries. A dramatic lunar eclipse on November 30th indicates a new chapter for creativity, a chance to transmute your energy into something fresh and exciting. 
Pisces
Follow that inner compass, Pisces. After going with the flow for most of the year, November is your chance to thoughtfully pursue and direct the next chapter. A promising new moon on the 15th marks a fresh start around travel and education: Where are you ready to expand and grow? Your public profile becomes a larger focus during Sagittarius season, with the disruptive lunar eclipse pushing you out of your comfort zone. You are more than ready to take the reins—claim your space, and brave new frontiers. 
Want more stories like this?
Nneka Julia Odum Was Born to Be a Storyteller
Jenny Welbourn Wants to Change Fashion from the Inside
Being a Role Model Is Second Nature for This Emerging Model