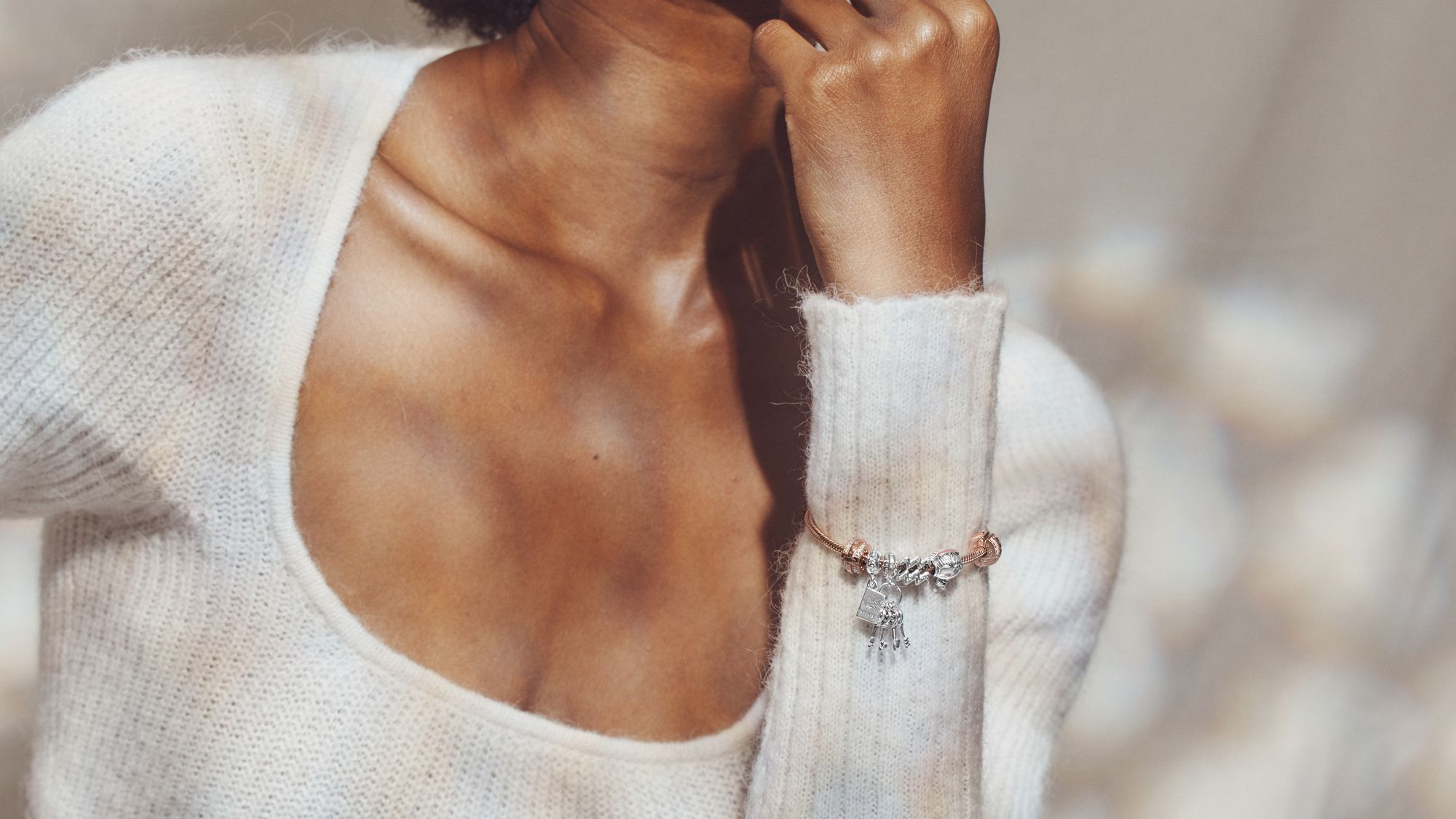 Horoscopes
Meet Samia Hampstead. In collaboration with Pandora.
By:

Gina Marinelli

Photographer:

Jeff Allen

Graphics:

Rachel Pickus
Samia Hampstead
can thank Rihanna for kicking off her career. At least in small part, that is. The New Jersey native has been an emerging face in fashion with a growing résumé of impressive work. See: an Aerie billboard in Times Square, a featured role in a J. Cole music video, and, in a job that helped launch her success, Hampstead was a face of Fenty Puma back in 2017. But while Hampstead's got big dreams, she's also someone who remains grounded, all thanks to two of her most important fans: her younger sisters.
It's no surprise, then, that when she sat down with astrologer Alice Bell, her birth chart instantly reflected Hampstead's nurturing nature. "You're probably the person everyone turns to for advice because you're able to sense what other people are feeling and pick up on it," Bell told her succinctly. Even when the 25-year-old recalled some of the most major "first" moments that have steered her career, the conversation often went back to Hampstead's love of family and the responsibility she has as a mentor to her younger siblings. As well as anyone else watching her star rise.
Together with
Pandora
, Bell pulled together the ultimate bracelet that represents the emerging model and aspiring actress with charms that speak to her profound role as a big sister as well as her passion for her career, diverse representation in media, and the ability to travel the world with a deep sense of purpose.
---
MY FIRST TIME RECOGNIZING THE POWER OF BEING A ROLE MODEL
"When I was 10 years old, my parents were working full-time, so it was just my sisters and I. Things really clicked for me that I have to be a leader and I have to guide my sisters in the right direction. That was a big thing, and that's when I realized I had to grow up and be responsible and be ready to be this important person in two smaller versions-of-me lives.
"There's a five- and seven-year gap between my sisters and I, so I was a third parent for a really long time. I really fully honed in on that third parent role, but I don't regret it at all. I feel like I was a very important person in my sisters' lives and I still am. Now they're tall and adults, and just being able to watch that, it warms my heart. I cry on their birthdays every year. Just watching them grow up is like, 'Oh my god, I remember when I was changing diapers at an age that I was too young to be changing diapers.' Seeing them grow up and make good choices makes me feel like I did a really good job, even though I'm not their mom.
"[Now, when it comes to social media,] I wouldn't do anything I wouldn't want my sisters doing. I feel like I keep things very PG and well educated through everything. It comes second nature now—it's not a job or a chore, it's just me being myself, just what I have pre-programmed already."
Samia has always been a strong mentor for her younger sisters, and she aims to help other young women navigate more difficult periods. Her ninth house Sun gives her the potential to be an effective teacher. I've chosen the Girl Teenager charm to indicate the difference she makes in the lives of those who look up to her." —Alice Bell
Shop the story
Pandora
Pandora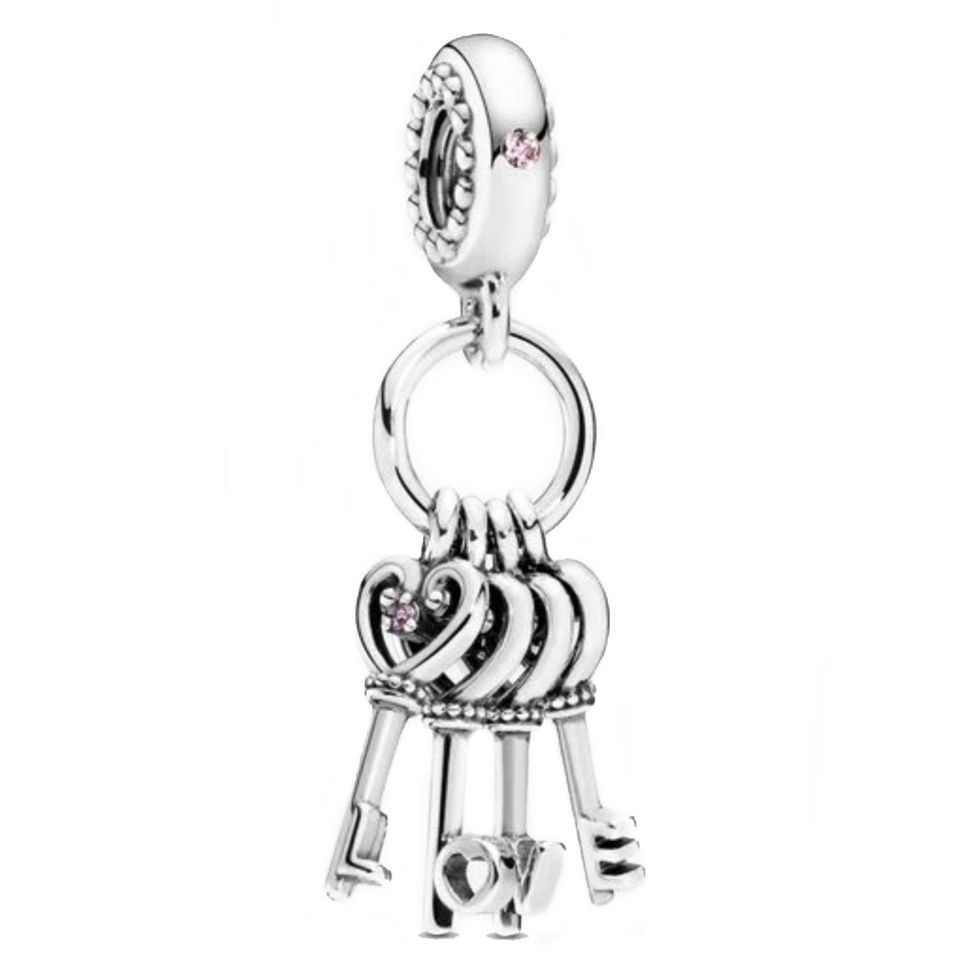 Pandora
MY FIRST CELEBRATION OF CAREER SUCCESS
"My first big campaign was Fenty Puma in 2017, and I'm a die-hard fan of Rihanna, so it was really crazy. That was definitely a big thing for me because it was the day I realized that I was modeling. I was like, 'Oh, I'm an actual model now. This is what I do, and this is how I'm doing it.' And backtrack to my sisters again, it was being able to have the perfect representation for them because they weren't really seeing their faces in places until my face was [in a fashion campaign]. It was a real representation in the media. It was really important.
"After Fenty, then it was Urban Outfitters, Aerie, and then I did a music video where I was J. Cole's girlfriend. That was actually really big. And then it was another Aerie campaign. It just really got the ball rolling.
"I was on a pretty good roll from 2017 to 2019. Then I suddenly was like, 'I need to go somewhere,' so I went to Korea and Japan. I'd been wanting to leave the country for a while. I finally decided that was the year to do it and just went ahead and purchased tickets and lodging. I really needed a moment away from everything to fully immerse myself in a brand-new place. I was there for basically a month—it felt amazing to even be able to take such a trip. I felt incredibly blessed and refreshed after.
"I was worried I may have not been on the right path, but I got hit up for a job in Tokyo right in the middle of it, and that just topped off the feeling I was moving in the right direction in my life. I moved to NYC upon my return and got ready to get back to work."
With her Sun, Mercury, and Venus all in her ninth house, Samia likes to travel on a whim. She wants to be able to hop on a plane and go somewhere new when the inspiration strikes, so she needs to have a passport ready at all times." —Alice Bell
MY FIRST TIME MOVING AWAY FROM HOME
"Another big thing was me moving to New York. That was just last year. It was definitely a big move on my part. That was my first time outside of my family home.
"My parents separated and they sold the house I grew up in, and I didn't want to be a financial burden. Very suddenly I decided I'll just move to New York because I've been wanting to come to New York for a long time. It was really challenging. Just trying to keep up with rent and expenses and living on my own for the first time, but still having my sisters relying on me.
"I feel like even though they depend on me a lot, I also depend on them. I still call my sisters every day just to chat. It's definitely the first time that I've been truly independent, just only having to focus really on myself most of the time. It really sparked a lot of growth this year, especially. I was really homing in on who I was outside of just being a big sister and a part of my nuclear family."
Samia values the quality time she spends with her family, and she's very giving towards the people she cares about. With her Moon in the first house, other people often look to her for advice, and she's even the mom figure in her friend group. The Keys of Love charm symbolizes her nurturing qualities." —Alice Bell
Shop the story
Pandora
Pandora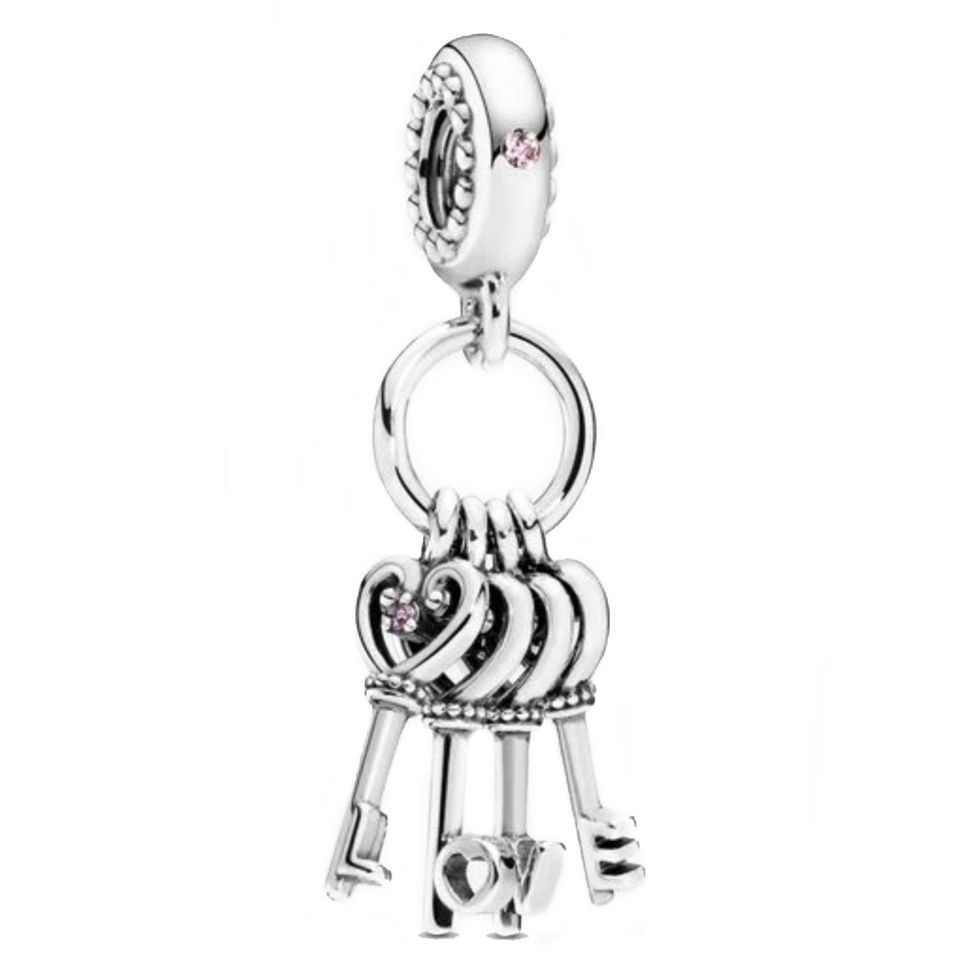 Pandora