How to Reapply Sunscreen When You're Wearing Makeup
It's easier than you think, and it won't wreck your beat.
Makeup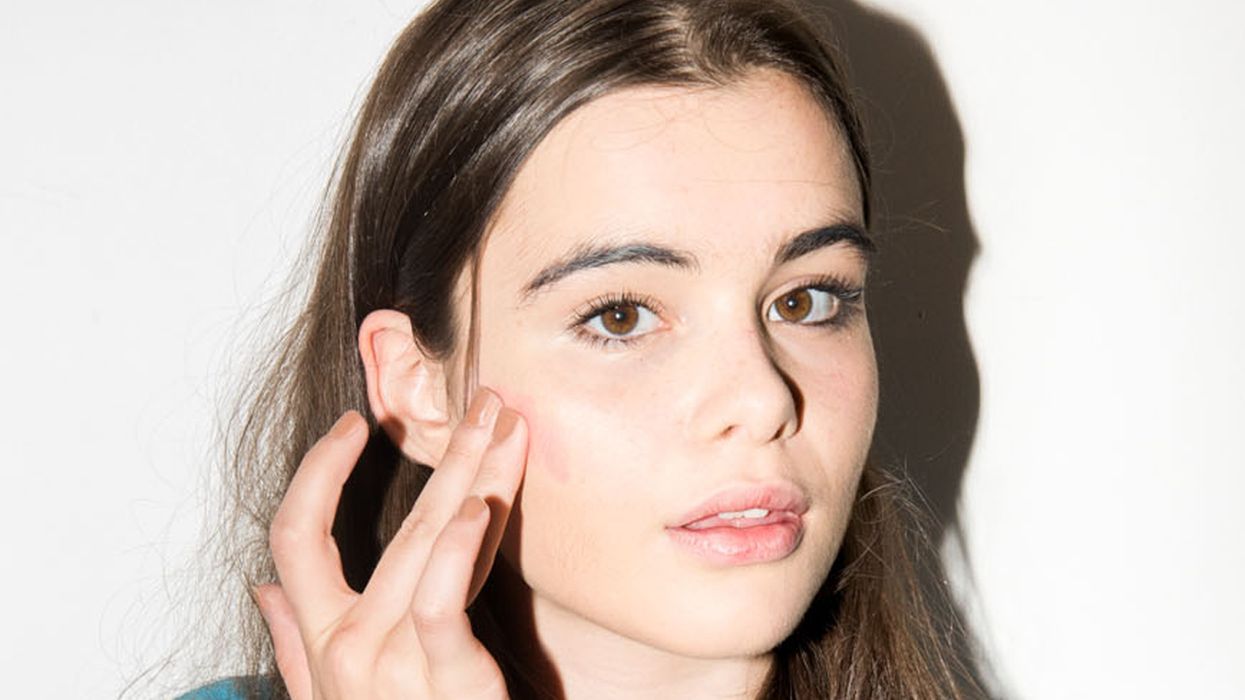 By now we're all fully aware that
sunscreen is a crucial part
of your skin-care routine, rain or shine. It's the number one "anti-aging" product out there, and truthfully, there's no point to investing in pricey serums and creams if you're not going to first protect your skin with SPF. But what happens when you're wearing a face full of makeup and it comes time to reapply—and yes, you do have to reapply to make sure your sun protection lasts throughout the day.
Though you may feel inclined to shy away from adding another layer of SPF for fear of ruining your perfectly blended base (we hear ya; it's a valid concern), reapplying is just as, if not more, important than the initial round of product itself. According to
Kelli Bartlett
, artistic director at Glamsquad, "The key to avoiding damage caused by the sun is consistently protecting yourself"—emphasis on
consistently
. Truth be told, reapplying sunscreen while wearing makeup
is
doable and actually has a few multipurpose benefits. Below, we're offering expert-approved tips and tricks to maintaining flawless makeup while also keeping your skin protected. 
---
Your Skin & Sun Protection
While it may not be the sexiest part of your beauty routine, wearing SPF is proven to be one of the most effective ways of guarding the skin against a number of issues, least of which are
sunspots
, premature aging, fine lines, and wrinkles (not to mention 
skin cancer
). Bartlett notes that
sunscreen
should be worn year-round, every day, whether it's cloudy or rainy, whether you're indoors or outdoors. The reason? Beyond protecting your skin from the sun's harmful UV rays, the act of applying SPF daily creates a habit, and the goal is for it to be as standard in your regimen as brushing your teeth. Says Bartlett, "By creating a routine every day that includes sunscreen, you are committing to a practice that shields you against the long-lasting [negative] effects of the sun."
Ensuring all-day protection in the form of reapplication is key. Bartlett advises that as soon as your skin is exposed to the sun post-SPF application, "the actives in the sunscreen take on the process of degradation, so your morning makeup routine isn't going to offer protection for your afternoon sunny stroll." A good rule of thumb is to apply SPF 15 minutes before sun exposure and every two hours when in direct exposure. Also, be sure to choose an SPF of 30 to 50—it's the safest bet to protect against 97 to 98 percent of UVB rays (the 5 percent of UV rays that lead to most skin cancers).
Layer Up
"Your SPF is only as beneficial as the highest SPF you apply, in the most generous amount," says Bartlett. This means that if you apply a moisturizer with SPF 15 and a foundation with SPF 30, your total amount of protection is 30, not 45. That said, because it can be difficult to cover every inch of your skin (most people have the tendency to slather sunscreen on the center of the face and neglect the outer edges), Bartlett maintains that "Layering is a great way to ensure that the [highest] amount of surface area of your skin is protected." This also has the added benefit of evening out your skin tone if you apply, say, a tinted moisturizer with SPF
on top
of your SPF moisturizer. "Overall, it's best to work with your skin type, so the same solutions you would search for in a traditional makeup touch-up should guide you towards the solution for a sunscreen touch-up," says Bartlett.
How to Reapply
If You're Oily
In the world of makeup, oily skin and face powder go hand in hand, and the same rings true when it comes to reapplying your SPF. Since you're likely already touching up your complexion makeup with a powder, using an SPF powder that doubles up as a mattifier is a no-brainer. Says Bartlett, "To use an SPF powder, it's essential to first press the powder into the skin with a [brush] or puff in order to ensure maximum surface-area coverage. Follow up by buffing away any excess powder." If your skin skews oily and your makeup tends to melt off throughout the day, use this as an opportunity to add coverage back into your look by using a pressed powder (versus loose, which offers less coverage).
If You're Dry or Combination
Unlike oily skin,
dry skin
requires a tad more hydration when it comes to touch-ups, and a powder can often emphasize dry patches—whether it's of the SPF variety or not. For this reason, Bartlett recommends a spray with SPF built in. "A refreshing, hydrating SPF mist allows you to continue to add hydration and balance to dry skin while also protecting it," Bartlett advises. "Be sure to apply evenly all over the face, with one spritz for each quadrant of the face (plus one in the center for good measure)."
If You're Sensitive
Sensitive skin types may find that the layering of too many products (sunscreen, moisturizer, foundation—the works) can lay the groundwork for breakouts and
clogged pores
. Nix a step by opting for a multi-tasking moisturizer that contains a built-in SPF. Then, depending on where your skin type lies on the spectrum, continue to reapply every two hours with an SPF powder or mist.
1/10
Skinbetter Sunbetter Tone Smart SPF 68 Sunscreen Compact
, $55
The Skin Cancer Foundation has endorsed this mineral sunscreen compact (which is perfect for a midday touch-up) as an effective broad-spectrum SPF. It's also shade adapting for a hint of coverage and has zero white cast, while also providing a silky soft finish that you can barely feel.