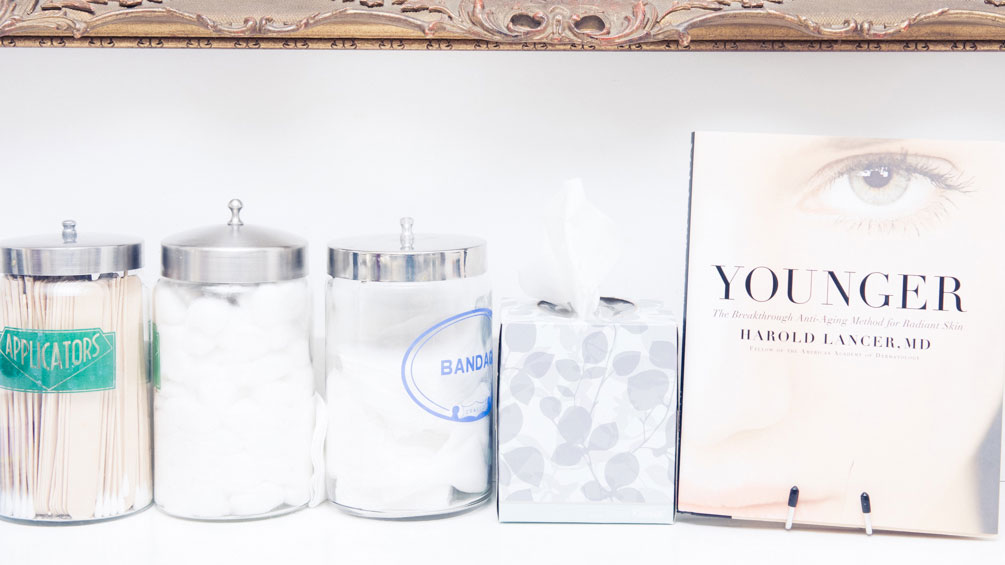 What It's Really Like to Get Checked for Skin Cancer
And why you should do it, too. Like, yesterday.
This place looks more like a shabby-chic wedding venue than a dermatologist's office. A crystal chandelier hangs from the barn-wood ceiling. Philippe Starck ghost chairs line the waiting room. I half expect someone to offer me a signature cocktail. ("Would you like to sample our delectable eczemartini this morning?")
I survey my cohorts. Slightly sagging faces gone too long between Botox sessions thumb matte-print quarterlies. Acne-stricken teens bow their heads, dirty sneakers crossing and un-crossing under their seats. A twentysomething couple squeeze hands, whispering nervously. I glance down at my arms, constellated by freckles for as long as I can remember, and snap back to the reason I'm here.
Full disclosure: I am a full-blown hypochondriac. I show up at my doctor's office on a monthly basis armed with various WebMD diagnoses. (Earlier this year I went in after sudden blurry vision convinced me I had type 1 diabetes. It turned out I had just forgotten to put in one of my contact lenses that morning. I wish this were a joke.) But the one thing I'd always neglected to get checked was perhaps the most obvious: my collection of more than 100 moles I'd spent a lifetime concealing with strategically skin-baring outfits and contorted beach poses.
After a two-hour wait in the Derma Barn, my name is called and I'm led into a little white room, ready to meet my fate.
Expectation: scalpels and a terminal diagnosis.
Reality: a kind, thirtysomething dermatologist hovering a dermatoscope—which looks like a smaller black Clarisonic—over every spot, chuckling at my obsessive knowledge of derma-terminology. ("Are you sure this isn't a squamous cell carcinoma?!" "…Yes.")
He ignores me as I list every sunburn I've ever had in order of severity, scanning and twisting and lifting me limb by limb. He trails over the spots that killed my teenage self-esteem, searching for the signs of a disease that kills an estimated 100,000 people per year.
"You've had this one since you were born, haven't you?"
"Mhm," I mumble, suddenly very aware of my hideous underwear.
After he's surveyed every square inch of me, he lowers himself in his desk chair and opens a drawer.
"You're fine."
I exhale. He hands me a little card with those horrifying Google Image-y pictures of skin lesions and the ABCDE's of melanoma:
A: Asymmetry. One half of a mole or birthmark does not match the other.
B: Border. The edges are irregular, ragged, notched, or blurred.
C: Color. The color is uneven and may include different shades of brown or black, or sometimes with patches of pink, red, white, or blue.
D: Diameter. The spot is larger than half an inch across (about the size of a pencil eraser—although melanoma can sometimes be smaller).
E: Evolving. The mole is changing in size, shape, or color.
"Just keep wearing sunscreen. Most commonly, we'll see melanoma in white women on the back of the calves, so keep an eye out."
That's it? I'm not dying?
I leave clutching my card full of weird mole pictures, satisfied that I'm not skin-cancer-stricken.
At least until next month.
Want more stories like this? 
Turns Out Vitamin D isn't Actually a Vitamin
The Herbs You Need to Fight Summer Colds
Why Your Probiotic Might Not Be Working