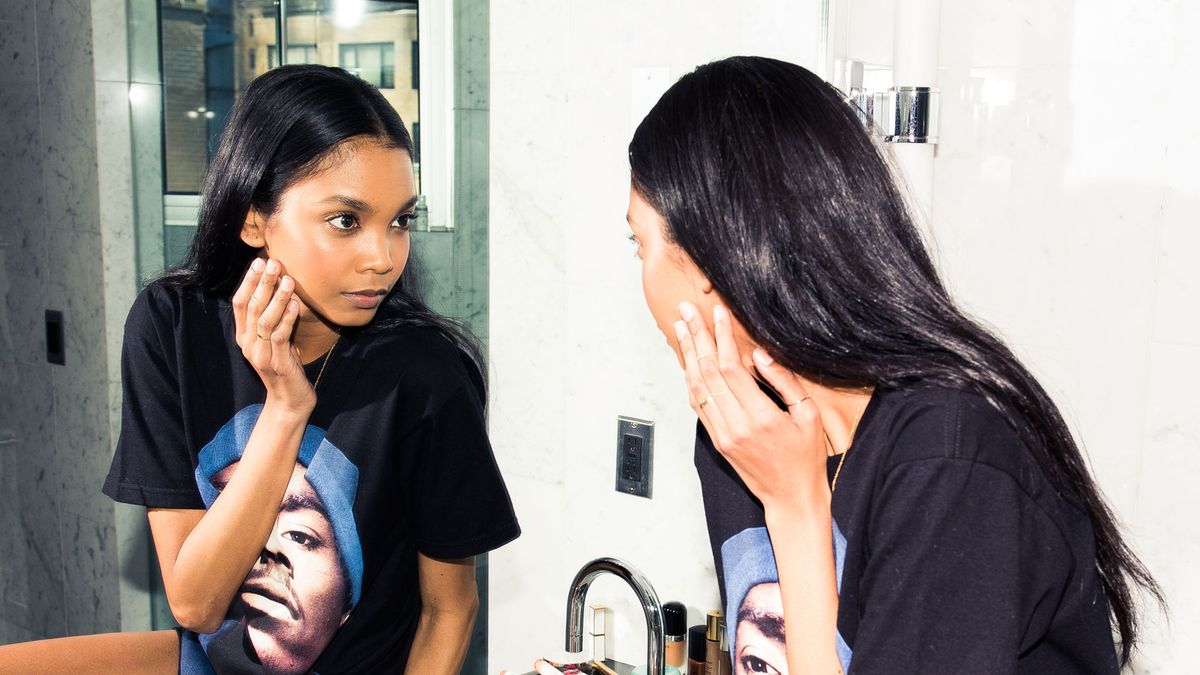 Skin
How to Safely Do Extractions at Home
Aesthetician Renée Rouleau shared her tips, and our skin is grateful.
Not that anyone needs reminding, but we really,
really
miss our
facialists
. Being stuck at home—with a still undetermined amount of time to go until we can safely move about our respective cities—is tough on our complexions, among many other things. Everything from
seasonal allergies
to dry air has completely sapped our glow, and our pores are beyond congested. We know that the people who care for our skin would usually cringe at the thought of us squeezing our own zits, but desperate times call for desperate measures.
Believe it or not, there is actually a way for you to safely (meaning without causing undue damage to your skin) extract your own blackheads at home, and who better to guide us through it than Renée Rouleau? "It's very doable to be able to clear out the pores yourself safely," the aesthetician explained via email. If she says it's OK, we're 100 percent on board.
First things first—you need to make sure that the spots you're wanting to extract are actually blackheads and not something else that you shouldn't tackle yourself, like
sebaceous filaments
. Says Rouleau, "If you see an enlarged, open pore that is dark grey in color, [that is a blackhead]. They are usually flat and run flush with the skin, but sometimes they can protrude. It's important to know that a blackhead is simply oil that has come to the surface and oxidized because of contact with the open air. This oxidation is what causes blackheads to turn dark in color."
Then you want to adequately prep your skin for extractions, meaning you can
'
t just plop yourself down in front of your mirror and start squeezing. "For the best results, I recommend extracting blackheads and clogged pores immediately after a shower, since the skin temperature has been raised. This will soften the hardened oil within the pore, making for easier extractions." Essentially, you want to ensure that your pores are as open and pliable as possible, so you don't exert unnecessary pressure trying to remove the blockage. She also recommends using a
gentle exfoliator
to remove dead surface cells prior to extractions. That will allow for the congestion to come out of the pore more easily.
In terms of equipment, Rouleau likes to use a facial tissue, not a cotton round, and her fingers to extract the blackheads, since the thin material gives you more control over where you
'
re exerting pressure.
"
[Facial tissue] also allows you to position your fingers at various angles for less trauma to the skin." If you're a total novice, she does condone using a blackhead extractor, as long as it has a curved tip. "As an aesthetician, my fingers are well trained, but this tool might make it easier for some people."
Now that your skin is prepped and ready to go, follow these steps to safely extract your blackheads.
---
1. Apply a moisturizer on freshly washed skin
"After showering or washing your face, apply a thin layer of the heaviest moisturizer you have available to the area where you want to remove blackheads and clogged pores. Using a rich moisturizer will create a temporary occlusive seal to keep the heat trapped in the skin, which makes extractions more seamless. As mentioned above, heat softens the hardened blackhead, as well as softening the skin to make it more pliable."
2. Soften the skin
"Cover the area with cellophane or plastic wrap, and hold a hot, damp washcloth over it. Then get a second washcloth, make it nice and hot, and apply it over the other one. Layering the washcloths will ensure that the heat is retained in your skin. For safe extractions and the easiest removal, it's important to have the skin as soft as possible."
3. Re-apply moisturizer
"Remove the washcloths and plastic, and keep the skin moist by applying a bit more moisturizer to ensure the skin stays soft, because more than likely, it will have wiped off onto the washcloth."
4. Extract
"For extractions, you can use either your fingers or an extractor tool. For extractor tools, follow the manufacturer's directions. As for your fingers, wrap them in facial tissue. To avoid creating squeeze marks, go easy and be sure to relocate the position of your fingers. For example, first position fingers at three o
'clock 
and nine o
'clock
, then five o
'clock 
and ten o
'clock, 
and then two o
'clock 
and seven o
'clock
. My general rule is three strikes and you're out
—
meaning if the blackhead doesn't come out after three tries, don't do it any longer, or you'll risk harming the skin or potentially damaging a capillary.
5. Soothe
"Finish by applying a soothing, anti-bacterial gel mask to reduce any irritation and clean out the pores further. My recommended post-extraction mask is the
Rapid Response Detox Masque
. This is a great one because of its anti-redness properties, but it also destroys bacteria within the pores to prevent potential breakouts caused from stirring up activity within the pores from extractions. Also, do not use any acid-based products for at least 24 hours after manual extractions."
According to Rouleau, the average person requires extractions about every two months, but you can perform them as needed until you're able to see a professional. Also, keep in mind that blackheads are simply a fact of life for most people, especially on and around the nose. "There are very few people who escape this life without them,
"
Rouleau says.
"
You can extract them and use products to help keep them away for a while, but, slowly but surely, they creep back up."
In order to prevent blackheads from forming, Rouleau recommends using an antioxidant like
vitamin C
. When used as part of a daily skin-care routine, it's your best bet for keeping them at bay.
Renée Rouleau
Renée Rouleau
Tweezerman
Summer Fridays
Eve Lom