Yene Damtew on What It's Like Being Michelle Obama's Hairstylist
Plus, how COVID-19 has affected her and other stylists across the country.
Hair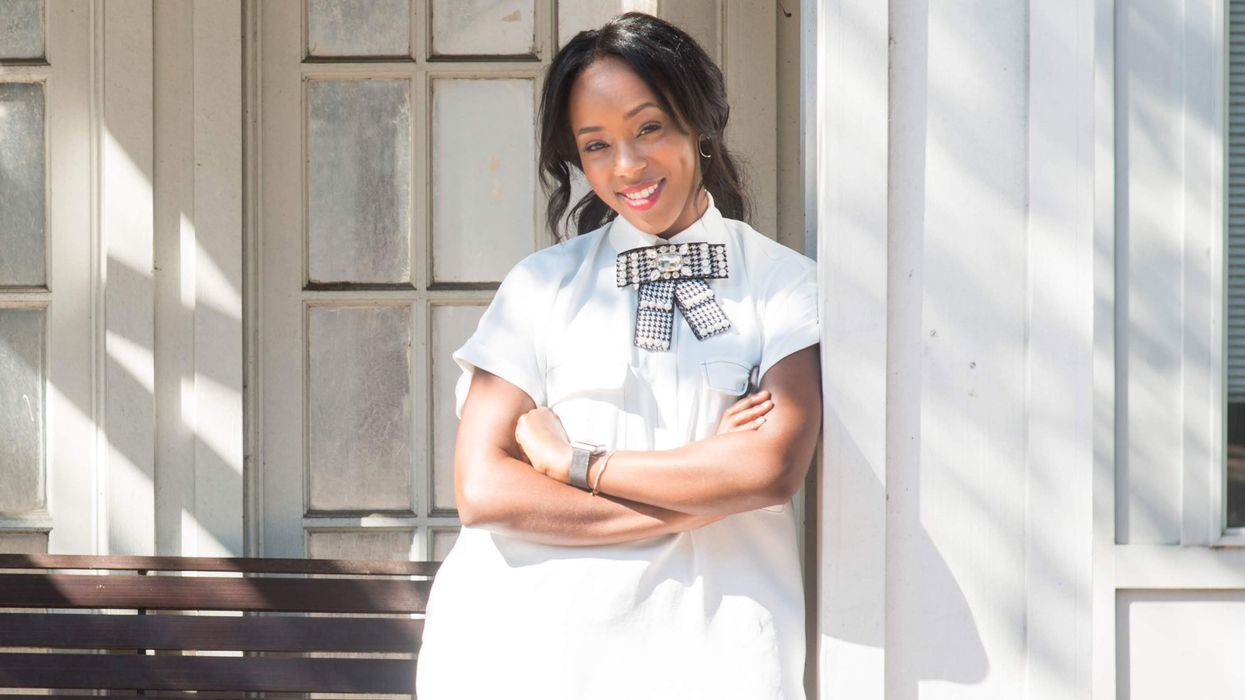 There are two things that feel like sanity saviors in this time of quarantine—watching plenty of
feel-good movies and TV
shows, and playing with
beauty products
. The former has all of us redefining the meaning of "Netflix and chill," with programming that not only serves as a great distraction, but also gives us a few much-need glimmers of hope. The latter has been crucial in the age of Zoom meetings, and because we deserve to indulge in as much
self-care
as possible right now.
Entertainment and beauty intersected in salon owner and hairstylist
Yene Damtew
's life this month in a major way when her client Michelle Obama (!!) released her
Becoming
documentary on Netflix on May 6th. She even made a cameo in the doc, which is based on the former First Lady's book tour. "It was a flashback and a trip down memory lane," Damtew told Coveteur of her first time watching
Becoming
. "People haven't really gotten a chance to see behind the scenes, and I don't think she's really had the chance to show who she really is and be vulnerable until now. If anything, I want us to recognize the vulnerability and the humanity inside this person we idolize."
Damtew is a pioneer in her own right, having just launched the inaugural
Brown Beauty Summit
. With distinguished panelists such as
Sir John
, Tippi Shorter,
Ashunta Sheriff-Kendricks
, and Larry Sims, the one-day event was quickly shifted from an IRL experience to a digital conversation and education forum due to the COVID-19 stay-at-home orders. "I wanted to create a concept in the same vein as
Becoming
—taking people we idolize and humanizing them," she said of the summit. "It's an inclusive community that talks about everything, but it's empowering people who look like us. Because guess what? There are summits all the time, but they just don't include us. I was tired of seeing so many conversations happen during the pandemic and nothing catered to people who looked like me."
Ahead, we talked to Damtew about what she has learned from Mrs. Obama, how she's approaching reopening her salon, what stylists want clients to know right now, and more.
---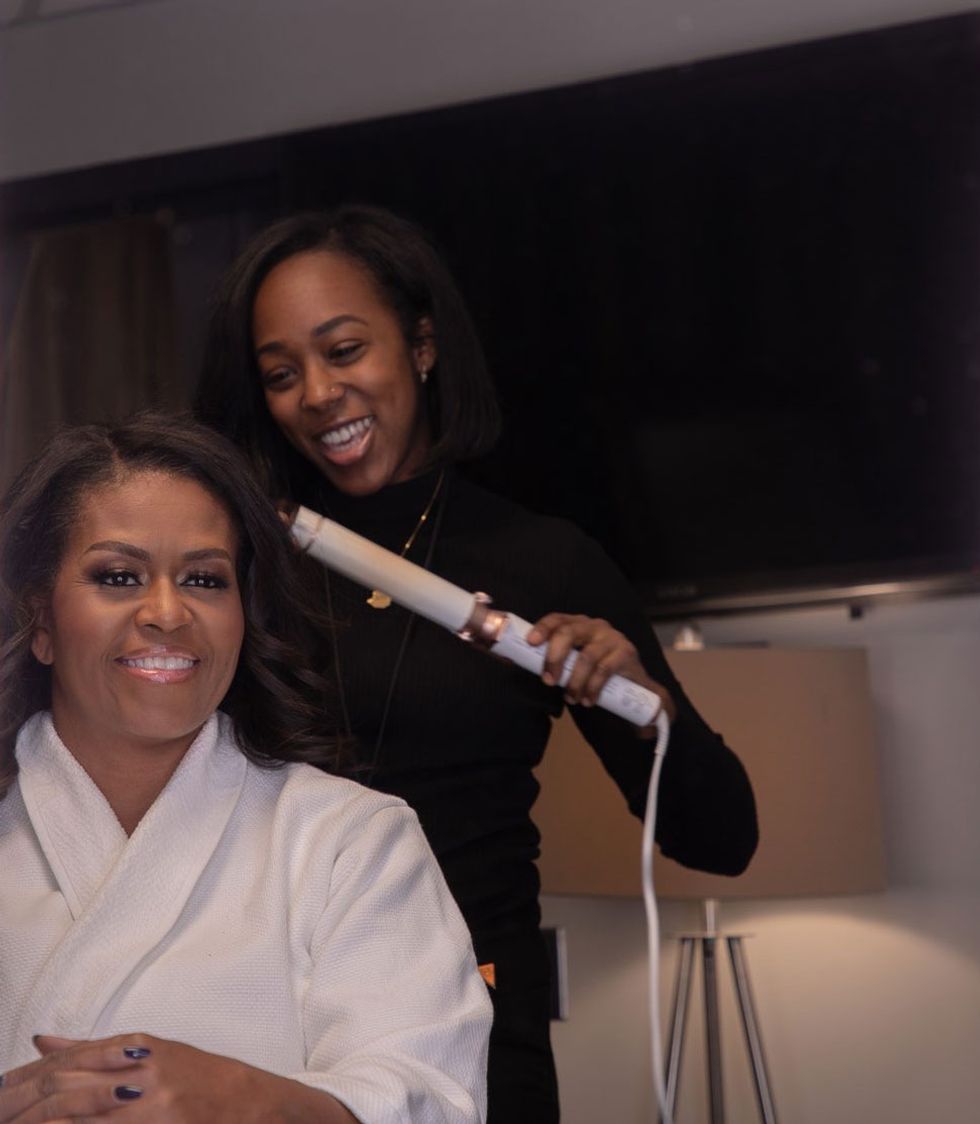 Photo: Courtesy of Yene Damtew
On her career journey and how she came to work with Michelle Obama:

"I wanted to change the way people looked at hair. I grew up in Orange County in a predominantly white neighborhood. I went to a school where they didn't teach us 'black' hair, so I got pigeonholed and put into a box. I would hear 'You speak well for a black girl' and 'You speak proper.' I dealt with that every day of my life. There's the whole race component of it, but then there's hair, which has such a divide. Hair should be associated with texture and not race. Women of all different ethnic backgrounds and shades have different textures to their hair.

"When I came in to work with Mrs. Obama, I started working as an assistant, and then I became her main stylist. The trajectory of my career, its development, and the role started with the confidence being in me. There wasn't the validation of her directly saying 'You're worthy and you're good,' but what she stands for. The more and more I'm around people who spread positivity and encourage people who look like me, it makes you feel stronger and empowered. Working with her didn't give me the foresight of what I wanted to do in this industry—I knew that before working with her. I already wanted to make an impact with my career, in this industry particularly.

"Michelle Obama is such a champion of creating your own table if [it] doesn't exist. So that's what I did. I didn't need to sit down and have a pep talk with her, but what she speaks about and me being around her story, watching it, and knowing it...listening to the messages she puts out there, how could I be someone in her world who isn't practicing that? I must use my platform within my world to be the change I want to see. Instead of just complaining about it, I wanted to be about it."

On those "we wish we were there" Obama family vacation photos and Mrs. Obama's natural hair:

"There wasn't a conversation in which we discussed 'You're going to start wearing your hair natural.' Her hair is natural. When we see her on vacation, anyone who has textured hair knows when you hit the water, your natural texture will come out. So there's a photograph of her leaving the beach—her hair was wet. There was no thought, nor intent. I think a lot of people were shocked.

"I also think back to her Essence cover, when she wore her hair natural. It was just a 'this is me' moment. And she talks about her hair directly with Phoebe Robinson on the 2 Dope Queens podcast. She's done a little bit of everything—she's worn wigs, she's worn weaves, she's worn her hair natural, she's worn her hair straight, she's colored it, she's worn it short, she's worn bangs. I think most people don't know how often black women change our hair. I knew where we were during the book tour based on my hair. I had blue hair, and I had blue braids. I had long hair, then I had short hair. At one point it was blond and curly, and then it was straight and black. It's just what we do, and it's a part of who we are. It's a part of our identity, and you saw that with her with all the times she changed her hair."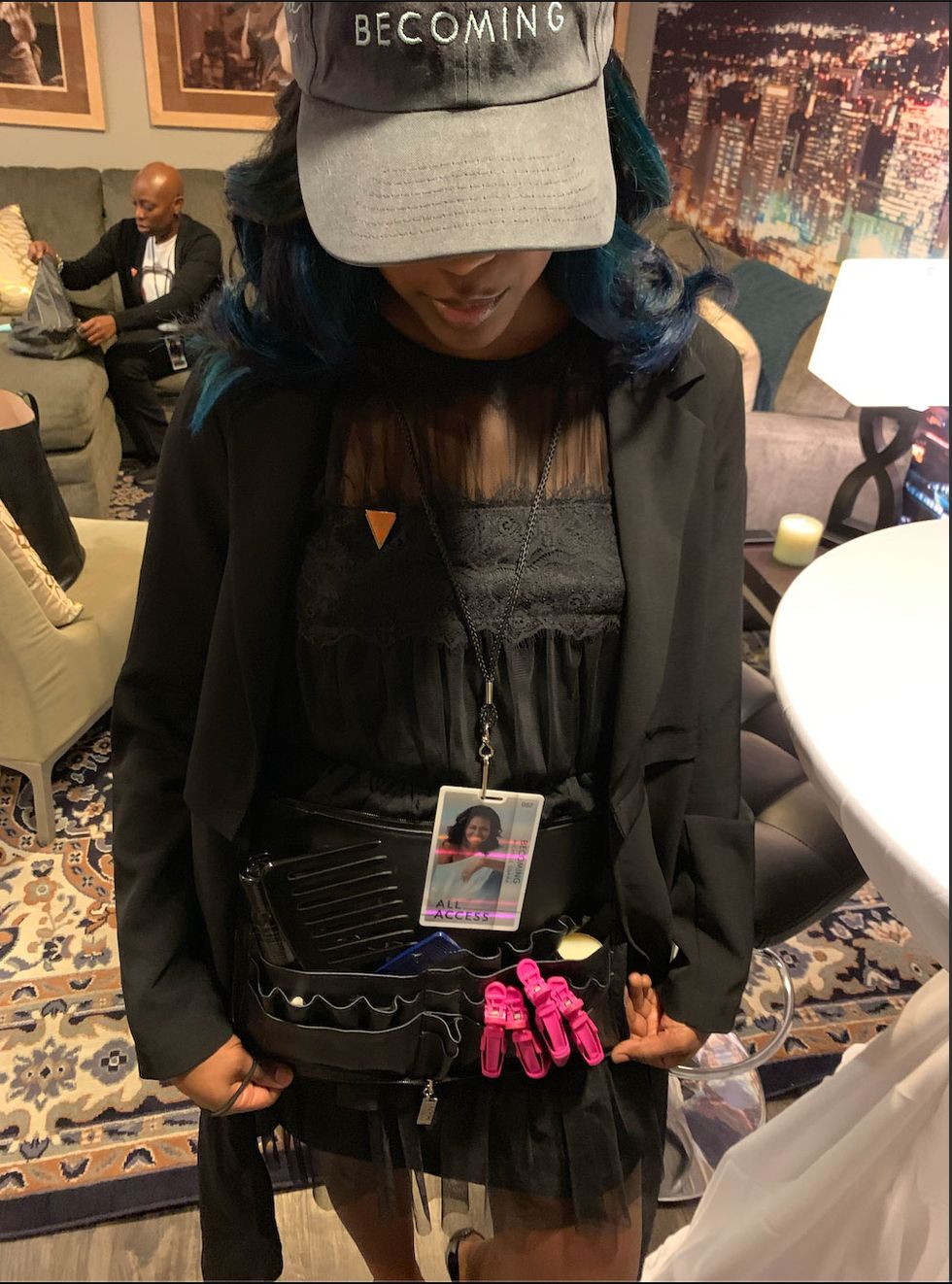 Photo: Courtesy of Yene Damtew
On creating the Brown Beauty Summit and her business-coaching program:
"I have a business-coaching program called
The Academy
, which I launched last year. I am very intentional about specifically serving my community of hairstylists. All the graphics for The Academy are of black people. I talk about services that we as black hairstylists offer, and I discuss ways to diversify your portfolio. Sir John brought it up during the summit that he could go on a set and there would be a higher probability that you could put any client in his chair and he could service them, versus doing the same for another artist who isn't an artist of color and who wouldn't feel comfortable with a client of color. The same goes for hair. I can do any texture of hair—I'm not scared of it. But if a woman with textured hair goes to a salon that hasn't already stated they cater to textured hair, and she sits in a chair, a white stylist will often be scared of her texture and won't know how to deal with it. I was tired of DM-ing brands and asking them why there was no diversity."
On her salon product philosophy:
"I always support small and minority-owned businesses. And I take Lisa Price for example, who started as a small brand but was bought by L'Oréal, and so now she's corporate. Do I stop supporting her because the scale of her business has changed? Or do I continue to support her because the founder is black? I think we should continue to support her because the goal is to have all these small brands be at the table. Lisa Price is now sitting at L'Oréal headquarters, and the conglomerate also has brands under it like Mizani and Softsheen Carson. I want all our black brands to have a piece of the pie.
"We often feel that once someone has 'made it,' that they don't need our support anymore. But the reason why they made it is because we supported them. I believe that support is free, and it doesn't always need to be a purchase. It could be tweeting about it or word of mouth.
"Products should be as unique as the texture of the women who use them. The thicker and denser the hair, the creamier the product should be, I have found. The finer the hair, the more gel-like and water-soluble the product should be, so the hair can be airy, light, and fluffy. If you have fine hair and use a creamy product, it will weigh the hair down and make it look sticky. It's all about understanding the products and consistencies that work for curly hair. There isn't one brand that works across the board. If I was to take you into my salon, you would find DevaCurl, KeraCare, Aunt Jackie's, Oribe. I have a curly product by Oribe that I really like. I have Moroccanoil's curl cream. I have Taliah Waajid and some Sheamoisture. I have a little bit of everything because I have clients with all textures of hair who need different products. I have some Nairobi Wrapp Foam that I use sometimes. My philosophy is I'm a service provider who must provide results."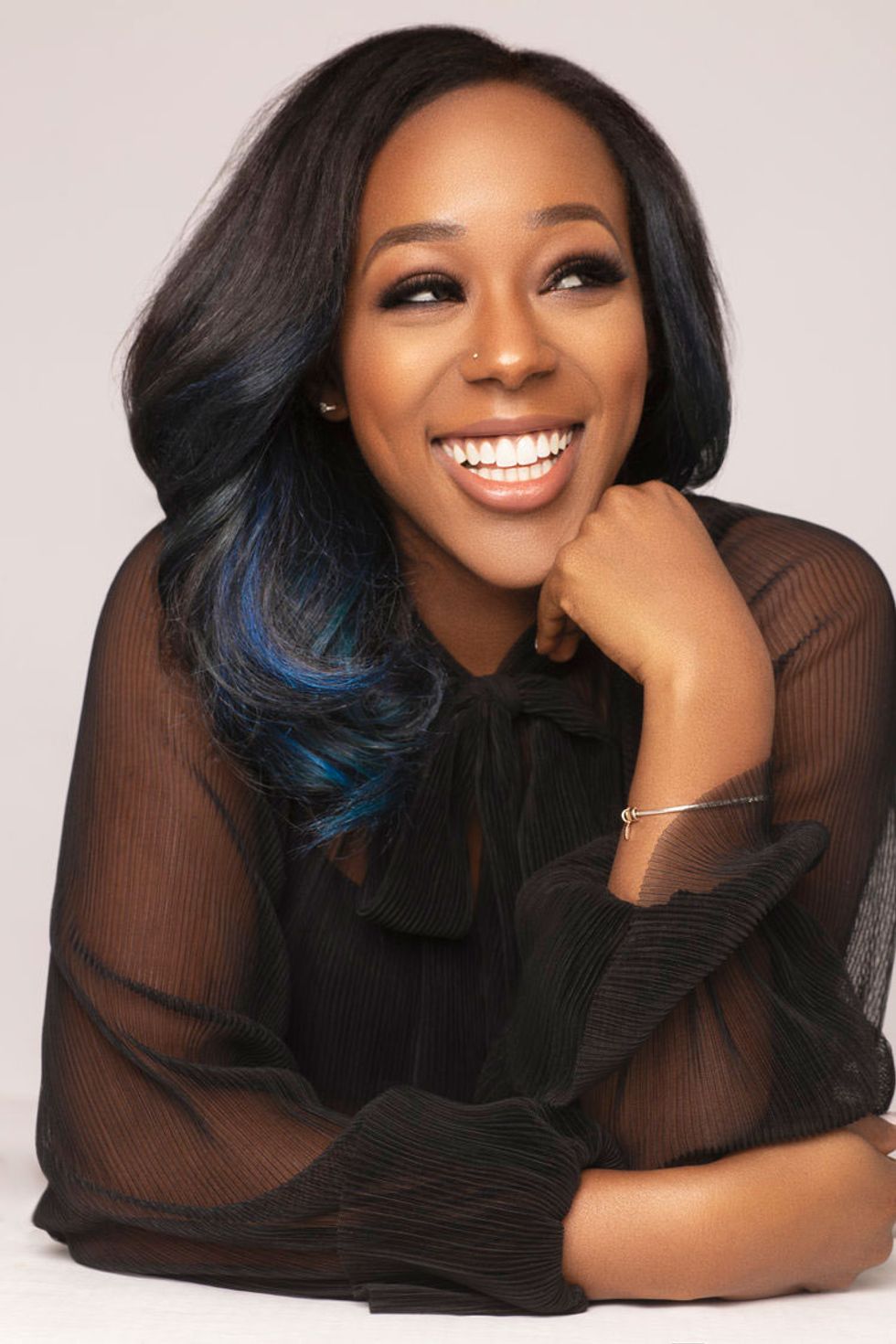 Photo: Courtesy of Yene Damtew
On how she's thinking about reopening her salon during the COVID-19 pandemic:

"Our conversation at the summit, 'The Art of Community,' was specifically about how we move forward with COVID-19. Not just the beauty industry, but the entire world is shifting and changing. This isn't an exclusive pandemic—it's inclusive of every human being across race, color, and status. We must shift the way we operate our businesses. If possible, I hope this moment is giving business owners the chance to pause, reset, and reopen with the understanding that we need to open back up differently. The stylist who charged $45 for a press and curl or wash and blow-dry may now have to deal with regulations from the board on disinfecting in a certain way, as well as providing equipment. We don't yet know what the rules and restrictions are going to be, which are mandated by our individual state boards. So there will be more costs involved with providing a service. Do we then change the price? What's our business model? What is that pricing structure? We must be aware of that.

"Earlier today I was looking at Plexiglas. I thought, maybe I can put Plexiglas up in between my two stations, and we can have two stylists work a day . But then I thought perhaps that isn't in my best interest, as I only have one shampoo bowl. I was in the process of building a larger salon, which was triple the size of my current space, and now I'm rethinking my layout. This might be our reality for the next two years, so I'm trying to understand how we move forward and what changes we need to make. It might be that I'm going from running a full salon operation where we're servicing multiple clients, to a business that practices social distancing, which changes our profit margins. The financial part of that and our overhead expenses need to be understood.

"I have a friend who just opened her salon on February 14th, and it closed less than a month later because of the pandemic. We talk a lot, and she's been asking me what I'm thinking because we're both in Virginia. Living in this tri-state area, you're also seeing people who have licenses in other places that want to come work at my salon because Virginia is opening first. People are thinking about opening salons here, but they need to be licensed here in order to do that."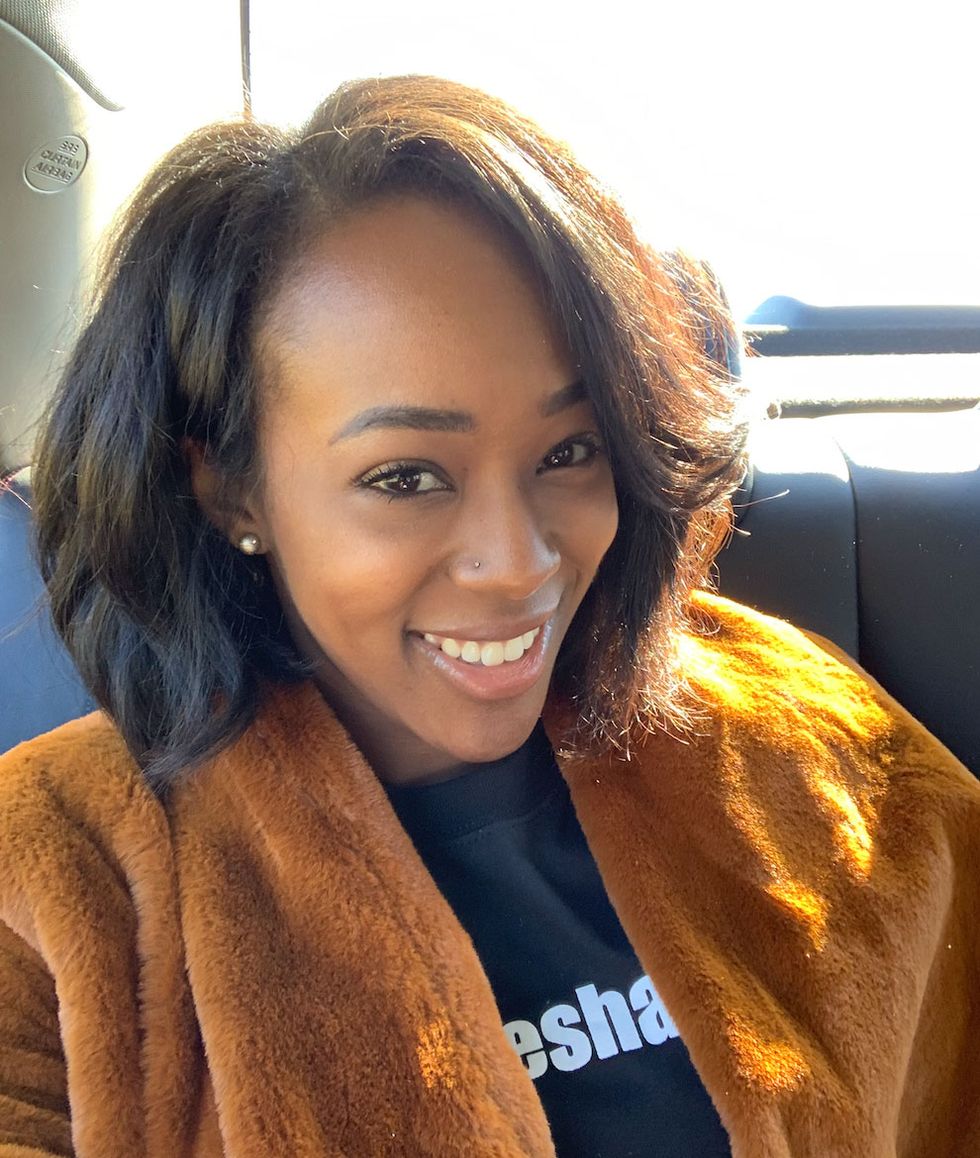 Photo: Courtesy of Yene Damtew
On the empathy clients should show their stylists and other beauty service providers right now:
"I challenge people from the client perspective to be empathetic and have grace and patience with your hairstylist because we are figuring it out. This was a stressful week for me, and I had people calling me Monday telling me, 'Hey, I need you to...' seven minutes after Virginia announced it was going to open back up next weekend. People are asking how they can book, and I don't even know how that looks yet. What if I don't feel comfortable? What if one of my loved ones has the virus? What if I don't want to put myself out there?
"There is an immediate expectation because we're service providers, and people are putting their own needs first. Stylists are still figuring out our new normal. I talked with my team about when they want to reopen, and we all agreed that we need to figure out what's going to work and what won't. It looks like my stylists will each work two days a week. They feel like another few days or a week of not reopening won't hurt them, so it's fine.
"I've been thinking about just managing and giving up a day for one of my stylists so she could work. Working ten-hour days to make sure she can get clients in will be hard. So what about the toll on our bodies, our spirits, and our emotions? What about our mental health? Those are the conversations I'm having. A lot of us don't feel in our guts that we should reopen immediately. We're uncomfortable, but we are opening back up in some capacity. I'm figuring out the best way to do that, but that's going to take me some time. I need to figure out how to save my business. What if I just opened, and one of my clients contracted COVID-19 in my establishment because I didn't do anything differently? Am I then liable? These are the things that I must think about."
On how she's taking care of herself:
"I'm very big into listening to the universe and those energies, and I believe the universe was telling us to take a pause and reset. I've been enjoying this time off because I'm normally traveling 24/7. I can work out regularly, and I can cook every day. No one gets to interrupt my 'me' time—whether that's exercise, meditation, cooking, or taking a walk. I laid on the floor after the summit and cried, though they were happy tears. I went back right into that go mode this week, as if we were operating normally. This past week was like a normal week for me pre-COVID-19, and it reminded me how exhausting that was. So I'm going back, but I'm going back with very clear boundaries between my personal life and my professional life. This pandemic has helped me realize my purpose."
On what she's looking forward to:
"I'm excited about the
All Black Everything Summit
, which is for black creatives, and this week I'm dedicating time to take Marie Forleo's program, B School, digitally. I want to learn from someone else in a different industry. I'm also going to do a tech break and take a step away. In the next two weeks, I'm planning to be back to work, so it's going to be different. I'm looking forward to figuring out what the new normal is."
Photos: Courtesy of Yene Damtew
Want more stories like this?
Expert Tips for Giving Your Natural Hair Some TLC During Quarantine
How to Safely Do Extractions at Home
Our 24 Must-Have Hair Products