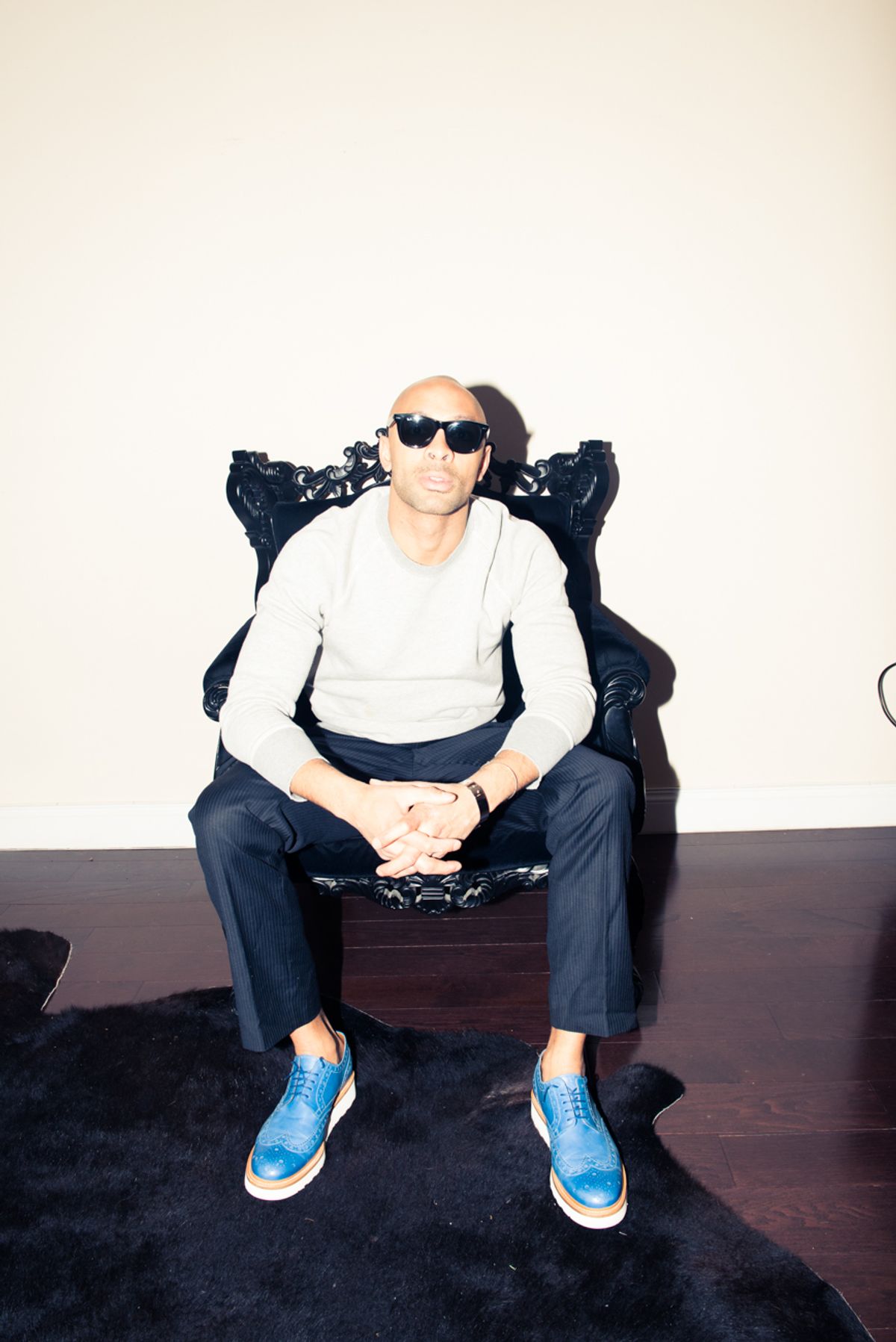 Closet
Renaissance Man, Makeup Artist. New York
Far and away one of the best parts of our day jobs? The fact that we're starting to get used to witnessing real life fairytales here at The Coveteur. And no, we're not talking about those clichéd small-town-girl-making-it-in-the-big-city stories, either. We're talking full-on fashion world fantasies—and guys, those climbing to the top of the masthead (hello,
Eva Chen
and
Amy Astley
) or
CHANEL-laden
corporate ladder (à la
Sophia Amoruso
and
Rachel Zoe
) stories do actually occur IRL. It can happen, kids! And one of the best of such stories that we've heard in a long time? Sir John's, who, when we arrived at his Harlem flat, was still on a giddy high from his meteoric rise. (Seriously, though, when a certain Mrs. Carter is involved, "meteoric" might be an understatement.) In the off chance that Sir John's name is still a mystery to you (and let's be honest, his isn't one you'd forget very easily—we mean, as far as we know, there aren't all that many Sirs in Manhattan), let us clear some things up for you. After working in the fashion week trenches as an assistant makeup artist for many a season, Sir John was discovered by non-other than beauty queen (and when we say beauty queen, we mean it in the ruling royalty sense) Pat McGrath. From there, it was only a hop, skip and a jump before Sir John found himself backstage at
Tom Ford
's first eponymous womenswear show (you know, that one way back in 2011 when the runway featured the likes of Julianne Moore, Lauren Hutton and Daphne Guinness?), during which the makeup artist wound up prettifying the one and only Beyoncé. One thing lead to another, and a year or so down the road he was Beyonce's go-to glam man (yeah, we went there) and BFFs with
Karlie Kloss
and
Joan Smalls
. (Recall those next-level purple lips on the
latter at the Met Ball?
Yep, all him.) The lesson we'll take from this? Her brushes might as well be wands, because Pat McGrath is seriously some sort of fashion industry fairy godmother, or, as Sir John himself told us: "All roads in the beauty industry lead to Pat McGrath." We guess he just got there a little bit quicker. Ever the professional, Sir John told us it wasn't until he met
Sarah Brown
, Cov-alum and resident beauty guru over at
Vogue
, that he really felt like he'd made it—a feeling that we're more than familiar with. But it goes without saying that the man has some serious beauty secrets of his own up
Sandro
sleeves, too. He let us in on some skincare tips that even our extensive 'fountain of youth' and 'how to get rid of
sad-looking hangover skin
' Googling has yet to shed light on. (Hint: it involves a simple little thing known as hydration and a studied devotion to kale—we guess we should have known.) And while his collection of beauty rescue materials (including some
Chantecaille
eye masks that gave us a serious should-we-just-slip-a-few-of-these-our-purse moment) was something to be admired, it was Sir John's varied collection of footwear that really had us gaping, from a rainbow of
Nike trainers
to
camo Sperrys
and a multitude of custom
Grenson boots
and brogues purchased on his numerous trips to London for Mrs. Carter-related causes. You'll understand when we tell you we left his Harlem home thinking the man totally deserves his title.
Oh yeah, there's more where this came from (as in more Sir John) in 
Paper
Mag's May issue—on stands now (and on their site, too). Check it.