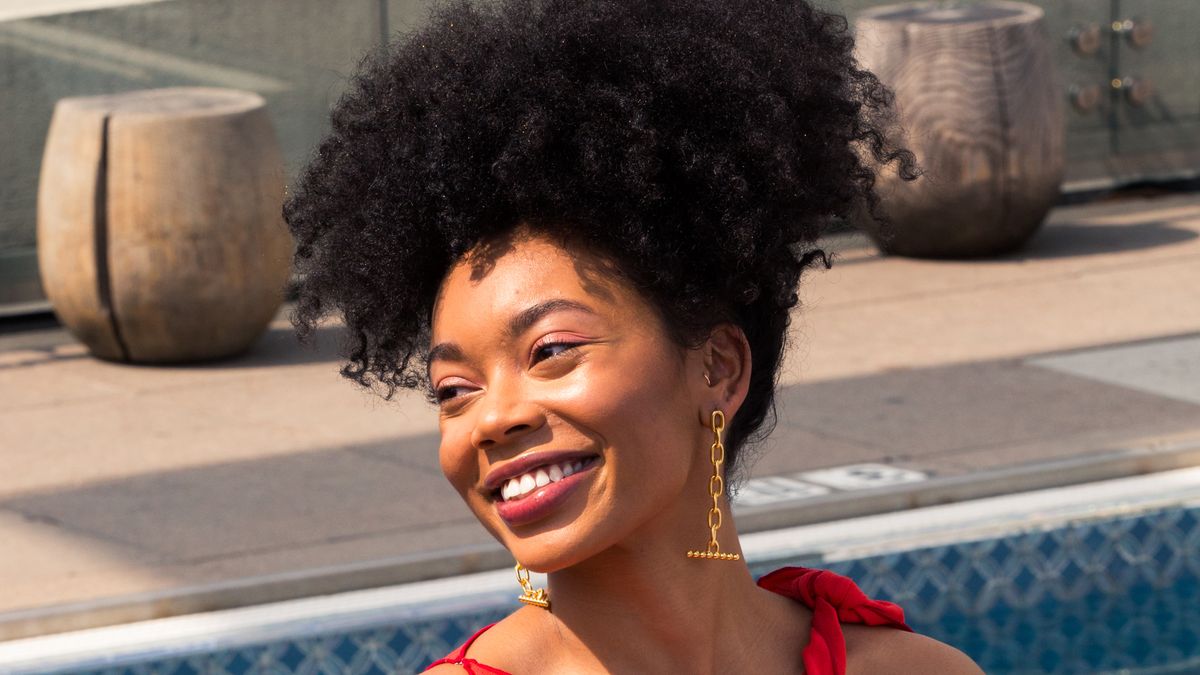 Hair
Expert Tips for Giving Your Natural Hair Some TLC During Quarantine
To keep those curls, coils, and kinks just right.
I will be the first to admit that I genuinely don't know how to care for my natural hair on my own. Even after years of trial and error (and, at times, success) with different products and
DIY treatments
, I know my hair looks and feels its best after a visit to the salon with a new
protective style
installed. So when the appointment that I booked two months ago for large box braids came and went last week due to the current COVID-19 restrictions, I knew the time had come for me to get reacquainted with my natural hair. Better late than never, right?
For most people, a natural
crown of curls
requires a substantial amount of maintenance and care. Having fine, thin, 4c coils myself, it's not something I'm fond of and is one of the main reasons why I rely on professional help. Throw in a global pandemic to disrupt the flow of salon appointments, and you have a serious problem on your hands—or, rather, your head. And while it seems that various nonessential businesses are beginning to open back up across the country, it's still uncertain as to when salons, spas, and barber shops will follow. Until then, it's essential that we take the necessary steps to maintain our curls from the safety of our homes. Luckily, I had the pleasure of speaking with natural-hair enthusiast, YouTuber, and founder of
Curlss for the Girlss
,
Kennedy Johnson
—who has 3c to 4a curls—to chat concerns, protective styles, and what we can do for our hair during this time.
Being unable to go and get our hair done right now can make us feel frustrated and defeated towards both our overall appearance and our hair specifically. Johnson recognized this sense of fear and uncertainty among her followers. "[Those feelings] can cause you to be really harsh on your hair and neglect it completely." Instead of focusing on the styles we wish we had, she encourages taking this time to let your hair rest. Think of it as a
very long
sabbatical in between protective styles. "Take advantage of not having to be in front of people all the time, and use this as an opportunity to let your hair chill."
Even though your hair is somewhat protected when you have a protective style, it's still susceptible to damage due to the constant pulling and manipulating. This time in quarantine can act as a breathing period for natural hair, so you can focus on maintaining moisture and repairing any remaining damage. "The less touching, the better," says Johnson. Leave that to your stylist once salons reopen, and instead try styles that require  minimal strain on your hair. "I lean towards styles that don
'
t require much from you in [terms of] products or time," explains Johnson. "
Twist-outs
are my absolute favorite! I twist my hair nightly to protect [it] from knotting up." For women who are relatively new to doing their own hair, twist-outs, flat twists, and similar styles are easy and beginner friendly to help you get familiar with your hair and how it behaves without causing undue damage.
It cannot be stressed enough that retaining moisture is crucial for keeping your natural hair healthy during this time. After relying on professional help for so long, it can seem a bit daunting as to where to begin your new hair-care regimen (minus basic shampoo and conditioner). A great wash-day routine can go a very long way for your hair's health. Johnson recommends establishing a semi-loose schedule for your wash days and deep conditioning treatments, and to get into the habit of misting. "Your hair needs water just like a plant—specifically, natural hair that ranges between 3d and 4c can use a little water every day...I've been using jojoba oil for my scalp, [and it] has been my saving grace! Adding that along with aloe in my mist bottle helps my strands get the same
love that my scalp
is getting."
While we definitely miss salons and sporting our most beloved
protective styles
, our hair will benefit the most if we simply get back to the basics and remember to give it plenty of love and nourishment. Take this time to let your hair relax, be more intentional about your product usage, and really home in on your major hair concerns. For now, try not to mess with your hair, and be patient with the process—because we all know a good protective style starts with clean and healthy natural hair.
---
Maui Moisture
Maui Moisture
Maui Moisture
Majestic Pure
Salon Care
Slip
Kitsch
Silke London