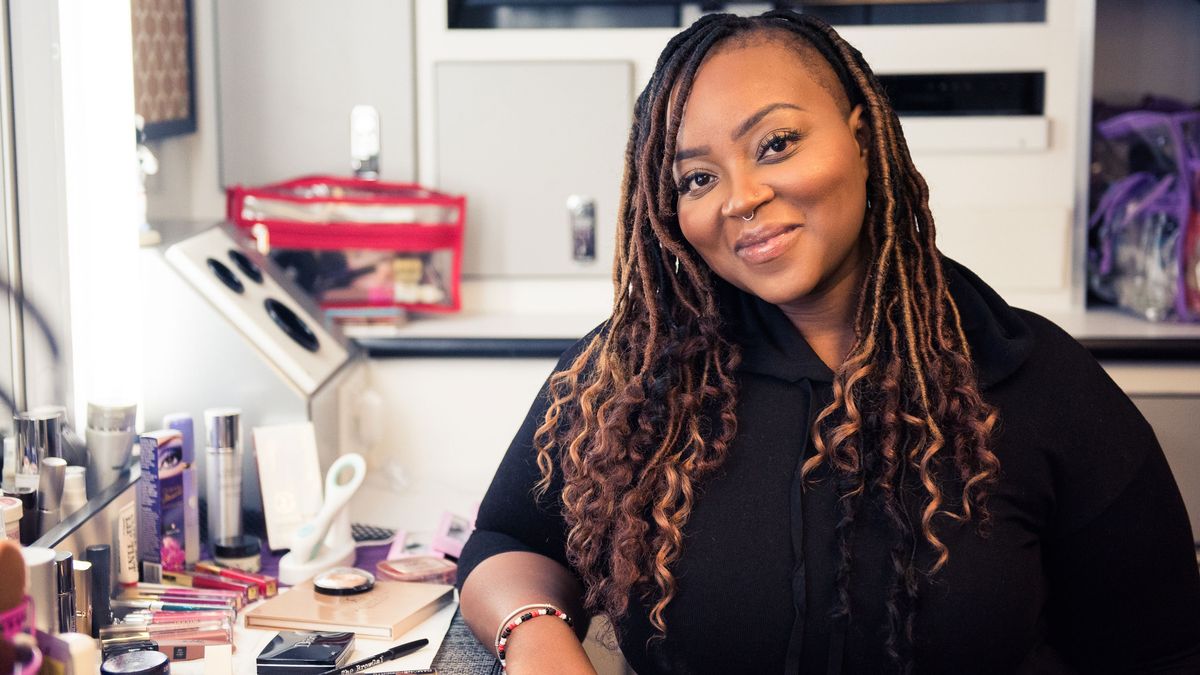 Makeup
Inside Ashunta Sheriff's trailer, where she turns Henson into Cookie Lyons.
We're guessing that you, like us, are huge fans of Empire. And we're also guessing that that's in large part to Taraji P. Henson's character, Cookie Lyons. Cookie is, in a word, everything. Glamorous and tough, smart and funny, stylish and strong—she's exactly the female protagonist we need. And then there's the woman behind Cookie—Taraji herself. Who is also, in a word, everything.
Makeup artist Ashunta Sheriff, is responsible for Taraji's HD-ready TV and red-carpet beauty looks. When we met with the beyond-friendly Sheriff in her trailer on the Empire set, we came ready to learn exactly what it takes to transform Taraji into Cookie.
---
How she gets Taraji's skin looking so perfect:
"For Taraji, I typically use the Perfect Blend Stick, which I created. It's a double-sided foundation stick which gives you both a light and dark side, so you can customize but also contour. Her actual shade is 'Tan.' You always want to create a three-dimensional face, so it's really important to highlight and contour for a camera, because otherwise a person will read really flat. You create that by using light and darker shades. You want to create a lift under the eye, in the t-zone, and then you create your own skin tone color on the outer perimeter of the face and blend it in."
Shaving is her skin care secret weapon (seriously!):
"One of my secret weapons is Dermaflash. It's the first at-home device that gives you superior exfoliation equivalent as going to a derm or an esthetician. I do it a lot. What it's going to do is take off the peach fuzz, but it also sloughs off the dead skin.
"We do it once a week—the more you do it, the more the collagen builds up in the skin, it thickens up the skin, and makes it look more youthful. [Guys kind of do the same thing.] Especially when they shave a lot. Think about Tim Gunn. He's really clean-shaved and if you ever see him face-to-face he looks fantastic."
Her other must-haves:
"My other secret thing is Heritage Rosewater. Rosewater is really good because it refreshes the skin—I like to mix neroli, lavender, [and] rosewater, and spray it on after I've Dermaflashed and done everything. When she's really exhausted, we use Klorane eye patches. They're de-puffers, and that's really a secret weapon for us. And Taraji's brows are very particular. She has a Michelle Obama brow, which is a really high-set eyebrow. I leave all the brow-scaping to Damone Roberts, and I just fill in with a brow powder from the BrowGal."
Why nobody should be afraid of color:
"Color is fun, but we don't necessarily think about color sometimes. I always tell women, 'If you feel like you're in a rut, come out the box and put on a dark blue lipstick.' Step out the box. Whatever you would do for your work week, on the weekends do something different. Do something completely different on Saturday for brunch with your friends. Why not go in there with a boysenberry lip on?"
How the whole look comes together:
"Cookie did an episode in season two when she was in the warehouse and Hakeem had a gun, and she took it and put it on Adam Rodriguez. She had on this navy blue lip with a light blue in the center, and she had a purple suit on and she looked like a badass. Everyone was going crazy that day when the episode aired. My phone almost crashed. What happens is, Paolo, the stylist, sends Missy (the department head for hair) and me the looks and goes, 'This is what Cookie is wearing.' He gives a suggestion of what he thinks works, and then we take it from there. He'll just say a red lip—he may not say what color red. Or he may say, 'I'm thinking coral, and I'm thinking soft.' Or, 'I'm feeling very Cher,' and send a reference picture of Cher from 1969, and you're like, 'Okay, I get where you're going with this.' So, we'll basically work with that and develop the looks in that way.
"The hair inspires me too. When she has this particular hair and it's a bob and it's bone-straight, I'm going to do something different than if Missy puts texture in and made it all Meg Ryan and crinkly. When Cookie wears this really long, straight Cher-ish kind of thing, that's going to give me a different feeling. These are just a few of her wigs—there are so many. She's got at least 20."
The best part of working with Taraji, and what Alicia Keys has to do with it:
"Taraji's my friend. We've been friends for a really long time. When I first met Taraji, I was working with Alicia Keys and she came and did this movie called Smokin' Aces. We just connected. We're both from the East Coast, we both went to Howard. We didn't know each other, but it's crazy that we knew some of the same people. We met on that movie and became fast friends. That was 2004, and I didn't touch her face until 2008. She would come to New York and be like, 'Hey, I'm in New York, what are you up to?' And I'd be like, 'Oh, I'm not doing anything, do you want to do dinner or go dancing?' We both love music, we both love to dance, so that's definitely one of our shared hobbies. We love music—we think we're DJs. During awards season time, she puts on the surround sound in her house and she DJs, and me and her glam team just get it in. We're sweating by the time we're done. I'm like, 'Oh my gosh, we need to redo your makeup, you sweat it all off.'"
Catch the fall finale of Empire tonight at the ~special~ time of 8/7c