WWWRN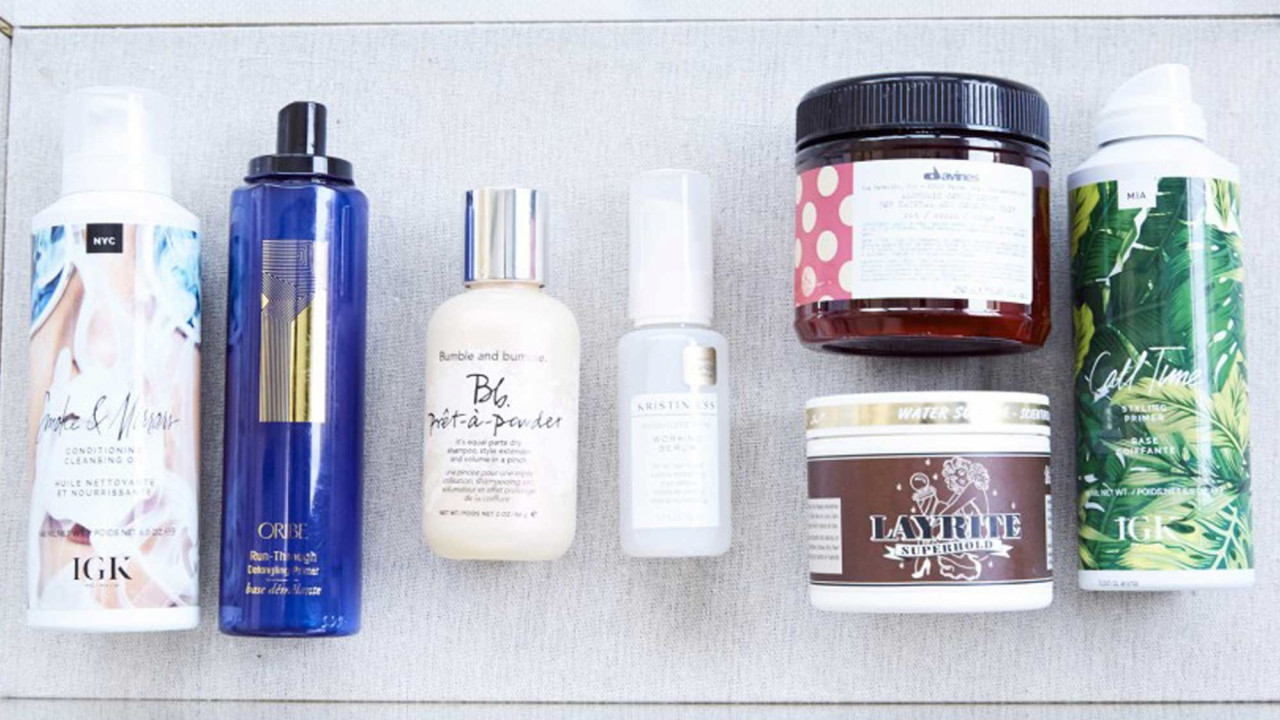 Our 24 Must-Have Hair Products
Hydrating shampoos, scalp serums, color-reviving masks, and more.
Remember that scene in season 2 of Fleabag, when the title character is yelling at her stylist that "hair is everything"? Well, we can attest that she's 100 percent right—hair really can transform an otherwise good day into a bad one. Of course, right now we're not exactly showing off our daily looks to anyone other than our families and our co-workers over Zoom, but that doesn't mean we've stopped trying to improve the look and feel of our hair. In fact, all this extra time at home has allowed us to try those products that have been hiding in the back of our beauty cabinets and discover which shampoos, conditioners, scrubs, masks, and styling creams are truly our ride-or-die. Below, our staff shares their current must-have hair products.
---
Hannah Baxter
Senior Beauty Editor
Fine, Thick, Color-Treated 2b Curls
1. TPH by Taraji Master Cleanse Scalp Wash: Any girl with textured hair knows that keeping your curls looking their best means hydration. An easy way to boost your moisture levels is shampooing less, since that tends to strip the follicle. But I'm also obsessive about scalp care—I've talked to too many trichologists to let styling products build up and get flakey. My solution is using this gentle scalp wash every other time I'm in the shower in place of shampoo. It rids my scalp of dirt and oil without drying it out, so my hair still feels soft, manageable, and clean.
2. IGK Mixed Feelings Leave-In Blonde Toning Drops: As a beauty editor, I'm constantly testing new products, but I also have color-treated blonde hair, and I hate when the tone becomes even the slightest bit brassy. To keep the color buttery and bright, and to prevent fading, I add these purple toning drops to any new mask, shampoo, or conditioner. They're also the best for traveling just in case I run out of color-safe products and need to make a quick pharmacy run. I've gone through about four bottles so far—they're really that good.
3. Oribe Serene Scalp Thickening Treatment Spray: I'm in the midst of growing out bangs (against my will—thank you, quarantine), so when I want to get the weird side-swept mess of hair out of my face, I have to pull them back into an extremely tight bun. That sort of tension puts a lot of pressure on your temples, where most women already experience thinning due to years of updos, protective styling, twirling your hair, et cetera. So after I get out of the shower, I spritz this thickening tonic on each temple to encourage hair growth and mask any patchiness.
---
Jessica Teves
Head of Content
Thick, Fine, Dry, Color-Treated Hair
1. Christophe Robin Shade Variation Mask in Baby Blonde: I use this purple treatment mask once a week to help neutralize brassy tones at my root line (oddly, that's where I tend to see the most yellow). It's sooo hydrating and is also helping to mask a bit of my grow-out. It's definitely the hero product in my hair arsenal right now.
2. Kerastase Discipline Oleo Relax Anti-Frizz Oil Serum: Since we've been in a WFH situation, I've been trying to not use hot tools on my hair, and this serum has been clutch. It's not super heavy, but its rich mixture of oils help manage my frizz and add hydration.
3. 40-Pack of Hair Scrunchies: This doesn't need much of an explanation. Absolute best value around, and scrunchies are always a win in my book, especially when your hair is damaged like mine.
---
Rachel Pickus
Creative Associate
Thick, Dry Hair
1. Ouai Detox Shampoo: I recently drank the scalp treatment Kool-Aid and can attest the results are amazing! My current favorite is the new Ouai Detox Shampoo, which utilizes apple cider vinegar as an agent to break down product buildup, dirt, and excess oil. Use it once, and you'll soon join the cult of bouncy, rejuvenated manes.
2. Authentic Beauty Concept Hydrate Mask: Four balayages later, and my hair has taken on a new, extremely dry persona. In an effort to nourish my strands, I've started to incorporate this ultra-hydrating hair mask into my routine. It doesn't take long for your locks to soak in the moisture, so I usually leave it on for 5–10 minutes whilst in the shower.
3. Crown Affair Brush: Remember that scene when accidental princess Mia Thermopolis splinters her hairdresser's brush? That's me, but minus the frizz. The only tool that will detangle my *very* thick hair without breaking is a solid bristle brush. I've used a hand-me-down from my mom for almost fifteen years, so I'm in the market for an upgrade of my own.
---
Abby Miller
Head of Production
Fine, Dry Hair
1. Milk Anti-Frizz Leave-In Nourishing Treatment: Minus the occasional balayage treatment I get every few years when I'm feeling *sassy* (and then immediately regret), I'm pretty low-maintenance with my hair. I'm all about keeping it healthy and hydrated. I didn't even want to include this on my list because I want to keep it as my holy-grail secret. This leave-in conditioner is everything. It keeps my hair hydrated, but never weighs it down. And the best part, it smells like musky, woody HEAVEN. I'll admit I've rubbed it on my body because I want my whole body to smell like it.
2. David Mallett Australian Salt Spray: Throw out all your other sea-salt sprays, this is the only one you need. It leaves your hair soft and messy, minus the annoying stickiness and crunch that other salt sprays leave behind. And again, this is another yummy-smelling product, with hints of yuzu and bergamot. YUM.
3. Sachajuan Leave-In Conditioner: This is one of my old faithfuls. I've been using this one for years and can't seem to quit it. It's an oil-free leave-in conditioner, so you're never left feeling greasy afterwards. It has a really fresh and clean scent and always leaves my hair with great tousled volume.
---
Olivia Kenney
Creative Producer & Social Media Manager
Thick, Wavy Hair
1. Ouai Leave-In Conditioner: I have been trying my best to cut my shampoo use in half to ensure my color stays the freshest, the longest. That being said, I don't always like using a conditioner in the shower after not shampooing. I have no clinical or logical reason for this, it just seems to weigh my hair down so much more and gets greasier faster in between washes. A few sprays of leave-in has my hair smelling incredible, with the perfect amount of texture and softness. I truly cannot live without this product, quarantine or no quarantine!
2. Christophe Robin Clarifying Shampoo: All blondes stranded at home without our amazing colorists: This is the best companion to any toning treatment (purple shampoo!). I used to apply hair masks to wet hair, dry hair, dirty hair—wrong move. A good scalp wash with this amazing shampoo gives your locks a super-bright wash without drying out your roots too much! You will see double the results with your toning treatment afterwards, I promise.
3. Kérastase Energizing Scrub: This scrub has held my hand and walked me to the other side of not using shampoo every day. For whatever reason, my hair overproduces oil (this is probably because I was drying it out with all of my washing!). This is the best in-between "wash" product that I have found so far. A little scrub both hydrates and awakens your roots for a fresh feeling without the dryness. And it smells amazing. Obsessed.
---
Ariane Martins
Manager of Experiential & Brand Partnerships
Fine, Thick, 2a Wavy Hair
1. Klorane Shampoo with Mango Butter: This ridiculously nourishing, French pharmacy staple holds a permanent place in my shower. Made with cold-pressed mango butter (rich in fatty acids), this formula leaves my hair feeling immediately silky, and it smells mouthwateringly delicious—reminding me of my mom's obsession with mangoes and childhood trips to Brazil. Vacation in a bottle.
2. Amika Un.done Volume & Texture Spray: I won't pretend I have any clue how to work a curling iron, so this texture spray has always been my secret weapon (now revealed) for creating a sexy, beachy "undone" appearance in seconds.
3. Maude Oil No. 0: My most restoring daily self-care ritual involves head-to-toe application of my favorite oils. Lately, I've been using this new oil from maude on my body, face, cuticles, and my hair to keep things shiny and tame (never greasy). Plus, it doubles as a sensual massage oil… I also love that it's unscented so my favorite perfumes can stand out.
---
Leah Faye Cooper
Editorial Director
Thick, Kinky, 4C Hair
1. Oribe Moisture & Control Deep Treatment Hair Masque: When I want to feel super luxurious (which is most days), I reach for this dense hydrating masque. I apply it to my hair while it's dry and let it work its magic while I cook dinner, watch reruns of The Golden Girls, and catch up on my reading. When I do rinse it out—and follow up with a shampoo and conditioner—my hair is soft and manageable for days on end.
2. Pantene Gold Series Leave-On Detangling Milk: All the products in this series are amazing (they're the best drugstore finds, in my opinion), but I especially love this detangling milk. It quickly smooths away the knots in my thick, tangle-prone hair without leaving it weighed down with buildup.
3. Bumble and bumble Color Stick: My roots are currently a disaster, but no one needs to know that—and they won't, thanks to this color stick, which is one of my all-time favorite products. Grey hair, who? I don't know her.
---
Halle Lagatta
Associate Creative Producer
Fine, Thick Hair
Part of the series:
WWWRN