Stylist Dianne Garcia Will Inspire You to Play Video Games and Edit Your Closet
There's no time like the present.
Fashion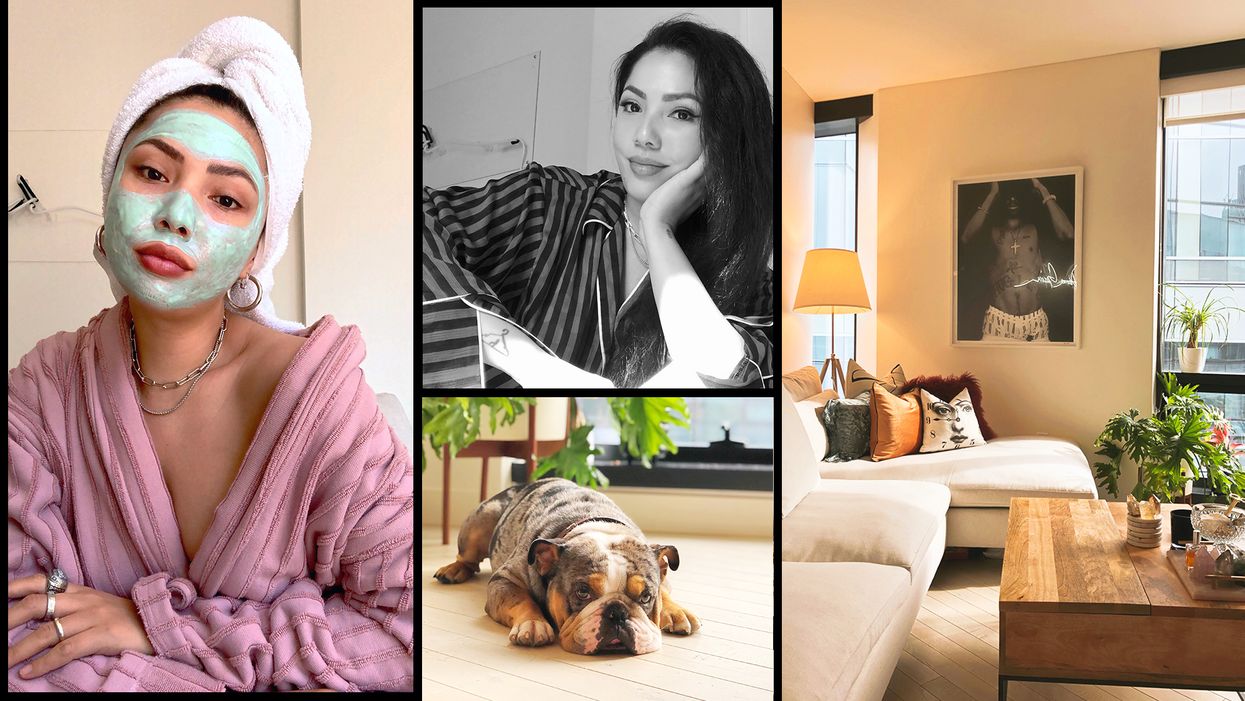 There are certain jobs that are much easier than others to transition to a work-from-home environment, for those that are fortunate enough to do so. Writers, students, financiers; most of their tasks can be done at home in some capacity. On the other hand, there are many jobs that the current pandemic has abruptly and significantly altered. Restaurant workers, photographers, and any type of stylist (fashion, makeup, or hair) among so many others have had their lives fundamentally shifted. We tapped one of our favorite fashion stylists,
Dianne Garcia
, to see how she's adjusting to this strange new normal.
After a few years of assisting,
Garcia
 started styling on her own at the age of 24. Since then she has built a client roster that is kind of impressive. (Please note the sarcasm there.) She is especially known for her work with
SZA
and
Kendrick Lamar
, but also styles with major names like
Ella Mai
, Marshmello, DJ Mustard,
YG
, and Dr. Dre, to name a few.
Obviously, Garcia's life looks completely different from what it did two months ago. "It's a high-stress job, and a lot of us have been praying for a little bit of a break," she says of putting her career on pause. Garcia's approach to this newfound free time is not only extremely practical, but seemed rather healthy, both in a physical and mental sense. Since her self-isolation began, she's conducted a complete overhaul of her closet, cleaned her house, taken many walks with her dog, and even made time for a little Animal Crossing. We could all learn a thing or two from her positive outlook on our new circumstances. 
---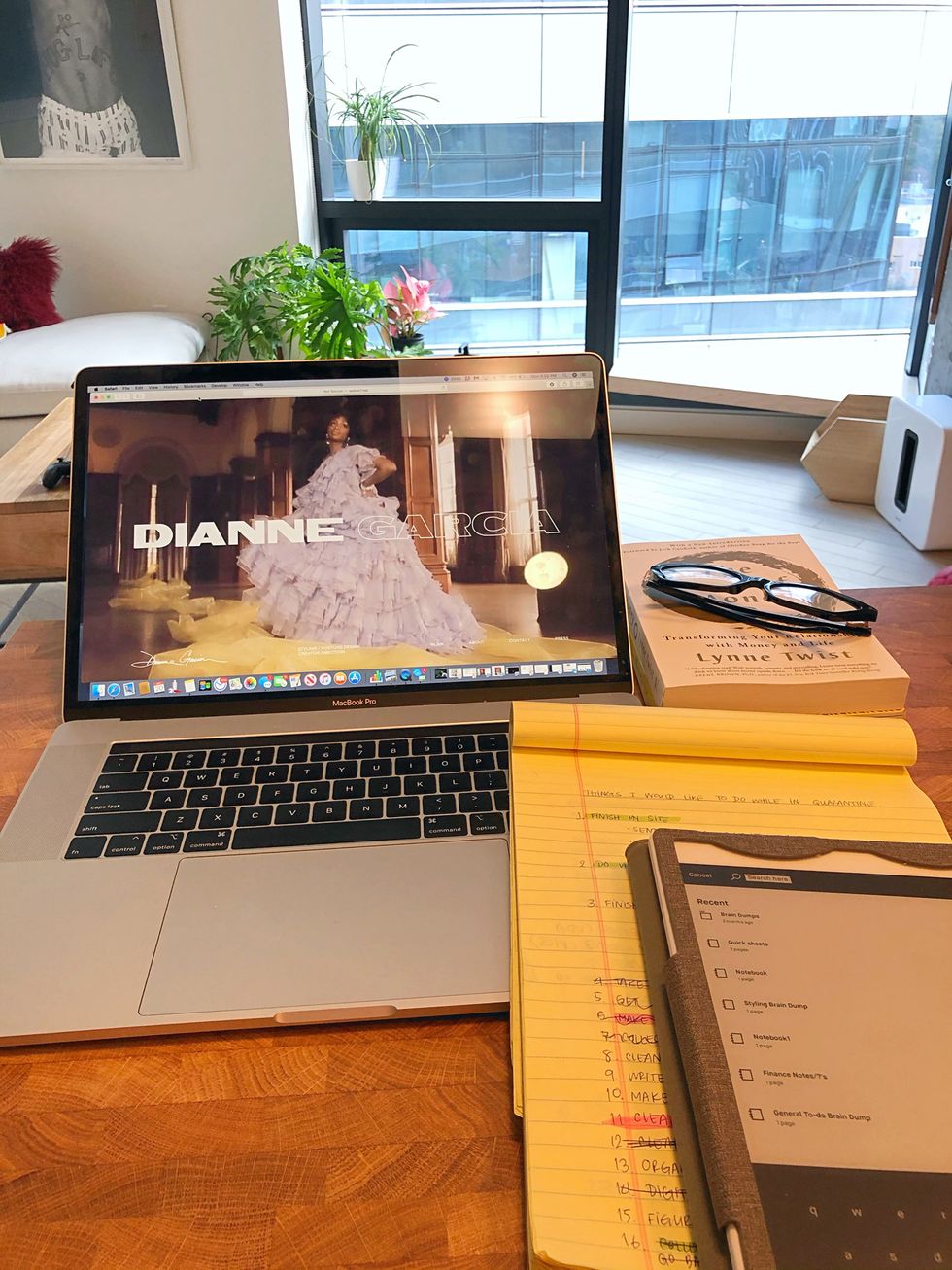 Photo: Courtesy of Dianne Garcia
On life as a stylist right now:

"Obviously, all of the jobs that were supposed to happen have been postponed. I've been working nonstop for so many years. It's a high-stress job, and a lot of us have been praying for a little bit of a break. As of the first week or so, I tried not to beat myself up too much about being productive, but instead focus on taking care of myself and my house. Other than actually taking the time off that is much needed for a lot of us, I've just been trying to catch up on paperwork, really. People underestimate how much paperwork there is to do. We have a lot of receipts and expenses, a lot of invoicing and catching up with getting ourselves reimbursed to pay down credit cards and things like that. When you have jobs back-to-back, you tend to put your finances and your digital organization on the back burner."

On her closet clean-out:

"I did a whole Marie Kondo closet- and house-cleaning situation. I gutted my entire house, my whole closet; everything got rearranged. I did spring cleaning. I went and cleaned out all of my closet and drawers, labeled everything, and went through each and every single item that I possess and just kind of assessed whether or not I need to keep things. I threw a lot of stuff out, and I replenished my closet with a few basic things that were missing."

On what prompted this:

"I feel like my work environment is very hectic. It's very last-minute. You're on call and you're always taking care of other people. Everything is always on short notice, so it requires you to spring up in the morning and get going right away. As a creative person, if my home is not highly functioning, meaning things aren't organized, they don't have a place, or closets are overwhelmed, I can't think straight. What prompted me was thinking, 'OK, now that you have the time, let's do some thorough cleaning and organization to prepare myself for when things gear back up again.' I anticipate it to be busy once everyone gets back to work. So I was like, 'Just deal with this now so you can create a better and a healthier environment to free up more space in your mind to be creative when you do get back into work mode.'"


On what she keeps in her closet:
"A lot of people are surprised that I don't have a giant closet as a stylist. I do have stylist friends that have really extensive closets, but for me, I'm a little bit more of a minimalist. I'll keep pieces and shoes that I like and cycle everything else out. I either get rid of them, sell them, or send them to a rental place. I don't hold on to things for too long. I have sets of sweats that are all matching. I have a lot of
sneakers
that I know I can wear often, and they go with everything. I live in an apartment, and I feel like what you do with that space has to make sense. If you only have a certain amount of closet space and room for your life, then you shouldn't possess more than what you're able to store. For me, it's just about balance, like not having more than you should own."
On paring down her wardrobe:
"I see so much clothing, and I see so many trendy things. They come and go all the time. I get overwhelmed and just buy the few things that I really like. I keep those things, and I try to keep really good-quality basics. I think I'm a little bit jaded as to seeing how fast the fashion cycle comes and goes, so I try to keep my closet to the kind of minimum. I have pieces that really stand out to me, and those are the things that make me happy and I'll buy them. But my accessories stay the same. I also feel like the things that I really, really want in an ideal world, they're always just crazy-expensive. So I'm just like, 'Well, I can't get that, and I'm not going to get the in-between things, so I'm just not going to buy anything at all.'"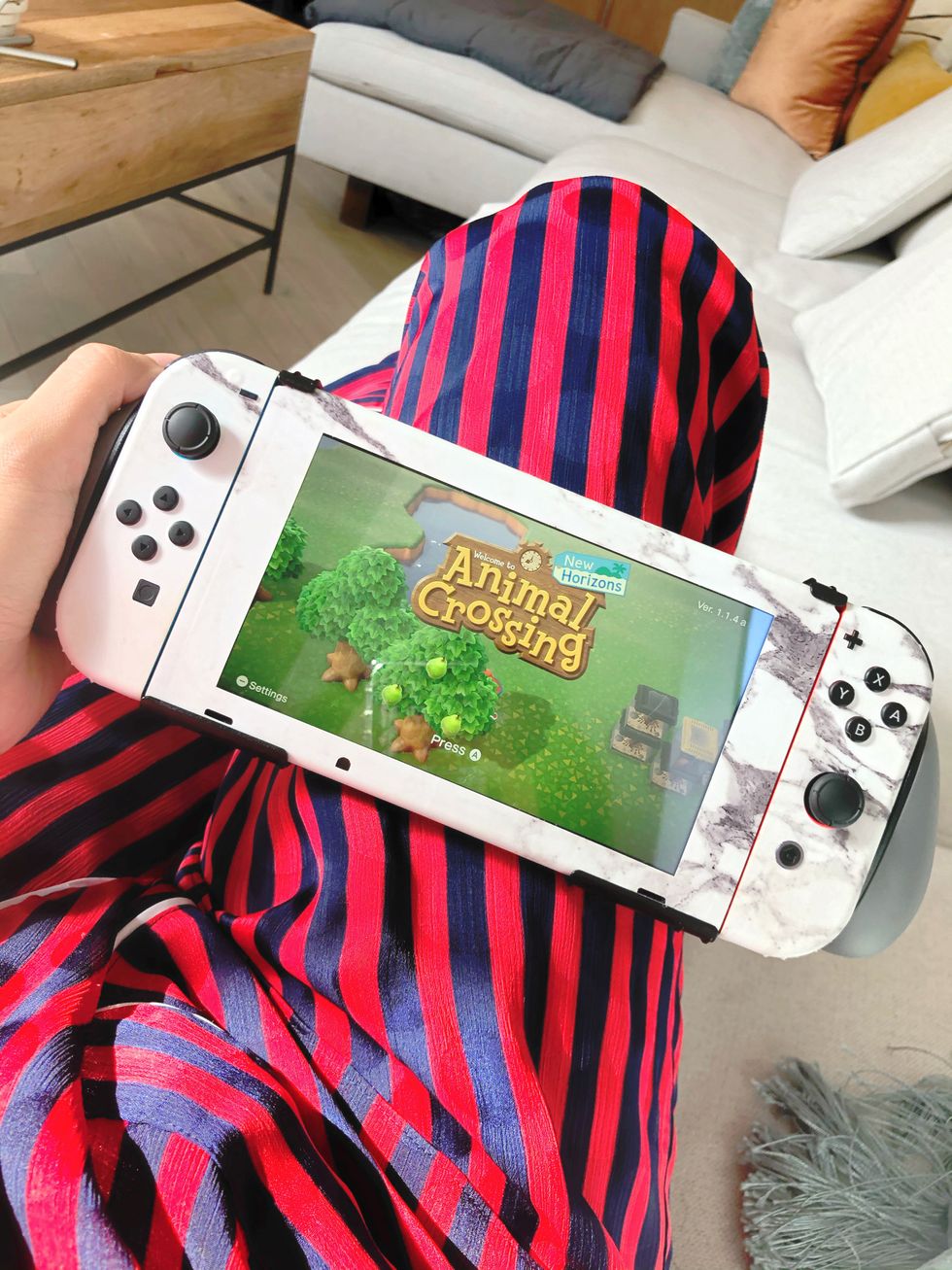 Photo: Courtesy of Dianne Garcia
On taking care of her physical and mental health:
"I walk my dog a lot. I try to walk him an hour a day. I'm so thankful to have him as a little companion. It's just an excuse for me to get up at a decent time because he has to go out, get up, and walk around. My trainer wrote a whole training regimen, so I try to train when I feel like it. This last week's been a little bit like
Ugh, I just want to lay around on the couch
. I was so adamant about meal prepping all of my food to stay on track and working out every day, but as of now, I'm going to relax. I've been reading a lot. I think staying connected with your friends helps a lot
—
all these little Zoom parties that we're having. I appreciate all the DJs streaming online and stuff. That helps, but I'm kind of a loner. I don't really have a problem being alone. The whole mental health thing, I feel like as long as I get out, get some fresh air, walk the dog, interact with my friends here and there, I feel fine."
On staying productive:
"I get up, take a shower, put makeup on, and halfway dress. My house is clean, but I clean the surface of my house again. I put everything away, so I don't feel distracted, and then I'll get on the computer. Just getting up, rolling out of bed, and getting on the computer just doesn't work. I need to prep myself mentally. Honestly
—
and I think this goes for a lot of creative people
—
paperwork and emails is not really my forte. Our minds don't necessarily work like that. I get up and do things like that to get myself ready to focus on things that maybe I don't necessarily want to do."
On a little bit of self-indulgence:
"I've been obsessed with my Nintendo Switch. I've never been a video-game person. It's so nostalgic to have all the Super Mario games that you can access. [The sales] have to have skyrocketed, because I know so many people that have gotten it. When you called me, I was playing Animal Crossing, which all the fashion blogs are going crazy over. You create your own island, and every day as it goes on, more things unfold. You can plan things to make money. You can buy outfits. You can make outfits. You can visit your friends' [islands]. There are all these kids that are making designer stuff like CHANEL runway outfits, Louis Vuitton and Issey Miyake looks. That's the one thing I've been indulging in that I probably wouldn't have time to do. It's a nice way to, quote, 'get outside without getting outside.'"
Photos: Courtesy of Dianne GarciaWant more stories like this?
Working from Home with Allison Bornstein
Our Favorite Bar May Be Closed Right Now, But the Party's Not Over
A Designer's Story of Dropping Everything to Help with COVID-19 Relief