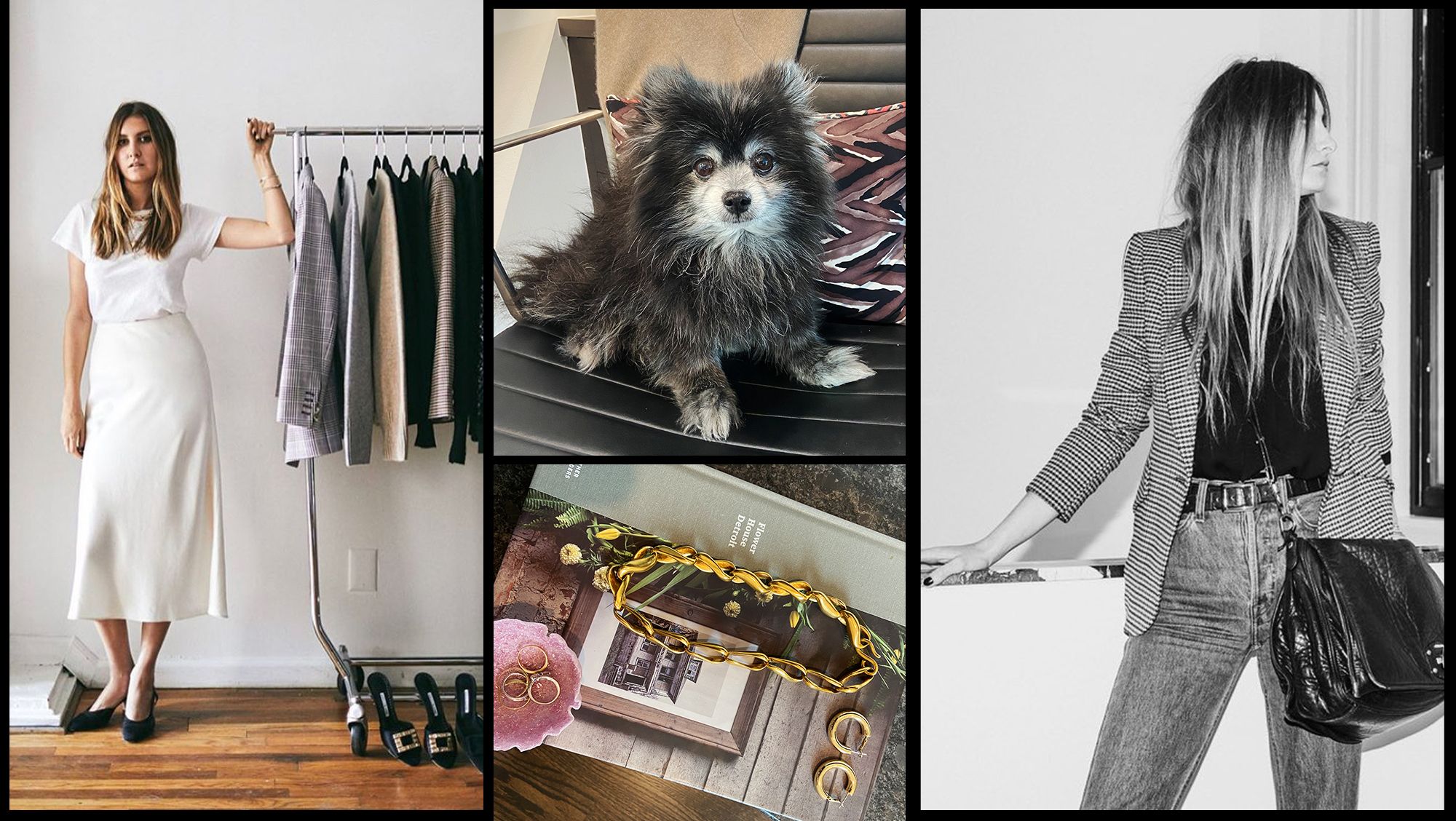 Career
The stylist talks staying grateful and making fashion accessible for all.
Graphics
Rachel Pickus
As many adjust to working from home—Team Coveteur included—tips on how to stay focused and motivated are more welcome than ever (as are snack and music recommendations). Each week, we're checking in with friends to see how they approach working from home. Today we're chatting with fashion stylist Allison Bornstein.
Working with music blaring or in silence/with headphones?
Allison Bornstein:
 "Silence! I have been doing FaceTime consultations from home, so I
'
ve been shutting myself off in a quiet little nook so I can be focused. I am at my parents
'
house, so I have commandeered their 'computer room' and made it my own. If I am just researching, I usually do it in front of the TV with the soothing sounds of the
Real Housewives
yelling at each other in the background. That is my zen space."
Do you take breaks, or grind straight through?
AB:
 "I usually like to grind straight through. It is actually nice doing the FaceTime sessions because I am speaking to someone new every hour, which keeps it interesting. I find that the day actually goes by pretty quickly."
Are you integrating movement into your day (a walk, a workout?), or keeping it lax?
AB:
 "I have been trying to take a walk every evening to get moving and get some fresh air. I also have been
streaming The Class
, which is a really fun workout. I actually prefer to do it in the comfort of my own home because there is a little dancing involved and I feel way more comfortable when I can dance like no one is watching (because they actually aren't watching…)."
Coffee, tea, or neither? How do you drink your coffee/tea?
AB:
 "I do a coffee in the morning with almond milk and then drink decaffeinated tea throughout the day. I like peppermint or some decaffeinated chai with almond milk."
Biggest WFH distraction?
AB:
 "Instagram… I don't know what I think is happening on there, but I feel the need to check in much too often." 
---
How do you stay focused and motivated throughout the day?

AB: "Luckily, I really, really love what I am doing these days. As a stylist, a lot of my job is usually very hands-on and more physical, but I have created a nice situation for myself where I am able to work with women from around the world all day and not leave the comfort of my home. I meet a new woman with a new job and new wardrobe every hour, so it is hard to get bored! I feel lucky for that."

Taking a lunch break, or snacking all day?

AB: "Snack. All. Day. I also recently got a Vitamix, and I have been concocting the most delicious and least healthy smoothies on planet Earth. Every single one has some combination of peanut butter and banana."

Do you adhere to a strict schedule, or freestyle your day?

AB: "I have appointments during the day, so that gives the day some structure. In between I sort of freestyle."

What do you miss most about going into the office?

AB: "Weirdly, I actually miss the commute. I miss getting coffee and a little treat during the day. I miss my clients!"

What does your video conference wardrobe look like?

AB: "I have been adhering to a sort of uniform recently. I do a sweater or t-shirt and some silky pants or (comfortable!!) denim. I always add my thick gold chain necklace because, to me, it makes my very casual look feel a little more polished and put together. I find that adding jewelry is like adding lipstick—it's just that little extra effort that gives me a boost."

Working in your pj's, or a power suit? Maybe a combo of the two?

AB: "Never full pajamas. I am a big believer that you are more productive when you feel confident. And I don't really feel confident in straight pajamas. I like to maintain some semblance of normalcy by showering, putting on a little makeup, and getting dressed. I have the luxury of being at home, so I still want to be comfortable (def no shoes or anything restricting!), but I still want to feel like myself."


Favorite thing you're reading right now?
AB:
"
Writers & Lovers
by Lily King."
Favorite thing you're listening to right now?
AB:
"The podcast called
Seek Treatment
is the funniest thing I have ever heard and exactly what I need right now. The two comedians (Cat Cohen and Pat Regan) are so funny, silly, and smart."
How do you unwind at the end of the day?
AB:
"Wine, wine, wine, wine."
What's your inspirational mantra that's helping you during this time?
AB:
"I am just trying to be grateful."
How do you foresee this period of time impacting your industry?
AB:
"I think/hope it will connect us more. I believe in democratizing fashion and making it accessible for all. I think now that everyone is realizing that work can be done over FaceTime or Zoom, we will be able to reach more people and connect! I love that I am speaking to women of all ages from across the globe (today I spoke with women in Germany, Houston, and Australia) and able to help them shop their closets and style some looks without needing to physically be there."
Five items you're loving right now:
AB:
"
The Class
—it gets me moving and is just fun.
Dr. Devgan Lip Plump
—even when I'm not wearing much makeup, I like to use a little of this gloss. It brings some color and plumpness to my lips and makes me feel alive.
Ven Store cashmere sweater
—I have worn it almost every day, and it has stayed so perfect. It is cozy but still has a nice structure that makes me feel put together.
The Real Housewives of New York
—those women are entertaining. It makes me feel normal to see women in NYC walking the busy streets and hello-ing at each other across crowded restaurants. Seeing New York and the dynamic women who live there makes me hopeful. I think we will be back to a version of that 'normalcy' soon.
La Mer The Hand Treatment
hand cream—I have been washing my hands like never before, and that has saved my poor hands from dryness."
Shop Allison Bornstein's Current Must-haves
Dr. Devgan
Ven Store
La Mer