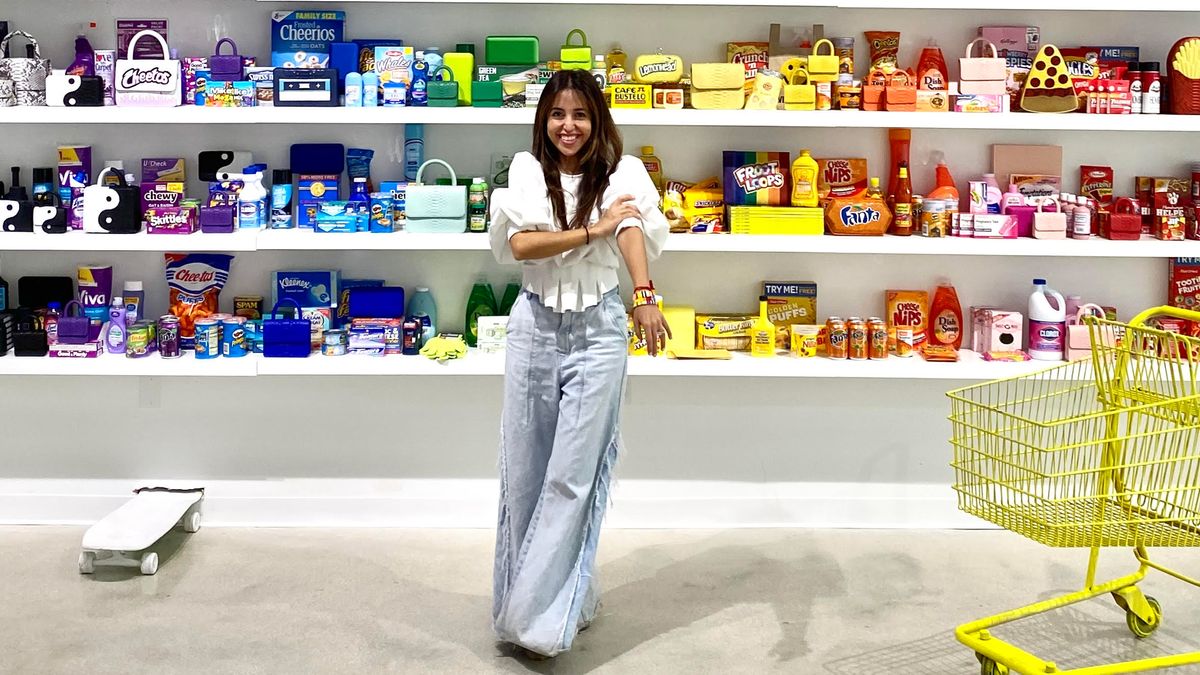 Designers
A Designer's Story of Dropping Everything to Help with COVID-19 Relief
"I had no idea what I was getting myself into."
Talk to handbag designer Gelareh Mizrahi for five minutes today, and you would have no idea that she has spent the last ten years working in fashion. All she is speaking, reading, and thinking about right now is relief efforts against the outbreak of COVID-19. "I had no idea what I was doing two weeks ago," Mizrahi says of her current mission, "I had no idea what I was getting myself into."
Compared to many, Mizrahi was ahead of the curve in addressing the severity of the virus, foresight she credits to her label
'
s production in China. Mizrahi canceled her eponymous line
'
s NYFW presentation in early February and refrained from sending the team to Paris for market appointments due to the fashion tribe's migration from Italy the week prior. "This was before the entire world started taking it seriously," Mizrahi says. "I'm not taking any chances." They closed their Miami store on Thursday, March 12.
Mizrahi continued to watch the progress of the pandemic as it hit America. Her brother is a doctor at Maimonides in Brooklyn, so she was privy to a firsthand account of how the hospitals were gearing up for the fight. "I realized that we just weren't ready for what was coming. At all."
---
The night of March 21, Mizrahi stayed up all night attempting to source her own PPE (personal protective equipment). She recalls, "I had absolutely no idea what I was doing when I started." However, she struck gold when she found a manufacturer on AliBaba that happened to have 2,000 N95 masks on hand and immediately sent a wire transfer of her own money to secure them.
The more Mizrahi educated herself, the more she realized how much luck came to play in her initial discovery. To produce a medical-grade N95 mask, manufacturers must have all kinds of certifications regulated by the Center for Disease Control. With the help of her co-worker's oral-surgeon husband, they deduced that this manufacturer was certified by the National Institute of Occupational Safety and Health (NIOSH) and was therefore fair game. She sent one shipment to her brother in Brooklyn, one to Cedar Sinai in L.A., and one small box to herself to verify what everyone was receiving. The same night, Mizrahi set up a
GoFundMe
and started posting about it on her
Instagram
account.
The rest of the story plays out like a game of dominos. She reached out to her friend, the wife of DJ Khalid, to see if he would get involved. He jumped on board and connected her with entertainment agency 
Roc Nation
. For liability purposes, they asked her to go through an NGO called
Direct Relief
. Around the same time, Mizrahi connected with a small group of people in New York City doing relief work. She has also teamed up with
A Million Masks
,
Get Us PPE
, and
Mask Force
.
By linking all these different organizations, resources and skill sets can be shared. A smaller group is more nimble, while a larger group like Direct Relief has access to greater funds and methods of transportation and shipping. Orders can be placed at once instead of multiple smaller ones, which in turn prevents price gouging. Not only do they have diverse resources, they now have expanded in terms of location. Mizrahi and team are paying specific attention to where the PPE is going so that one hospital doesn't over-receive while others go without. There are so many facets of this pandemic across the country that relief workers are trying to address. "I think if we can fit all of these puzzle pieces together, it will just go way further," says Mizrahi.
To request PPE, doctors fill out an intake form to specify their hospital's requirements. Someone from the team will then call to confirm and solidify how dire the situation is—a message they can then disseminate into their vast network of resources to secure donations. The personal contact through these routine phone calls and even the volunteer delivery workers dropping off the PPE is where the importance of what they are doing is most evident. The doctors express not only their gratitude, but their need, above all else. Mizrahi told us, "You just say, 'You're not doing this alone, we've got your back. Thank you for what you're doing.'"
Mizrahi and her network are importing 20,000 N95 masks per week from manufacturers that were vetted under strict standards. On her own, she is ordering 3,000 N95 masks, 1,000 face shields, and 1,000 pairs of goggles per week. These numbers sound large, but according to Mizrahi, "It's nowhere near enough." A single hospital can use 1,000 pieces of PPE per day and it should not be reused. "We have to do better," she says. Through her own fundraising efforts, she has raised $45,900 to date through her GoFundMe page. (GoFundMe has yet to release their funds, so she is currently covering the costs.)
"The only way that this is going to get done is on the floor
—
people running the masks directly to the doctors, people putting money for us to be able to order more supplies, and everyone working together," says Mizrahi.
Mizrahi launched her company roughly seven years ago, and her bags are now sold at her store in the Design District of Miami, where she is based, Selfridge's, Lane Crawford, and, until recently, Barneys. Before mid-February, she was getting excited about a new release in partnership with Kith. Now she says, "I put everything on hold. I literally don't care about anything else." Though her thoughts of fashion are currently on hiatus, her experience has actually come into play. She attributes the reason she was able to find the initial factory to her background sourcing production resources. In addition, her design team was eager to help. They immediately wanted to get involved in any way possible and offered up their services. A few have been designing colorful graphics of gut-wrenching quotes for her Instagram page to attract new donors for the cause.
Though every single donation helps, the war is won by people on the ground fighting, regardless of their skill set. "This isn't my day job, clearly," Mizrahi says. "I'm only figuring this out as I go. Everyone can help."
Top Photo: Courtesy of Gelareh Mizrahi
Want more stories like this?
Working from Home with Danielle Guizio
This Writer Turned a Time Capsule Into a Publication
Meet Blair Caldwell, the Personal Photographer of Beyoncé, Normani and More