WWWRN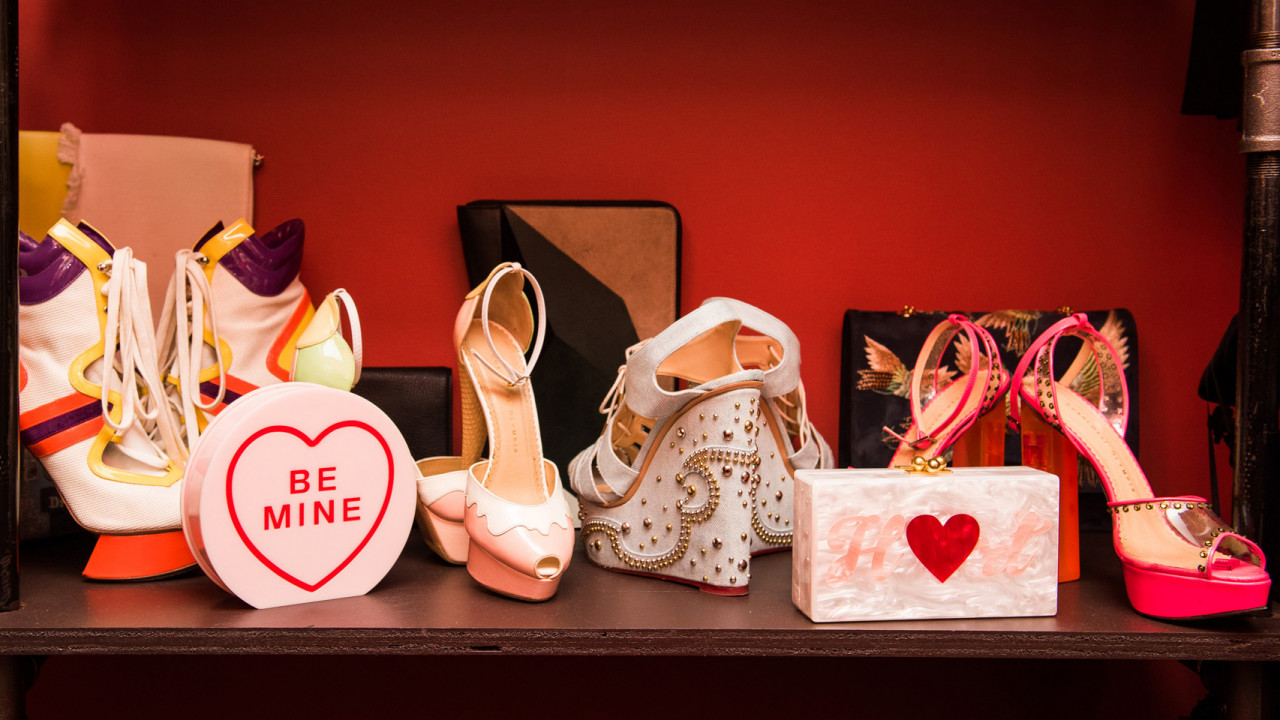 Valentine's Day Gifts Our Editors Want...If You Insist
Non-cheesy V Day presents we'll happily accept.
We took an unofficial tally at Coveteur HQ, and it turns out that Valentine's Day isn't a holiday that ~really~ does anything for us. Sure, it's a great day to give a little extra love to your SO, but honestly, all we can think about is how hard it is to get a reservation! And what about us single folk? Hey, at least Valentine's Day is as good as any excuse to consume an obscene amount of chocolate—single, taken, or...complicated. So there's that! There's also the potential to get jewelry and so many other pretty things. So if you insist on getting us something to celebrate the day of love, heck, we're not going to say no.
---
Noah Lehava
Director, Lifestyle & Talent
1. Deborah Pagani Honey Ring: I've been in jewelry-collector mode for the past year, investing in fine pieces that I know I'll love forever. When I saw a video of Deborah playing around and stacking her Honey ring on IG, I audibly gasped. I may just gift it to myself.
2. Hermès Taurillon Clemence Lindy 34 Black: I have yet to own a Hermès bag, and you know what? This resale Hermès bag would be the perfect inauguration into the club.
3. Dyson V11 Torque Drive Vacuum: Call me practical, but this is something I actually need—and will make my life easier and cleaner. If there was such a thing as a Valentine's Day registry, this would be on mine.
---
Jessica Teves
Head of Content
1. Brent Neale Textured Knot Ring: I am absolutely obsessed with everything Brent Neale designs. Obsessed! And while I really, really have my sights set on a custom-designed gypsy ring using some old stones, I'll fully settle for this textured knot ring with sapphires—it's quite simply the perfect accoutrement for my right hand.
2. Retrouvaí Yin Yang Ring: Another "simple" piece that I might need this V Day—family, listen up! Balance is a resounding theme in my life, and I love the symbolism in this delicate yet substantial ring. The subtleness of the pink opal feels like the sweetest contrast to the size, and I'm envisioning it as a pinky ring for days when I really want to bring it.
3. Foundrae Medallion: Beth Bugdaycay, the founder and creative genius behind Foundrae, continues to wow me with her classic designs built on the idea that symbols should and can have a deeper meaning in our lives. Case in point, this strength medallion is bold and powerful and would be the nicest addition to my charm collection.
---
Annie O'Conor
Audience Development Manager
1. Christian Dior White Resin Bead 30 Montaigne Gold Finish Bracelet: My boyfriend just so happens to have the initials CD. Coincidence? Maybe so, but it does make this gift perfect for me. And even if you might not have a CD in your life, I think Christian makes the perfect valentine.
2. Loewe Gate Bumbag: I'm a cliché. I love pink on Valentine's Day and, well, pretty much any other day for that matter. Loewe's Gate Bumbag is super versatile and chic, no less. The size of this bag is modest and has just enough room for the essentials—like all the valentines you'll receive. Here's to hoping this bag comes my way on the 14th. Looking at you, CD.
3. Short-Sleeve Silk PJ Top: There are a lot of things I love about this PJ top, from the contrasting piping to the complementary embroidery. I can wear it to lounge or I can wear it to work, and it's also 100 percent silk… Need I go on? I'm sold, and I'll be waiting to unwrap this next week.
---
Leah Faye Cooper
Editorial Director
1. CHANEL Lambskin Quilted Elementary Chic Flap: I'll happily accept a CHANEL bag this Valentine's Day (and beyond). No need to spring for a new one, though! I love a deal and appreciate the sustainability aspect of buying pre-loved goods—this Fashionphile find will do.
2. Yi Collection Rainbow Chain Ring: I recently discovered these stunningly simple chain rings, and I'm *very* close to treating myself to the emerald baguette one. But since they're meant to be mixed, matched, and stacked, I'll definitely need more than one. If anyone would like to gift me this rainbow beauty, my ring size is 7.
3. AGL Ankle Boot with Half Moon Heel: A red boot is a perfect way to lean into the Valentine's Day theme. I'll take a pair of these, friends!
---
Jodi Taylor
Editor
1. Hanne Bloch Waves Velvet Tube Dress: I mean, what's Valentine's Day without a cute dress to wear to dinner? I fell in love with this one by designer Hanne Bloch the second I laid eyes on it, and I always love a good strapless number. I'll happily pair it with a nice heel or a fresh pair of Air Force 1s.
2. Chen and Kai Williams Stacking Planter: If you know me (looking at you, girlfriend), you know how obsessed I am with plants and chic planters. And not only do I love gifting them, but I also love receiving them. I'm already imagining this one sitting perfectly in my windowsill.
3. Louis Vuitton Sac Plat GM: This is my dream LV tote. I'm always struggling to find bags big enough to carry my laptop and lunch in—ones that I actually like, anyway—so this would be the most perfect gift ever. I would cherish it for years to come.
---
Gabby Sgherri
Editorial Intern
1. Dior Oblique Airpod Case: I've always loved the Dior oblique pattern (who doesn't?), and this is the best designer AirPod case I've seen so far. I absolutely need it and would be so happy if it was gifted to me (hint at my boyfriend), maybe with a pair of AirPods inside?
2. 437 Swimwear Red Hot Sanders Bikini: Red is one of my favorite colors and is coincidentally on-theme for Valentine's Day. It's as if 437 Swimwear read my mind because just yesterday they dropped this red colorway of their Sanders bikini. I need it. The fabric is as soft as butter, and this style is the ultimate string bikini.
3. Jordan 1 Retro 85 Varsity Red: In case you can't tell, I'm not into any of the typical Valentine's Day gifts, but I am a huge sneaker lover, particularly Jordans. I've been eyeing these Varsity Reds for so long. As with most Jordan releases, you have to enter raffles to get 'em (they release tomorrow), but if all else fails, StockX is a guaranteed win. Fingers crossed I get these because they would look so cute with the Sanders bikini.
Want more stories like this?
9 Reasons You Need a Luxe Sweatsuit in Your Life
Our Editors' 12 Must-Have Heeled Boots of the Season
The Luxury Resale Site Breathing Life Into Our Handbag Game
Part of the series:
WWWRN