WWWRN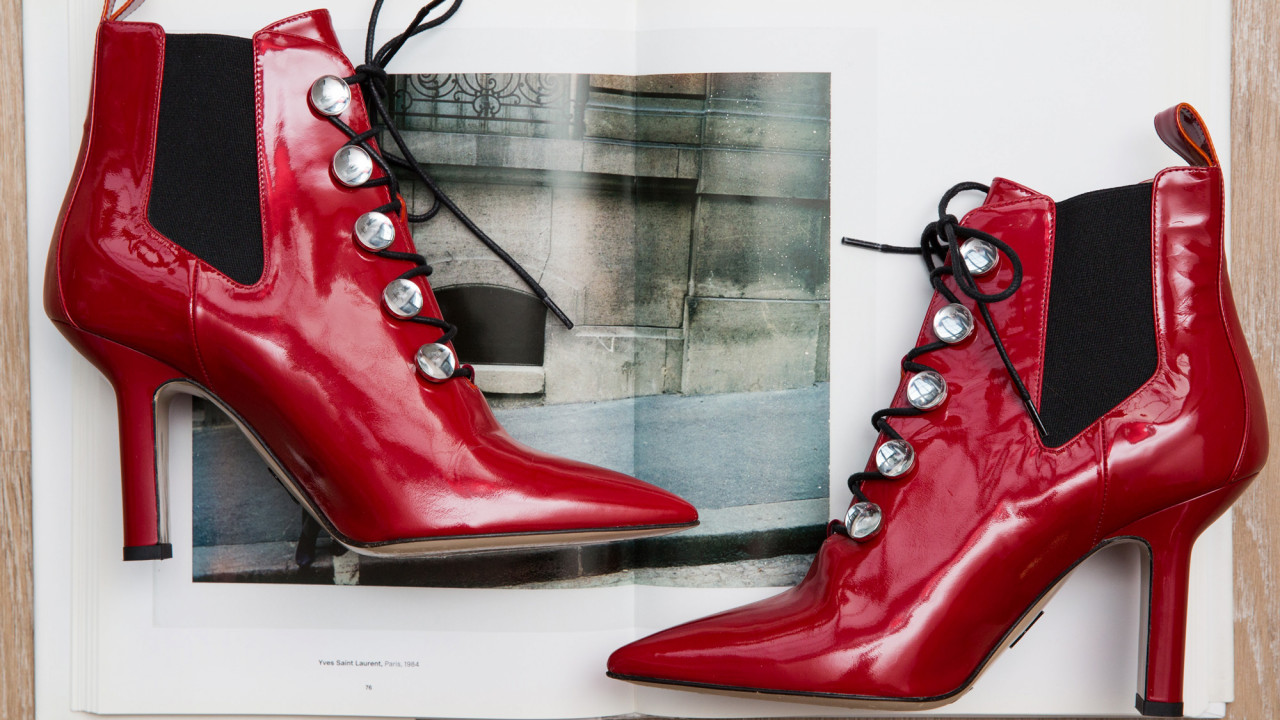 Our Editors' 12 Must-Have Heeled Boots of the Season
Don't let winter impact your shoe game.
Like many of you, we are hitting something of a wall when it comes to our winter outfit of the day. Freezing temperatures have us forgoing a cute maxi dress or cropped trousers in favor of trusty denim over long underwear, plus the wooliest sweater we can find. It's function over fashion around here, except for one very important area: our shoes. Sure, if it's snowing and icy outside, we'll slip on a pair of work boots; otherwise, our feet are the easiest way to prove that we still have some sartorial savviness. To up the ante, we're particularly interested in heeled styles this winter—who doesn't want a few gratuitous inches of height? From croc-embossed leather to the most buttery calfskin, these are our 12 must-have boots of the season.
---
Hannah Baxter
Senior Beauty Editor
1. Chloé Bea Chelsea Boot: Chelsea boots will never go out of style, which is why I have no problem investing in this incredible pair from Chloé. The glossy neutral colorway is unlike anything I've seen this season, and they'll work perfectly with everything from my preferred slouchy trousers to a silk midi skirt.
2. Miista Carlota Mahogany Croc Leather Boots: I'm not going to admit to the exact number of faux croc boots I have in my closet, but let's just say it's north of ten. This delicious mahogany shade goes with *everything,* I swear. It's almost overtaking my trusty black Docs for most worn boot of the season.
3. Wandler Isa Leather Ankle Boots: You gotta love a square toe, and Wandler nails it with this sleek olive silhouette. Doesn't it just look like the most buttery-soft leather you've ever seen? I definitely think this wins for winter's sexiest boot.
---
Jodi Taylor
Editor
1. Nomasei Aria Ankle Boots: Boot brands rarely do olive green right, but Nomasei has nailed it with these satin heeled babies. With a 2.5-inch heel, they're perfect for running errands around the city or, let's be real, dancing the night away after a slew of spicy margaritas.
2. Dear Frances Bucket Boot: The slouch in these is almost too good to be true. They'll go with every single outfit I own.
3. Alexander Wang Vanna Logo-Embroidered Leather Sock Boots: Given my track record with white, I really have no business owning these, but I can't resist them. I'm forever a fan of white boots with denim, so I plan on wearing these with all my jeans—cropped, distressed, and wide-legged.
---
Annie O'Conor
Audience Development Manager
1. MM6 Maison Margiela  Abstract Pattern Ankle Boots: An abstract pattern, a textured style, a round toe….enough said. But because no one asked, I also love pink…very much so. These boots are what my dreams are made of.
2. Peche Amber Booties: I've grown wildly fond of neutral boots in the past few months, and this Peche pair is sent from above. They're made from vegan leather, and I may buy them all.
3. Loeffler Randall Gia Boot: My own words here, but I really do think this has become an 'It girl' boot. (Take that with a grain of salt, though—every girl, no matter the boot, can be 'It.') That being said, this particular pair is the perfect combo of style and function. How many colors is too many to own?
---
Leah Faye Cooper
Editorial Director
1. Tamara Mellon Cinch Knee-High: I vividly remember my mom wearing slouch boots when I was growing up (I'm an '80s baby), and I always thought she looked *so* cool in them. I'd love to channel her style in these, which happen to be my favorite shade of blue.
2. Marion Parke Delila Leather Block Heel Mid-Calf Boot: But are they comfortable? It's the question I ask every time I consider getting a new pair of boots, and as the very proud owner of these, I can confirm that they are. They're also the perfect height for my vast mini dress collection, so yes, I wear them multiple times a week.
3. LMS The Annie: My cropped jeans have just found a new BFF in these boots, which offer three of my favorite things in footwear: a chunky, walkable heel, an unexpected pop of color, and a price tag I can really get behind.
Want more stories like this?
Meet the Designer Behind the Upcycled Streetwear We Can't Get Enough Of
How I Created My Dream Pair of Air Force 1s
The Printed Dresses We're Eyeing for Spring
Part of the series:
WWWRN