Cover Story
Introducing Issa: The Creator on What's Next After Insecure
As the curtain closes on her hit HBO show, the multi-hyphenate is setting the stage for the next phase of her career.
Ashley Combs
Production Director:
Jess Sisco
Hair:
Makeup:
What began as a conversation between two friends at a dinner party in Los Angeles took shape in the form of a press conference at the St. Regis Hotel in Manhattan. Leslie Moonves, then chairman and CEO of the CBS Corporation, and Barry Meyer, then CEO and chairman of Time Warner, stepped from behind the curtain and announced the news: They were merging. A select group of top-performing shows on UPN, owned by CBS Corp, and the WB, owned by Time Warner, would be moved over to the new network's lineup and reach an even larger audience-base of young adults. The two television networks were a home to a slew of Black television programs, including shows that featured long-lost twin sisters who reunited after being separated at birth, a boy sent away by his mother to live in Bel Air with his uncle, and a group of four female friends navigating life as 30-somethings in Los Angeles. In September 2006, the UPN and WB officially shuttered. And so the "golden age of Black television" came to a close.
Though the entertainment and media industries are no strangers to hyperbole, the "golden age" tag had been used before in the 1970s, when Sanford and Son, Good Times, and The Jeffersons ruled the ratings charts. It was also thrown around during the 1980s when The Huxtables were the most-watched family on television. But something different happened with the Black television shows of the 1990s and the early aughts—the shows disappeared and the ones that filled their time slots rarely had Black leads—if they had any Black characters at all. As writer Hannah Giorgis explores at length in the October cover story for The Atlantic, the once rich and diverse television landscape seemingly disappeared overnight; Black creatives were shut out of writers' rooms, their stories left off-screen.
Cable television, the Shonda Rimes cinematic universe, and streaming services have helped usher in yet another golden age of Black television with HBO's Insecure heralded as one of the marquee shows of its time. The show, which follows two Black women attempting to find their way in L.A., is currently airing its fifth and final season. It has received 11 Emmy nominations since its premiere in 2016. The creator and star of the show, Issa Rae, is Emmy-nominated, Golden Globe-nominated; she recently signed a $40 million, five-year deal with WarnerMedia, and she currently has projects in the works at Netflix, Lionsgate, Sony, and Universal. But Rae is acutely aware of how quickly the tides can shift; that two men you've never met could make a decision at a party that impacts which projects are greenlit and what talent controls them.
Over the phone, nestled into a nook on the second floor of Smashbox Studios, I read a Miranda July quote aloud to Issa, who is in a car on her way to set for the cover shoot: "You'd have to be very established to not worry about what was going to happen to you financially as an artist, especially as an woman artist." Issa hums in agreement. "I feel financially secure, but I don't feel like my place here is officially secured," she says. "This industry is fickle. And so much is happening, the world is shifting. I hope that I continue to create, but that's just not a guarantee." Even with a list of accolades one could only dream of achieving, Issa is after something bigger than an award; she wants legacy. The question on her mind is one that we're all familiar with: What happens when it's all over? What will we leave behind? How will we be remembered?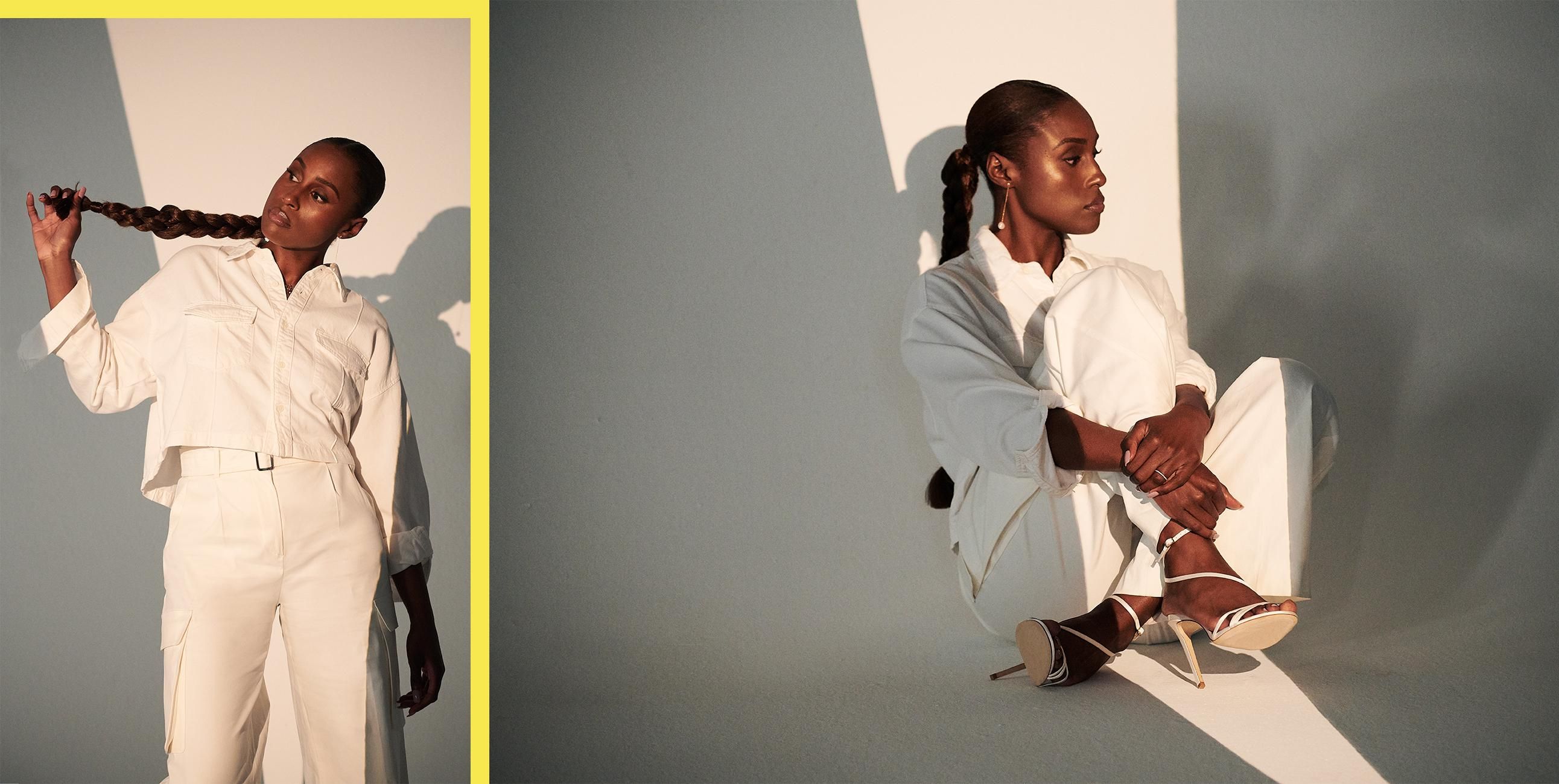 Top: Levi's; Pants: Max Mara; Shoes: Jimmy Choo; Earrings: Common Era; Necklace: Lady Grey
This industry is fickle. And so much is happening, the world is shifting. I hope that I continue to create, but that's just not a guarantee."
On the morning of our interview, I refreshed the Instagram app and an image of Issa paired with a caption containing a quote from a just-released New York Times profile jumped to the beginning of my feed. The week before, cover images of Issa on Mic and Self magazine populated my screen. A few weeks after our photoshoot, a cover of Issa with her Insecure co-stars, Yvonne Orji and Jay Ellis, dropped, followed by the cover of GOAT. Earlier in the year, Issa was on the cover of Paper magazine, Variety, Rolling Stone, and Vanity Fair. She also collaborated with Converse, launched a 'Wash Day Collection' for Sienna Naturals, the textured hair-care line that she co-owns with Hannah Diop, began hosting a new podcast with Apple Music and a new YouTube series, produced Sweet Life, a show for HBO Max that just got greenlit for season two, and started filming Rap Sh*t, an HBO Max series about two female rappers in Miami. Oh, and wrapped up season five of Insecure. "You've been busy lately," I say towards the beginning of the interview, stating the obvious. "I feel like it's nothing new, it's always this busy," Issa replies.
In my defense, her schedule is more ramped-up than usual, with the endless press interviews tied to the series finale stacked on top of her already packed to-do list. But while Issa is working with the aim of having her name among the greats (Oprah, Denzel), the larger goal isn't centered on just the individual. Excuse me for once again stating the obvious, but participating in the larger system that is Hollywood is difficult, especially considering the fact that it's an industry that renders women past a certain age invisible and that it didn't really see stories told by people of color as profitable until recently. There is one way to assume greater control over your destiny as a television writer and actor: accumulate enough fuck-you money and you can dictate what projects you're a part of and what stories are told. Issa Rae has a few creative regrets in life, and all of them are tied to her not being in the driver's seat. "There's definitely been things that I've tried professionally because I thought I was supposed to, but at the end of the day, there's no one to blame but myself," she says. "I've found out that I need to be in control of what the fuck I'm doing. I don't like being a passenger." I tell her that's a very Capricorn thing to say, quickly adding on the fact that I'm allowed to say that because my best friend is a Capricorn, too, as she laughs over my words. "What sign are you?" Issa asks. "I'm a Leo." "Y'all are a little crazy, too."
Hoorae Media, previously named Issa Rae Productions, is a multimedia company that houses all of Issa's film, television, and digital projects, her Raedio show, as well as ColorCreative, the management company she founded. Hoorae's future projects include television adaptations of Nice White Parents, a Serial Productions' and New York Times' podcast about how white progressive parents became obstacles in the desegregation efforts of a Brooklyn public school, and The Vanishing Half, a novel by Brit Bennett about once-inseparable identical twin sisters who have each chosen a life path that starkly differs from their sibling. Bennett is a guest star in the second episode of Insecure's fifth season, playing herself in a scene where Issa Dee hosts a book signing for The Vanishing Half. Today, in addition to Issa, stars like Kerry Washington, Reese Witherspoon, and Mindy Kaling now have a level of control that was once only available to white men.
Creating lasting change in the industry, as Issa notes, isn't just about the people that the audience sees on the screen. "I do think that there is a conscious effort for change," Issa says, slowly, when I ask her about the recent attempts to fix the industry during the summer of 2020. "So I have a lot of optimism and I think there'll be more opportunities in the future now that there's more of us in writers' rooms and in executive roles." She's shifting her focus now to creating pipelines for those essential to the production of a television show or film, including grips and camera operators. During the pre-production stage of Rap Sh*t, about 80 percent of the people presented to Issa to fill these roles were white men. "It's really troubling," she says. "It's really frustrating to shoot in neighborhoods that are predominantly Black with a crew of predominantly white people."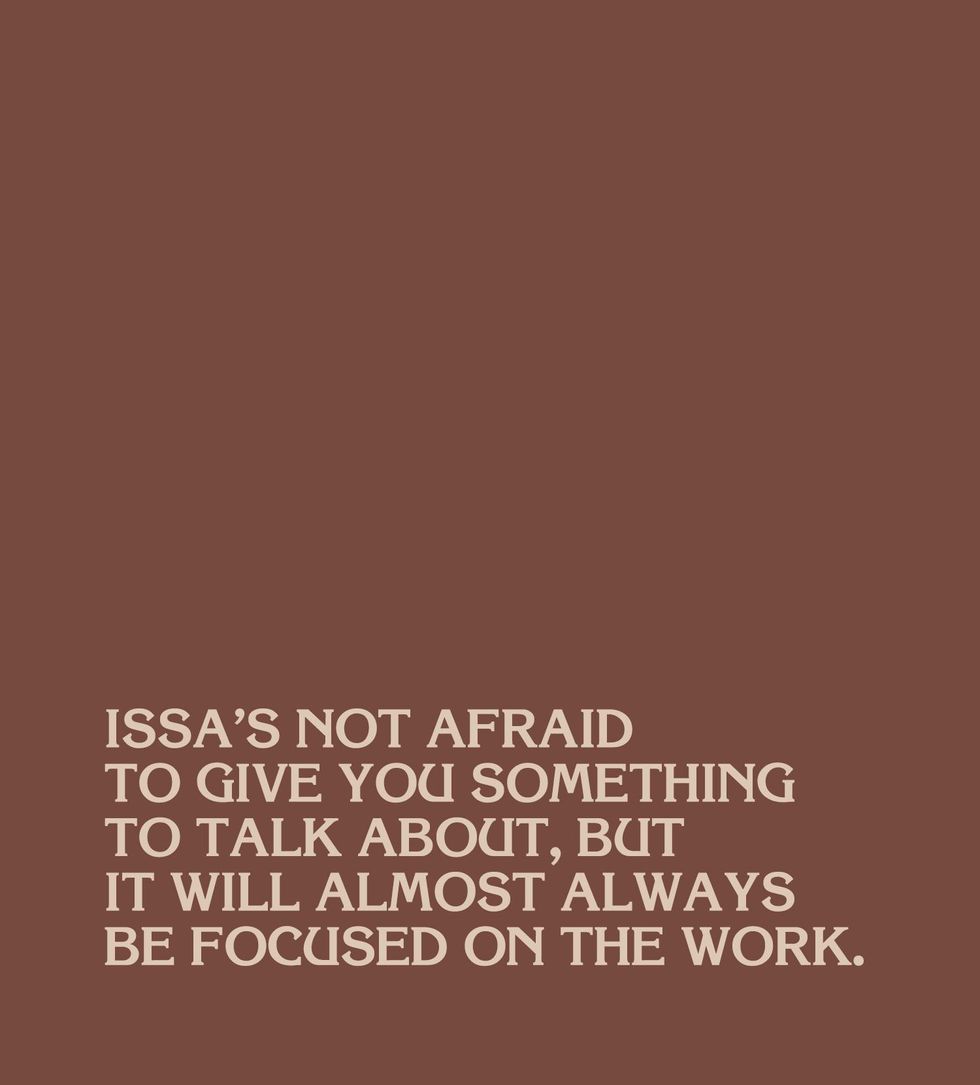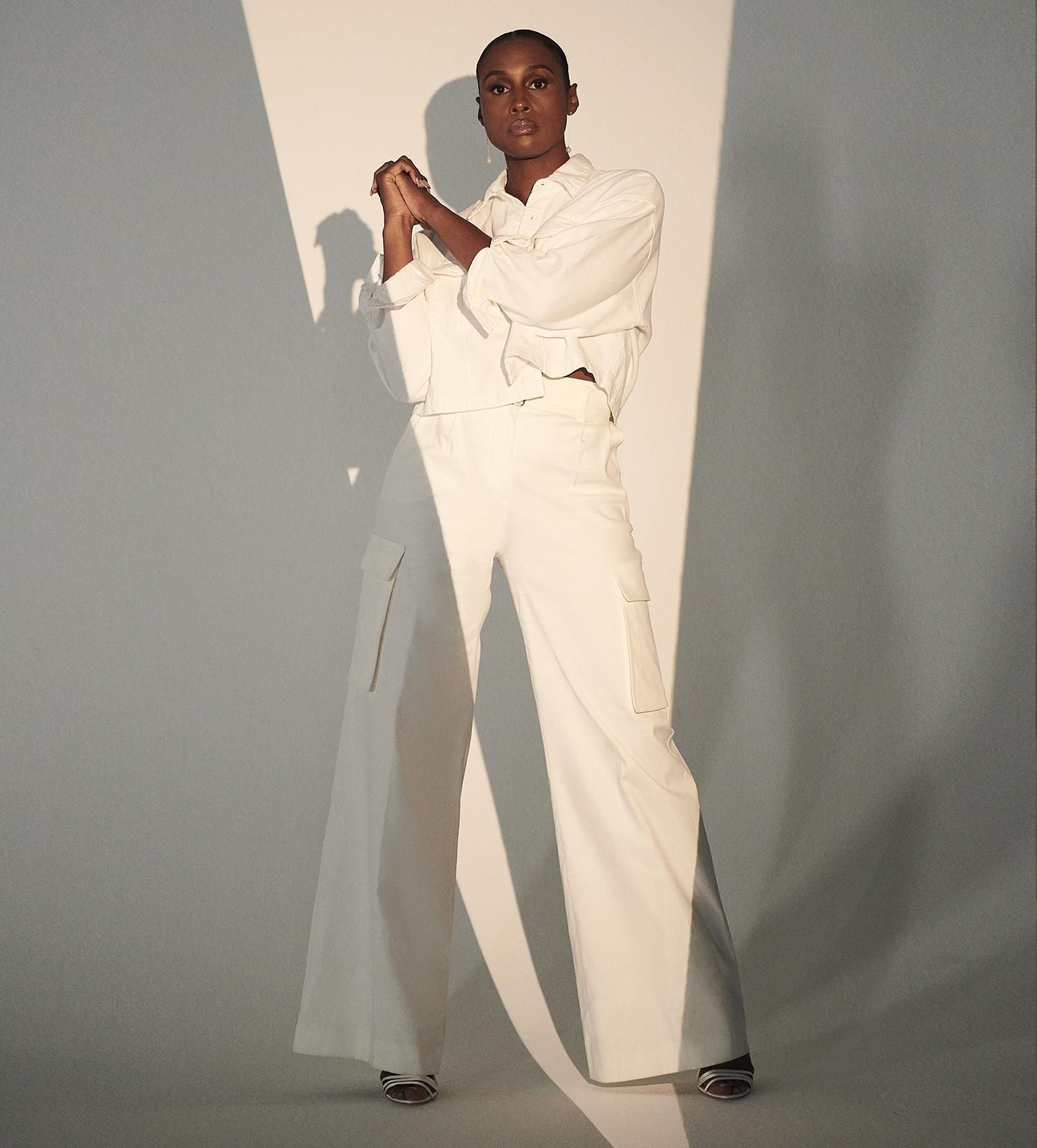 I ask Issa if it's possible to achieve first name-level success without turning a part of yourself into a commodity? "No," she says without a pause. "The other day someone asked me what it's like to see myself on a billboard. It's strange because I don't even think of it as myself anymore, there's such a disconnect. Part of that is you are kind of selling yourself and your project is your product." She goes on to add, "I think I've also become so business-minded in this industry, too. There's a separation from who I am as a person and what people see and who they think I am. That's not something that I've tried to do, but it's something that has naturally happened over time." Issa's decision to keep her personal life separate from her professional life is unique in a world where the two have increasingly grown intertwined, particularly for women. She's been able to subvert the notion that the more details about their personal life one offers up for public consumption, the more "authentic" she becomes, and the more money she can make. For Issa, this split is necessary to function as a larger-than-life public figure; it keeps her from spinning out of control in an industry that refuses to catch you on the way down. "Having that healthy separation has really been crucial to my own sanity," she tells me. This hasn't always been the case. Take, for example, the release of her memoir, The Misadventures of Awkward Black Girl, in 2015. "I don't think it dawned on me that this is going to exist forever as the representation of you and if you don't write anything else, this period of your life, from 24 to 27, is going to be huge to people for a very long time," she says. "That was its own thing. But I've always been a pretty private person, especially once people started caring more about my private life. That just kind of weirded me out."
When it comes to Issa's social media presence, much of it is centered on promoting Insecure and her plethora of other projects. The moments where we catch a glimpse behind the curtain are few and far between: we'll get a peak at her doing #yachtshit with her celebrity friends; one evening, years ago, when she couldn't fall asleep in her hotel room because the couple next door were having very loud sex, she held a Q&A session on her Instagram stories; and this past summer, she shared an Instagram post featuring a series of photos from her wedding day with her now husband, businessman Louis Diame. Much of the discourse around the photos was about if one should do an Instagram "soft-launch" of their boyfriend or "pull an Issa" and post them onto your feed only after you've gotten a ring. It's not all that different from the conversations surrounding Insecure itself; they take on a life of their own, larger than the creator herself. I mean, the season five premiere sparked an almost instant Twitter discussion on whether or not Issa Dee was in the wrong to end things with Lawrence after he picked her up from the airport and drove her home. (My vote is no—LAX is a mess. Why take a crowded shuttle to the rideshare pick up lot when you have someone willing to meet you at your terminal for free?)
Issa's not afraid to give you something to talk about, but it will almost always be focused on the work.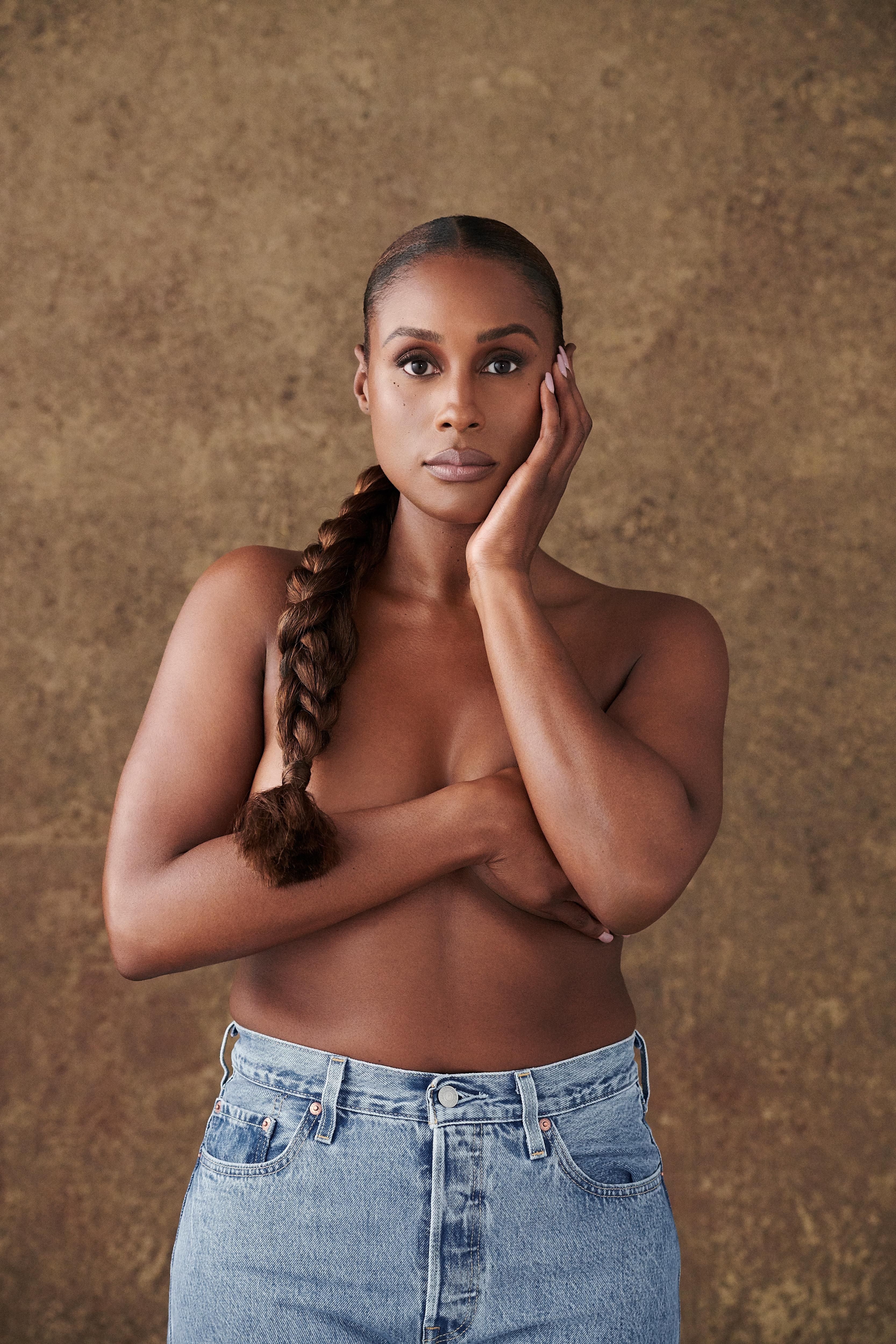 Jeans: Levi's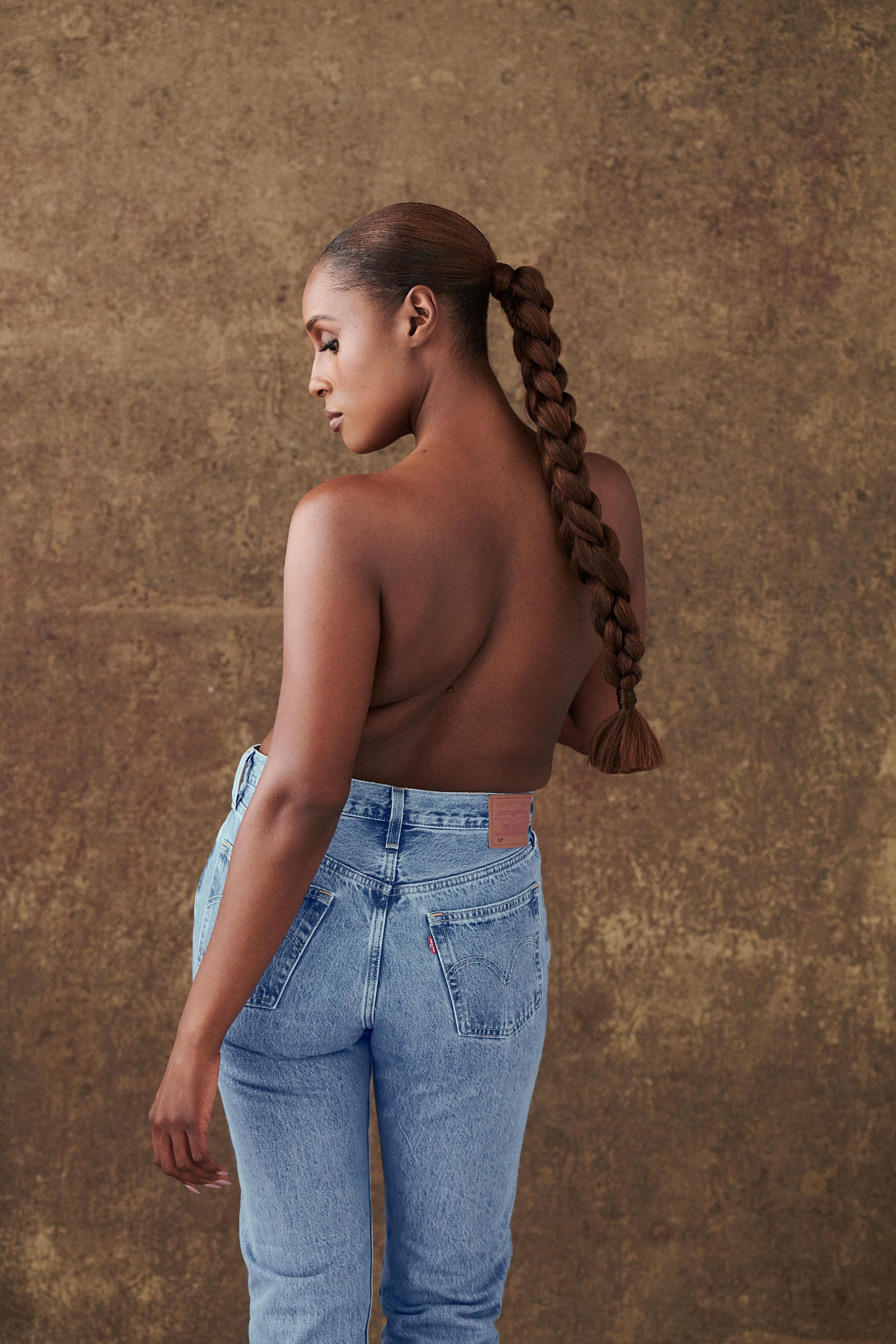 Routine is also an anchor that helps ground her. During filming, this schedule goes out the window, but typically, Issa wakes up at 4 a.m. to work out, and does some work from 5:30 a.m. to 9 a.m. before eating breakfast. Mondays, Wednesdays, and Fridays are dedicated to writing, and Tuesdays and Thursdays are meeting days. "I probably read a lot of those 'successful people' articles and I was like, 'Let me give this a try,'" she says when I ask her why 4 a.m. "I love it. This time of solitude and feeling like you're ahead in some way.
"I always had this thing where I felt behind and [waking up early] makes me feel like I have a handle on my day. I'm able to exercise and reflect, and it just makes me more optimistic about the day, it's really refreshing." The early morning wake up time, the daily exercising, her journaling habits, it all helps Issa carve out the time one needs to gain a sense of introspection that's necessary to creating art. "You know, I say this all the time, but I'm so happy that this success came in my early 30s," she says. "I have such a stronger sense of self. I know where I came from and I know that this persona is not all of me."
"Do you think if you'd achieved this level of success in your early 20s, it would've been more chaotic?"
"Without a doubt."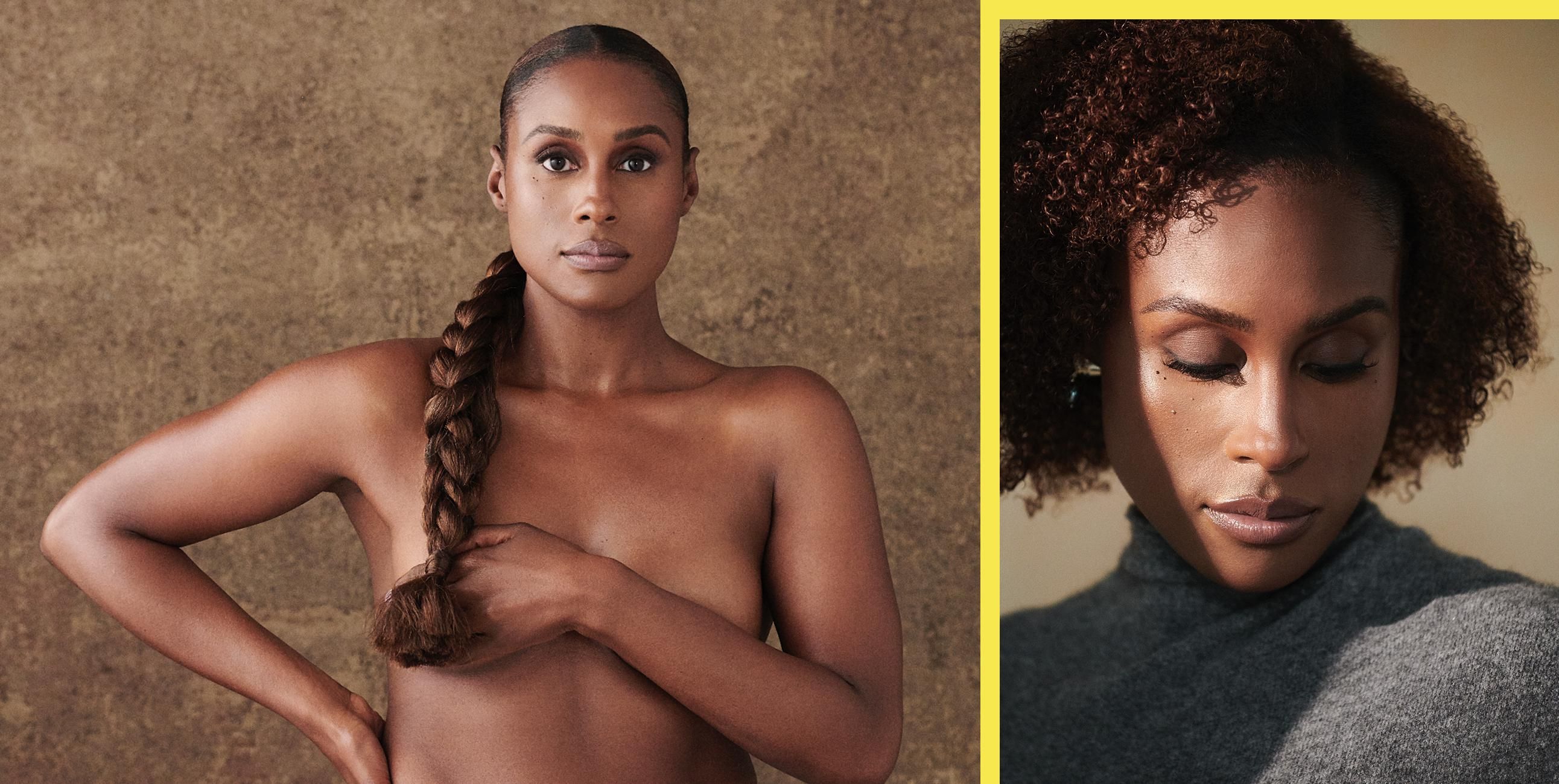 (Right) Dress: Proenza Schouler; Earrings: Lady Grey
I want to do things that I can't stop thinking about. Things that keep me up at night. That means saying 'no' to things that I don't think are destined to be classics."
In 2011, Issa created and starred as the lead in Awkward Black Girl, a YouTube series that was a breakout hit, winning the Best Web Series award at the 2012 Shorty Awards, an awards show recognizing short-form content on social media, and propelling Issa towards Hollywood, sidestepping the traditional gatekeepers. Two years after the premiere, HBO came calling. Before Awkward Black Girl, Issa created Fly Guys Present the 'F' Word, a 2009 YouTube series that followed the lives of a group of budding rappers; and before that, there was Dorm Diaries, a 2007 web series she shared on Facebook about being a Black student at Stanford University, where she majored in African and African-American studies. "I went up there during admit weekend and everyone was so beautiful and nice," says Issa when I ask her why she chose Stanford. "But then I saw this fine Black dude walk in with a bomber jacket and I was sold." She also considered NYU (she didn't like the lack of a traditional campus) and Columbia (the Black students told her not to come). I laugh, telling her that I went to Barnard College, so my experience was a little different; I had a great time in college, but I can't speak for the kids across the street.
There's also the fact that not everybody at Stanford was trying to make it in the entertainment industry. "You know, it was a bunch of smart kids trying to be doctors and lawyers," says Issa, "Basically, what I mean is that the video camera in the library was always there. It just gave me the opportunity to stand out in a way that I don't think I would've elsewhere."
It's a bit ironic now that Issa got her start on the internet given how much she avoids it today. But that was before the algorithms had such a stronghold over what we saw online. When people were streaming Awkward Black Girl, there was still a sense of discovery and surprise where you could still stumble across a web show and feel like you were a part of a larger community.
That community element, specifically the audience live-tweeting while watching Insecure and continuing the conversation after the episode ends, has created an online forum that has played a role in the show's success. Issa and her co-stars participate as well, sending off tweets filled with their thoughts and musings during the episodes. But, as she's stated in previous interviews, it's both a blessing and a curse to have so many people feel as if they have ownership over the show. There's this idea that a show, or a movie, about people, who happen to be Black, has to represent and reflect the experience of all Black people and that one's individual experience can stand in the place for a collective one. Issa wasn't interested in presenting a "respectable" narrative to audiences. "Like, give me a fucking break. This show isn't about all Black women, it's very specific to the experiences of me and my friends. So, don't put that shit on me and claim that I'm 'airing dirty laundry,'" she says. "What do you want to see? Something perfect? That made me want to double down and show the ugly parts, the messy parts, and everything in between. I've seen so many different ways of being Black. We're limitless in that way."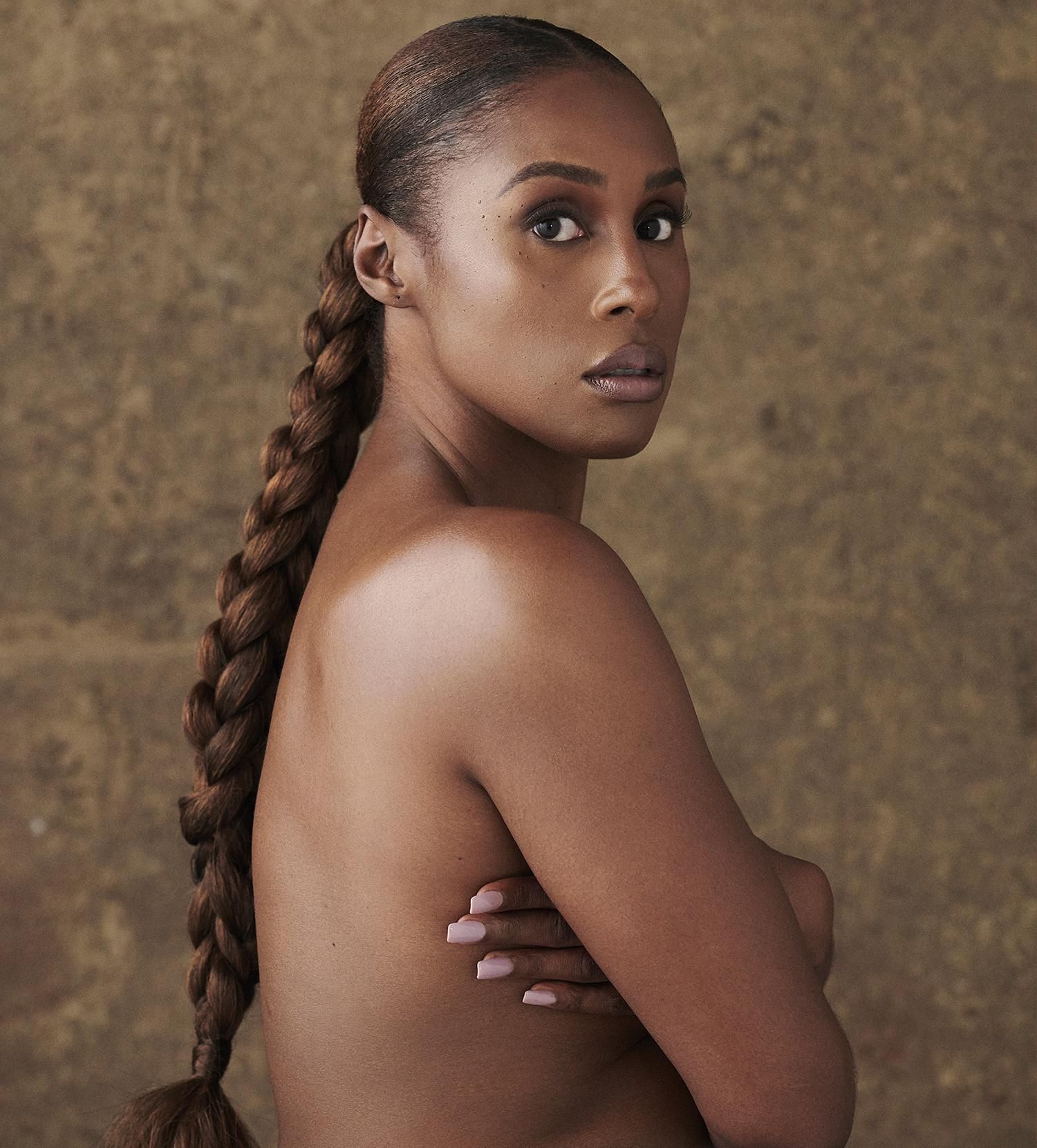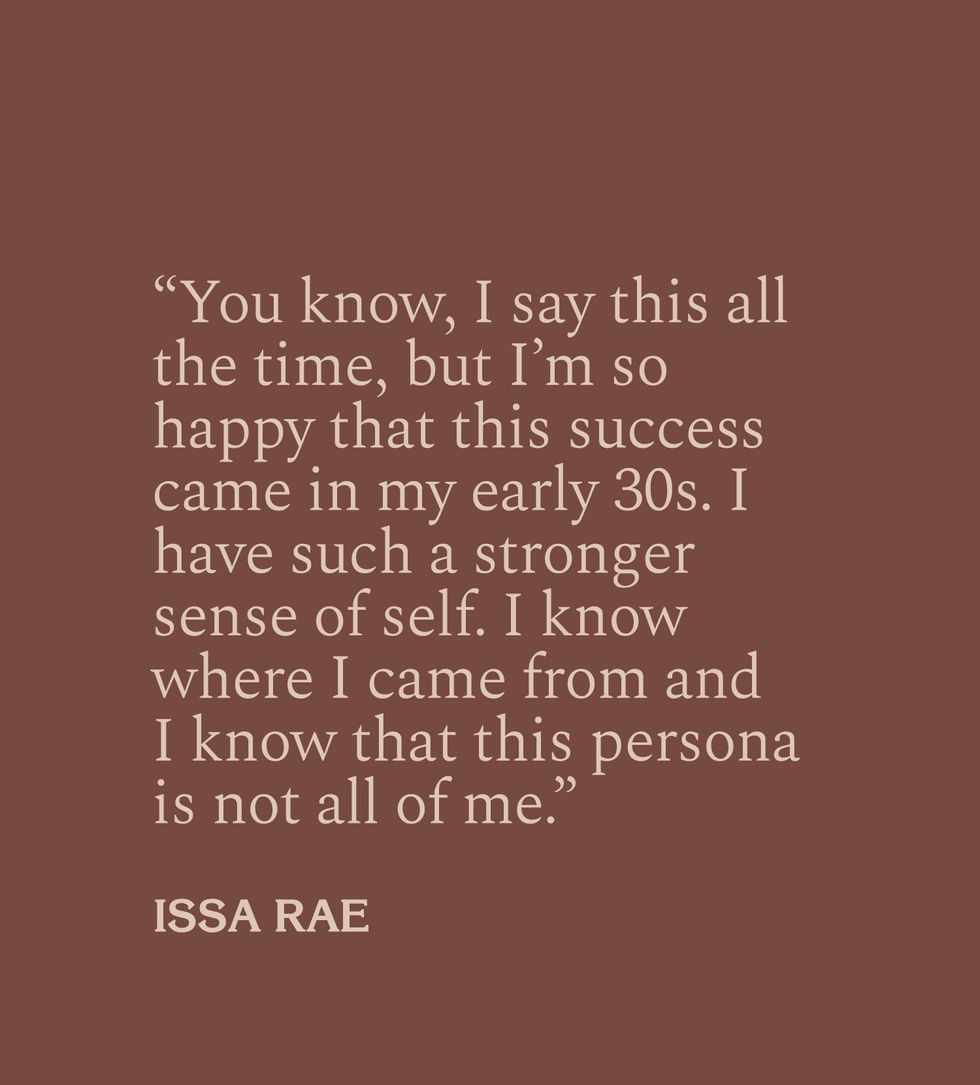 The first time Issa sat in a live studio audience was during a taping of the television show Moesha, where she was able to get her hands on a script, giving her a template for TV writing. "I wore that script out," she says, laughing. "I was able to study a three-act structure, even though I didn't know what it was called at the time, and it made the idea of writing for TV feel accessible to me." But it was the movie, Love and Basketball, that made her believe that the stories she wanted to tell were worth telling. "That was the first time I saw a coming of age story that focused on Black people falling in love," she says. "I devoured every piece of behind the scenes content, I listened to the director's commentary. I just fell in love with everything about the movie and it reflected the stories that I wanted to tell."
That sense of slight obsession still drives her creative instincts to this day. "I want to do things that I can't stop thinking about. Things that keep me up at night," she says over email a few days after the photoshoot. "That means saying 'no' to things that I don't think are destined to be classics."
Insecure is a show centered on the friendship of Issa Dee and Molly Carter (played by Orji) that doesn't focus on the trauma of racism; not because it doesn't exist, but because the character's lives aren't centered on this external force. It's background noise—there are moments where you realize that a sound is playing, but, for the most part, as you navigate your day to day life, you tune it out.
Being amongst the first can be difficult terrain to navigate. But as one of the first Black women to create and star in a primetime cable television show, Issa Rae has brought her entire self into this space; she has shifted narratives and put substantial effort toward changing an industry that has kept people like her on the outside for so long. Though Issa has barely scratched the surface in terms of what she wants to accomplish (what Capricorn has?), the show has not only impacted the course of her career, but it has left its mark on audiences as well. As it nears the end of its run, reflecting on the past five seasons, one can see why it is tough for fans to say goodbye. For many, Insecure has been a game changing television show. Some may even call it legacy-defining.
First Photo Assistant: Scott Turner; Second Photo Assistant: Carolin Schild; Digital Tech: John Cizmas; Hair Assistant: Janine Randall; Stylist Assistants: Shameelah Hicks and Reginald Reisman
Want more stories like this?
Natasha Rothwell Is Ready for Her Close-Up
This Collage Artist Is Rewriting the Rules of Representation
Styling without Boundaries: Understanding the Influence of Law Roach