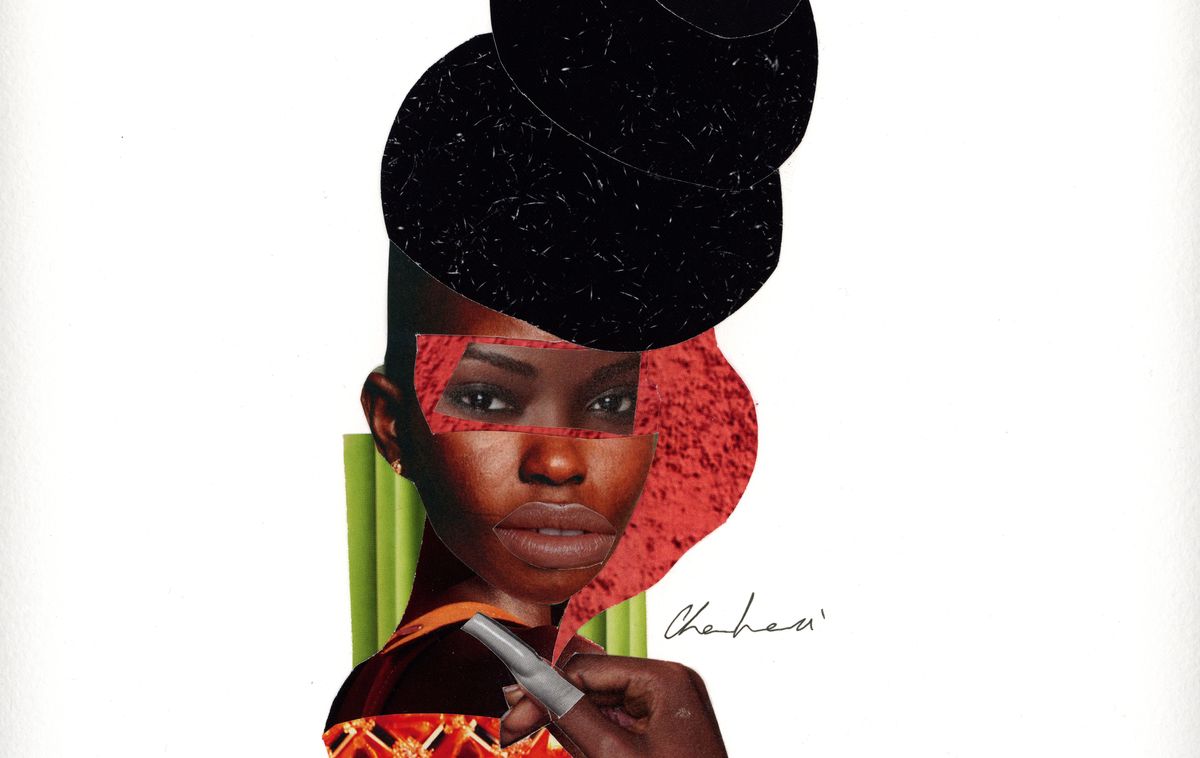 Culture
This Collage Artist Is Rewriting the Rules of Representation
On Chantel Walkes' canvas, Black women are the protagonists.
In a literal sense, producing a collage is surgical. Beyond the obvious parallels of cutting into people—their images, in this case—Kenyan collage artist Wangechi Mutu posited that both the medium and medical practice are solutions to problems. In a 2015 interview, Mutu elaborated that the act of cutting images for collage is her way of "destroying a certain set of hierarchies that I don't believe in," she said. "The process of combining the manmade, magazine-printed version of the world is my translation of that. It's my way of putting my mark on that."
For Black women, representation often involves an asterisk. Like when Solange's braids were edited out of a 2017 magazine cover. Or when a beauty brand's complexion products still fail to acknowledge deeper hues. The prevalence of stories like these makes artists centering Black women in their work radical and vital. As Mutu put it, creating from and for Black women's perspectives is simultaneously "questioning and resolving the issue of our invisibility."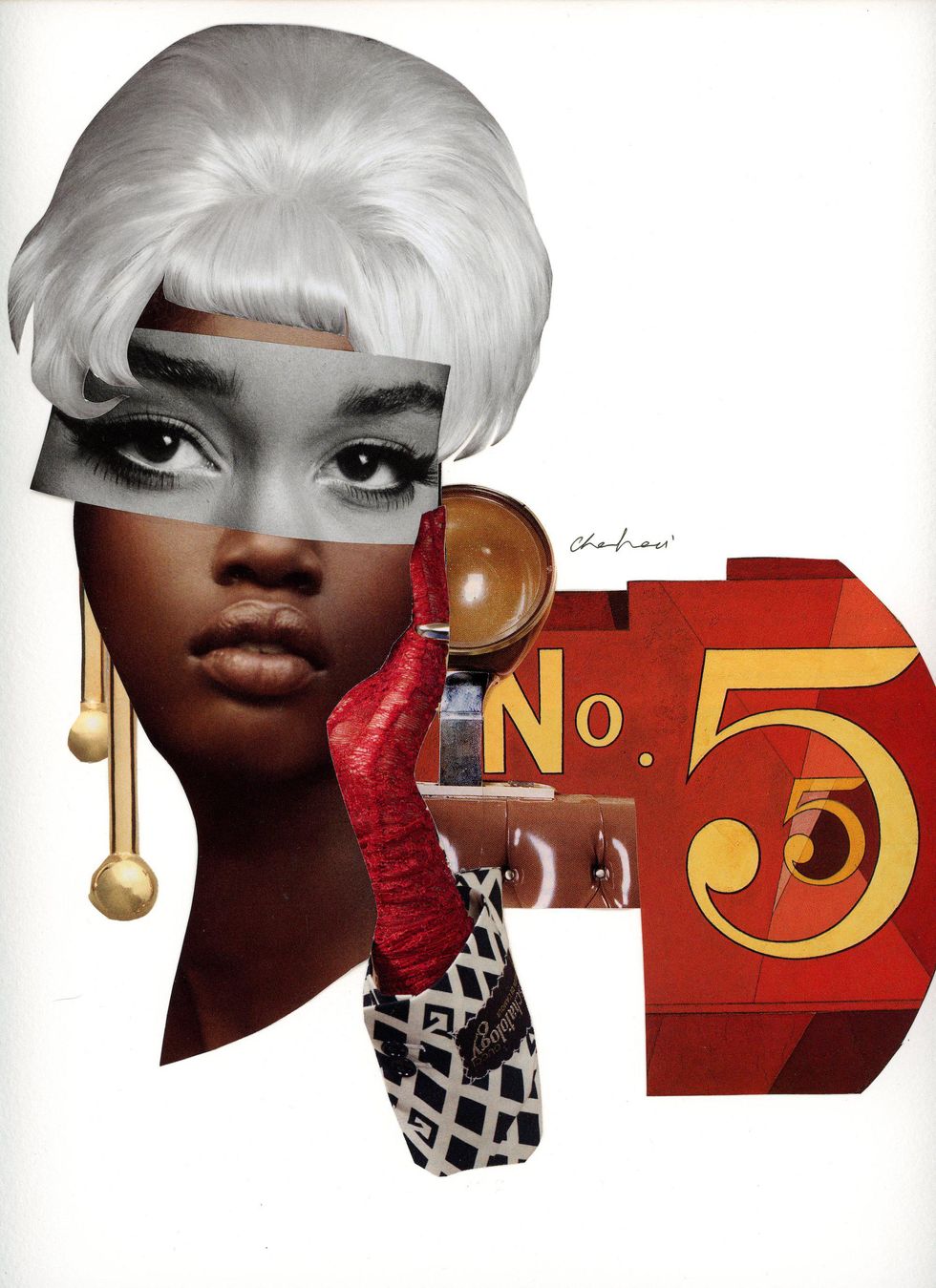 In the same spirit of artists like Mutu, Mickalene Thomas, and Lorna Simpson, Toronto-born, New York-based multimedia artist Chantel Walkes' collages are a celebration of Black beauty. Her creations have a striking active tense to them—animated expressions, hair cut into abstract bouffants, and the blending of past and present beauty trends. On Walkes' canvas, Black women are the complicated protagonists, untethered from the conventional representations of Afro-diasporic beauty and free to take center stage.
Walkes says that the retro references and Black focus derive from what she did and didn't see on-screen growing up. "My mom and I used to watch a lot of black and white movies and old '80s shows, so those images have always stuck with me," she explains. "But what stuck with me most was the lack of Black representation. I'm bringing that [era] back as a positive memory, but I'm amplifying it by inserting what I would have wanted to see; what I would have wanted my mom to see. I'm sure that if she had that viewpoint, she would have had a lot more confidence today." She views her work as "an ode to what was already there, transposed into today's context."
The extravagance of Black beauty in Walkes' collages aligns with her predecessors. In the forward for Lorna Simpson's 2018 compilation, Lorna Simpson Collages, poet Elizabeth Alexander likens Black women's hair to "galaxies unto themselves, solar systems, moonscapes, volcanic interiors." Bringing these looks to life is Walkes' favorite part of the process, made evident by the abundance of high buns and asymmetrical beehives. As such, her most frequently referenced era is the '60s. "I love the hair shapes (from this decade). They're so dramatic. I love the cuts of the clothing, the winged eyeliner, the extravagant eyelashes, the colored eyeshadow."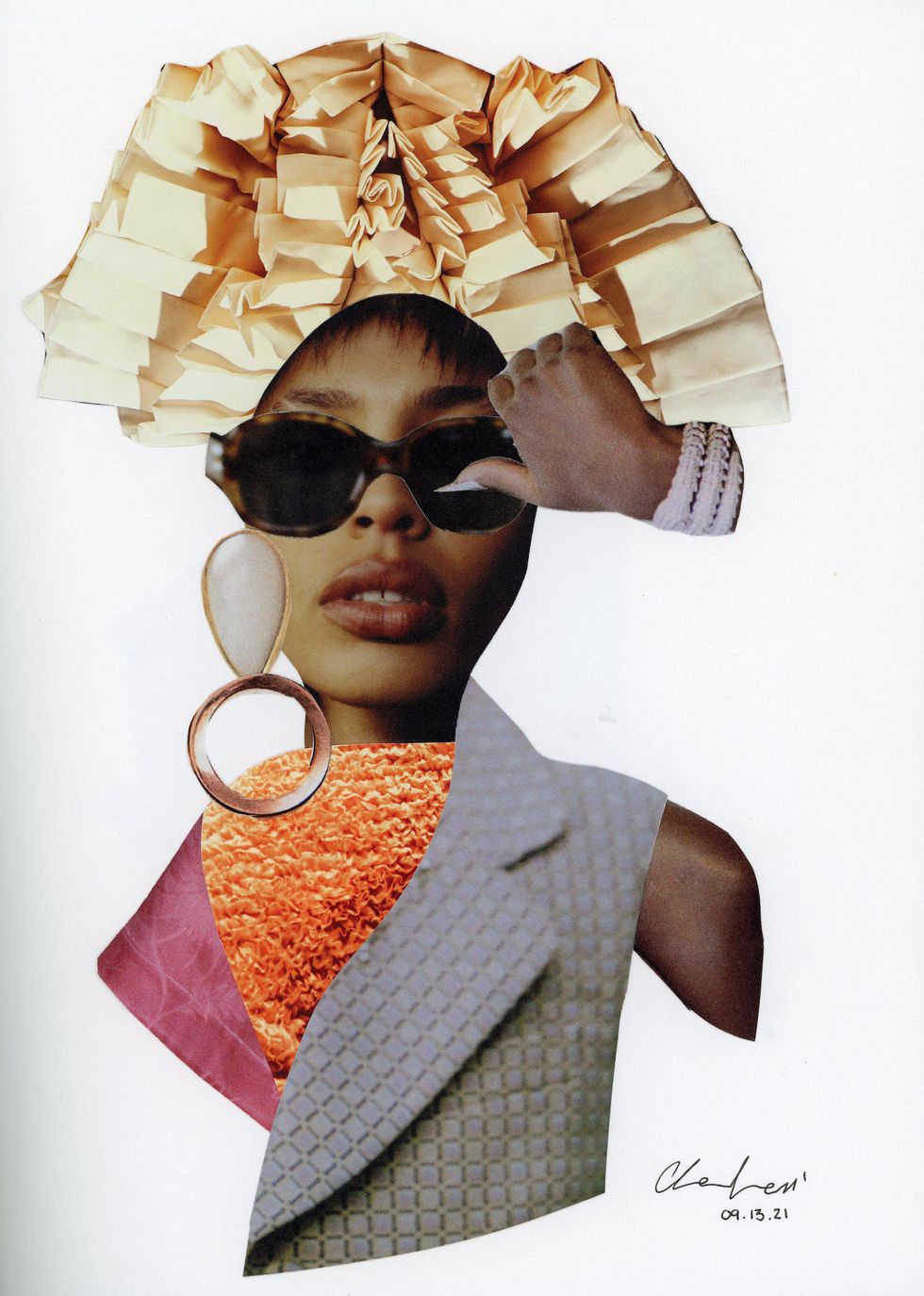 For Walkes, previous explorations with painting and photography didn't have such an emphasis on hair. "When I was painting, I never painted hair—I just did faces. When I started collaging, it felt like it was missing something, so the hair became the finishing piece for me. I'll assemble everything and when I pick the hair, it's a moment."
Although hair is her personal favorite, she places great importance on her subjects' skin, too. "Black is so beautiful and I do my best to make sure that I amplify darker skin tones because I acknowledge my privilege being lighter-skinned," she explains. "Darker-skinned women are always a priority in my work and that alone is the beauty."
The composite creations have an otherworldly, futuristic quality that is still innately tied to the past, with images sourced from Walkes' personal photography archives, vintage magazine collection, and found textiles. Black women have established a legacy of using collage to juxtapose eras and interrogate their underrepresentation in media. For Mutu, this was bred out of her reexploring her favourite films and shows, then asking herself, "Where am I in this story that I've been obsessed with for fifteen years?"
Walkes' tone shifted as she described feeling underrepresented in galleries. "I didn't see a lot of art that was elevating Black women in particular," she recalls. Mirroring the active tense of her work, by placing Black women as the focal point in each of her pieces she's following in the tradition of Black female artists proactively creating the representation that they wished to see. With each image, she's immortalizing Black facial features, beauty innovations, and hair, striking the perfect balance between depth and levity. "I didn't want trauma to be the focus," she said. "I wanted the focus to be joy, confidence, and resilience."