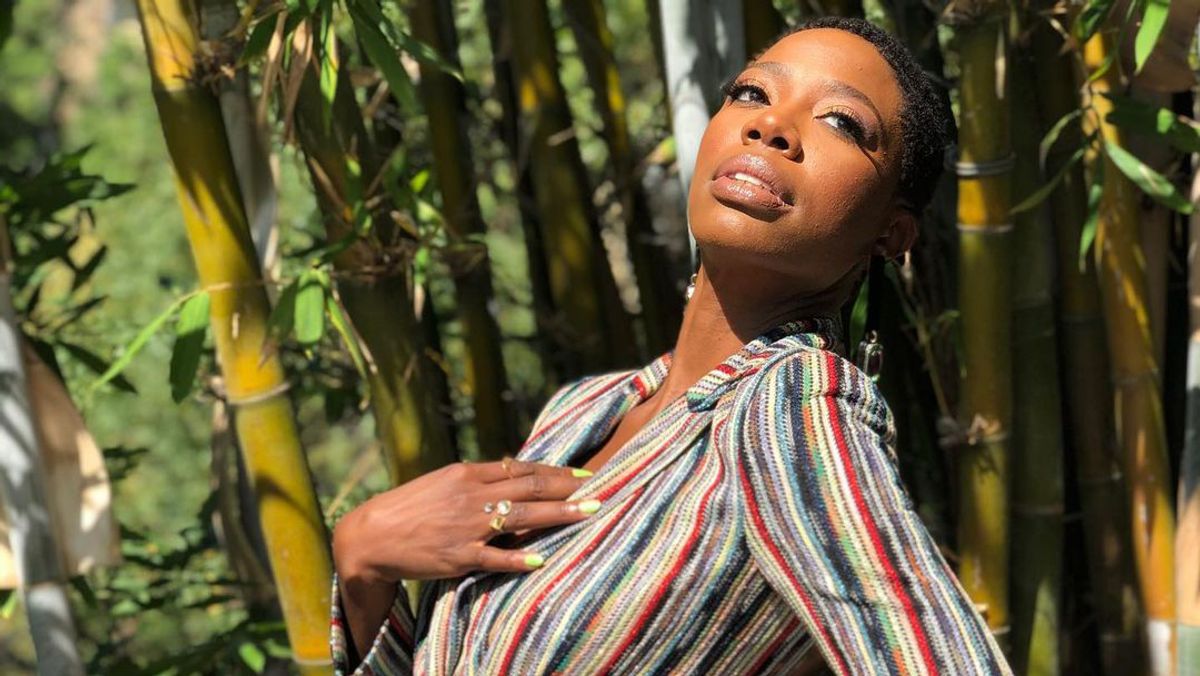 Celebrity
The Momma, I Made It comedian on colorism in the TV and film industry, and why she included her Nigerian heritage in her comedy special.
To say that
Yvonne Orji
was everything I expected her to be would be an undersell. Between the vibrant personality displayed onstage during her HBO special and her depiction as the diligent and jovial Molly Carter from
Insecure
,
Orji
is a character all her own, and our 33-minute phone conversation proved exactly that.
"I was definitely chilling in a video conference, but reading is fundamental," Orji laughed as she explained that she thought our interview was initially set to be a video call. I wish. After she thanked me for my time, as I did her, she gave me a brief disclosure. "You might hear me munching, but I'll try to minimize it. I've had back-to-back calls since 11:00 AM, so I'm like, what is happening?" Little did she know, I had quickly scarfed down a whole turkey, bacon, egg, and cheese on a croissant from Dunkin Donuts on-camera during my last Zoom meeting.
Per my interview ritual, I asked Orji how her mental health was doing during this crazy time, and she was both appreciative of and relieved by my query. "That's so amazing that you ask that because on Instagram, they'll say to check on your strong friends, but that's real because even your strongest of friends have those moments." She's been using all the apps from Calm and Shine to Insight Timer to balance her mental wellness practices, and I was glad to hear that she was doing well, especially considering how busy she must be and how crazy our world is at its core.
"What I love about Black History Month is that it's expanded from just being the things you learn about in school like Martin Luther King Jr. and Rosa Parks. Yes, they are part of our history, but people are making Black history every year," she said as she listed Vice President Kamala Harris, former inaugural poet Amanda Gorman, and my Spelman College alumna sister Rosalind Brewer for being tapped as the new CEO of Walgreens, during which time she will be the only Black female Fortune 500 CEO. While Orji recognizes the powerful leaders in the Black community whom she deems "unsung heroes," she finds it disappointing that we continue to question whether or not we're making history.
She continued passionately, "People wonder why we're fighting for Black lives to matter, why we're fighting for a seat at the table or to build our own table or rooms. We're still having 'first Black' to fill in the blanks? Come on, son. That's a real thing and that's also a real problem." I agreed with everything she was saying about the fact that we've come so far, yet we've got so far to go. But the fact that she said "son" made my inner Bed-Stuy girl go apeshit.
---
Throughout her years in the public eye, Orji has always been proud of her Nigerian heritage. She wears her culture bred from Port Harcourt, Nigeria, with excellence and continues to express her dual nationality with pride as a Nigerian-American and as a Black woman. "I know that I am benefiting off of Black Americans who have fought for the luxuries that myself and other people enjoy," she started before she explained how she views Blackness on various levels.

Orji's HBO comedy special Momma, I Made It was an in-depth juxtaposition between her life onstage as a hilarious comedian and her life with her family back in Nigeria as she tells humorous anecdotes about what her Nigerian-American culture means to her. It was "truly [her] heart and joy," she told me with honor for her own work. At a packed Howard Theatre, which was only fitting seeing as though she moved from Nigeria to Maryland when she was six years old, Orji talked about her strict, traditional home life, dating, and moving from a track in pre-med to pursuing comedy full-time.

"As I was preparing for this special, I knew and I was like, 'Yo, I have to have my parents be a part of this.' It was a thank-you, a kiss, a hug to them and all the sacrifices," Orji said. As she moves through candid moments with her parents in Lagos, Nigeria, we get a genuine glimpse of her loving and genuine relationship with her mother and father, who is an Igbo chief, as well as other friends and family. "As long as I still have parents on this earth, I want to honor them in this way, and that was really the motivation of being like, 'Let's go to Nigeria.'

"It was the beautiful byproduct of what I was really trying to do, which was to honor this part of me that helped create all of me. When I go back home, I see Blackness and all of its beauty. It's Blackity Black Black Blackity Black Black," she said. Orji particularly loves when fans tell her that they felt at home or more connected to her personal journey when they watched her special get hilariously interrupted by unscripted, priceless moments with her folks. "Sometimes the things that you intrinsically normalize, you almost take it for granted. People who saw Africa, or at least Nigeria, from the lens that I portrayed, it allowed me to see home in a new way because it's so familiar to me, but I was able to see home through the lens of so many people who haven't seen that version of home. It reinstated in me my love for both of my homes."

Moving on to more blackity-black-black-type conversation, I couldn't go any further without congratulating the 37-year-old actress for her NAACP Image Award nod for Outstanding Variety Series/Special. For her comedy special debut to pull in a nomination the following year from one of the most regarded awards shows in the Black community is huge—and it does not go unnoticed. "For the special to be nominated in the category that included Beyoncé, Will Smith, and Dave Chappelle, I was like, 'Look at God! Momma, I done made it!'" she said.


Ironically, the NAACP Image Award nominations were announced the same week as the Golden Globes. If you know, you know, but if you don't, let's just say a little something was missing—color. Like myself, the
Night School
actress wondered if they possibly missed the memo on "all of the beautiful brown content that was created." While she does agree that the handful of Black Golden Globe nominees were well deserved and does not take away from any of their accomplishments, Orji took notice of the "glaring difference" between the two days.
"In Hollywood, there's a lot of chatter about certain awards and how they're delineated. We can say it doesn't matter, we're doing it for the culture, we're doing this for the love, and all of that is true, but also there are certain things that come with certain nominations," Orji revealed. Evidently, certain networks will give you bonuses if you're given a Golden Globe, Emmy, or SAG Award. There's a payoff for these awards, but not the NAACP Image Awards? Cue the "More You Know" shooting star.
"All award shows have their problematic natures about them, but when will that playing field be leveled? Who says that this award show is worth more than this one, or this one's just not worth anything at all monetarily? That's a problem," Orji informed me. On the topic of awards shows, I had to fangirl for a second about her role as Molly Carter on
Insecure
, for which she was nominated for an Emmy back in 2020. Unfortunately, while the show is filming its fifth and final season, this was no time to weep. I wanted to celebrate her contribution to the show and Black culture through her depiction of a relatable, frustrating, headstrong, loving character such as Molly.
"What we're doing with
Insecure
is showing that you could be fully evolved and flawed, and have it together in one way and improve in other ways. Now people don't have to explain what code switching is because you see Molly do it. She's a corporate lawyer and she has to play the game," she spoke on her character. She also praised Y'lan Noel's character Daniel for his vulnerability as a hardworking Black man in the music industry, especially when it's not normalized to express emotions.
"Low-key, high-key—I'm spoiled. When you get to make such dope Black content that speaks to a very dynamic group of people, Jay [Ellis] and I were talking to
Issa [Rae]
and were like, 'Fam, what're we gonna do next?' The next thing I do can't be fluff, not when we just had five seasons of pushing the envelope and telling meaningful stories. There has to be more of this," she said excitedly. Unfortunately, as Black women, we've come very far when it comes to representing Black culture on-screen, that doesn't mean that the work is over.
Colorism was up next on our topic of discussion, and as a chocolate Black woman, I wanted to gauge her thoughts on the industry at large when it comes to this difficult yet necessary talking point. Orji addressed the entertainment industry from the inside, starting with casting directors who may or may not understand what they're doing in the sense of putting together a certain cast. She introduced to me the archetype of the "safe Black," which she defined as "Oh, she looks like she would be friends with this white person," or "she looks like she would fit in better with this group" type of gal.
"That 'she' that looks like that is either the light skin with the curly hair or whatever their vision of what looks like they would match this concocted group of people. We've seen it with shows like
Friends
and you're like, 'So there's no Black people in all of New York? None? OK, cool.'
Seinfield
, and
Sex and the City
. What city are you all in? You've seen it in so many shows where if they do have a Black person, it's one, or they look like
X
," she explained.
As a result of her experiences as an actress, comedian, and entertainer, Orji wants to break the mold. She began to laugh as she shared stories with me about when she would go to the comedy club in the beginning of her career and weirdly enough, people would assume she would be a singer or spoken-word artist. She responded, "At a comedy show? No, I'm definitely here to do comedy." As a beautiful, slender Black woman, people found it hard to believe that she was funny. "We know funny as the overweight Black woman who's gonna be loud or the 'hood' Black chick," Orji described.
In addition to being a star in front of the camera, Orji is also the woman behind the pen for her latest venture as an author. In
Bamboozled by Jesus: How God Tricked Me Into the Life of My Dreams
, which will be available in May, Orji spills all the tea about her road to success while conquering the twists, turns, and tribulations of life in a modern-day biblical-formatted blueprint. Almost as though god wrote it himself, but if god were Yvonne and the bible was her life.
"You know it had to be god because nothing in me was like, 'You know what I wanna do for six months? Not work and focus on writing this book every single daggone day.' That was definitely Jesus saying, 'Go head and write this book,'" she chuckled.
Throughout the book, Orji takes us on a journey throughout her experiences that ultimately demonstrate that there are no accidents and everything falls in place when necessary. "I talk about these moments of being bamboozled and what to do within these different seasons of bamboozlement to where you get to the point where you're booked, blessed, and busy." I receive all of it.
Thankfully, she was in a beautiful space of stillness to be able to create this guide perfect for people who are perfecting the craft of the pivot while life hits us with a pandemic, rioters storming the US Capitol, and our brothers and sisters being killed. Sometimes chasing after our dreams is what's keeping us going and gives us something to hope for. "At times, following a god-fed dream can feel like you're getting bamboozled. It can feel like god is playing tricks on you and we're not here for the games, but what I do know is that it's all for the preparation. When you get to the other side, you'll see how every piece of the puzzle is being laid out," Orji continued as she shared her own come-up in the industry as an example of growth, progress, and patience.
Fast-forward nearly seven years later, Orji has been announced to develop a Disney+ comedy series titled
First Gen
alongside David Oyelowo and Oprah Winfrey as executive producers. The semi-autobiographical series is a half-hour show based on Orji's personal life experience as a Nigerian immigrant coming to America who tries to maintain balance between honoring her parents and Nigerian culture while integrating herself into the American lifestyle.
"I started working on that back in 2014. In 2014 I wanted to go. In 2015 I wanted to go, but god was like, 'I'm still preparing you. I'm still preparing it. There's things you need to say in this project that you can't yet.' Then 
Insecure
 announced for its final season the same day it's announced that Disney+ picks up my show. That's not a coincidence."
Yvonne Orji, you deserve all the things.
Top photo: Courtesy of Instagram/@yvonneorji
Want more stories like this?
Naomi Osaka Beyond the Tennis Court: Style, Wellness Rituals, & More
The Tea on Taraji P. Henson: She Is Exactly Who You Think She Is
Keke Palmer Shows Us How to Be a Little More Glowy