Insecure's Yvonne Orji Never Lets a Makeup Artist Touch This Part of Her Face
And other things we learned while getting ready with the rising comedy star.
Celebrity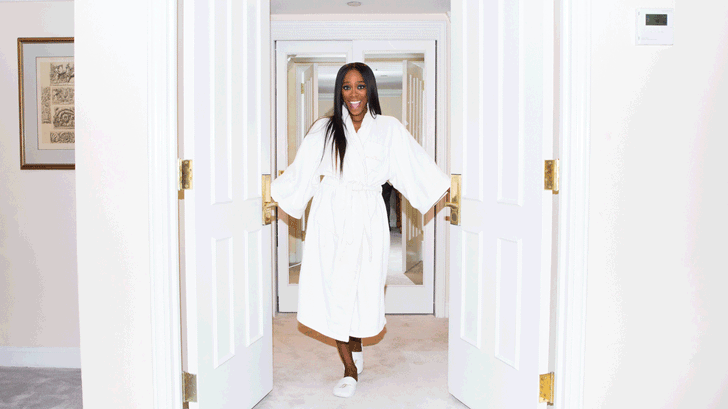 Imagine that it's hours before your sold-out stand-up show at legendary NYC comedy club Carolines on Broadway, and you're in a sizeable, comfy hotel room with one of your closest friends; your makeup artist has just given you a smoky eye worthy of a magazine cover, and your hair is so shiny that the writer there to interview you swears she can see her reflection in it. You're smiling, right? Probably beaming, actually—just as Yvonne Orji was when she welcomed us into that exact setup.
Orji is known to throngs of television viewers for playing Molly Carter on HBO's Insecure—a successful lawyer who is far less successful when it comes to matters of the heart. But tonight, in the hotel, she's Yvonne—the Maryland-raised daughter of Nigerian immigrants who shelved her parents' dream that she'd become a doctor for her own of pursuing comedy and acting.
Throughout the evening, Orji sings the praises of her hairstylist (she jokes that they "go together"), tells us about her favorite pre-show snacks (bananas, almonds, and lemon-pepper wings fried hard), and rattles off her most cherished beauty products (Black Up lip pencils and Inglot blush both make the cut). For the most part, she's all smiles and laughs and hand gestures, and when we ask her how someone who, over the course of six days, will perform five stand-up shows in NYC, fly home to L.A. for the Golden Globes, and fly back to NYC for a friend's birthday has so much energy, she replies glowingly, "Just Jesus!"
When the conversation turns to what it means to see her name in lights, though, her mood calms and the room gets quiet. "I remember when I used to walk by Carolines and not even know if I'd be good enough to open [there] one day," she says, reflecting on the time she spent living in NYC early in her career. "So to come and not only headline, but all my shows are sold out? Like, what? It's crazy… I'm trying not to cry now."
Orji composed herself, looked in a mirror to make sure her makeup was OK, then went back to making us all laugh.
Click through for more on Orji's pre-show getting-ready process, a look at how she organizes her jokes, and her strong stance on only wearing matte lipstick.
---
1/11
"[My stylist]
Niki
revives my hair. I was in West Africa for two and a half weeks, and we were texting, and she's like, 'What's up? What style do you want?' And I'm like, 'Girl, I need
everything
. I need a rejuvenation—I might need a new scalp!'"