Natasha Rothwell Is Ready for Her Close-Up
The actress, writer, director, and producer reflects on her past and gives us a glimpse into her future.
Celebrity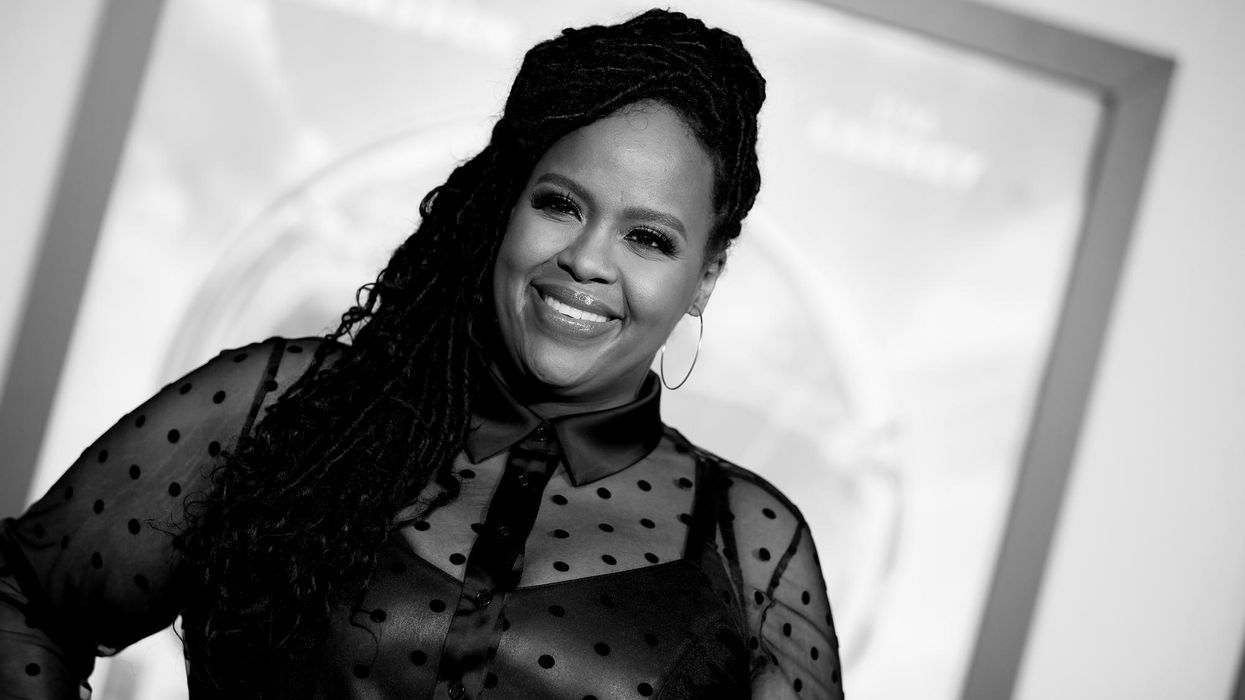 When I ask Natasha Rothwell what middle school was like for her, she responds, "Which one?" Her dad's military job took the family from one air force base to the next in states across the eastern United States. Natasha attended two elementary schools, two middle schools, and two high schools. Change became the only fixed aspect in her life.
It was in middle school where Natasha realized the power of reinvention. On the first day at her second middle school in Okaloosa County, Florida, she showed up bright-eyed, wearing a purple tracksuit with mismatched pink and purple socks and white Keds. "I realized that the fashion that works in Illinois, where I used to live, didn't work in Florida," says Rothwell. We're inside the gilded halls of La Grande Boucherie in Midtown Manhattan, beneath the restaurant's hanging chandeliers, and enveloped by tropical greenery. She's holding a Le Diablo, the spicy mezcal and grapefruit drink we both ordered. "No one wore purple tracksuits there." It was a lightbulb moment for Natasha: "I realized I can try something, see what would hit and what would miss, then recalibrate."
A notable slip-up occurred as a sophomore at Westlake High School, when she moved from Florida to Waldorf, Maryland. "I said something like, 'What are we fixin' to do this weekend?' and everyone turned and said, 'Fixin'?? Oh, she's country country.'" This performance of self involved a great deal of trial and error, but Natasha would crack the code by the time spring morphed into summer. "By the end of the year, I had it figured out. I fit in."
Natasha's entering yet another season of reinvention. Insecure's fifth and final season is currently airing on HBO and Natasha's reign as Kelli Prenny is nearing an end. "The thing is that being good at goodbyes doesn't make them easier," Natasha says, her gaze fixed on a Bird of Paradise plant nestled between two tables to our right before dancing back to meet mine. "Those goodbyes can be made that much harder when you love a person or a place or an experience. Insecure changed my life in ways that I'm still processing."
There's an undercurrent of the excitement that comes along with new beginnings intertwined with the glumness of this goodbye. "I'm excited to show people what else I can do," says Natasha. "I stepped behind the camera for the first time this season to direct. Watch out, episode 506." After writing last season's eighth episode—the one where Issa and Lawrence reunite—Natasha non-committedly mentioned to Issa Rae that she wanted to direct. "I kinda didn't want to go for it," she says, laughing. "I didn't want to miss out on anything. It was the final season! No one joins the swim team their senior year."
When Issa pulled her aside while they were filming this season and told her she was ready to direct, Natasha burst into tears.
Shortly thereafter, Natasha went into research mode. "I wasn't nervous about directing them," says Natasha, referring to her co-stars. "I just wanted to earn their respect because it's not assumed that just because I'm in the family that I would automatically receive that." So she reached out to Patty Jenkins, the director of
Wonder Woman
for advice. "I asked her to give me the inside baseball tips and tricks as a female director. I was having a bit of imposter's syndrome and asking myself, 'Do I belong in this space?'" Natasha tells me. "I didn't want to be on set and not know the correct terminology for different things. And Patty goes, 'Fuck the vocabulary. Look at the monitor and study the frame. Is it telling the story you want it to tell?'"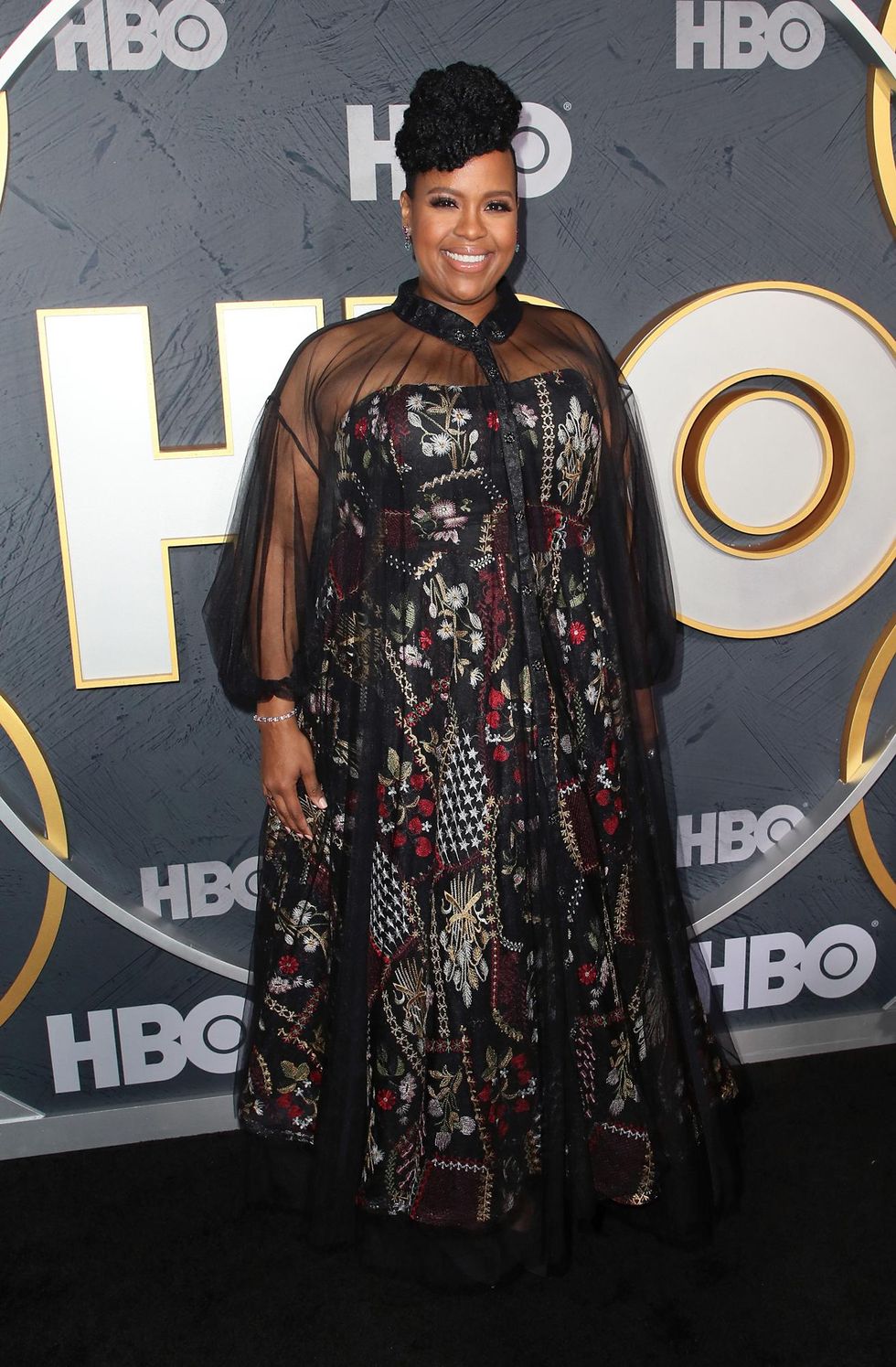 Photo: Getty
When a childhood is spent working to gain approval from a group of new people every two years, a schism occurs—what part of the performance is you? What percentage of it is you playing the role that others cast you in?
"I'd convinced myself that my parents would be horrified that their daughter was going to get a theater degree," says Natasha, explaining why she'd initially majored in journalism. But while watching a production of House of Blues, a sign in the form of the Langston Hughes poem "A Dream Deferred," forced her to course-correct her life. "I was just sitting in the audience thinking, 'I'm not doing what I'm supposed to be doing.'" She called her parents—who'd been confused as to why she didn't major in theater in the first place—and transferred to the University of Maryland where she received a full creative and performing arts scholarship. Natasha's dad's job was the catalyst for every relocation; college was the first time she moved because it was her decision. "It was there where I chose who I wanted to be versus letting other people choose for me."
Graduating amidst a global recession pushed Natasha toward a job as a high school teacher in the Bronx. "It was truly some of the most satisfying work I've ever done," says Natasha, sincerity reverberating through the sentence. "You're surrounded by all these Black and brown babies, some who weren't excited about their regular academic subjects, but then they'd come to me and just light up." Natasha taught from 7AM to 3PM; from 5PM to 11PM, she performed at Upright Citizens Brigade, an improv and sketch comedy group based in New York City. By the time four years passed, Natasha turned down countless opportunities because they conflicted with her day job. It was another sign. "That's when I knew it was time to leave," she says. "I found myself telling my students to go chase their dreams, and I thought, 'If I don't do that myself, I'm a hypocrite.'" With her therapist, Jen, holding her hand, Natasha jumped off the cliff. One year and one month to the day she quit her job to pursue comedy full time, Natasha got a phone call—it was SNL. She'd landed a job as a writer.
The in-between period that lasted a little over a year was—to use Natasha's words—rough. "It was like I leaped off the Cliffs of Moher in Ireland, and at first, it's all fog," she says, waving her hands in front of her face. "And then the clouds part, and you realize what you did and you're like, 'Nooooooo!'" Since comedy didn't pay the bills just yet, Natasha had to get inventive. At one point, she clocked 11 different W-2's. She taught workshops at TADA! Youth Theatre, babysat, and helped someone build a website. "I didn't know web stuff," Natasha says with a chuckle. "She'd ask me to do something then I googled how to do it." She continued improv and sketch comedy "I was performing for empty seats. That's how you know you're called to do something," Natasha tells me. "It was tough, but I'm glad I bet on myself."
Faith is Natasha's middle name. She was raised in the church, but her current relationship to religion expands beyond four walls. "It's more about having a larger, spiritual connection with God," she tells me as we walk through the Museum of Modern Art. She spent much of her free time here following the cliff jump. "I was so broke—like putting Apple Jacks [cereal] on a credit card broke, so I'd come here, since it was free for military families and spend the whole day here."
We're on the third floor, moving through the Edward Steichen galleries when we stop in front of a piece by artist Alexander Calder. Before I could turn to ask Natasha what she thinks the artist is trying to say, she speaks. "I love the precariousness of this. At any moment, something could change," she says. "It's like all of these events, all of the things that happen to us, may seem random, but look how beautifully they fit together. It's like it's meant to be."