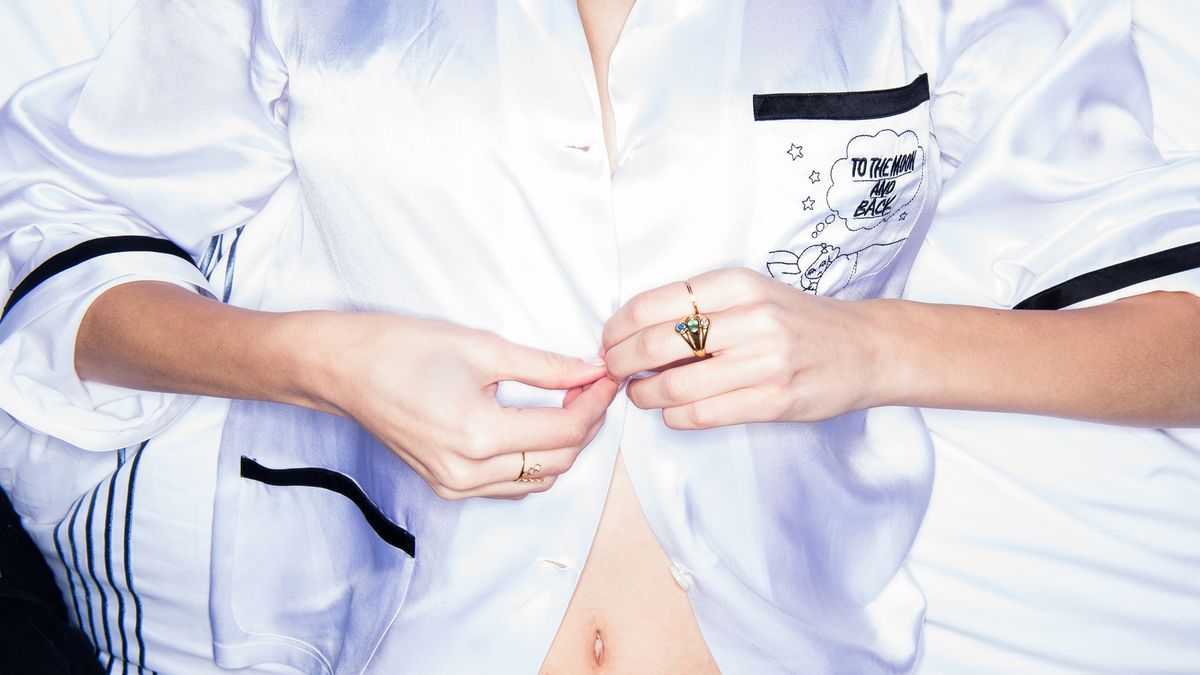 Love And Sex
Is CBD the Answer to More Pleasureable (and Pain-Free) Sex?
Suppositories can be sexy.
*Warning: The following content contains mentions of sexual assault.*
Whether you do it recreationally with
a partner
or with
yourself
, sex and sensuality are an integral part of every individual's life. But as normal and healthy as sex is, it can also be quite painful for some people, especially those with vaginas. Now, we're no strangers to how
CBD
can help a person feel better during their typical day-to-day activities, but in the last few years, the popular cannabinoid has moved beyond tinctures and topicals into the realm of suppositories. So how do they work, and how can they lead to less painful and more pleasurable sex? Here's everything you need to know about CBD suppositories. 
Why Do Some People Have Pain During Sex?
According to the
American College of Obstetricians and Gynecologists
, roughly 75 percent of people with vaginas have experienced pain at least once during sex. That means that more than likely, someone you know or even you are included in that group. Now, the beauty about being human is that we are all unique, yet the downside of that is, unfortunately, there is no singular thing that causes pain in everyone during sex, making it extremely difficult to find a specific solution for you.
K-Y
's Intimacy Educator and host of the recent Quibi show
Sexology,
Shan Boodram
explains, "Dryness, sexual dysfunction (like vaginismus), or lack of foreplay [can all play a part in painful penetrative intercourse]." Other causes of pain during penetrative intercourse can include but are not limited to certain STIs, pelvic floor dysfunction, ovarian cysts, fibroids, and sexual assault trauma. Speaking with your OB/GYN or internist should always be your first step in identifying the source of pain, but if you're looking for new treatment options, CBD can play an integral role if used properly. 
CBD for Minimizing Pain & Increasing Pleasure
Suppositories might not sound like the sexiest thing, but trust us, the data surrounding their effectiveness as a treatment for vaginal pain is significant enough to persuade even the most doubtful to give them a try.
According to a
2017 article
covering the clinical significance of endo-cannabinoids in endometriosis pain management, "CB1 receptors are highly expressed in the uterus" as well as the surrounding tissue in the vagina. When a person inserts a CBD suppository vaginally, it melts from body heat, and CBD binds to these endo-cannabinoid receptors in the uterus and vagina.
Kiana Reeves, Chief Brand Officer at
Foria
, reveals to Coveteur that when CBD binds to endo-cannabinoid receptors in the uterus and surrounding tissues, "CBD helps [to] relax muscle tension, support blood flow, decrease inflammation, and manage pain. Anecdotal evidence abounds from folks who have been shocked and delighted by how helpful it is for enhancing pleasure and easing painful sex."
And this is great for those with PCOS, pelvic floor dysfunction, or any other issues connected with the female reproductive system, as most of these issues are, as Reeves states, "very uncomfortable and exacerbated by inflammation." Since CBD suppositories work to decrease inflammation, "they can help the vagina and uterus return to a state of balance and pave the path to pain-free sex."
Additionally, muscle relaxation
à
la CBD suppositories can help sexual assault survivors who experience post-traumatic stress disorder. According to a
2006 article
that examines sexual assault and its relation to PTSD in people with vaginas, "94 percent of [people with vaginas] experience PTSD symptoms during the first two weeks after an assault." The effects of PTSD can last for as little as a few weeks or as long as decades and can include symptoms like muscle tension, anxiety, and pain during sex. Says Reeves, "[CBD suppositories] can be used for relaxation, as well. CBD suppositories are a great way to promote the muscles' overall relaxation, improve mood, and reduce anxiety." So while they are in no way a cure for pain during sex, CBD suppositories can assuage some of the physical and emotional stress or discomfort, thereby allowing you to focus more on feelings of pleasure.
Reeves adds, "A good CBD suppository can help enhance libido by making sex feel more enjoyable and by lessening (or eliminating) worry about pain during sex as well as the pain itself." Feeling more relaxed, coupled with the increased blood flow, has the potential to help you turn your attention to the big O rather than being clouded by any discomfort.
And why a suppository instead of a plain old oral CBD tincture? Reeves explains, "When taken orally, CBD disperses through the body via the digestive tract. When used vaginally, the concentration of cannabinoids stays fairly localized and targeted—think of it like an OTC pain reliever targeting a specific area of the body." 
Who Should Use It, and When?
The beauty of CBD
is that it is generally safe for anyone and everyone over the age of 18 to ingest or use topically. Reeves mentions that there is no singular dosage perfect for everyone because everyone has different needs.
If you are using CBD suppositories strictly for some between-the-sheets fun, insert one prior to sex. Reeves continues to explain that you can use CBD suppositories for chronic pain even outside the bedroom. Says Reeves, "How often you should use suppositories depends on the occurrence of pain or discomfort. For example, someone with chronic pelvic pain, endometriosis, or ongoing discomfort might want to use CBD suppositories more regularly than a person who is using them strictly for menstrual pain." So in short, do what's right for you and when it's right for you, and be sure to keep an open line of communication with your partner.
---
Foria
Endoca
Palmetto Harmony