This K-Beauty Favorite Is Our Secret to Deeply Hydrated Winter Skin
It can also target sun damage, fine lines, and more.
Skin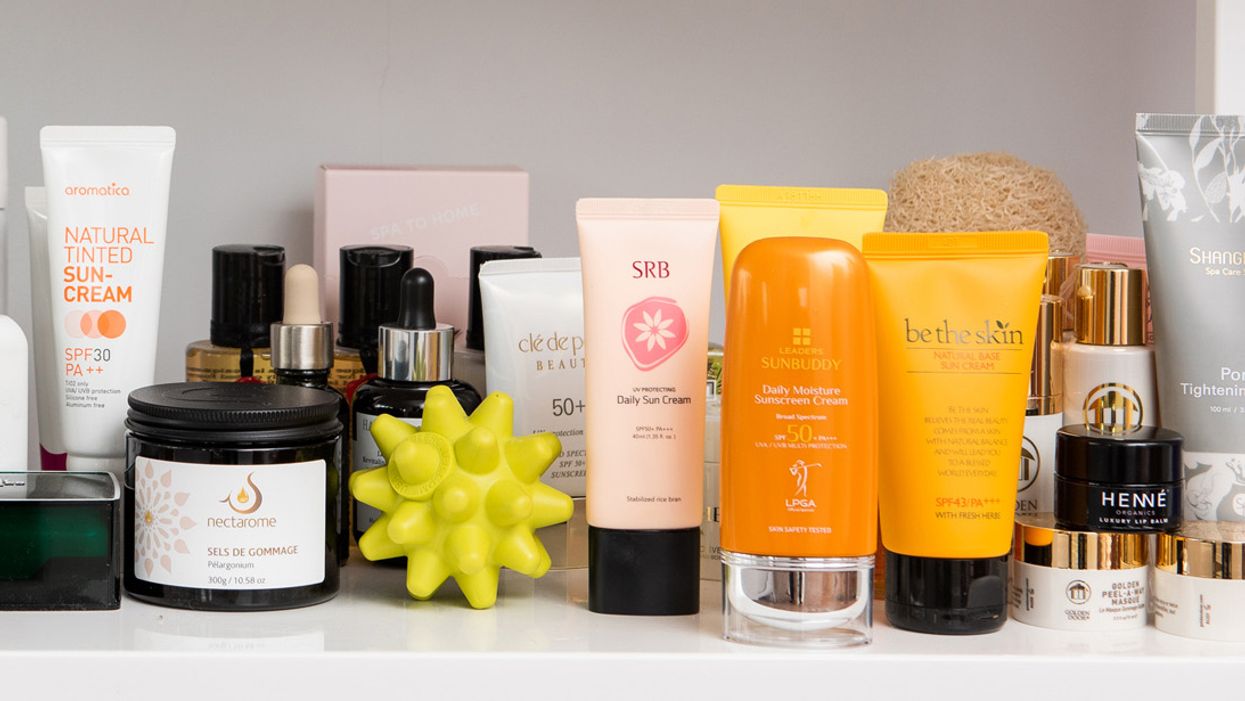 Whether you're looking to prevent fine lines, repair sun damage , or rehydrated desperately dry skin, emulsions can help target a range of skin concerns. The longtime favorite in the K-beauty world is a powerful addition to your skin-care routine, especially in the winter, when frigid temperatures and low humidity have our skin feeling more parched than ever. But what exactly separates an emulsion from our favorite essences and serums ? And can it replace our lotions, creams, and oils altogether?

If you're curious to learn more, we spoke with the experts to learn why this type of product is a worthwhile addition to your skin-care routine.


What Is an Emulsion?
On a chemical level, an emulsion is a mixture of two liquid substances that wouldn't naturally blend on their own. We like to think of them as if a moisturizer had a younger sibling. The main difference is in the weight and texture of the formula. "Emulsions are lightweight, water-based moisturizers that seal in hydration to the skin," says board-certified dermatologist
Dr. Lisa Chipps
. "They vary widely in formulation and active ingredients, and just about any beneficial skin-care active ingredient can be added to an emulsion to address your skin concerns." These can range from
acne-fighting ingredients
like salicylic acid to antioxidants to fight free-radical damage.
Most emulsions on the market today are a combination of oil and water—specifically, oil suspended in water, which is less likely to separate than water suspended in oil. They require an emulsifier to help them stick together and create the end product, which can range from polysorbate 60, cetearyl alcohol, and glyceryl stearate, among others.
"Emulsions tend to be thinner, like a milky toner," explains cosmetic chemist
Ginger King
. Given their lightweight nature, most are also non-comedogenic—which means you won't risk clogging your pores for the sake of hydration—and are absorbed more quickly into the skin for fast-acting hydration.
Who Benefits from Emulsions?
According to New Jersey
–
based dermatologist
Dr. Shari Sperling
, everyone can benefit from using an emulsion. However, she believes that those with acne-prone and oily skin may prefer emulsions over other skin types. "[Because] emulsions are thinner and lighter, they won't clog pores like heavy creams," she says. Otherwise, if you're impartial to the feel of a weightier moisturizer, she notes that using just an emulsion can still give the skin the hydration it needs.
Connecticut-based dermatologist Dr. Deanne Mraz Robinson agrees, but adds that emulsions may pique the interest of dry skin types, as well. Since they add a boost of moisture to the skin, she says they simultaneously can help
strengthen the skin barrier
and, in turn, curb "moisture loss," aka transepidermal water loss. This lack of hydration can also exacerbate the appearance of fine lines and wrinkles in addition to your subsequent
skin dehydration
—yet another reason to consider adding an emulsion to your routine if your skin is already on the drier side.
---
Where Do I Add an Emulsion into My Routine?
Emulsions are best applied towards the end of your skin routine and before a moisturizer, if you choose to use one. "Skin care should be applied from lightest to heaviest to allow for the penetration of active ingredients," explains Illinois-based dermatologist
Dr. Jessie Cheung
. "Apply your emulsion after your active serum, and you can always apply a heavier cream after your emulsion to seal everything in, if necessary."
While order matters when it comes to applying your emulsion, the time of day that you choose to use it usually doesn't make a difference. New York City
–
based dermatologist
Dr. Joshua Zeichner
follows these general rules when determining which products to apply during the day and at night: "I recommend products that protect the skin from the environment in the morning. These are products that contain ingredients like antioxidants. The evening is a time of hydration and repair," he says.
However, New York City
–
based dermatologist
Dr. Marie Hayag
advises to always take a look at the emulsion's ingredient list and instructions first before applying. "For example, an emulsion with a retinol-based ingredient should be used at night. Emulsions that are primarily for hydration can be used either day or night. If the emulsion is photoprotective [protecting the skin from the sun], it's meant to be used during the daytime. Apply according to the instructions of the product you're using for the most ideal results," she explains.
Curious to try an emulsion for yourself? We asked four dermatologists for their recommendations:
Dr. Sperling's Picks:
Calling all J-beauty fans : If you're looking for an emulsion that targets dark spots and dull skin all while protecting your skin from the sun, this Shiseido formula may be for you. "I like how this product contains SPF to help protect the skin, plus it's lightweight, hydrating, and brightens the skin," says Dr. Sperling.
Using powerful hydrating ingredients like hyaluronic acid, Ren's emulsion combats fine lines, wrinkles, dryness, and dull skin. "I like how this product is formulated with hyaluronic acid, which provides essential hydration for smooth, plump skin," she says.
Dr. Robinson's Pick:
Isdin's emulsion also doubles as a physical sunscreen, making it ideal for use during the day. In addition to protecting the skin from sun damage, it also heals photo damage. "I recommend [this sunscreen] to my patients for its physical zinc oxide formula that provides broad-spectrum protection, contains antioxidants, and uses DNA repair enzymes to correct previous sun damage. Since the SPF is an emulsion, it is extremely lightweight and blends into the skin elegantly without leaving a white cast," she explains.
Dr. Cheung's Pick:
This emulsion from cult-favorite skin-care brand The Ordinary uses two retinoid actives to curtail aging without irritation. "You can't beat this price point for a gentle retinoid, and a few drops go a long way," says Dr. Cheung.
Dr. Hayag's Picks:
Avène's emulsion is another great option if you're looking to add a burst of hydration to your skin. Key ingredients cohederm, microspheres, and Avène thermal spring water work in tandem to strengthen the skin barrier and promote water retention. "This is a great emulsion that can be used both at nighttime after cleansing or during the daytime. It delivers moisture in a formula that feels light. Additionally, it contains a vitamin E derivative that acts as a powerful antioxidant that helps combat damage from the sun. For people with oily skin, this is also a good option because it is formulated to absorb sebum, preventing the skin from looking shiny," she explains.
Those with sensitive skin may fare well with this emulsion, since it was specifically designed with skin sensitivity top of mind. In addition to being a particularly gentle formula, this emulsion contains a variety of ingredients that help hydrate the skin. "This emulsion gel is a great option to consider for people with sensitive and dry skin and contains multiple ingredients to provide hydration and soothe the skin. It has hyaluronic acid to keep your skin hydrated. It also contains sacha inchi oil and grapeseed oil, which are both rich in fatty acids and antioxidants to help restore and maintain a healthy skin barrier and protect your skin from damage," she says.