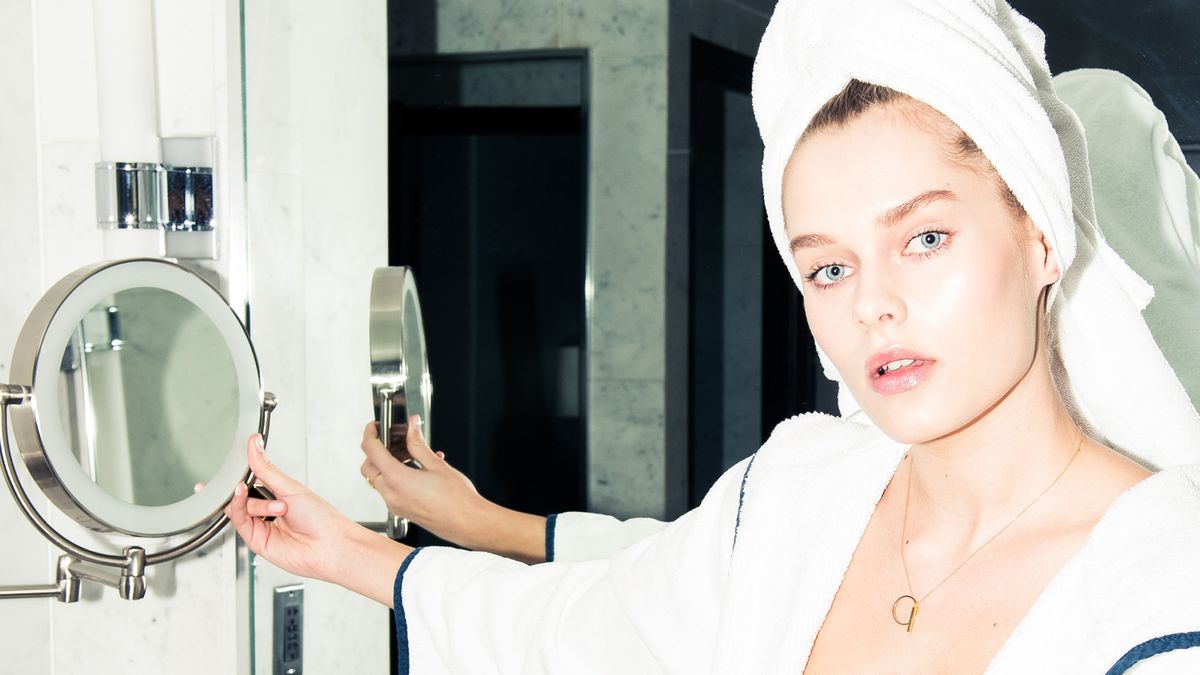 Skin
The K-beauty staple is essential to getting healthy, glass-like skin.
In our quest to achieve flawless, glass-like skin, there's one product in particular that seems to pop up on the shelves of every beauty guru we admire: the facial essence. A staple of the
Korean beauty routine
, an essence is one of those products that
seems
to hold the key to everything we want out of our skin-care routines—hydration, nourishment, a mythical ability to leave us looking airbrushed—but how it relates to our toners and serums is still a bit of a mystery. What exactly is it doing for the health of our skin? And how do we determine which formulas are right for our complexion?
To learn more about the advantages of using an essence, and why they're so crucial for taking care of your skin, we spoke with Alicia Yoon, founder of
Peach & Lily
, and Lev Glazman, co-founder of
Fresh
, two veterans in the field of skin care.
---
Essence 101
In terms of formulation, an essence generally has the watery texture of a toner and the targeted benefits of a serum. They are filled with humectants, ingredients that bind water to itself, and are designed to be both hydrating and fast-absorbing to prep your skin for the rest of your skin-care routine. They also help protect you from free-radical damage and pollution, which can lead to dullness, dryness, and fine lines.
Regular use helps to increase skin's luminosity and bounciness, as well as smooth uneven or rough textures. As Glazman says, "Think of your face as a sponge—a slightly damp sponge will pick up more than a dry sponge. So, by prepping your skin with an essence, it will be better prepared to receive the full benefits of the skin care to follow." Basically, if you use multiple products as a part of your daily regimen, an essence is an essential addition to maximize your other products.
Yoon also stresses that essences should be used year-round, rather than just in the
dry winter months
, to keep your skin barrier strong and prevent transepidermal water loss. She explains, "When skin isn't hydrated, it can trigger inflammation, can lead to more breakouts, and [cause] collagen and elastin to break down faster, leading to overall sensitivity."
Essence Origins
Essences have long been a part of the Korean beauty routine, which Yoon witnessed while growing up there in the
'
80s and
'
90s. "Essences, which are also sometimes referred to as 'skins,' were already very popular, and they remain a staple skin-care category." Given that so much of K-beauty is focused on plump, dewy skin, it makes sense that using an essence is a vital part of maintaining your skin's health.
Essence vs. Toner vs. Serum

All three of these beauty staples are examples of liquid skin care, meaning watery formulas that prepare your skin for the remainder of your routine, which typically means moisturizer, sunscreen, oils, eye cream, etc. "Toners wipe away excess impurities and are the last step in cleansing the skin," says Glazman, "whereas essences and infusions absorb quickly to deliver more targeted benefits and are the first step in treating the skin." Comparatively, a serum is more concentrated than either essences or toners, and usually targets one particular skin-care concern, like firmness, brightening, or smoothness. An essence is more focused on hydration while simultaneously preparing the skin to better receive the serum that follows.


Essence Application
This one truly couldn't be easier—just shake a few drops of the essence into your hands and gently pat onto your face, neck, and décollete after cleansing. Bonus points for applying the remaining liquid onto the backs of your hands (where sun damage is often left untreated). While you wait for it to dry, we recommend using one of our
favorite beauty tools
to roll out any lingering puffiness and help
sculpt your cheekbones
and jawline. Then continue on with the rest of your skin-care routine and bask in your prenaturally dewy, deeply hydrated complexion.
1 / 7
Primera Miracle Seed Essence
, $58
For a fast-acting and deeply hydrating essence, this formula is one of the best to come out of Korea. It smooths rough textures while also brightening hyperpigmentation and is ideal even if you have oily skin that is prone to breakouts.