Colloidal Silver Might Be the Key to Treating Your Acne-Prone Skin
Banish breakouts for good.
Skin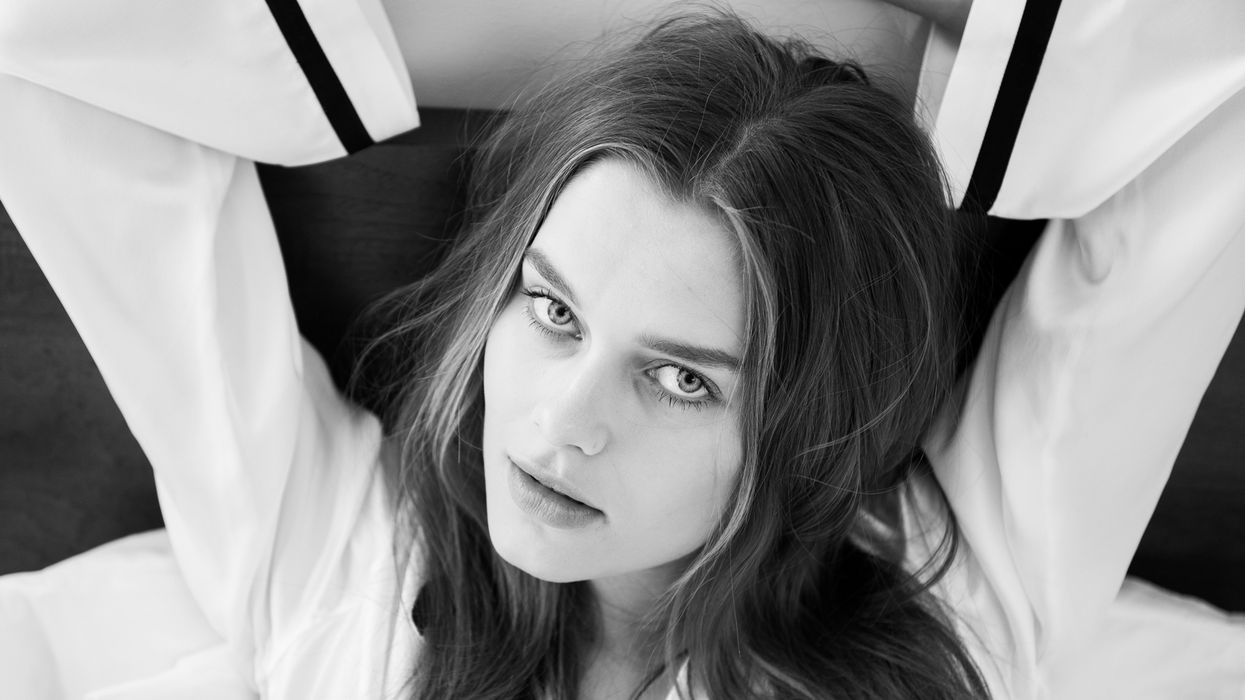 Acne is infamous for its unsightly and sometimes painful physical symptoms (which can even lead to negative psychological effects). The road to clearer skin is long, with suitable regimens often encompassing strong active ingredients, in-office treatments, supplements, and prescription medications like spironolactone or Accutane to manage the most stubborn breakouts (like hormonal or cystic acne). Not to mention, pandemic-era reliance on face masks has intensified patient complaints of breakouts for many aestheticians and dermatologists, as even those with historically clear skin have fallen victim to "masksne" on the lower half of the face and chin.

Experts note that achieving the right acne-fighting product routine for your lifestyle and skin type can be something of a balancing act. Acne-fighting actives like retinol and benzoyl peroxide can be overly drying to the skin, corrosive to the skin barrier, and disruptive of the skin's microbiome of beneficial flora. As a result, the overuse of harsh active ingredients and treatments runs the risk of exacerbating inflammation, redness, and skin eruptions while weakening the skin's natural defenses against bacteria, pathogens, and environmental aggressors. That means more flare-ups for you and a longer time before you see any tangible results.

Thus, the goal is to successfully treat the exterior causes of acne while respecting the skin's biological functions. This requires finding a way to prevent the bacterial proliferation that contributes to acne without contributing to inflammation or disrupting the skin's barrier or microbiome. That's why we're so excited by the beauty industry's recent adoption of topical colloidal silver as an adjunctive ingredient—it just might hold the key to treating acne more gently.
 

Colloidal Silver 101
"[Colloidal silver] has been used historically for centuries [with] a history of topical use for wound healing by Hippocrates, also known as the father of medicine," says Los Angeles– and Chicago-based naturopathic doctor Dr. Nadia Musavvir. The ingredient's ancient functions included use as a natural preservative, antibiotic, and healing agent.
"The term 'colloidal silver' refers to silver particles of various micro sizes which are suspended in demineralized or other aqueous solutions that disperse over a larger surface area," says board-certified dermatologist Dr. Ava Shamban, founder of
AvaMD
. She explains that it is created by placing a silver electrode in water which has a current run through it. "[This] separates the silver from the wand and places it into the solution," Shamban says. So how exactly does the antimicrobial activity work? Dr. Shamban explains that it is likely that nanoparticles of silver attach themselves to proteins on the cellular wall of bacteria, thereby penetrating the cell, disrupting its metabolic process, and destroying the bacteria. In this way, colloidal silver helps to control bacterial proliferation—one of the primary causes of acne. 
Colloidal vs. Ionic Silver
While we lack conclusive evidence as to the precise antimicrobial mechanism, Philip Marshall of Pure Colloids shared with
News-Medical.net
that some research indicates that silver ions (aka electrically charged atoms) are the nanoparticles that wreak destruction upon bacteria. He goes on to explain that colloidal silver is much less reactive than its ionic counterpart, which essentially means that it lasts longer and is much more potent. He also warns that many products on the market claim to contain colloidal silver but actually contain "low particle concentration and very large particle size with a high ionic content." In other words, they are mismarketed, and it is important to trust the brand you purchase it from. 
Acne Treatment and Prevention
"Colloidal silver has a number of qualities that make it a good ingredient to use for acne and breakout-prone skin," says
board-certified dermatologist Dr. Jeannette Graf, MD
, assistant clinical professor of dermatology at Mount Sinai Medical Center in New York. "Its anti-bacterial and anti-inflammatory properties make it an excellent addition for [inflammatory and hormonal] acne and rosacea, and [it] calms skin irritation often associated with acne." Dr. Graf notes that stay-on products (i.e., serums, face mists, spot treatments, moisturizers) are most effective, but silver can also be used in products you wipe off, like cleansers. Not only do the micro silver particles treat active acne, but they can also work preventatively to maintain clear skin when applied regularly, due to its anti-microbial attributes.
And since compromising either the skin's microbiome or the skin barrier can worsen inflammation and lead to further breakouts, colloidal silver offers a gentle and non-disruptive alternative to the harsher anti-acne options on the market. "Considering the integrity of the skin microbiome when treating acne and congestion is paramount," says Melanie Grant, skin expert and celebrity facialist to stars like
Rosie Huntington-Whiteley
. "Silver offers a gentle, non-agitating element to your home treatment repertoire that respects healthy skin functions while addressing blemishes at their cause."
These preventative and anti-inflammatory properties are now being utilized by brands in the form of textiles, like pillowcases, towels, washcloths, sheets, and cloth face masks. "Mildew, grime, and other microbes that harbor in unclean towels can be incredibly inflammatory to the complexion, especially for those of us who are prone to redness, eczema, and dermatitis," says Grant. She recommends the brand
Resorè
, whose towels use Silverbac technology to inhibit bacterial and microbial growth through the incorporation of silver ions—which, as discussed, are the charged atoms emitted from silver that some research suggests relays the substance's bactericidal effects. Although different from colloidal silver (which is, by definition, the aqueous solution added to skin care), it is making use of the same technology.
But the true beauty of colloidal silver's power as an acne treatment comes down to its adjunctive viability, meaning that it plays well with others. "I don't find it necessarily
better
than other acne treatments, but it does have benefits which are unique," Dr. Shamban says. "It's unique in that it's neither disruptive to the skin barrier nor the skin microbiome, while showing some efficacy at improving acne." While it is gentle enough to play a starring role in holistic and green regimens, colloidal silver can also be safely used alongside cosmeceuticals and other acne-fighting and skin-soothing ingredients such as alpha hydroxy acids, salicylic acid,
niacinamide
, and hyaluronic acid, to name a few. That means adding it to your established skin-care routine can impart an extra antimicrobial, anti-inflammatory boost, minus any additional irritation. 
How to Use It
Although colloidal silver boasts fans that include dermatologists and holistic aestheticians alike—representing schools of thought with sometimes conflicting treatment approaches—it does come with some warnings. All our experts emphasize that it should only be used topically and never ingested or taken as a supplement since, in extremely rare cases, argyria—a condition that turns your skin irreversibly blue—can occur, but only with exceptionally high doses of colloidal silver. So stick with topical silver options, and you'll be safe!
Shamban emphasizes that this is not an ingredient recommended for DIY beauty products. She also recommends patch testing as an important precaution to ensure that you do not suffer an allergy, particularly in instances when the silver used is impure. Colloidal silver should not be used with retinoids, and sun exposure should be limited, making nighttime use preferable to daytime.
---
If you're curious to try colloidal silver products for yourself, check out 10 of our current favorite options:
This clarifying cleanser combines pore-purifying salicylic acid with colloidal silver. Not only do they work well synergistically at clearing acne-causing bacteria from the pore, but they are both anti-inflammatory, gently treating the redness and irritation that come with breakouts. Be sure to use an SPF if you work this cleanser into your regimen to minimize photosensitivity.
This luxury option is an anti-aging powerhouse for maximalists. It derives its powers from a combination of silver, gold, signature gemstones (i.e., sapphire, diamond, citrine...), and peptides (including Matrixyl 3000), which are combined with minerals, amino acids, hyaluronic acid, and oil-soluble vitamin C. It targets collagen synthesis, elasticity, and fine lines on the face, while boasting the noted anti-bacterial benefits of silver. All the while, the copper-derived malachite it contains is said to protect cells from electromagnetic frequencies, or EMFs, for a degree of "energetic" protection from all our electronic devices.
This small-batch toner will balance the skin's pH and clear up breakouts on the face and body, thanks to its blend of astringent witch hazel, colloidal silver, colloidal copper, and soothing aloe. Avoid this pick if you are sensitive to essential oils, but otherwise, spritz it throughout the day to soothe any mask-induced irritation.
This Malibu-made green beauty concoction features fermented enzymes, raw quartz crystal, and a plethora of botanical extracts for clearer, brighter skin. Apply it after your toner for a dose of barrier-protective pre- and probiotics, acne- and redness-fighting colloidal silver and biomimetic sulfur, botanical hyaluronic acid, and clarifying willow bark (a natural source of salicylic acid). We recommend patch-testing this elixir—particularly if you are allergic to nuts, as it contains piñon.
Exfoliating camel milk allows the benefits of colloidal silver and gold to reach deeper layers of the skin. Hyaluronic acid, red grape extract, white clay, and mineral-rich thermal water from the Nitrodi Spa make this a potent mask for smoothing away fine lines, hydrating the skin, calming inflammation, and mitigating free-radical damage.
If you suffer from breakouts, this overnight cream combines breakout- and hyperpigmentation-fighting ingredients that are great for hormonal acne and congestion-prone skin. Along with silver, the brightening formula contains dioic acid, medical-grade manuka honey (UMF 17+), antioxidants, and organic rose-hip oil to promote cell turnover in an award-winning formula.
Made from 99.5 percent ingredients with natural origins, the wrinkle-smoothing and breakout-fighting cream boasts the patented combination of silver hydrosol and DNA HP. It hydrates, stimulates circulation, purifies the skin, and improves the appearance of fine lines and wrinkles, all while firming and tightening the skin.
If you are dealing with blackheads or clogged pores, try applying this aesthetician-created combo of colloidal silver, hydrogen water infused with oxygen, and purified water infused with the bio-energetic imprint of amethyst crystal to the T-zone or other congestion. After 30 seconds, antiseptic oxygen and anti-bacterial colloidal silver liquefies the oil trapped in the pores, loosening gunk and blackheads.
Micellar water is one of the gentlest ways to remove makeup, formed by lipid micelles suspended in water which attract grime and debris and wipe away lingering product from the face. Colloidal silver, aloe, and hyaluronic acid are added for hydrating, anti-inflammatory, and bactericidal support that is especially useful for blemish-prone skin types.
While great for treating acne-prone skin, the brand prides itself on this gentle alternative to harsh astringent and acid toners. Their anti-inflammatory, anti-pollution mist is composed of fifteen bio-organic botanicals, probiotics, plant-based enzymes, and mineral-rich waters—boosted, of course, by the presence of colloidal silver.