The Best Body Exfoliators for Rough, Dry Skin
Your shower routine deserves an upgrade.
Skin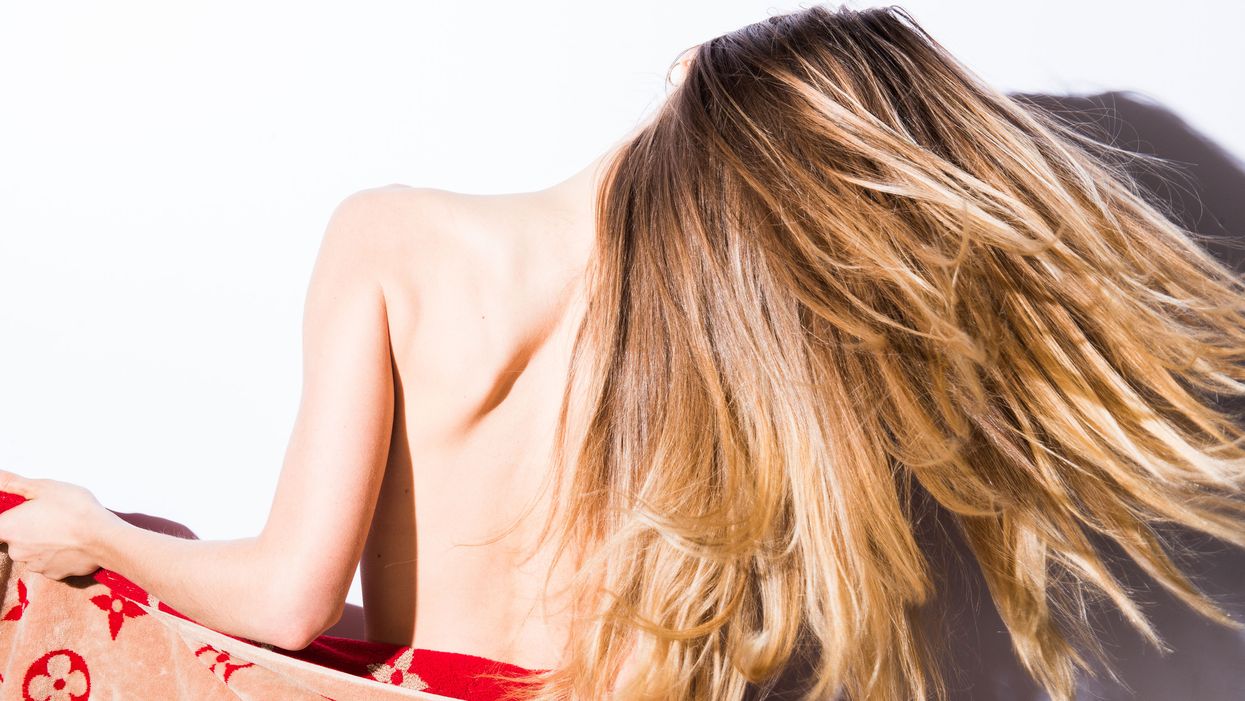 If your shower is only filled with your standard body washes and bar soaps, trust us—you're missing out. That's because there's a whole wide world of exfoliating products that can help you on your journey to softer, smoother skin, especially right now, when dry skin is borderline non-negotiable.

As we've learned from experts like aesthetician Sofie Pavitt, exfoliation is crucial, since "dead skin can accumulate on the surface, which can lead to the skin feeling dry, dull, and tired," she explains. "When we slough off that dry skin, it not only improves the texture, fine lines, and overall illumination, but also increases the ability for your products to penetrate on a deeper level." This is true for your face, so why shouldn't you be paying the same level of attention and care to the rest of your body?

You know that feeling right after you shave your legs and slather on some lotion? That sinfully soft skin is courtesy of the manual exfoliation from the blade. Now consider that feeling for your arms, back, chest, and everywhere in between—that's where body exfoliators come in. Whether you prefer the satisfaction of a physical scrub, or you're partial to the highly effective chemical options like AHAs, BHAs, and PHAs, there's an option out there for you to help combat dry, dull, or bumpy skin. And considering our bath and shower rituals are a source of much-needed relaxation these days, anything that can help make the experience more luxurious is just fine by us.
 

PHYSICAL VS CHEMICAL
Physical exfoliators are your scrub options, which can use anything from sugar and salt to nut and fruit powders to gently buff away rough patches and reveal softer, smoother skin underneath. If you're partial to baths, this is our preferred option, as all the nourishing ingredients will easily dissolve without causing undue irritation (think UTI or yeast infection…eek). And if you love the satisfaction of a manual scrub, these options are right up your alley.
You can also exfoliate with chemical ingredients like the aforementioned acids, including glycolic and lactic, as well as fruit enzymes. These all work to dissolve the keratin protein bonds that hold dead skin cells together (and can therefore cause rough, uneven texture). Breaking these bonds removes those cells from the skin's surface, so that you're left with soft, glowing skin. Many chemical options on the market these days also contain one or two physical ingredients for extra exfoliating benefits.
Curious to try out a body exfoliator for yourself? Check out nine of our current favorites—and don't forget to follow up with a moisturizing lotion or cream for best results.
---
Dead sea salt, aloe vera, and colloidal oats are the power trio in this soothing scrub, which caught the attention of beauty editors everywhere when it launched late last year. The formula adheres to a strict set of clean standards and is free of synthetic fragrance, making it suitable for sensitive skin.
In order to minimize the risk of contamination for your body scrub, we recommend this single-use oil-infused polish, which uses coconut powder sourced from Jamaica and raw grey sea salt from France. The oat, jojoba oil, and added vitamin E ensure that you'll never feel tight or dry after using it. Just remember to recycle the packaging when you're done.
Help detox your skin with the delightfully named (and sustainably harvested) bladderwrack seaweed. French clay helps to coax impurities out of your pores, while walnut shells and green coffee beans slough off rough patches of skin. The price is also a major plus.
Pineapple fruit extracts are about to become your new favorite chemical exfoliant after trying this gentle scrub, which also adds a dose of hydration to dry skin with the added jojoba oil, shea butter, and honey. Good luck not using an entire jar in one use—it's really that good.
We're longtime fans of this body scrub—the moisturizing coconut oil leaves our skin feeling silky-smooth after every use. The clean formula is also ideal for any skin type and all seasons, and it doesn't hurt that it looks particularly chic sitting on the edge of your tub.
Not quite ready to give up a physical scrub just yet, but still intrigued by chemical options? This formula uses both for a thorough exfoliation that leaves you with exceptionally soft skin. Lactic and glycolic acids support natural cell turnover (which is ideal for fighting keratosis pilaris, aka chicken skin on your arms), while biodegradable bamboo polishes provide that satisfying sensation of a physical scrub.
Glycolic and salicylic acids are the chemical stars here, with bamboo charcoal providing physical reinforcement in the battle against bumpy skin. We love the eucalyptus version, which has delicious essential oils added for a truly luxurious shower experience.
There's something so chic about using a bar soap in the shower or bath, which is why we adore this consciously sourced option from founder Abena Boamah-Acheampong. The almonds, brown sugar, and adzuki beans are perfectly balanced with the shea and cocoa butters so that you're left with touchably soft skin and zero irritation.
Fan of a bar option, but want chemical ingredients instead? This new release uses 1 percent glycolic acid to slough off dead skin, plus nourishing sea kelp, jojoba oil, and shea butter to leave you feeling soothed and supple. Pick up the plant-fiber soap dish to go with it.