5 Areas of Your Body You Don't Realize Are Getting Sun-Damaged
And the best products to keep you protected.
Skin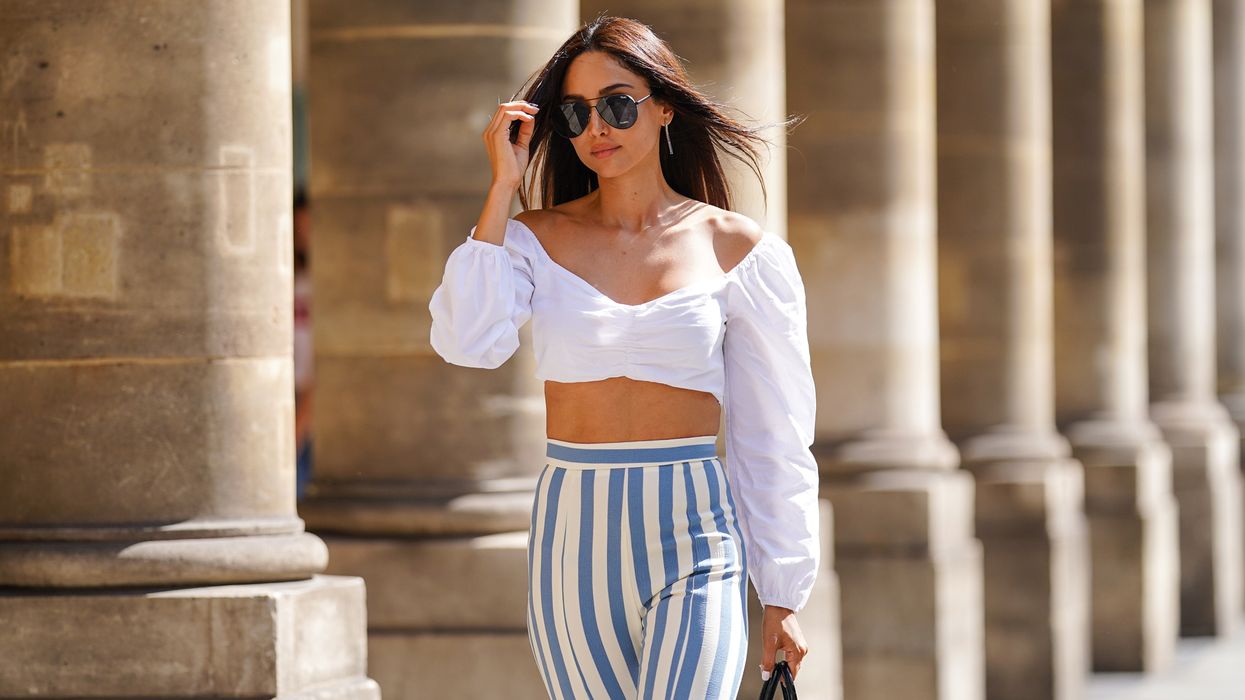 Let's face it—keeping your skin protected from the sun's harmful rays can feel like a full-time job. Even still, we remain diligent about slathering on sunscreen and actually remembering to reapply throughout the day because, awkward tan lines aside, lack of protection can cause some serious skin damage (think dark spots, scaly patches, premature aging, and uneven tone). But despite our full-throttle efforts, most experts agree that we've been under-applying (and often skipping) SPF on certain areas that are still vulnerable to these types of issues. Below, find out the five areas of your body you may have been neglecting in your sun-care routine.
 

NECK
Your normal AM/PM skin-care routine shouldn't end at the jawline, and the same goes for SPF application. As board-certified dermatologist
Dr. Debra Jaliman
explains, the skin on the neck is quite thin, making it more prone to wrinkles caused by sun damage. "The neck does not have many oil glands, so it's susceptible to showing signs of aging much quicker than other parts of the body," she says. "Less oil glands means less hydration. Even if people put sunscreen on their face every day, they usually don't put it on their neck." This then raises the question: Should we use a body or face sunscreen on the neck? Either works, but a
face-specific sunscreen
tends to be thinner and more lightweight, making it better for layering underneath makeup. Don't forget to apply the product to your ears while you're at it. 
BACKS OF THE HANDS
The backs of the hands are a commonly missed spot, especially if you're the spray-on SPF type, even though they get exposure, well, all the time. But Dr. Jaliman reveals that sun-damage-related skin cancer is common on the hands. "Some people do apply sunscreen all over their body and even on their hands, but then they wash their hands when they're done applying," she says. "This washes off the sunscreen before it gets a chance to penetrate your skin." Toronto-based board-certified dermatologist
Dr. Sandy Skotnicki
agrees, adding that many of her patients have brown lentigo spots on the backs of their hands and nowhere else. Use a daily SPF of at least 30 to help keep your hands looking young, and don't neglect to reapply throughout the day. 
CHEST
Like the neck, the skin on the chest is thinner than the rest of the body, which makes it vulnerable to harmful rays. Says Dr. Jaliman, "Sunscreen should be worn daily, even on the chest, to prevent fine lines, wrinkles, brown spots, and other pigment irregularities, but most importantly to help prevent skin cancer." The chest is an area that's often exposed, particularly in the summer, and even incidental exposure of UV rays can lead to photo damage and
skin cancers
in the long term, according to Dr. Skotnicki. And as a gentle reminder, UV rays
do
penetrate through clouds, so make sure you're protecting areas like your chest—if exposed—rain or shine. 
SCALP
While your hair serves as a protective layer,
the scalp
is a dangerous place to overlook when it comes to sun protection for two reasons. One, it's more likely to burn because it sits at the highest point on your body. Two, skin cancer of the scalp typically doesn't get diagnosed until late, especially when compared to other areas of the body, as your hair can hide the signs that something is wrong. Dr. Skotnicki says that even if you apply sunscreen on the scalp, sweating can lead to wearing down of the application; therefore, it's important to reapply every two hours on a bald scalp and throw on a hat (or
master your topknot
) to protect your hair part. Try SPF powders or mousse formulas—they feel less greasy than traditional sunscreen formulas. 
LIPS
Whether you're a gloss-at-the-beach type of person or you prefer to go bare, the lips are unfortunately still vulnerable to sun damage. "In my office I often see skin cancer or pre-malignancies on the lips. Also, many people lick their lips and therefore lick the sunscreen off, and some don't want to ruin their lipstick or lip gloss and forgo applying SPF altogether," says Dr. Jaliman. Take it from us, a
sunburn
on the lips is
not
pretty. Thankfully, there's no shortage of SPF-infused lip products on the market to choose from, so now is the time to stock up.
---
Shop our SPF picks:
If sunscreen tends to dry out your skin, we hear ya. Opt for a moisture-rich formula like this one, which fuses together six botanical natural plant extracts for a hydrated, protected complexion.
Keep hands looking young and wrinkle-free with an SPF 40–loaded hand lotion. This is one of our favorites, as it combats dry hands and sun damage in one greaseless formula.
You won't find any sticky, greasy residue with this pick by Vichy. Plus, its non-comedogenic, antioxidant-rich formula makes it ideal for all skin types (oily included).
We're big fans of zinc-based mineral sunscreens, and as Jaliman explains, they're able to "sit on top of the skin to deflect and distribute damaging UV rays away from the skin."
It's harder to miss a spot with an SPF spray, plus they're mess-free to use. Not only can this one get to hard-to-reach areas, but its formula is hypoallergenic and clean, too.
We love when suncare meets skin care, and this citrus-scented body milk has earned a permanent spot in our routine. It's as moisturizing as it is protective and melts into the skin effortlessly without leaving a trail of grease behind.
Neck wrinkles won't stand a chance with these SPF drops, which do so much more than protect your skin against harmful rays—namely, shield against pollution, thanks to coconut fruit extract.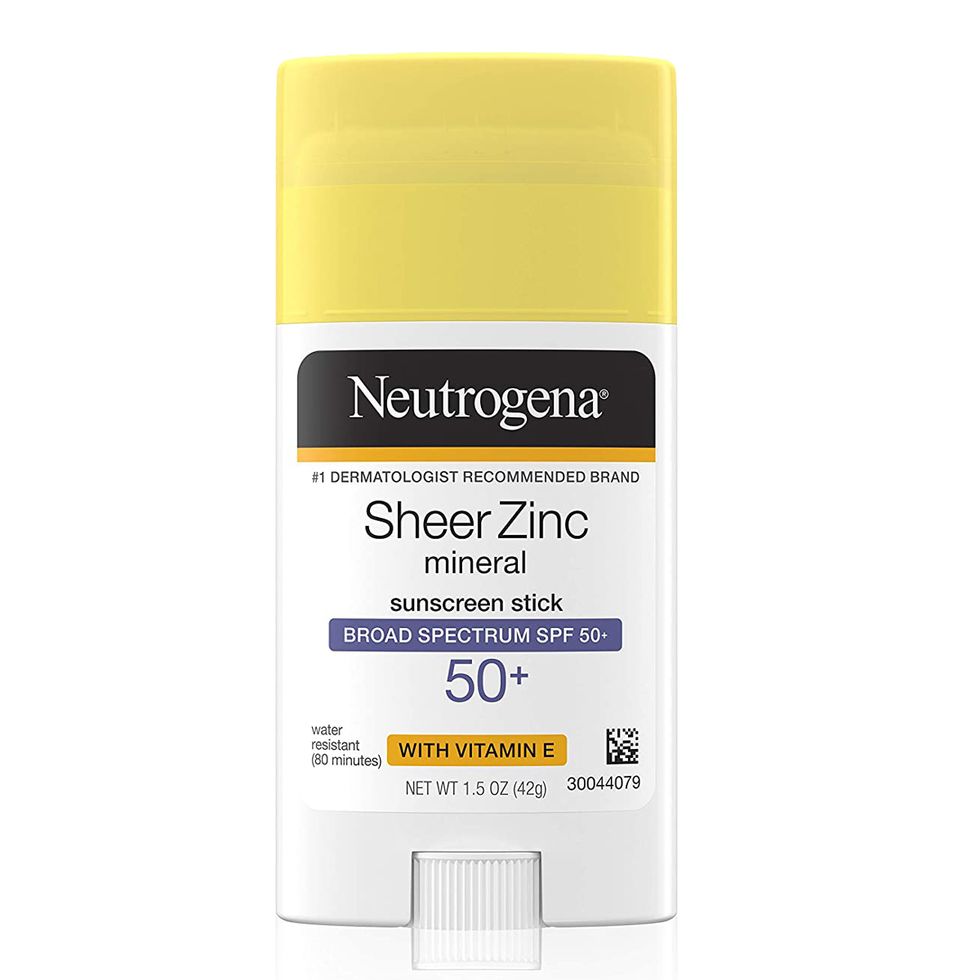 Jaliman recommends using a sunscreen stick for small areas (like the earlobes). We love this one from Neutrogena for its travel-friendly packaging, which makes for convenient, on-the-go application.
Worried about a greasy scalp? This SPF stick from Coola won't ruin your 'do. Instead, its color-protecting formula reminds us of the beach and is highly nourishing for your hair, thanks to the added monoi oil.
It'll be hard not to lick off this lemon-scented lip balm, but thankfully, its egg-shaped packaging makes it easy to reapply. The formula marries skin-loving shea butter, coconut oil, and jojoba seed oil along with SPF 15 for chapped-free, UVA/UVB-protected lips.