Deskside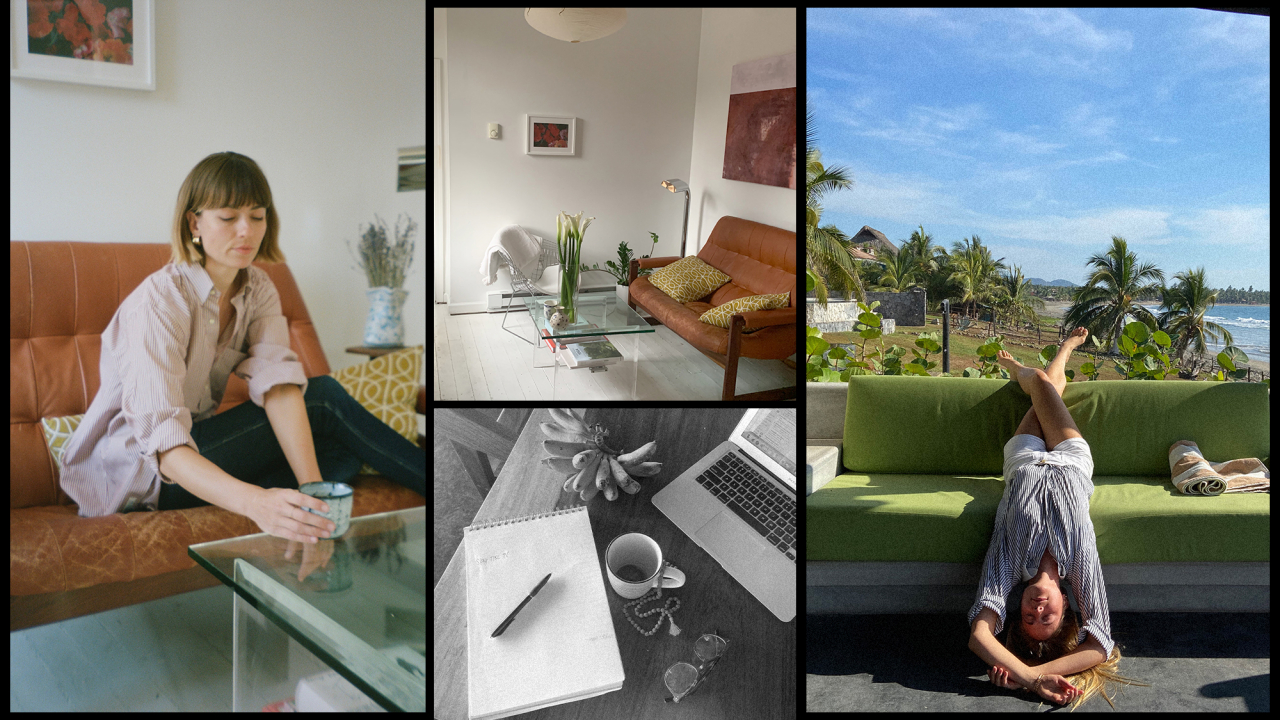 Krissy Jones and Chloe Kernaghan of Sky Ting on Disrupting the Yoga Industry
Plus, their thoughts on the future of small businesses.
Each week we're checking in with friends to see how they're finding balance and generally evolving and advancing their careers. This week we chatted with Krissy Jones and Chloe Kernaghan, founders of Sky Ting, the go-to wellness destination that has a cult following amongst those in the know.
Read below to find out how these two were able to disrupt the yoga industry and make fitness more inclusive and accessible to all.
How do you start your days?
Chloe Kernaghan: "I actually really appreciate the WFH lifestyle, specifically for my mornings. Before the pandemic, I was out of the house usually by 7:00 AM daily to teach a class or private, so I've definitely enjoyed a slower morning start. I always try to start with a big glass of water, and I take vitamins C and D. I've been loving having a non-caffeinated tea before I make myself a pour-over coffee. I'm often at my boyfriend's, so then I'll take his woof, Remy, for a walk. And then I try and do a shorter Sky Ting TV practice—we have lots of 30-minute-or-under classes that are great to get the body unstuck and ready for the day!"
Krissy Jones: "I like to start my day in silence with my meditation practice, normally around 7:30 AM. It helps me set the tone for my day, shaping my reality from the inside before I engage in the world. Then I rush to the kitchen to make lemon water and coffee (I'm a coffee fanatic). Usually I'll then try to do some sort of physical activity, like Sky Ting TV, tennis, or Pilates. After that, I'm ready to sit down at my computer and grind on emails."
Are you incorporating movement or exercise into your routine? If yes, anything you're loving at the moment?
CK: "Definitely. I'm doing more bite-size workouts—like my morning routine. But I've also started taking my best friend Sakiko's Pilates Zoom class on Saturdays. Beyond the yoga and Pilates, I love to do a dance shake-out or improv moment just around my apartment. Ryan Heffington is still the most fun on IG Live, or I just put on a favorite song and move the way I need to move!"
KJ: "I'm an activity queen and very sporty. I love working out and trying new things. Right now I have a weekly routine of tennis, dance, Pilates, and, of course, yoga. Chloe and I were quarantined in Montauk, where I picked up a surfing obsession, and [I] try to surf any chance I get. Sky Ting TV is my go-to—I love doing Pyro Tings classes, which is a mix of cardio/strength and yoga."
Talk to us a little bit about your work environment right now. Are you back in the office, or working remotely from home?
CK: "A little bit of both. We've kept one of our studios—our Chinatown location—which we've converted into a filming space/merch HQ/office space. It's been nice for me to have a mix of working from home as well as from the studio just to have a slight change of scene."
KJ: "I'm working mostly at home, and then a little bit at Sky Ting Chinatown, which we turned into a filming studio. My job is a lot more digital now that our studios are closed, so most of my day is at home on the computer."
What are the most critical things needed for creativity and to survive a workday?
CK: "Lots of water, doing activities that don't require a screen—like cooking or packing up a merch order—and getting outside, even if it's just for a quick walk around the neighborhood!"
KJ: "It's essential for me to take breaks from my screen during the day. I mix in meditation, exercise, and self-care to break up my screen time. I have to move my body at least once a day in order to feel creative and myself."
It's a tricky time in our world, and economically speaking, it's unclear what the future holds. How do you foresee this time impacting your industry?
CK: "We have, alongside many other small yoga studios in NYC, had to close our spaces, and it's still unclear when we'll be able to open and what that will look like (when will people be comfortable practicing in larger groups? what will rent rates in NYC look like? etc…). But we've been in contact with some, and everyone is interested in collaborating and helping each other out once the world starts to reopen. We definitely think that online/home yoga classes aren't going away after the pandemic, but we're excited to see what kind of creative solutions we can figure out with others when it comes to brick-and-mortar spaces. My biggest hope is that we don't lose all the small businesses in our industry and get overrun by corporate structures."
KJ: "The boutique fitness industry has been hit hard by COVID. But it's clear that community is something that people are craving more than ever, and something that they can access at least partially through online-oriented group practice. We're so grateful that we set up Sky Ting TV in 2019 and have since been able to serve as a source of balance and joy for our members online. I expect that much of our core community will be thrilled to return to in-person group fitness when this pandemic ends, and that people-oriented studios like ours may stand to benefit from the level of trust we have built with our membership."
From a creative standpoint, who or what has been your biggest influence?
CK: "Oh my, so many people/things have been inspiring me as of late. It's been amazing to see how a lot of businesses have clarified their vision and priorities based on everything that's happened this year. A few that stand out and inspire me are: Aurora James of Brother Vellies, Maryam Ajayi of Dive In Well, NYC restaurant trio Cervo's, Harts, and The Fly, and the fundraising initiative In Good Taste created by Natasha Pickowicz, Kelsey Shaw, Emily Eisen, and Susan Alexandra Korn. My other inspo recently has been diving into poetry… I'm forever obsessed with Frank O'Hara but also loved reading my friend Leti Sala's new In Real Life."
KJ: "Dance has always been my great love and my deepest source of inspiration. It's actually why I moved to New York—before the pandemic, I would go to Lincoln Center at least once a week to seed my creative juices. I'm a huge fan of the Israeli dance choreographer Ohad Naharin, who is not only the most brilliant choreographer with the most incredible company, but also a community leader who brings dance to the world through Gaga, a class that makes dance accessible to people of all ages, creeds, backgrounds, and abilities, and in a beautiful way. This is exactly what I strive to do with Sky Ting and Sky Ting TV for yoga. But my most fundamental source of creative inspiration is my teacher Nevine, whose teachings have been deeply influential and made me want to build Sky Ting so that I might share them with my community."
Tell us a little bit about your style right now. What's your go-to uniform?
CK: "As we transition into the colder months, my style has shifted to a comfortable trouser or jean with either a sweater or button-down and a blazer. I need a pant that allows me to fold my legs underneath me while I'm sitting, but I also like to feel put together on top for Zoom calls and such. Even though I have a ton of yoga clothes, I like wearing non-athleisure for my workday—I think it makes me feel more focused for whatever reason. But if I am wearing athleisure, it's usually either a Sky Ting sweatshirt or my Upstate sweat suit."
KJ: "I have been doing my best to keep it simple in a hectic fall and winter. My wardrobe has become more streamlined: I'll pair a blazer and t-shirt or a men's button-down with jeans and sneakers. A big scrunchie and a high ponytail with dorky blue-light-blocking glasses to protect my eyes from my computer screen round out my signature look."
Let's switch gears for a minute: Are there any beauty products essential to your day-to-day?
CK: "I'm obsessed with all things Lesse—cleanser, hydrating mist, ritual oil, mask, ALL OF IT! And I recently got a scalp brush for when I'm in the shower from HairStory, and I honestly don't know how I've never had this genius invention until now. I bought one for both my mom and sister for Christmas."
KJ: "I'm a devotee of Augustinus Bader's rich face cream. I also put castor oil on my eyebrows every night, in the hopes that they one day may grow thicker. I always turn to Tess Adams of Take Care Spa for the best products and facials as the seasons change. One of my best friends, Eva Alt, taught me to wear blush in the winter, which I think adds a fun pop of color to my nonexistent makeup routine."
How do you unwind at the end of the day? Cocktails? Recipe, please!
CK: "I found out in quarantine that I LOVE cooking! I've had so much fun getting better and trying new things. It's a really nice way to transition out of work. I usually have some sort of salad alongside a main, which could be roasted vegetables, roasted chicken or fish, or a yummy pasta. I'm more of a wine girl when I drink, and I'm lucky my boyfriend loves good wine, so I usually let him make the selection, but if we're feeling fun he'll whip up a negroni or margarita."
KJ: "I've been loving the escape of 20th-century Italian fiction (I'm deep into Lampedusa's The Leopard right now) at the end of the day. I'll also wind down with transcendental meditation with Bob Roth on Zoom, followed by a long bath which I doll up with salts and oils before bed."
Photos: Courtesy of Chloe Kernaghan and Krissy Jones; Angel Jhang for Hello.Sun
Want more stories like this?
Angie Tebbe on Running a Business & Leading the Movement for Women's Well-Being
Health Guru Bianca Valle Walks Us Through Her Gorgeous Self-Care Routine
4 Everyday Wellness Practices That Don't Cost a Dime