Deskside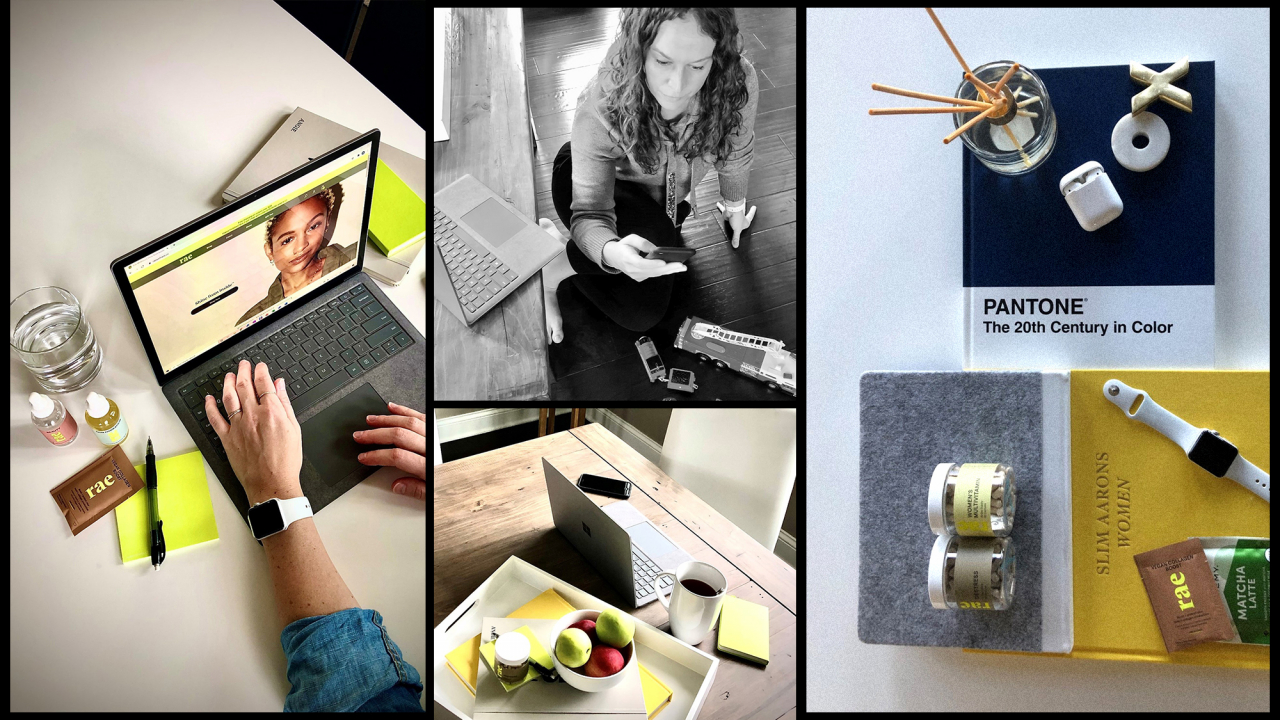 Angie Tebbe on Running a Business & Leading the Movement for Women's Well-Being
The Rae Wellness CEO shares what's next for the brand.
Each week we're checking in with friends to see how they're finding balance and generally evolving and advancing their careers. This week we chatted with Angie Tebbe, CEO and co-founder of Rae Wellness, the inclusive women's wellness brand, about how to stay present, mindful, and grounded while running a business. Read below to see more of this entrepreneur's creative influences and current must-haves.
How do you start your days?
"I always used to find mornings stressed and rushed until I realized how important it was to create rituals that work for you. Since becoming a CEO, I have made intentional choices about mindset and routine to make sure I show up for my family, team, and partners. I wake up at 5:45 AM to ensure I have a few moments to myself before my household begins to rise, beginning with my six-year-old at 6:00 AM! I find that I am my best when I can first ground myself in gratitude, especially right now, given everything going on in the world."
Are you incorporating movement or exercise into your routine? If yes, anything you're loving at the moment?
"I like to work out in the morning, but being at home has changed my routine a bit. I typically work out on weekdays (running or spinning), and on weekends I'll spend the mornings with my husband and boys instead. Due to the quarantine, I've been doing two smaller workouts during the day—even if it's a walk outside with my kids. Getting it in is the most important part, so I try not to worry if the time slot changes, given everything we are all trying to juggle right now."
Talk to us a little bit about your work environment right now. Are you back in the office, or working remotely from home?
"We are working from home, and my workspace varies a bit throughout the day, as we're trying to find space for all of us—kids' school, my husband's work, et cetera. Regardless of whether I'm at the kitchen table or in the office, I minimize distractions and give myself a couple of completely uninterrupted hours to work in the morning before any meetings—I find that I'm more productive and 'fresh' to tackle challenging questions or needs of the business right away."
What are the most critical things needed for creativity and to survive a workday?
"In order to be less reactive and more creative as I start my day, I recently changed my own habits on email and no longer check my emails right away in the morning. Also, I need to connect with the team in some way each day—we have such a diverse group of humans at Rae, and all of those different points of view make for very creative problem solving and conversations about our future."
How do you stay focused and motivated throughout the day? Any tricks you can share?
"I love what I do; grounding to my purpose makes it easy to be passionate and motivated, especially through challenges. We give five percent of our revenue at Rae to Girls Inc., and our impact on the well-being of the next generation keeps me energized. Also, at lunch I take our multivitamin, which gives me energy through the afternoon."
It's a tricky time in our world, and economically speaking, it's unclear what the future holds. How do you foresee this time impacting your industry?
"There is so much uncertainty on every level. But what has remained constant is a movement around women's well-being. I think this year has helped women realize the need to put themselves on the priority list, and that mind and body together is critical to her holistic wellness."
From a creative standpoint, who or what has been your biggest influence?
"There are so many influences in my life and work—designers, artists, entrepreneurs—but I'm most motivated and influenced by our consumer and community. Each time we hear directly from the consumer, it motivates us to push harder and show up in different ways for her well-being. It's incredible to see and hear how much our products are supporting her in her journey—that's our purpose."
Tell us a little bit about your style right now. What's your go-to uniform?
"For me, it's all about being comfortable and ready to approach the day with kids, work, and making sure I get some movement in. I value great fabrics and layers as I move throughout my space—like joggers and a sweater—especially now that the weather is a bit unpredictable."
Are there any style essentials you rely on for your fall/winter wardrobe?
"I live in Minneapolis, so as seasons change, layers are important. I love t-shirts, sweaters, sneakers, and flowy coats and hats. My wardrobe is generally neutral, so I can layer together shades of greys and nudes with black and white."
Let's switch gears for a minute: Are there any beauty products essential to your day-to-day?
"I have a pretty simple routine and just a few products I use every day. I start the day with our Hydration and Beauty Drops in my water because I believe skin starts from within. Topically, I rarely wear makeup but cannot go a day without True Botanicals Face Oil in the morning and LXMI's Pure Nilotica Melt at night—they both give intense hydration for my face."
How do you unwind at the end of the day? Cocktails? Recipe, please!
"I wish I had a great recipe, but I haven't had a drink in months! I unwind first by putting my boys to bed—we read books and talk. After that, I'll catch up with my husband; we try and make it a priority to download with each other. Lastly, I'll take a bath and climb into bed to practice yoga nidra as my form of meditation—it calms my mind and body for a restful sleep."