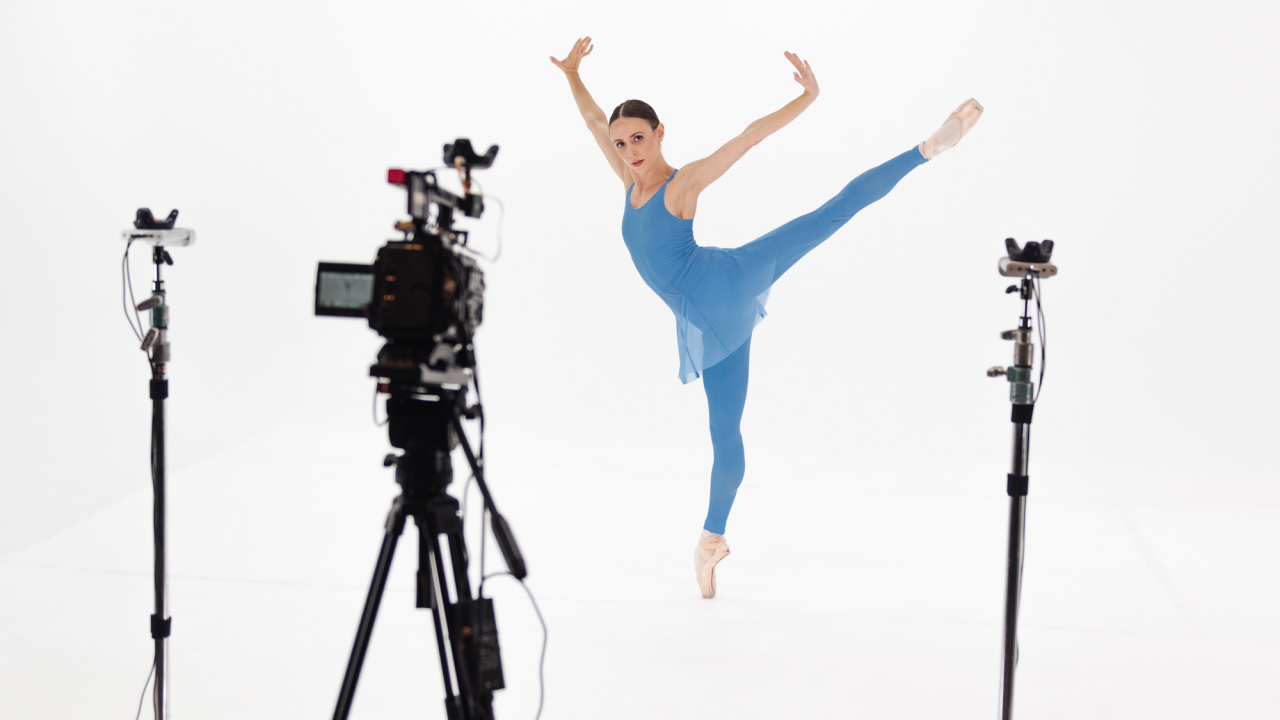 What Happens When You Take Away a Ballerina's Stage?
ABT principal dancer Skylar Brandt on dancing through a pandemic.
In the unprecedented cacophony that is the year 2020, each individual has felt the effects of the pandemic differently, and on a larger scale, so has each industry. Some companies, specifically those within the tech realm, have actually prospered—have you checked your screen time lately?—while others like hospitality and the arts have been forced to adapt or suffer. And as the holidays approach, carrying with them visions of sugar-plum fairies dancing in our heads à la The Nutcracker, we can't help but wonder how ballet dancers, whose lives revolve around the sort of performances with surging audiences—the likes of which we haven't seen in ages—are faring amidst the world's current predicament.
Fresh off her February debut as Giselle, American Ballet Theatre's Skylar Brandt hungrily approached the spring performance season anticipating more leading role debuts only to watch as the entire industry (and world, for that matter) shut down before her eyes. "Obviously, as a dancer especially, you're not going to get that year back," Brandt explains. In a sport with an ever-present ticking age clock, it was all too easy to get disheartened, but as always, there was hope to be found once the dust settled.
After a recent promotion to principal dancer—the ballet equivalent to the MVP—Brandt has used this odd moment in time to explore opportunities that never would have been possible under typical circumstances. "Not dissimilar to an injury, I just looked at this time and said, 'You know what, there's nothing that any of us can do about it, so I might as well enjoy myself and try to make the most of it.'" Her most recent endeavor was Bloomingdale's Virtual Holiday Benefit in support of the Child Mind Institute alongside ABT peers Gabe Stone Shayer and Misty Copeland, where Brandt took one of her first forays into dancing on film, which is, as one would imagine, a lot less pressure than your one shot on a live stage.
A strong proponent of self-discipline, Brandt has been forced to adapt alongside the rest of her industry, uncovering creativity in new realms. We caught up with the uber-talented 27-year-old to discuss the role of social media in her career, acting as both a student and a teacher, and what this past year has meant to her.
What was it like in the spring when everything shut down?
"It was completely devastating. I had just made my debut in Giselle in February. It was such a special moment for me personally because it was a debut and I had worked really hard on that role for the last six months. I think that at first, I was so devastated because I felt like I was building momentum in my career and that this should be a pivotal year in my career, but then it all came to a pause, without even the certainty of when we would be back. Obviously, as a dancer especially, you're not going to get that year back. It's not like, 'Oh, I didn't do something this year, but I'll just keep dancing into my 50s.' Then, obviously I appreciated the fact that it's not like it was just me or just us at ABT, [but] a worldwide issue. It's not that that makes you feel better, but it kind of allows you to gain a different perspective. Not dissimilar to an injury, I just looked at this time and said, 'You know what, there's nothing that any of us can do about it, so I might as well enjoy myself and try to make the most of it.'"
On getting creative in light of current restrictions:
"I shifted my attention toward more social media and branding. I am still taking class every day from my kitchen. We all have our slab of marley—we've had to become pretty inventive with the exercises. It wasn't too long after that that somebody reached out and asked me if I would give her daughter a private lesson. Now I've taught people from all over. There was even a night where it was 10:30 PM for me here in New York and 8:00 AM the next morning for this girl in India, and I gave her a private lesson. It's actually been really wonderful to teach people from all over the place. I had been asked to do teaching gigs in the past, but usually, with ABT's schedule, it's really hard to be able to take people up on their requests. It has now kind of become one of my full-time jobs. I also think students are happy because even though we'd love to be in our normal situations at the moment, I think we all appreciate that the pandemic has also given birth to some opportunities that may not have arisen otherwise."
What was it like to get a promotion amidst a pandemic?
"Totally crazy. I was not expecting to be promoted at all simply because I didn't think that this was a climate in which ABT would be able to promote people, but I think at the end of the day, it was just a really amazing thing that they were able to do to kind of both reignite the excitement around the team and the next generation of dancers, but also to kind of boost morale and show everyone that we're still going. I will say it's exciting because even though, sadly, we can't really be doing performances as we normally would, I'm at least taking all my time to prepare really, really well for when we do come back. In a way, I find that this time has been sort of a gift."
It's exciting to see behind the scenes of ballet, since it always focuses on the finished product:
"I agree. I always like to show the process and, at least from the people who follow me and comment on my things, I know how much they appreciate being able to see these little sneak peeks into rehearsals because it's a very intimate thing. For me, it's important to show that because I want to demonstrate the hard work that goes into a performance. I didn't grow up with Instagram, and I try to stress to the next generation that social media is not always an accurate representation of what it really means to be a good dancer. I always try to tell them, 'Look, it's not always about getting the perfect picture or the perfect video to post, but it's actually your process and your hard work in the studio.'
"At least for me, I've always struggled with social media in my own way because, while I realize it's a totally necessary medium to put yourself on in order to be relevant and keep up with the times, it also just feels like the most narcissistic thing that a person can do. It used to be that I would post videos of me rehearsing actually in the studio before I discovered the more commercial side of it. ABT actually held a class teaching us about TikTok and the different tools you can use and the different trends. I tried my hand in that, but otherwise I think on social media, again it would just be me fooling around in my living room on my little piece of marley or making a TikTok dance with my sister."
What does a typical day look like for you right now?
"In the pandemic specifically, I wake up and I take a morning class that's offered by ABT from my living room. Then I will go to rehearsals with my coaches, taking private lessons for two hours a day. After that, I come home and I usually teach one or two private lessons myself after I've taken my own. Since I'm trying to demonstrate everything to be really clear, that is probably like taking another two classes after my private lessons just simply through the act of teaching."
What was it like prepping for this virtual show? Would the prep be the same as it would for a live person?
"It was really different just because we didn't have the same amount of rehearsal time and scheduling and discipline. My friend Gabe Stone Shayer choreographed it, and it was sort of up to us to rent our own studio space, find our own time, hold our own rehearsals so that he could teach material. These things happen a little bit more last-minute than in a large ballet company. I basically learned the choreography from my friend, and then we showed up on the shoot day. What's interesting about moving dance to film, especially if it's not being live streamed, is that you have the luxury of redoing things, repeating things, reshooting things. It's a different ball game because now you have your own shot at perfection. With film, it's amazing because it really lives on forever, and it also has a broader reach as far as the audience goes. I know that there might be somebody in another part of the world who will literally never have the chance to see ABT perform live, however, they have the ability to see ABT on video. There's something really heartwarming about that."
What are some songs on your current playlist?
"I have such a random mix of songs I am listening to right now! 'Tainted Love' by Soft Cell, 'Sunday Best' by Surfaces, 'Blinding Lights' by The Weeknd, 'Africa' by Toto, 'Blue Monday' by New Order, 'Ballin'' by Mustard, and a number of songs by the artist Rozzi!"
Are there any beauty or wellness products you're using at the moment and love?
"I'm not very good at pampering myself with nice products, but my girlfriend Isadora gave me the Camellia Nut Facial Hydrating Cream by Aesop for my birthday. I've been enjoying the break in my regular routine by using that in place of my usual face cream. I also love taking Elderberry gummies when I'm taking my vitamins. They taste delicious and make me feel like I'm a kid again!"
Photos: Courtesy of Bloomingdale's
Want more stories like this?
7 All-Over Toning Ballet Moves
A Ballet Warm-Up You Can Do Everyday
What 3 NYCB Dancers Really Eat in a Day